Another adjoining county to Staffordshire, Cheshire is a mostly rural area with some fascinating towns, villages, and attractions. You may be familiar with Cheshire Cheese, or the Cheshire Cat. Famous people from Cheshire include Wayne Rooney, Gary Barlow, Harry Styles, Lewis Carroll, and Daniel Craig. The major town in Cheshire is the fantastic Roman town of Chester. There is so much to do there that we'll do an entire post on it soon. Therefore, this post will contain ideas of things to do, places to stay, and where to eat in the rest of the county. There is certainly a lot of potential for romance in Cheshire, and our travel guide to Cheshire will give you plenty of inspiration.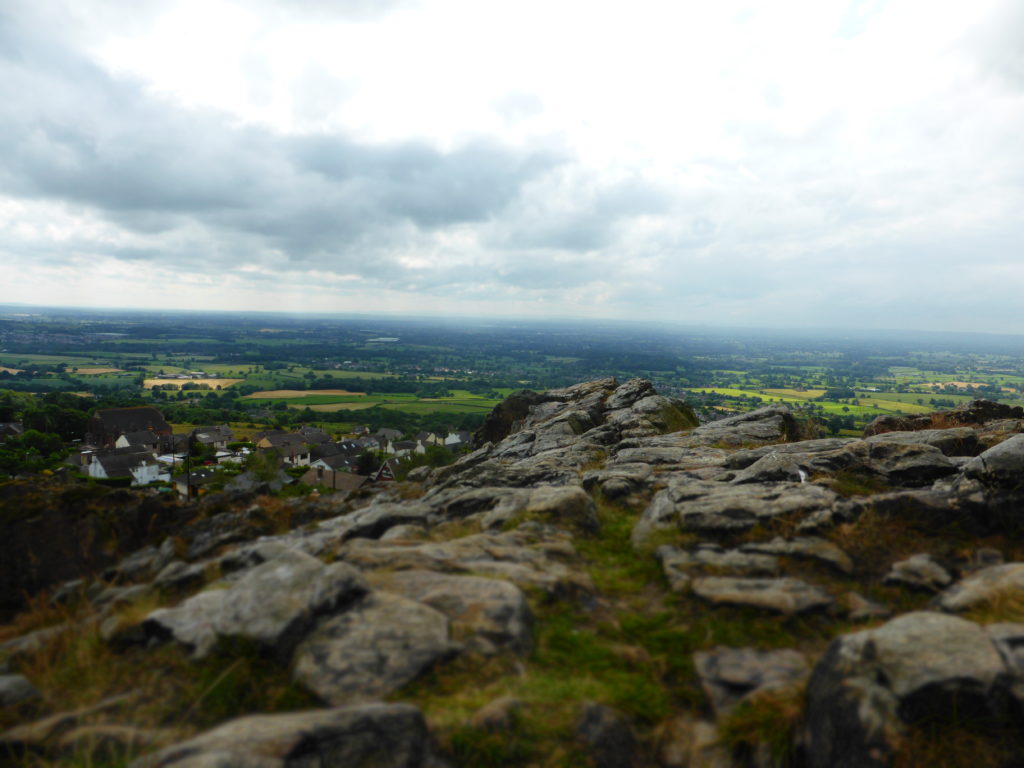 THINGS TO DO IN CHESHIRE
Go Ape! in Delamere Forest – One of the best locations we have found for a treetop adventure course. The views from the tree canopy of a forest are hard to beat. Delamere Forest is the largest wooded area in Cheshire, so it is quite a thrill to be at the top of it looking down. What's more, you come down from each section via a thrilling zip wire!
Little Moreton Hall – This moated half-timbered Tudor house is a real marvel, both of architecture and of engineering. You'll wonder how it is still standing, as the third floor made the lower two floors warp somewhat. This has resulted in a unique appearance, described as a gingerbread house, or a stranded Noah's ark! The house is around 500 years old, and guided tours are available. The gardens are rather beautiful too.
Bluedot Festival – One of the most ground-breaking festivals in the world, Bluedot is held at the iconic Jodrell Bank Observatory each summer. It is a music, space and science festival, where you can dabble in all kinds of ground-breaking science all day, then enjoy the headline acts (in the past these have included Jean-Michel Jarre) against the backdrop of the iconic Lovell Telescope.
Cheshire Oaks Designer Outlet – This designer shopping outlet is the largest in the UK. It was the first designer outlet village in the whole of Europe, opening in 1995. It sells all kinds of designer goods, with discounts of up to 60%, as they sell last years items. They have everything from Nike and Adidas, to Burberry and Hugo Boss.
Tatton Park – A stunning historic estate. Within its grounds, you'll find a Tudor hall, a neo-classical mansion, deer park, farm, and acres of landscaped gardens. You can even try a Segway experience here! Another highlight of the calendar is its summer concert series.
Crewe Lyceum Theatre – An Edwardian theatre, with a great selection of shows. We have visited on numerous occasions, and always have a great time there. Apparently, it is haunted too, and the theatre offer ghost hunt nights, if you dare!
Catalyst – This science museum in Widnes focuses on chemistry and the history of the chemical industry. There are loads of hands-on experiments to try out, as well as great live shows in the Alchemy Theatre. The museum is housed in the building built as the first chemical factory in the area. They also have a glass lift and a rooftop observation deck, which offers great views.
Blue Planet Aquarium – This aquarium has Europe's largest collection of sharks, which you can see in an amazing 71 metre underwater tunnel! If you feel brave, you can even swim with them! It was once the largest aquarium in the UK. Its visitor route takes you through various marine habitats, including tropical rivers, lakes and ponds, and seas and oceans.
Byley Field Target Club – We had a brilliant day at Byley Field Target Club learning to shoot, and plinking away. They are very encouraging to potential new members. Your day involves going around the woodland course with a sharpshooting expert. We got the chance to shoot at all of the many targets, and found out that Amy was something of a natural. Find out who is the best at shooting in your relationship.
Mow Cop Castle – This wonderfully scenic folly in Odd Rode was built in 1754. It looks like something out of a painting. Therefore, a perfect date idea, and one that we very much enjoyed, is to take your sketchpads along and draw the vista. There are few better places to do so.
Touch Rugby – Crewe and Nantwich RUFC run social touch rugby sessions on Saturday afternoons and Tuesday evenings. They offer the chance for you and your partner to play in a team sport together. The sessions are completely inclusive and you will find people of all ages and both sexes all playing together.
Cheshire Phoenix – Cheshire Phoenix are a professional basketball team that play their games at Cheshire Oaks Arena. Their games are loads of fun to attend, and you will see some of the country's top basketball talent on display. The atmosphere at the games is perfect for a date night.
CarFest North – Apart from Glastonbury, CarFest is perhaps our favourite festival of all. The event is run to raise money for the Children in Need charity, and is a real action-packed, fun and friendly weekend. You'll find top music acts such as Bryan Adams, a vintage village, and many track events. You may get to see formula one cars, or even a motorised settee!
HOW TO GET TO CHESHIRE
From overseas? Both Manchester Airport and Liverpool John Lennon Airport are very close to Cheshire. Look for cheap flights from your location on Skyscanner.
By train? Crewe is a major train hub, and Warrington Bank Quay is also well connected. Alternatively, you can use Chester as a base for your trip. It is a great option, as Chester has more interest for a visitor than the surrounding area.
By bus? To check timetables and routes to get around Cheshire by public transport, look for the main bus companies own websites. Arriva North West is the top one.
By car? If you drive, a car would the best way to get the most out of your stay in Cheshire. Check Skyscanner to find yourself a good deal on car hire.
WHERE TO STAY IN CHESHIRE
Luxury? Macdonald Craxton Wood Hotel & Spa, in Ledsham has a wonderful thermal spa to help you relax after a day of exploration. Book now at Booking.com.
Mid-range? The Alexandra Court Hotel, in Congleton contains rooms with super king size beds, and an award winning landscape garden at the back! Book now at Booking.com.
Cheaper and more authentic? Try Airbnb, where you can find some unusual and fantastic homestays in more traditional surroundings. Click our special link to receive £25 off your first stay!
Free? Couchsurfing is a vibrant community of over 14 million world travellers, who host others on their travels.
WHERE TO EAT IN CHESHIRE
Special occasion and local food? La Popote in Marton Village is an exquisite dining experience. With top quality food and impeccable service, you'll be hard pushed to find somewhere better suited for a special meal.
Mid-range? Etzio, in Whitchurch, is a contemporary Italian restaurant with a rustic and stylish interior.
Cheap and cheerful? Rustica in Macclesfield are renowned for their Full English Breakfasts. One of these will set you up for most of the day!
OTHER TIPS FOR YOUR TRIP TO CHESHIRE
How to pronounce Cheshire? Chesh-her.
Locals in Cheshire have one of the least distinct accents in the entirety of England. Therefore, non-native English speakers should find them easier to converse with than in many UK cities.
Don't miss the main town of Cheshire, which is Chester. It is famous for its ancient city walls, Tudor buildings, and exceptional zoo.
You will be best served with a car to explore the wider area of Cheshire. If you do not wish to drive, it might be best to just stick with Chester, and take public transport to visit some of the top attractions in the rest of the county.
From Cheshire, it is easy to next visit Liverpool, Manchester, Derbyshire, Staffordshire, Stoke-on-Trent, Shropshire, and even Wales.
Most of Cheshire is rural. Its main exports are Cheshire cheese, salt, chemicals, and silk.
Don't leave Cheshire without trying some Cheshire cheese! One of the best places to try it is Godfrey C. Williams & Son Ltd, in Sandbach. They have been offering it there since 1875! You should also try and seek out Chester Pudding, Chester Cake, Chester Buns, and Cheshire Pork Pye.
Has this travel guide to Cheshire helped you to plan your trip? Anything else that you would like to know?
Like it? Pin it!
This post contains affiliate links. By clicking them to purchase your flights, hotels, and car hire, the companies involved pay a small commission to us at no cost to yourself. This helps to keep us on the road, creating guides like this one. Thank you for using them!