An easy day trip from Prague, Kutna Hora is small in size, but has lots to see and do to keep any visitors happy for at least a full day. In its heyday, it was Prague's equal, and wealthy beyond its wildest dreams. Much of its medieval splendour is still visible to this day. Indeed, it seems rather strange to have such opulence in what is now a small city of just 20,000 inhabitants. Despite its small size, Kutna Hora's main attractions are at opposite ends of town, so use our guide to Kutna Hora to research your trip!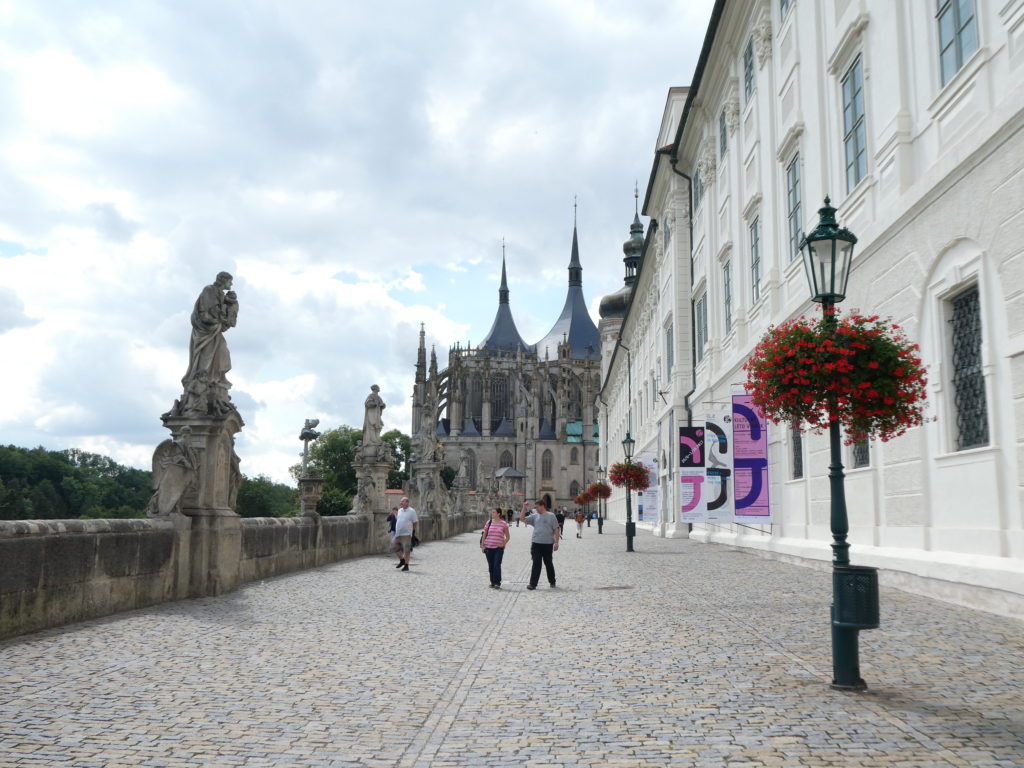 THINGS TO DO IN KUTNA HORA
Sedlec Ossuary (Bone Church) – Somewhere that will undoubtedly rank on a list of the most unusual tourist draws in the world, the Bone Church is remarkable. The inside of the chapel is decorated from top to bottom with the bones of people who died in medieval times. Many were plague victims, or died in war. There are over 40,000 skeletons on display, in displays ranging from an enormous chandelier, to the crest of the Schwarzenberg family who commissioned it. The chandelier contains at least one of every bone in the human body! It is incredibly creepy, but amazingly impressive!
Cathedral of St Barbara –  'Wow' will be the first word you say upon entering. You'll see a huge, tall ceiling with ribbed vaulting that looks almost floral, and countless shields and coats of arms painted onto the ceiling. The altar is amazing, with the last supper scene carved into the wood. Even the back of it was ornate, with a tree design. You'll be given a laminated sheet to give you a self-guided tour. Around the sides are many ornate altars, beautiful stained glass windows and an awesome collection of medieval wall paintings. Many of them have survived remarkably intact. Superb. Don't miss the chance to climb the tower, for amazing views, both inside and out.
Cathedral of Assumption – The second cathedral in Kutna Hora is Gothic Baroque, and part of the UNESCO site. It first opened around the year 1300. You'll be given an information sheet with a self-guided tour to help you around. It is hugely impressive inside. Although rather plain and cream coloured, it is so very tall, with a narrow looking nave. Skeletons of saints lay rather morbidly in glass coffins, which we always find rather odd and unsettling. The most impressive feature is its amazing spiral staircase which appears to be unsupported. You can climb the spiral staircase to walk along the higher balcony level, and intriguingly even into the church rafters!
Italian Court – Housed in a beautiful palace with a large courtyard, the Italian Court is the former mint and royal seat. We'd recommend the tour that combines the royal mint, and the royal palace. The former features a coin making demonstration, whilst the latter takes you inside the royal audience hall and the royal chapel. The chapel in particular is a true wonder. It is mostly painted gold, but two parts are painted silver, in honour of Kutna Hora's wealth coming from the silver mines.
The Church of St James – A very old and impressive medieval church with a stunning altar. The views from outside the church are even more impressive than the interior!
HOW TO GET TO KUTNA HORA
From overseas? Fly into Vaclav Havel Airport in Prague. Check Skyscanner to compare prices from your location.
By train? There are trains roughly every hour from Prague. Get off at Kutna Hora mesto for the Cathedral of St Barbara, and Kutna Hora hl.n. for the Bone Church. Check idos.cz for timetables.
By bus? Buses are also very regular from Prague. The idos.cz website will also give bus timetables.
By car? Kutna Hora is easy to reach by road. Check Skyscanner to compare car hire prices.
WHERE TO STAY IN KUTNA HORA
Kutna Hora is ideal as a full day out from Prague. However, if you'd prefer to get to know Kutna Hora better, then Hotel U Zvonu will be your best option. Book now, on Booking.com.
Cheaper and more authentic? Try Airbnb, where you can find some unusual and fantastic homestays in more traditional surroundings. Click our special link to receive £25 off your first stay!
Free? Couchsurfing is a vibrant community of over 14 million world travellers, who host others on their travels.
WHERE TO EAT IN KUTNA HORA
For a truly romantic meal, ask for a table in the garden of Restaurace V Ruthardce. The atmosphere is like a medieval tavern, and you may even catch a glimpse of the cathedral through the trees!
OTHER TIPS FOR YOUR TRIP TO KUTNA HORA
How to pronounce Kutna Hora? Koot-na hurra.
If you wish to visit both cathedrals, and the bone church, you can buy a joint ticket that will save you some money compared to the individual admission fees.
The historic town centre and its two cathedrals are a UNESCO World Heritage Site.
You can walk around Kutna Hora easily enough. However, there is a fair distance between the city centre and the Sedlec area where the Bone Church is. You can get a local train between the two areas very inexpensively.
Kutna Hora's rise and fall in terms of importance was dependent on the silver mines. Once the silver deposits started to run out, there was less to keep the wealthy in the town.
It was here that saw the minting of the famous silver groschen coin. Another coin that was minted here is the tollar, which gave the US Dollar its name.
The vast majority of Kutna Hora's visitors come on a day trip from Prague. It is extremely easy to plan this yourself, so don't book on an organised tour. They are overpriced, and you'll be herded from site to site like cattle.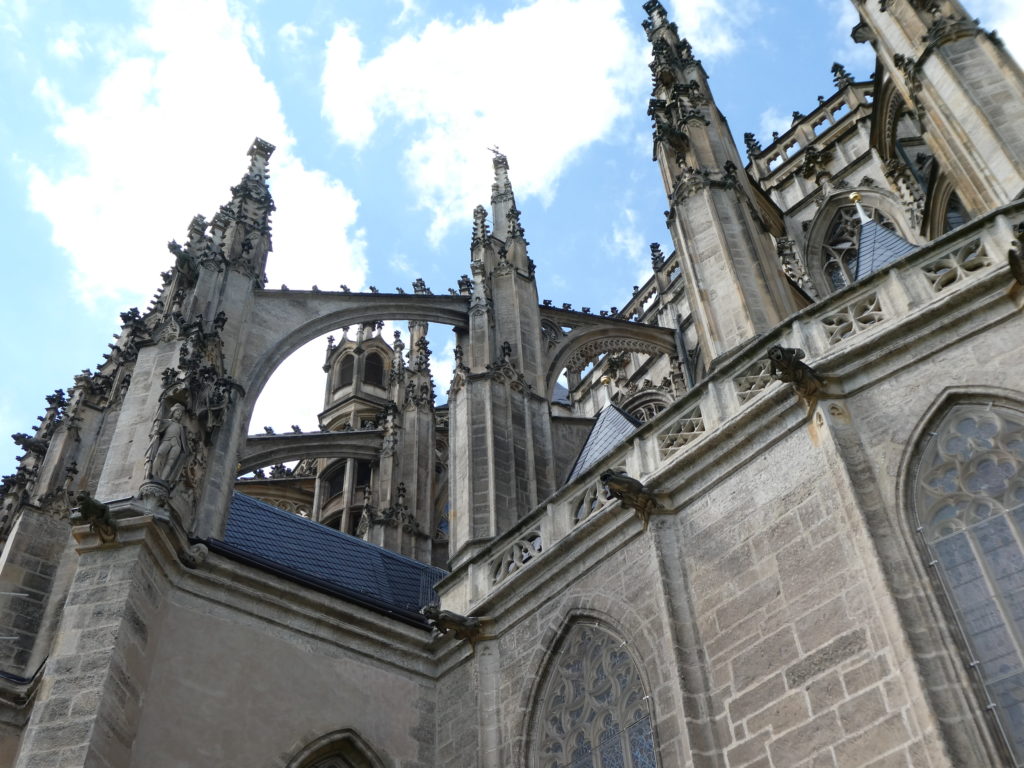 If you like flowers, the best time to visit is May, when they are in full bloom. However, Kutna Hora is somewhere that is suitable for visiting at any time of year.
Has this guide to Kutna Hora helped you to plan your trip? Anything else that you would like to know?
Like it? Pin it!
This post contains affiliate links. By clicking them to purchase your flights, hotels, and car hire, the companies involved pay a small commission to us at no cost to yourself. This helps to keep us on the road, creating guides like this one. Thank you for using them!