ROMANTIC COUPLES TRAVEL GUIDE TO METEORA
One of our travel highlights has to be the magical rock top wonders of the Meteora Monasteries, in Greece. To be honest, when you view these immense rock formations alone you will be mesmerised. They are like a giant version of Adrspach. What is truly awe-inspiring, however, is when you realise that on the top of the seemingly inaccessible boulders are six stunning medieval monasteries!
The early monks used to have to winch themselves to the top in a net, believing that God would prevent them from falling to their death. There were originally twenty four such monasteries, but most have fallen into ruin. You can still visit six of them, and don't worry you don't have to go up in a net! Nowadays, however, stairs carved into the rock provide a much safer way to access the monasteries. Fasten your seat belts, and join us for a ride on a bona fide travel guide through Meteora, a true wonder of the world.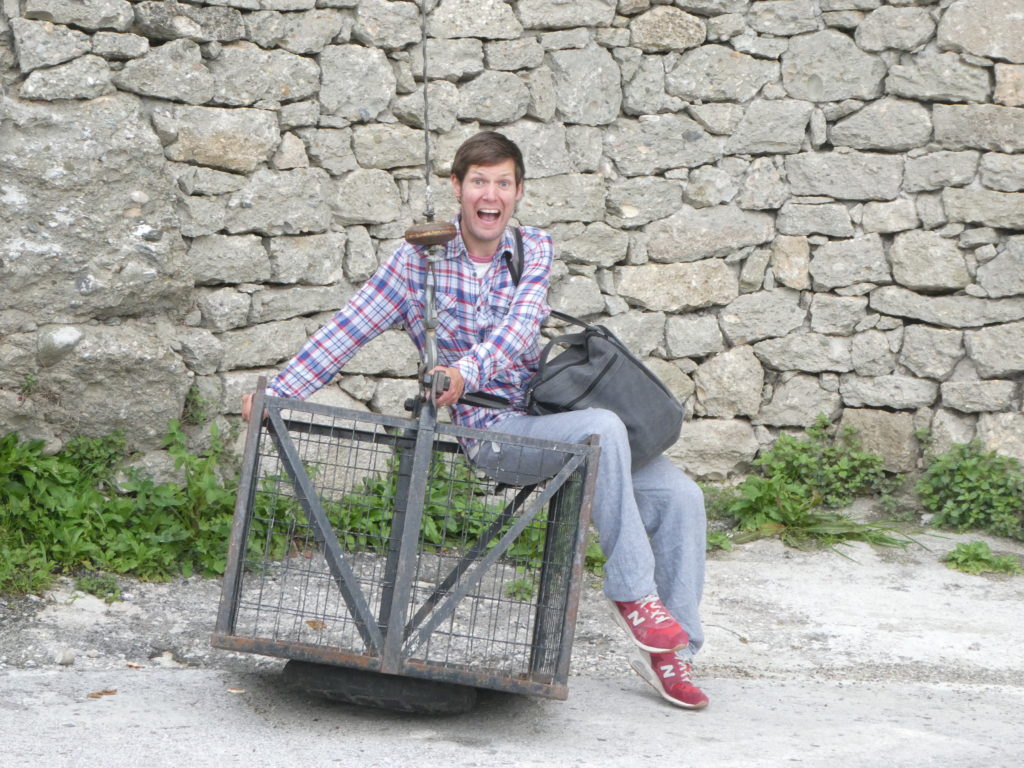 THINGS TO DO IN METEORA
Saint Stephen's Nunnery – Perhaps our favourite monastery is actually now a nunnery. They have quite a number of nuns here (over thirty), and their ages range from 20s to mid-80s. Inside the church, you'll see the most amazing brightly coloured frescoes, many with a pinkish hue that seems unusual for a church. It is clear that these paintings were more modern than the other monasteries, and indeed they are still actually painting them in front of the visitors! If you want to know what it used to look like, they have left the original, peeling paintwork from the 1700s intact in one small corner. There is also a small museum, with many icons on display. Don't miss the nice terrace with stunning views.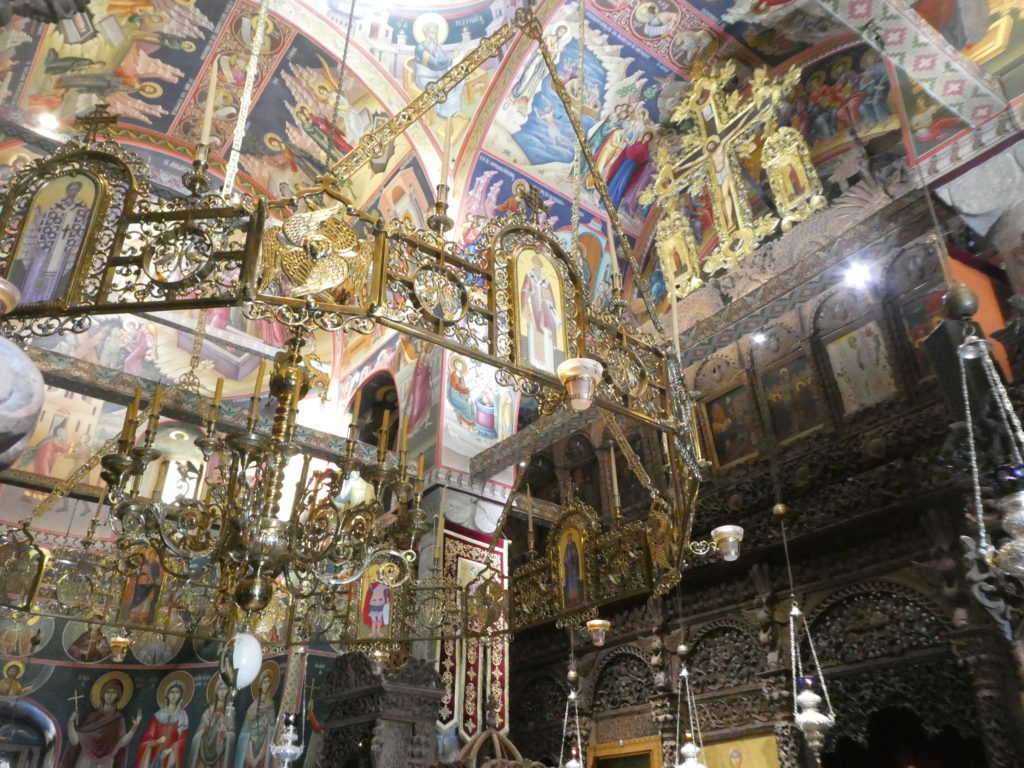 Holy Trinity Monastery – The path to this monastery is perhaps the most impressive of all, with its winding staircases carved around the rock leading to the entrance. Just inside the entrance is a small rock cut chapel with impressive old frescoes. It is an impressive space, with a large room which contains bright frescoes in alcoves, and a room to the side with some very old and battered paint on the walls and ceiling. Upstairs is the main church, which is very beautiful and contains an incredible amount of paintwork. They are all stunning, however this is perhaps the most photogenic of all. There is a huge expanse of land which contains a couple of off-limits chapels, and some extraordinary viewpoints. 
Megalo Monastery – The largest and highest of the monasteries, but also the furthest away. Nevertheless, there is more to see here than at any of the others, and it is a must visit. Plenty of amazing viewpoints around. Don't miss the rudimentary cable car that monks still use to get across the rocks. They have an old carpenter's shop which looks amazing, and an ossuary with the skulls of former monks lined up on shelves. The church is beautiful, with fantastic frescoes. The subject matter seems to focus rather grimly on the methods by which Christian martyrs have died, with graphic depictions of beheadings and other torture methods. There are a number of museums in the complex too.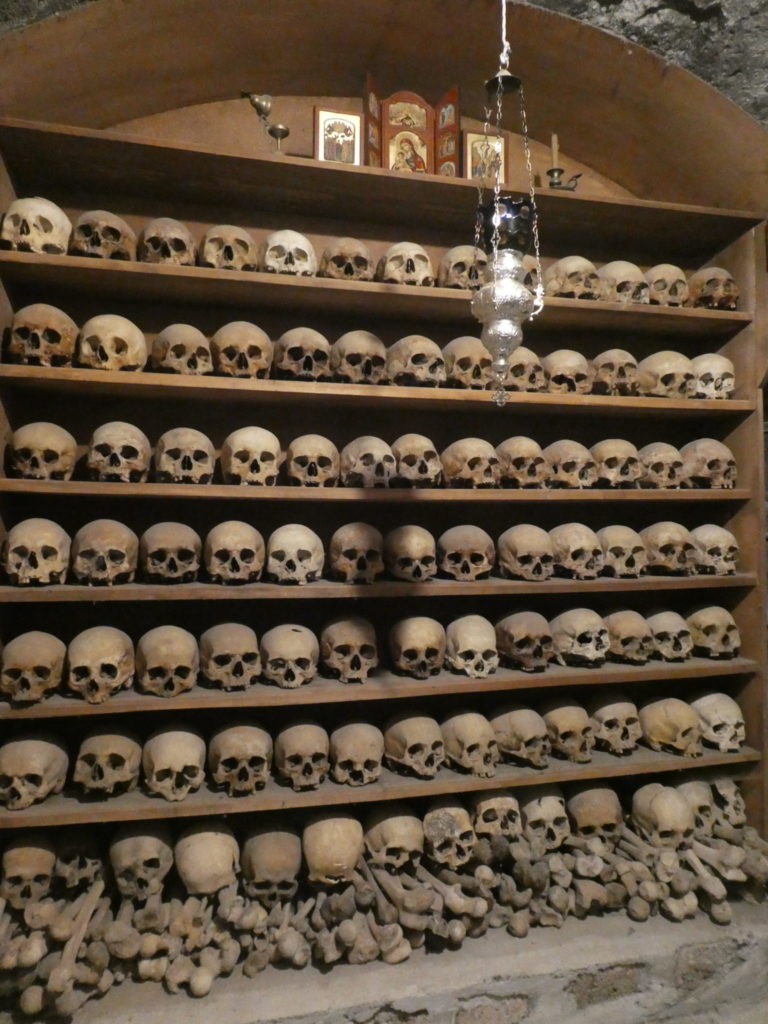 St Nicholas Monastery – Closed during the winter, it is definitely worth a visit if you come during summer. There are quite a number of steps to get up to the monastery itself. They have a room set up to look like the cell of a monk, and upstairs is the church, which is small but impressive. Don't miss the outdoors viewpoint, which has a small bell tower. Outside, you can spot a small cave church and ossuary.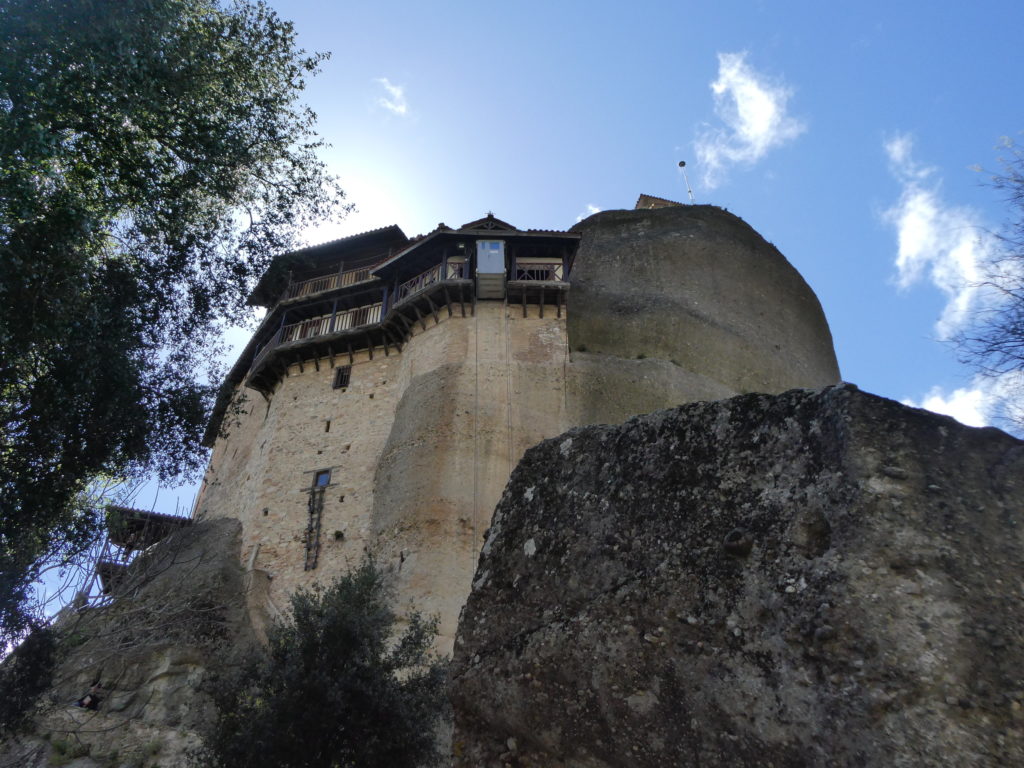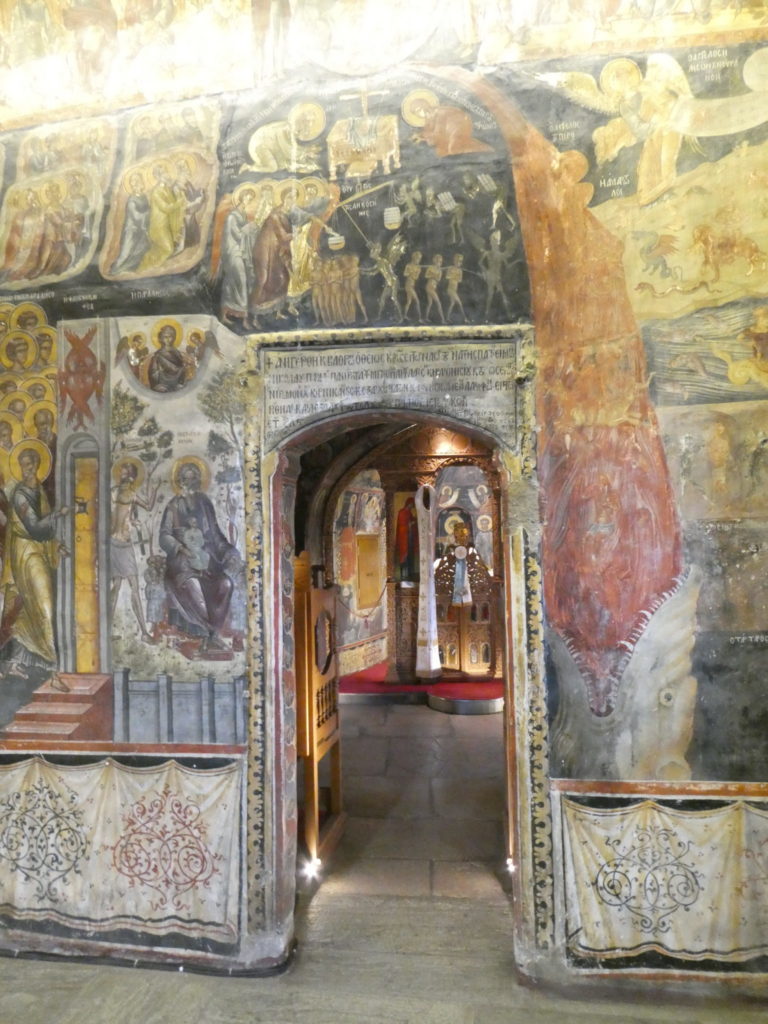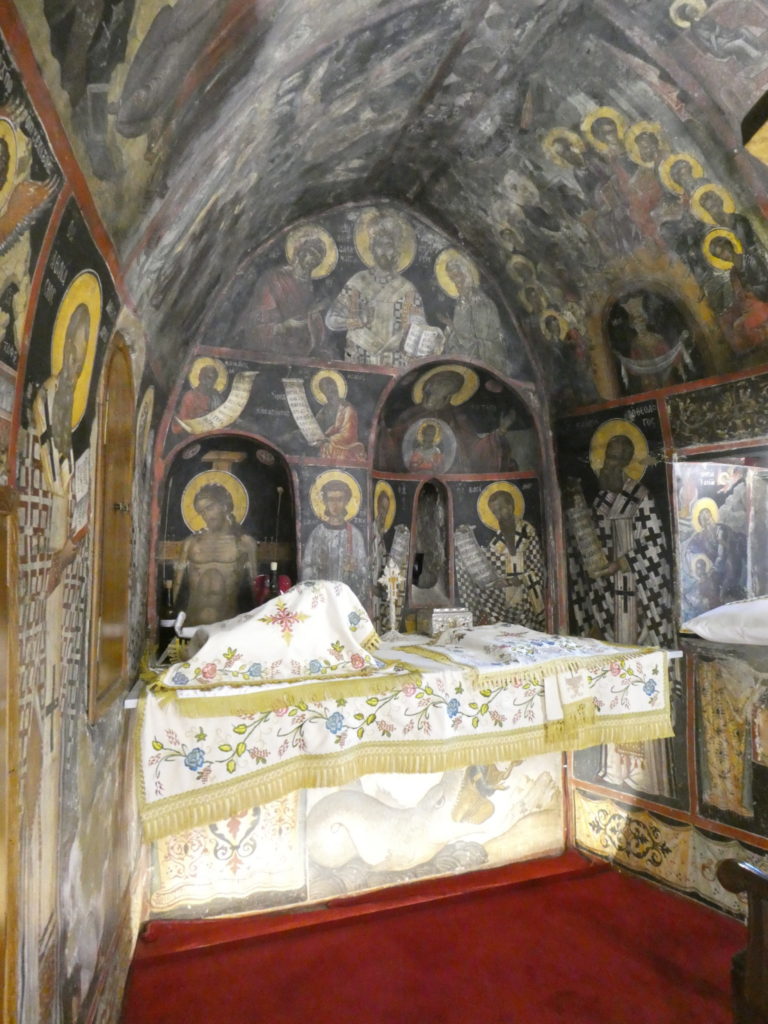 Varlaam Monastery – To reach the second largest monastery, you have to cross a small bridge over a very high drop before reaching the staircase. This one has had a lot of work done to it, and even features tacky sliding doors on the toilets to make them look like old wooden doors. A small and modern museum features some striking modern paintings, icons, manuscripts, wooden crosses, and some costumes as well as information about the monks' way of life. The dining room is now a shop, and near to that is a tiny little chapel. Again, it has a nice viewpoint area with a stone gazebo and nice views of the Byzantine-style church.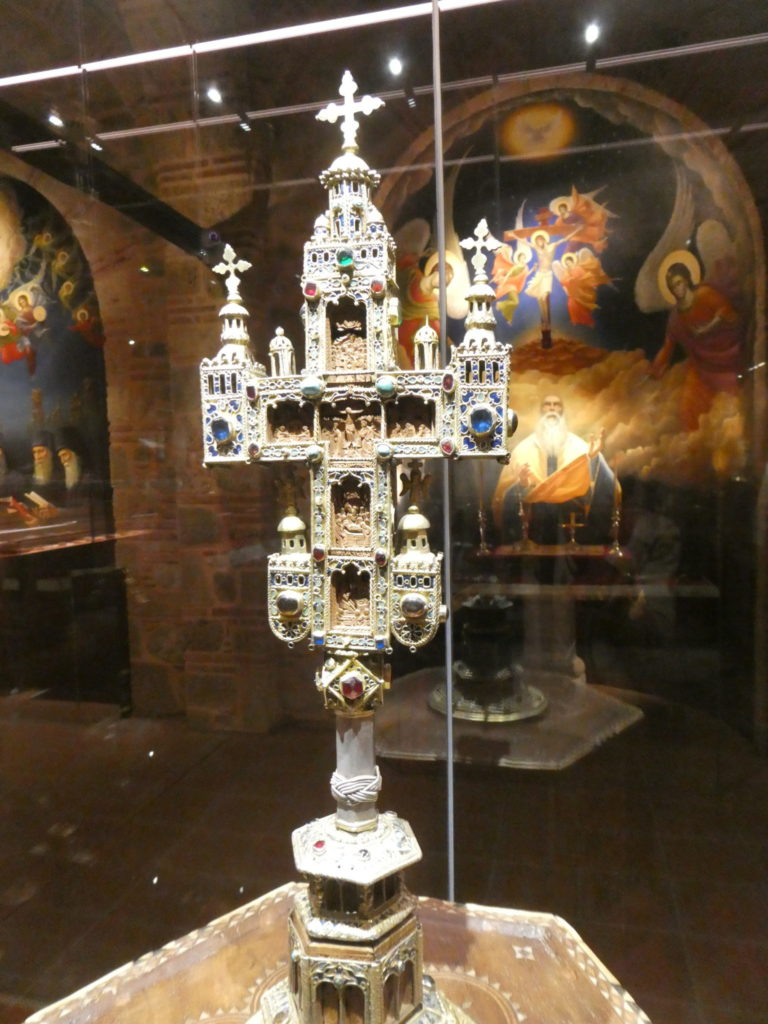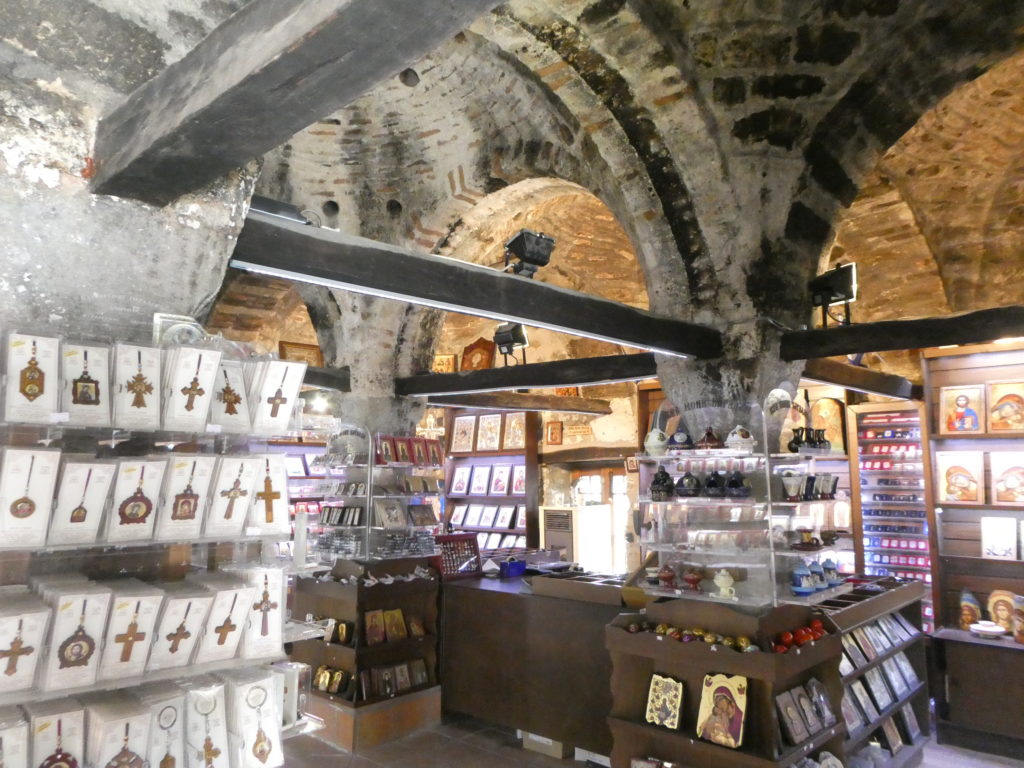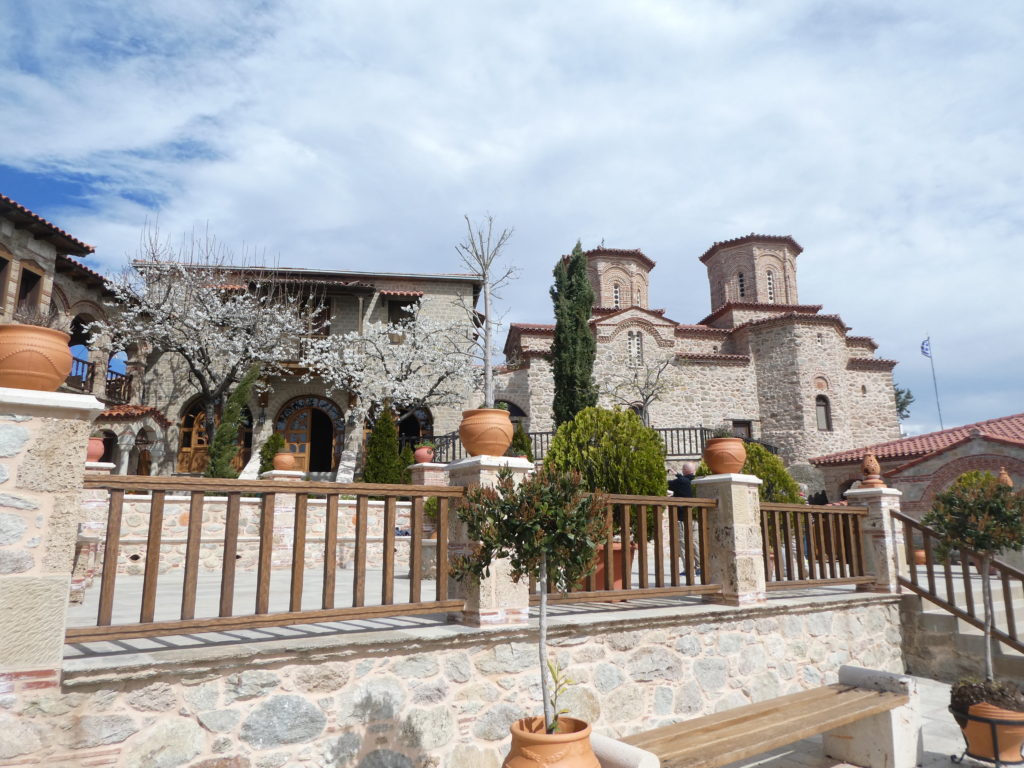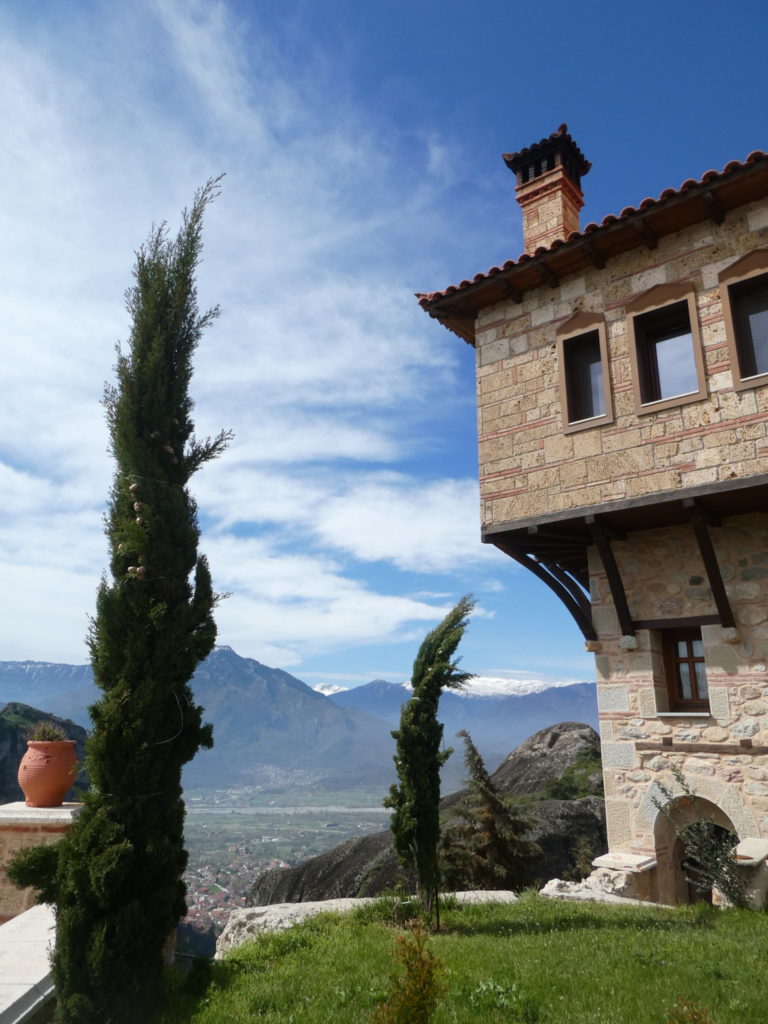 Roussenau Monastery – Now a nunnery, it is reached over a pretty cool bridge between the rocks. This one is remarkably small and unimpressive in comparison to the others. The church is very small too, though it has some nice frescoes. Visit this one if you'd like to see all of the monasteries, but otherwise, this should be bottom of your list.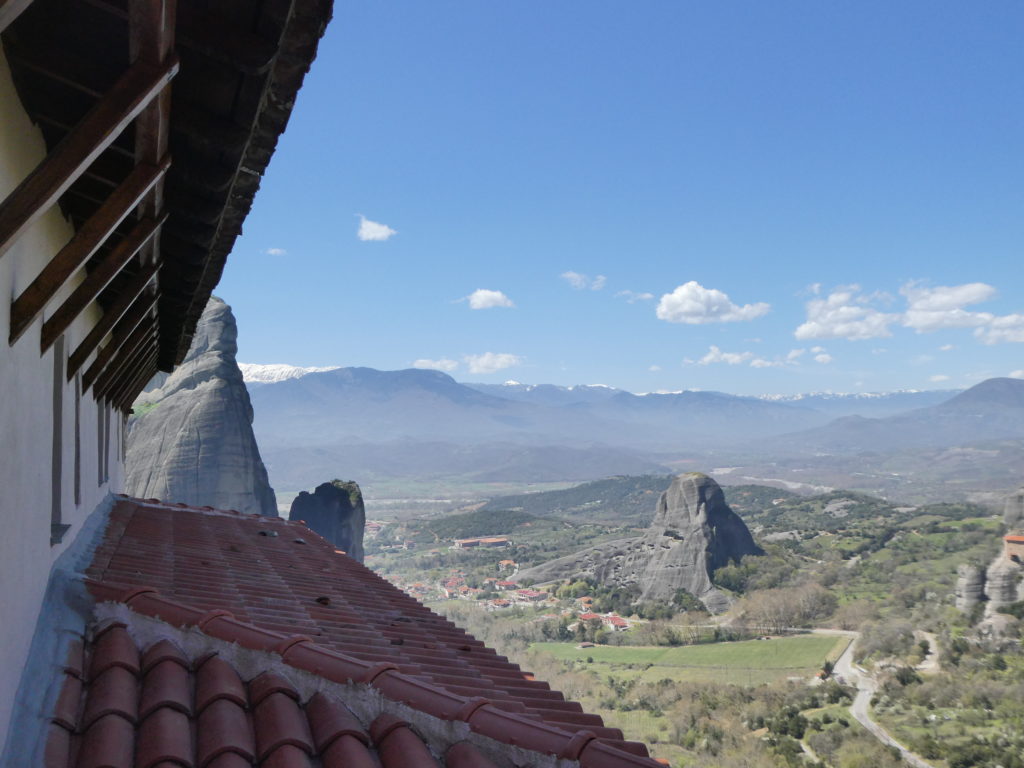 Natural History Museum of Meteora and Mushroom Museum – The ground floor contains one of the most impressive collections of taxidermies we have ever seen. It is a very new museum, and all of the works look immaculate. Most are birds, but there are also some mammals. They are themed around various things like snow based animals, nocturnal animals, and so on. Of course, they have a couple of taxidermied Egyptian Vultures, something of a symbol of the town.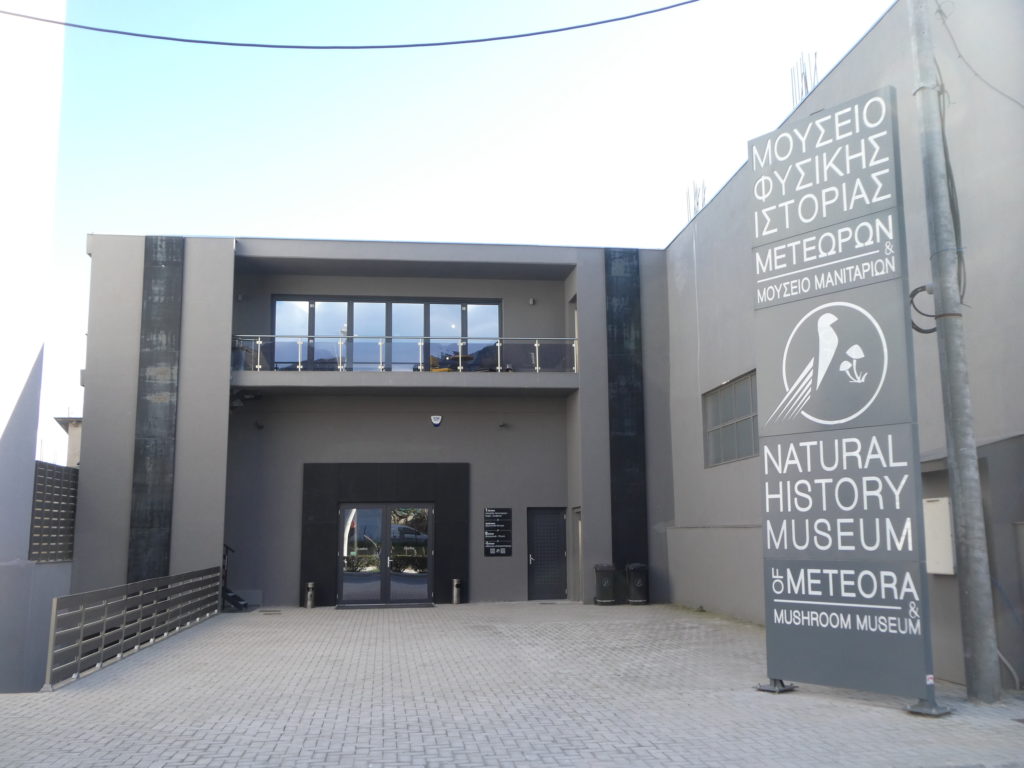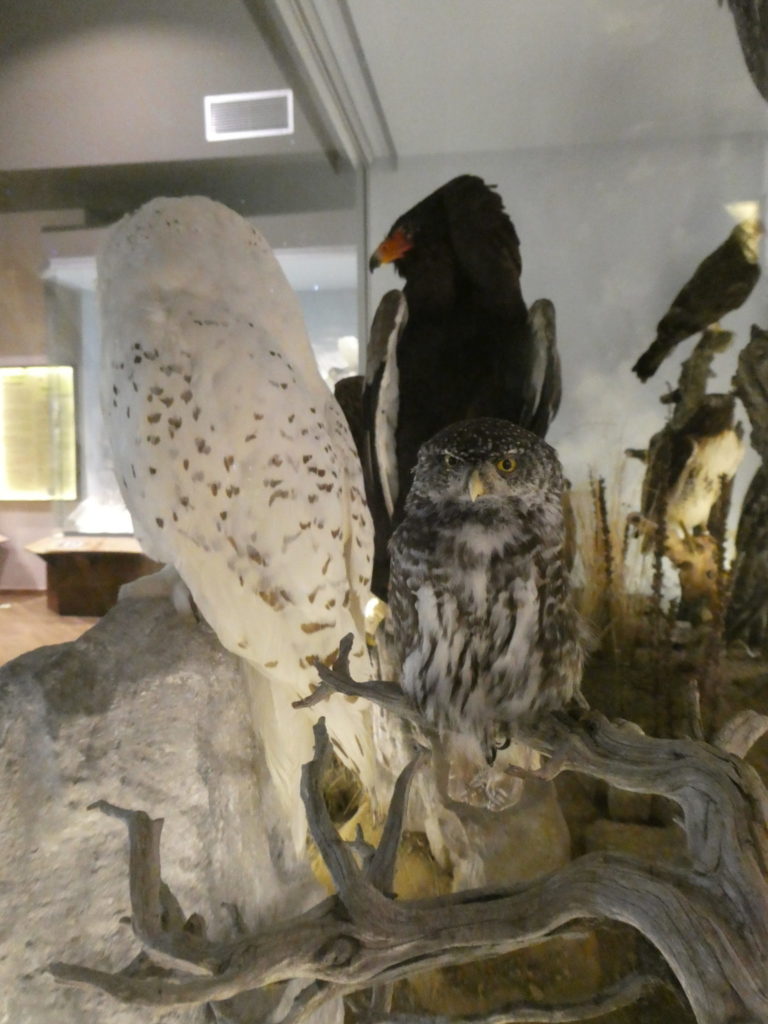 Upstairs is the Mushroom Museum. It is much more interesting than we expected, with models of countless types of mushroom, and explanations about each one, whether they are edible and the stories behind their names in many cases. One mushroom looked like a cream cake with cherries on top! At the end of our visit, you'll be invited to try three of the mushrooms, which is a great experience since they are not your usual mushroom varieties! 
The Views – Walking around the landscape, you'll spot a phenomenal amount of viewpoints that are just great for photos. Many involve clambering over some rather sharp rocks. On one of them, you get an amazing panorama of the entire area, and can see four of the six monasteries together. Be careful, though, as we lost a hat due to the wind up here, which can be pretty fierce!
HOW TO GET TO METEORA
By air? Nea Achialos is the closest airport to Meteora. However, there is a high chance that it may be far easier to fly into Athens or Thessaloniki. From there, choose one of the options below to get to Meteora. See if there are any bargain flights from your nearest airport, on Skyscanner.
By train? There isn't a particularly extensive railway system in Greece, but there are trains from both Athens and Thessaloniki to Meteora. Check www.trainose.gr for timetables.
By bus? Direct buses arrive in Kalambaka (the nearest town to the monasteries) from cities all over Greece. They are convenient, yet can be confusing since each region in Greece has its own bus company (look out for the name KTEL) with no centralised system. KTEL Trikala is the company responsible for buses to Kalambaka. We personally took the bus from Delphi, and moved on via bus to Ioannina.
By car? The roads are getting better over time in Greece. If you wish to allow for extra flexibility in your itinerary, consider hiring a car. Skyscanner is the best comparison site.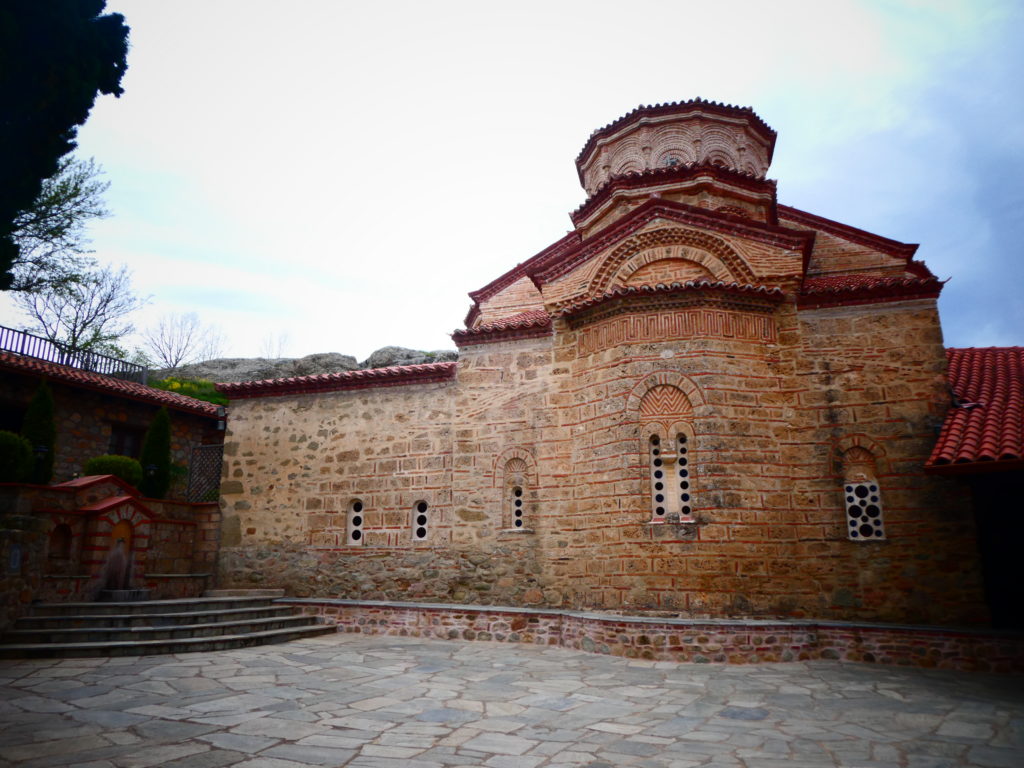 WHERE TO STAY IN METEORA
Luxury? The Grand Meteora is imposingly set against the Meteora mountains. Facilities include room service, hot tub, and a comfortable reception area. Book now, on Booking.com.
Mid-range? Dellas Boutique Hotel is an elegant hotel with unbeatable views, in the shade of the rock formations. Its location is between the towns of Kalambaka and Kastraki. Book now, on Booking.com.
Budget? Tsikeli Hotel is situated in Kastraki, rather than Kalambaka. However, the views of the rocks are sensational, and it offers a great place to watch the famed Meteora sunset. A lovely breakfast is served outside. Book now, on Booking.com.
Cheaper and more authentic? Try Airbnb, where you can find some unusual and fantastic homestays in more traditional surroundings. Click our special link to receive £25 off your first stay!
Free? Couchsurfing is a vibrant community of over 14 million world travellers, who host others on their travels.
WHERE TO EAT IN METEORA
Something special? Meteoron Panorama offers classic Greek cuisine with a modern twist. Of course, the main attraction may well be the awe-inspiring panoramic view over the Meteora rocks.
Budget? Not only does Paramithi have wonderful souvlaki, but the ever-present stunning views will add to the experience.
OTHER TIPS FOR YOUR TRIP TO METEORA
How to pronounce Meteora? Meet-e-ora.
Although you will be there to see the monasteries of Meteora, this area offers no accommodation options. You will need to stay in one of the closest towns – Kalambaka, or Kastraki. Kalambaka would be our pick, having been to both, due to its lively atmosphere.
Another town you could stay in would be Trikala. It is a very nice and picturesque town, especially in the evening. Its lit and picturesque bridges have the feel of Paris.
English is spoken very widely in Meteora. You won't have any trouble communicating. However, it is always worth downloading Google Translate just in case!
Females must wear a long skirt to enter the monasteries. They are provided, but it is probably easier to take your own. The downside is that you will be climbing a lot of stairs, so be sure not to wear a skirt that you are likely to trip on. Shoulders must also be covered.
Men don't escape from the dress code, either. Knees must be covered to enter the monasteries.
You can get a taxi or bus to the top of the monasteries. However, we hiked each time, and found the frequent viewpoints on the way up to be more than worth the effort. Make sure to take plenty of water, and sun cream.
The best time to visit Meteora would be April to June, because you would benefit from ideal weather conditions and avoid the worse times for crowds.
Meteora is unfortunately extremely popular with tour groups. If you plan to visit the two largest monasteries (Megalo and Varlaam), do so early in the morning to avoid the groups.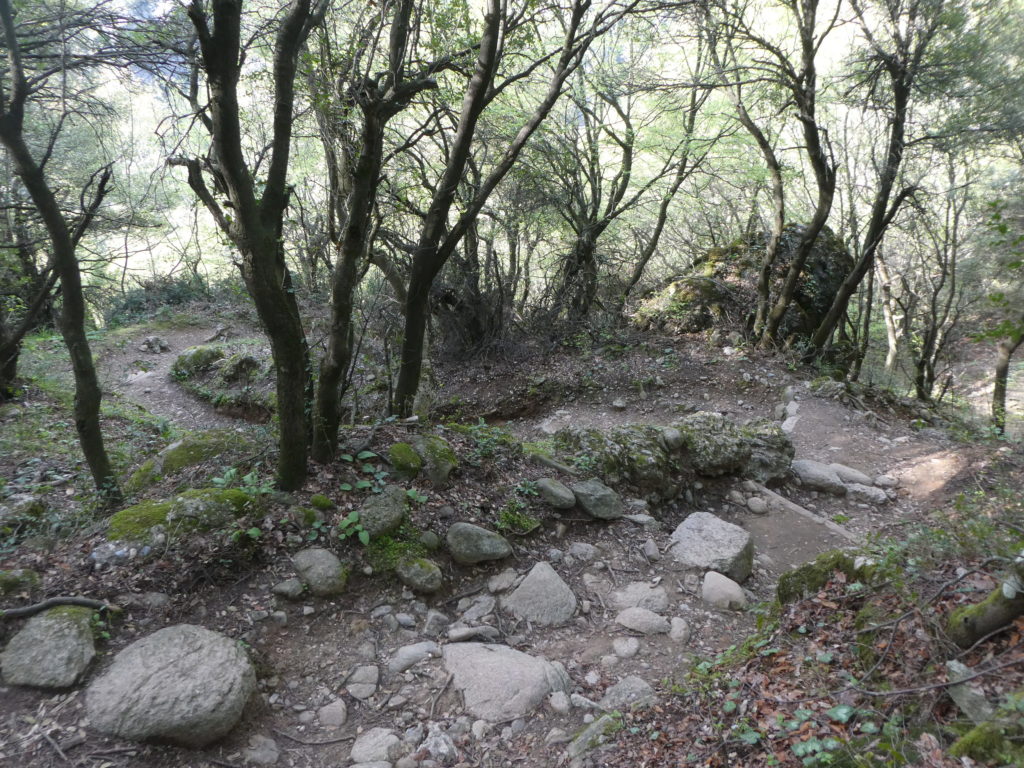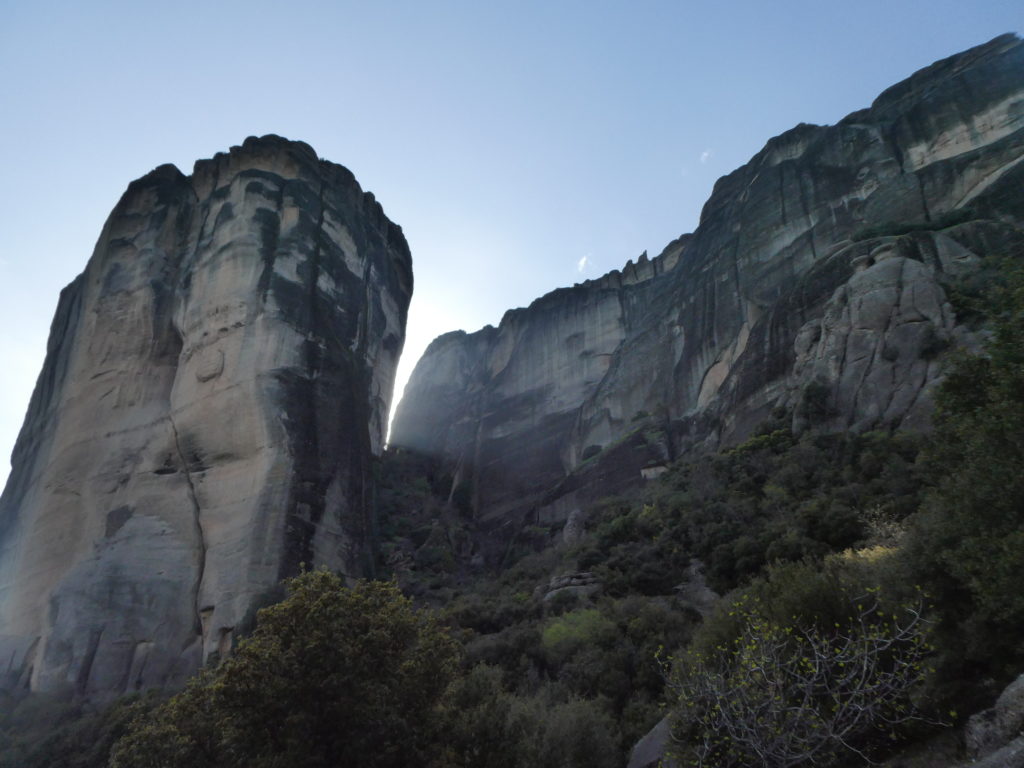 You could theoretically visit all six of the monasteries in a single day. However, you would need a car to do so, and the day will be rushed. It is a much better idea to do what we did. We split our visit over three nights, which gave us two full days to visit the monasteries.
On our first day, we visited Megalo, Varlaam, Roussenau, and St. Stephen's Nunnery. We saved Holy Trinity Monastery, and St Nicholas Monastery for the second day, then went back into the town to visit the Natural History Museum of Meteora and Mushroom Museum. If you walk everywhere like us, you will spot all of the amazing viewpoints on your way between the monasteries.
If you want to continue your journey from Meteora, we would recommend visiting Athens, Thessaloniki, Patra, Ioannina, Delphi, or Corfu. We came from Delphi, and continued to Ioannina, but visited all of the above in two months in Greece. All are easily reached from Kalambaka.
Has this guide to Meteora helped you to plan your trip? Anything else that you would like to know?
Like it? Pin it!
This post contains affiliate links. By clicking them to purchase your flights, hotels, and car hire, the companies involved pay a small commission to us at no cost to yourself. This helps to keep us on the road, creating guides like this one. Thank you for using them!