Llansantffraed Court: A grand country house hotel
We recently spent a weekend at Llansantffraed Court, in Abergavenny. Situated in a very remote area, with nineteen acres of grounds, this was always going to be a great place for a night away. After a pleasant check-in process, we headed straight to our room. We were very pleased with the view from our room. It overlooked a beautiful lake and church, which are on the hotel's grounds. The room itself was tastefully decorated. It was large enough without being massive, and contained all the amenities we required, including a TV.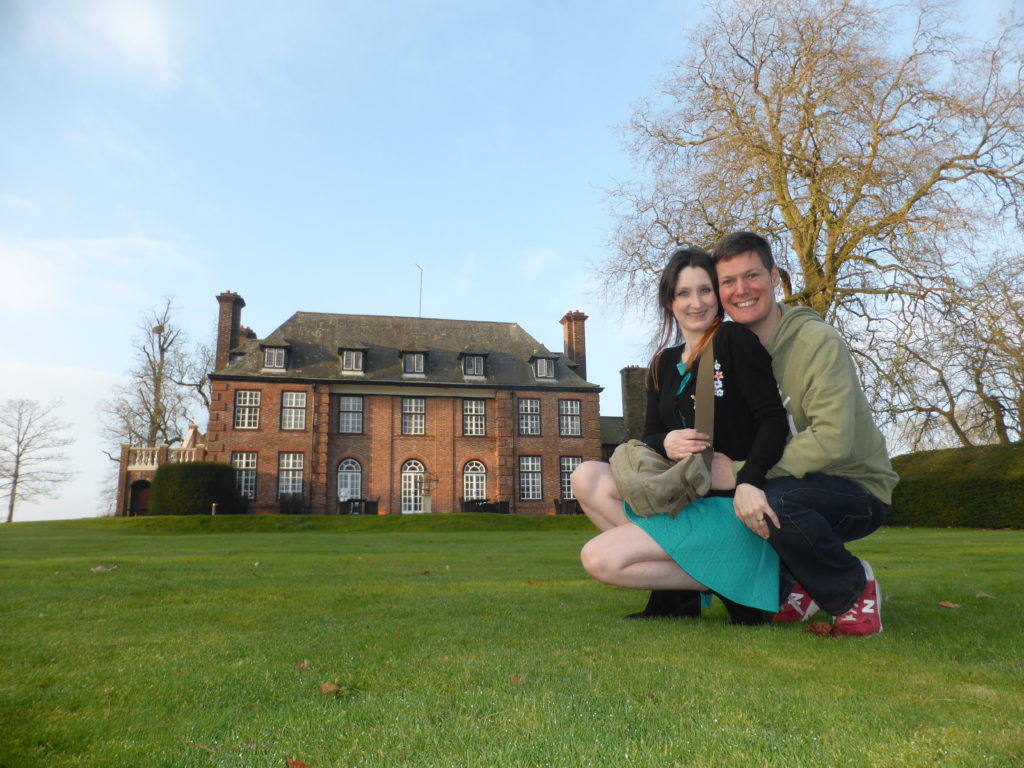 Our package included afternoon tea, whch we had soon after check-in. Afternoon tea was served in a very distinguished room, where we were sat in front of a crackling log fire. Most other guests seemed to be couples on a romantic weekend away too. We were served a pot of Chantlers' leafy tea, with sugar lumps first of all, before the rather posh waiter brought over a rustic piece of wood containing two Welsh cakes, and two scones. They were served with strawberry jam and clotted cream.
It was very nicely presented. However, the first issue we had was that the scones were of completely different sizes. We had to have a bit of each one, rather than having one of us getting the raw end of the deal. The welsh cakes were nice, a bit like a chewy shortbread perhaps. The scones were very crispy, though purposefully done like that I would have thought. It isn't how we prefer our scones, but with the clotted cream and jam, they were very enjoyable nevertheless. Me and Amy eat our scones very differently. I prefer the cream first, then the jam, whilst Amy prefers it the other way around.
Beautiful grounds to explore
We returned to our room for a short while, before going back down to explore the grounds. We very much enjoyed strolling around the grounds for around an hour, admiring the pleasant architecture of the hotel, which is attractive from all sides. In fact, the side of the hotel looks very pretty indeed, with two grand staircases attached, one of which led up to our room. The large expanse of grass which is visible from our room window contains a few interesting trees, including a very ancient looking stump. The romantic setting around us filled us with joy as we strolled around, before braving a jump over a small stream to get to the other side of the lake.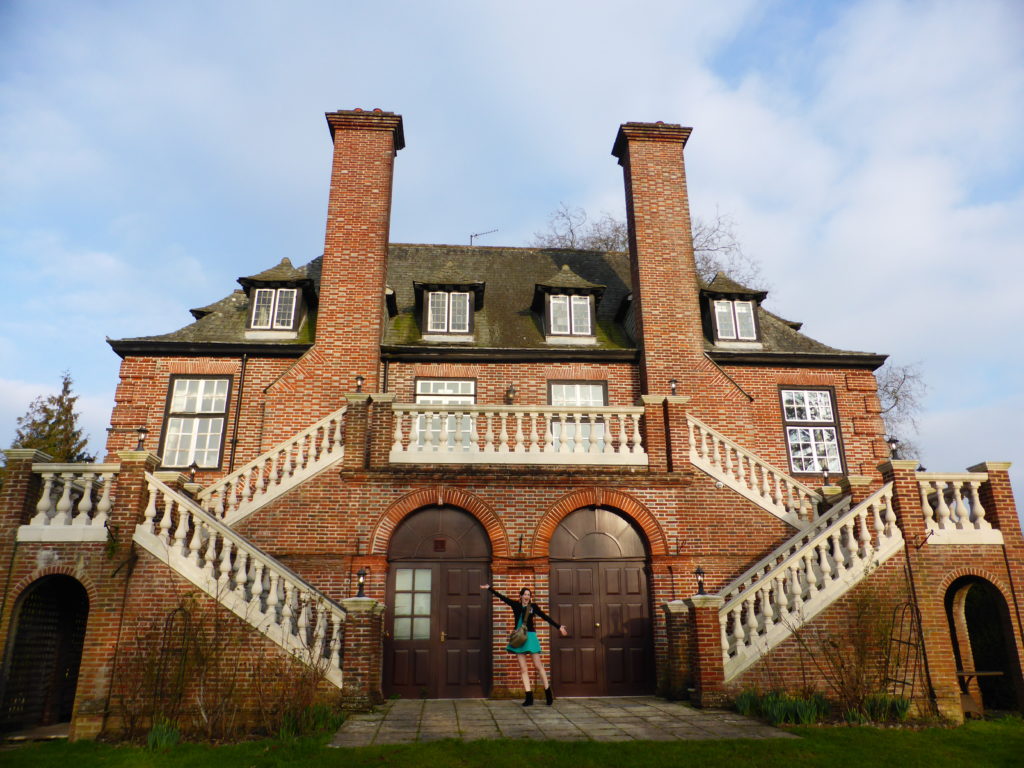 At the far end is a bench. We spent a good amount of time sitting there, just gazing over the lake at the hotel, and chatting away. We also had a stroll around the 16th century St. Bridget's Church, though we couldn't get inside. The last place we explored outside was the large walled kitchen garden. Many of the vegetables are grown right here, as well as having a collection of chickens. They also had brussel sprouts growing on trees, which looked far too exotic to contain brussel sprouts!
Enjoy some award-winning food
From here, we returned to our room, to get ready for our tasting meal. You can read about our tasting menu experience here. After the meal, we returned to the room. Amy decided to have a bath, though it must be said that the water was rather lukewarm. After how idyllic our stay had been so far, it was a shame to have any downsides to our stay. Unfortunately, we had a rather frustrating morning too. First off, the alarm clock in the room went off at 6am, obviously set by a previous guest, which woke us up and Amy struggled to get back to sleep. When I got up for my shower, I found the water was freezing. Not just room temperature, but like ice cold. Brrrrr.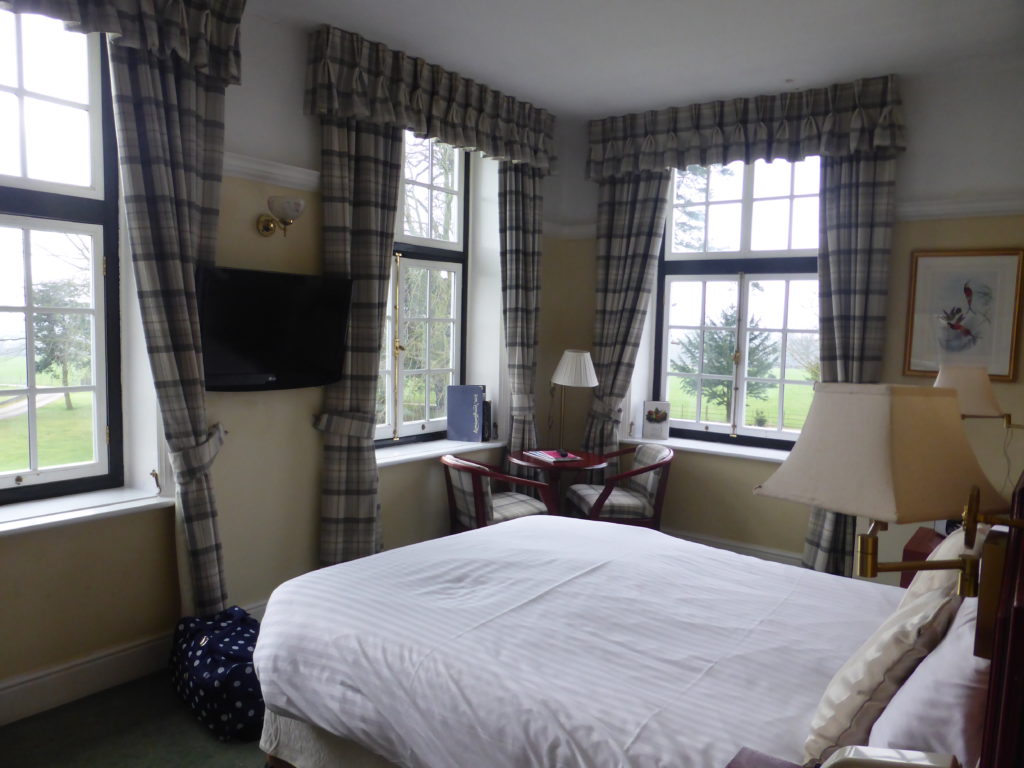 We got dressed and headed down to breakfast in the Court Restaurant, where we ate our tasting dinner last night. The breakfast was brilliant. We ordered a full Welsh breakfast each, which came with bacon, sausage, egg, fried bread and tomato for me, while Amy swapped the tomato for black pudding randomly. They also brought us a pot of tea, and some toast. In the meantime, we were free to eat from the continental selection they had on a large table. This was very impressive indeed, with fresh fruit juice (including bottled options), croissants, pain au chocolate, apricots, an amazingly fresh fruit salad, yoghurts, and a great selection of cereals too.
We'd definitely come back!
We overheard the waitress telling another guest that there had been a problem with the water supply overnight, and that it had only just come back on. Typical. Despite this, the water problem wasn't the hotel's fault. We would have no hesitation to stay there again, or recommend a stay to any romantic couples out there, looking for a break in Wales! The hotel is very close to Monmouth, and Big Pit: National Coal Museum. You can read more about each of these by clicking the links.
Are you going to book a stay at Llansantffraed Court? We highly recommend it!