It was a scorching hot day at the O2 Arena, and fairly busy and bustling in its atmosphere. Of course, this had to be the day for an indoor music festival! The reason for our visit was to see Ritchie Blackmore's Rainbow. However, it was part of an all day event called the Stone Free Festival. This meant we got the chance to see a few other great bands as well. We arrived in time to see 90's Scottish rockers Gun, famous for their cover of Word Up. However, it took absolutely ages to get through the heightened security. Better to be safe than sorry though, in times like these. We were given a free leaflet/programme which stated the stage times, and headed straight towards indigo at the O2 to see Gun.
It was pretty busy inside but we made our way through the crowds of burly rockers, all dressed in their favourite band t-shirts, to find a pretty decent view. We had missed the first couple of songs but arrived during one of their best-known tunes, Better Days. They followed this with the classic, Word Up. Gun did a really good set. The songs we heard include Better Days, Word Up!, Hold Your Head Up, Favourite Pleasures, Steal Your Fire, Shame On You, (You Gotta) Fight For Your Right (To Party!). Afterwards, we had to judge if we would be able to get back in again if we left, as we wanted to check out the merchandise. It was mainly all band t-shirts, with no programme available.
Amy missed The Answer to take advantage of the O2 Arena's tenth birthday celebrations. I went in though, and found a position right at the front of the stage to watch a couple of their songs. Annoyingly, I think Amy would really like them. The songs I saw were On And On, I Am What I Am, Thief Of Light, Spectacular, Come Follow Me. At the end of The Answer's set, some people relinquished their seats on the Balcony. I jumped into the first two I could find, moving again when some became free further across the row in front.
Having had (Don't Fear) The Reaper in my classics folder for many years, I was excited to see Blue Oyster Cult on their 45th anniversary tour. Luckily, Amy arrived just before they started. Annoyingly, all she had 'won', as I suspected, was a half price voucher for climbing the O2 Arena! How crap! She found it easy to get back into the venue but they had blocked off the Balcony upstairs. Therefore, she had to run for it when the security guard's back was turned! Blue Oyster Cult did a very long set. The main problem for us was tiredness. Our lack of sleep, the heatwave, the dark lighting, and comfy seating, combined to make us almost drop off to sleep.
Singer and guitarist Buck Dharma looked a bit like Bono from up above. They started by playing their debut album in its entirety. I must say that it wasn't the most exciting set of songs in the world. Things picked up after this, as they started to play their best-known songs, including the punchy Godzilla. Amy couldn't believe this hadn't been included in the movie. They finished of course with the classic (Don't Fear) The Reaper, dedicated to Peter Cushing and Christopher Lee, which was great. We managed to head downstairs and get a place right at the front at the side to watch their two song encore. The atmosphere was much better than upstairs.
Their setlist was Transmaniacon MC, I'm On The Lamb But I Ain't No Sheep, Then Came The Last Days Of May, Stairway To The Stars, Before The Kiss A Redcap, Screams, She's As Beautiful As A Foot, Cities On Flame With Rock And Roll, Workshop Of The Telescopes, Redeemed, Burnin' For You, Buck's Boogie, Godzilla, (Don't Fear) The Reaper, Encore – Tattoo Vampire, Hot Rails To Hell. Upon exiting indigo at the O2, we went straight into the O2 Arena. It was here that the rest of the entertainment was taking place. Lots of European Rainbow fans had made the trip to London for the show, including a couple of blokes who asked me to take their photo.
We had brilliant seats in the lower tier of the second block from the stage. We have seen the first act, Sweet, not all that long ago, at the Victoria Hall in Stoke-on-Trent. Amy loved it, and even got a plectrum thrown up to her. With original main man Andy Scott at the helm, it was great to see the glam rock giants perform in a big venue. They started with some of their more credible rock songs. It led me to think it would be a very different show catered to the rock crowd. However, a medley of Wig Wam Bam and Little Willy put paid to that theory. As Andy Scott said though, everyone sings along to those songs, no matter what t-shirt they are wearing.
It was an enjoyable set, if not quite at the heights of seeing them from the side of the stage like last time. They also suffered a bit from support act sound problems. The setlist was Action, New York Groove, Hell Raiser, The Six Teens, AC/DC, Set Me Free, Teenage Rampage, Wig Wam Bam/Little Willy, Love Is Like Oxygen, Fox On The Run, Encore – Blockbuster, Ballroom Blitz.
The sound problems were well and truly sorted by the time headline act, Ritchie Blackmore's Rainbow, arrived on stage. Their entrance was to Land Of Hope And Glory and a guitar instrumental of Over The Rainbow. The guitar maestro, formerly of Deep Purple before starting up his hugely successful side project Rainbow, has spent the last two decades performing medieval folk music. It was gratifying, therefore, to see him return to his rock roots after some successful shows last year. The set was a mix between Rainbow songs and Deep Purple songs, all sung fantastically by talented Chilean Ronnie Romero. The writer of many 80's rock ballads, including two of Rainbow's biggest hits, Russ Ballard, was brought out on stage to join the band on one of his, the all-time classic Since You've Been Gone.
Blackmore's guitar playing was phenomenal. He played with gusto effortlessly, despite being in his seventies and suffering from arthritis. Truly one of the all-time guitar greats. He showed off some fine acoustic playing on Deep Purple's Soldier of Fortune. He barely said a word though, preferring to stand at the back dressed in black. Despite a bit of a lull in the middle of the show, when the band seemed to take turns to have extended instrumental solos, there were an amazing amount of classic songs in the setlist tonight that more than made up for it. Two iconic guitar riffs were amongst the final songs of the evening. Black Night had the crowd air-guitaring along, and the most famous riff of all time – Smoke On The Water, was given the honour of finishing this fantastic show.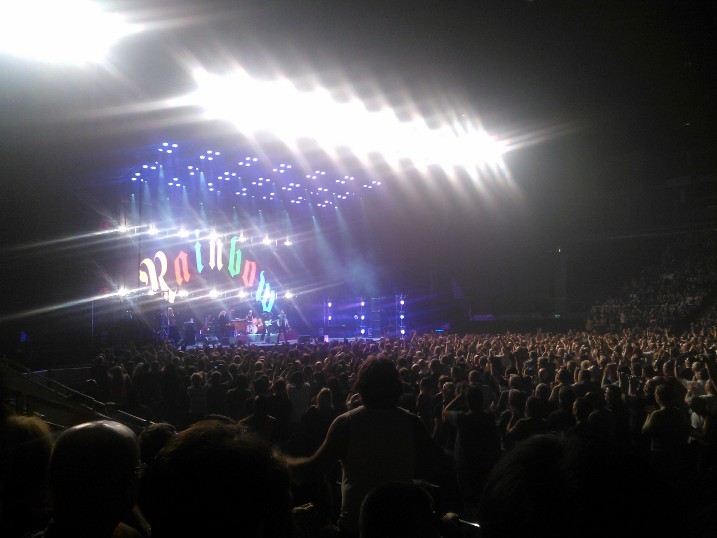 The setlist was Spotlight Kid (Rainbow), I Surrender (R), Mistreated (Deep Purple), Since You Been Gone (R), Man On The Silver Mountain (R), Soldier of Fortune (DP), All Night Long (R), Difficult To Cure (R), Child In Time (DP), Stargazer (R), Still I'm Sad (R), Long Live Rock 'n' Roll (R), Black Night (DP), Encore – Burn (DP), Catch The Rainbow (R), Smoke On The Water (DP).
Have you ever been to an indoor music festival? Is classic rock your thing?