Monmouth has a fascinating history
On a recent trip to Wales, where we enjoyed a five-course tasting meal, we stopped en route at Monmouth. Monmouth is a traditional county town just two miles inside Welsh borders from England. This small town has a fascinating history, going back to Roman times. The Normans built a castle here in the eleventh century. About three hundred or so years later, King Henry V was born there.
The Church of St. Thomas' The Martyr is very small and beautiful, with part of it dating from 1180. It has a very historic appearance to it, and a balcony over three sides, which is rather unusual. Don't miss a tree opposite the church that has a twee door carved into it, like a fairy is living there. It is very cute. From here, you can better admire the pretty appearance of the church's exterior. Its small bell tower atop the roof is a particularly nice feature.
The historic Monnow Bridge and Gate is one of the town's main sights, being the historic gateway to Wales. It is Britain's only surviving medieval bridge with a fortified gate on its span. However, historians have argued that its fortification was unnecessary. This is because invaders could easily cross the river by foot a bit further down! The bridge was built in the late 13th century. Its fortified gate originally would have been for the town's protection, but has since been used as a tollhouse, a jail, and a lodging over the years.
Unbelievably, this bridge was used by cars until recently
Apparently, until just over ten years ago, this ancient bridge was still being used by vehicles. A few accidents led to them building another further down. They now use this one for pedestrians only, which seems very sensible. It is certainly a very atmospheric place to visit that is for sure. Nearby is a mosaic showing some of the history of the town.
The Shire Hall is reached by walking up Monmouth's extremely long main street, with very narrow pavements in places. The Shire Hall is a very imposing building at the very top of this street. On the outside are statues to two famous Monmouth people. These are Charles Rolls (of Rolls-Royce), and Henry V, who of course was born here. The tourist information is based inside, and it is well worth exploring the Shire Hall itself. There are two main things to see. Firstly, an exhibition about Monmouth through the ages, from an archaeological slant. It shows things they have found on digs, from prehistoric, to Roman, and other interesting finds.
Up the stairs, you can visit the courtrooms of the historic Assize Court. In here, the Chartists Trial of 1840 took place. Firstly, you enter the Robing Room. This has been recreated to show a model of the judge considering a verdict. The large and mostly empty Courtroom 2 is now the home of a huge, beautiful wall-hanging depicting local man King Henry V. Courtroom 1 had the most interest, however. It has been fully restored to its appearance at the time of the Chartists Trial. You can sit in the Judge's chair, or stand in the dock! Downstairs are some holding cells, which actually have models of prisoners inside. It is a little bit creepy, especially given the atmosphere down here.
You can see lots of Lord Nelson memorabilia in Monmouth
Another main attraction in the town is the Monmouth Museum. Be aware that they strangely shut between 1pm and 2pm. The museum is most famous for its great permanent collection of Lord Nelson memorabilia. Nelson was a regular visitor to the area. The collection includes many of his personal letters, and his fighting sword. When we visited, we managed to catch a fascinating exhibition about the Rockfield Studios. Unfortunately, this exhibition has now closed. This local residential recording studios is where some of the greatest records of all time have been produced. Our minds were blown when we saw the bunch of record sleeves on display, all of albums recorded here.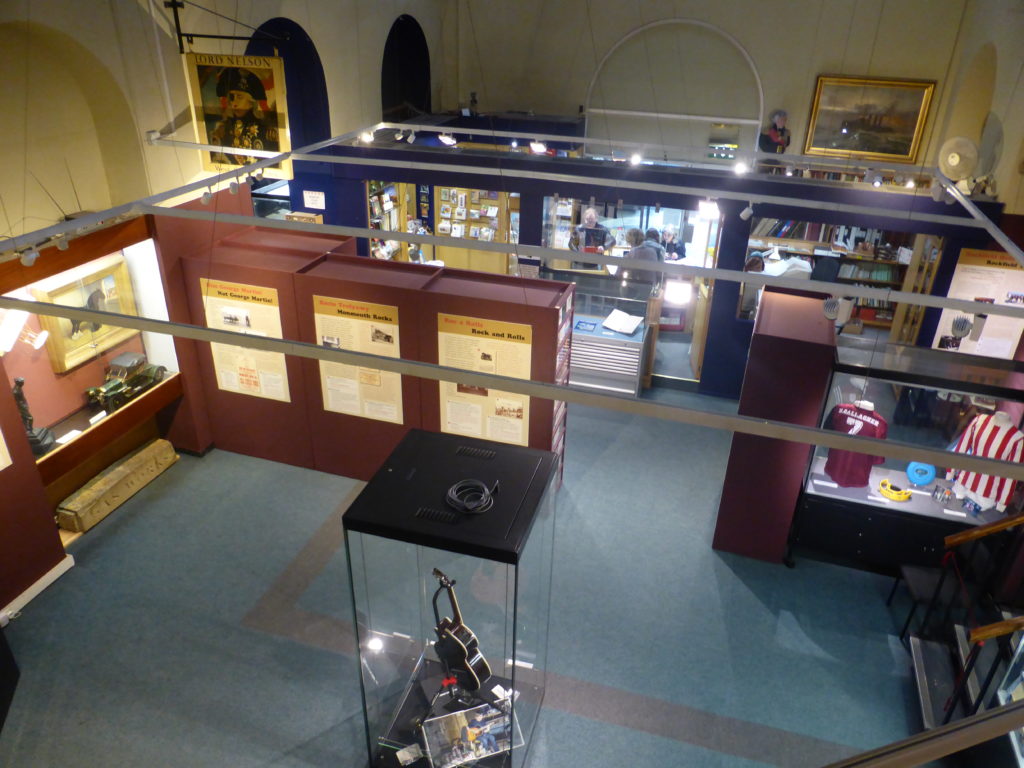 One of the most notable is Oasis' (What's The Story) Morning Glory? They even had the acoustic guitar that was used on that track. Not to menti0n Noel Gallagher's football shirt from when he played a football match whilst here. They also had lots of the vintage recording equipment on display. Most impressively, the 24-track desk that Queen's Bohemian Rhapsody was recorded on! There was even the folder above the desk, which contains (or at least once did) the master copies of the song.
Have you ever been to Monmouth? What did you like the best about it?