The Ultimate Guide to Planning a Trip to Korcula
One of the most beautiful and underrated gems in the Dalmatian Coast area is Korcula Island. With its fortified walls, Korcula Town makes the ideal base for your stay. Korcula's history dates back over 3,000 years. Its most treasured historical fact indeed may or may not be true – was world famous explorer Marco Polo born there? No-one knows for sure, but we do know that Marco Polo loved Korcula, and you'll see why for yourself should you visit. Our travel guide to Korcula will tell you everything you need to know to plan an amazing trip.
THINGS TO DO IN KORCULA TOWN
Wander around the Old Town – Wow, if there is any place more photogenic than this small town, then take me there now. It has everything – sun, sea, beautiful buildings and history galore. It feels like a journey to the past. Shoppers will love it too, with a large number of independent artists and jewellers setting up shop in cosy little areas of the Old Town. Just stroll around the cobbled streets, and stop at one of the many restaurants where you can relax for hours. The fortifications look like chess pieces!
St Mark's Cathedral – Dominating the main square is St Mark's Cathedral, with naked and squatting figures of Adam and Eve on either side of the doorway. It was built in the 1400s from Korcula limestone, which is apparently what the White House is built from. The cathedral itself is a nice, if rather small, cathedral, with a painting behind the altar by Tintoretto. Outside, look for the carved elephant and a mermaid! Don't miss the baptistery to check out the modern sculptures, including one by Ivan Mestrovic.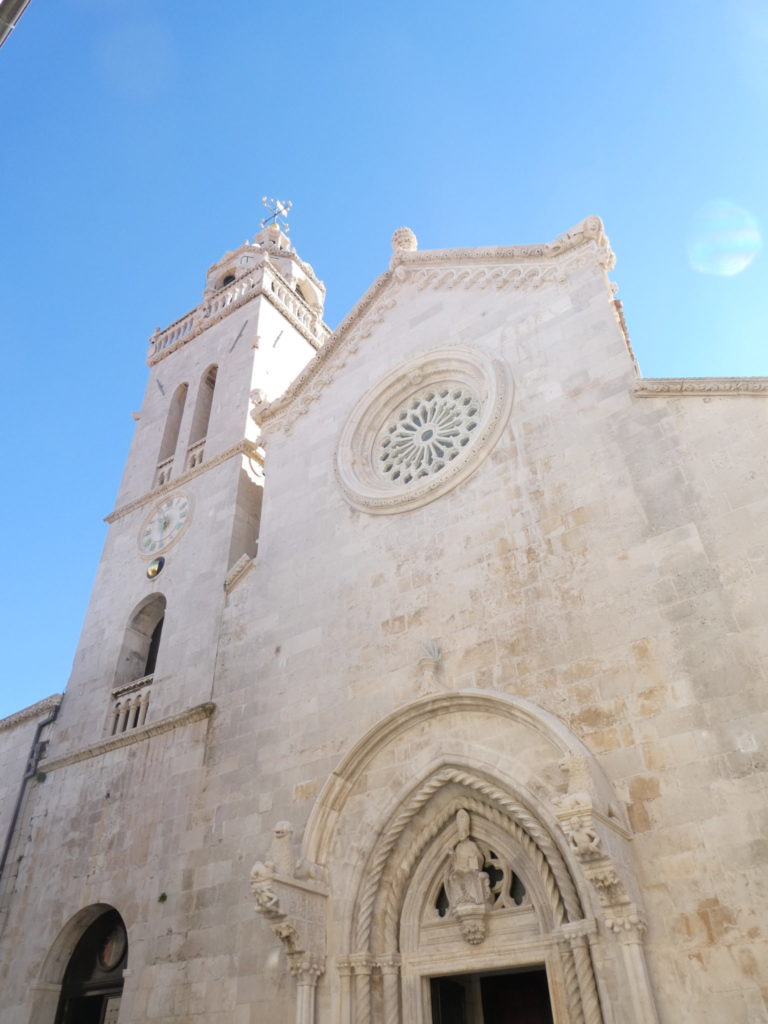 Climb St Mark's Cathedral Tower – You can climb the tower which is so narrow, that it has a traffic light system to regulate when people can go up and down! If you brave the climb, the views at the top are some of the best you will ever see.
Pupnatska Luca Beach – Around half an hour's drive from Korcula Town is the best beach on the island. As like most of the Dalmatian Coast, it is a pebble beach, but situated in a stunning cove. The crystal waters are great for snorkelling in, as you can see shoals of fish sheltering here. Be careful of sea urchins, mind you!
Have a Cocktail on top of a tower – The Massimo Cocktail Bar is the best place to watch the sunset in Korcula – it is situated on the turret of one of the towers that make up the town's stunning fortifications. They actually send the drinks up to the top of the tower via a pulley system from the bar area below! It is just a shame that the quality of the drinks don't match the quality of the location.
Korcula Town Museum – Based in a palace from the 1500s, the museum is scattered over four floors. Compared to most museums, it is rather like the jumble sale of museums. The ground floor room has hundreds of stone fragments from ancient to communist just lying about. Some of the highlights include a stone tablet from the 3rd century BC, which shows that the Ancient Greeks were on Korcula at the time, and the oldest legal document in Croatia. Don't miss the recreation of the palace kitchen on the very top floor!
Marco Polo Museum – There are seven life-size waxwork tableaux which show the key scenes of Marco Polo's life. The scenes are quite well done, and will inspire your adventurous spirit. You'll learn a lot about Marco Polo and his travels through places like Egypt, and most famously China where he worked for Kublai Khan. When he returned to Venice, he was imprisoned due to a war that was going on. Whilst in his prison cell, he wrote a book about his travels. People thought he was making up things like gunpowder and ice cream! Find out more here.
St Mark's Treasury Abbey – Spend half an hour wandering around the former Abbey palace, perusing their excellent collection of religious icons and Dalmatian art. Sculptures of bishops, hundreds of reliquaries, and a famous polyptych by Blaz Trogiranin called The Virgin, are some of the items on display. Lots of religious robes, paintings, and some fantastic views of this characterful old town from the upstairs windows are also highlights. The museum deserves more visitors than it gets.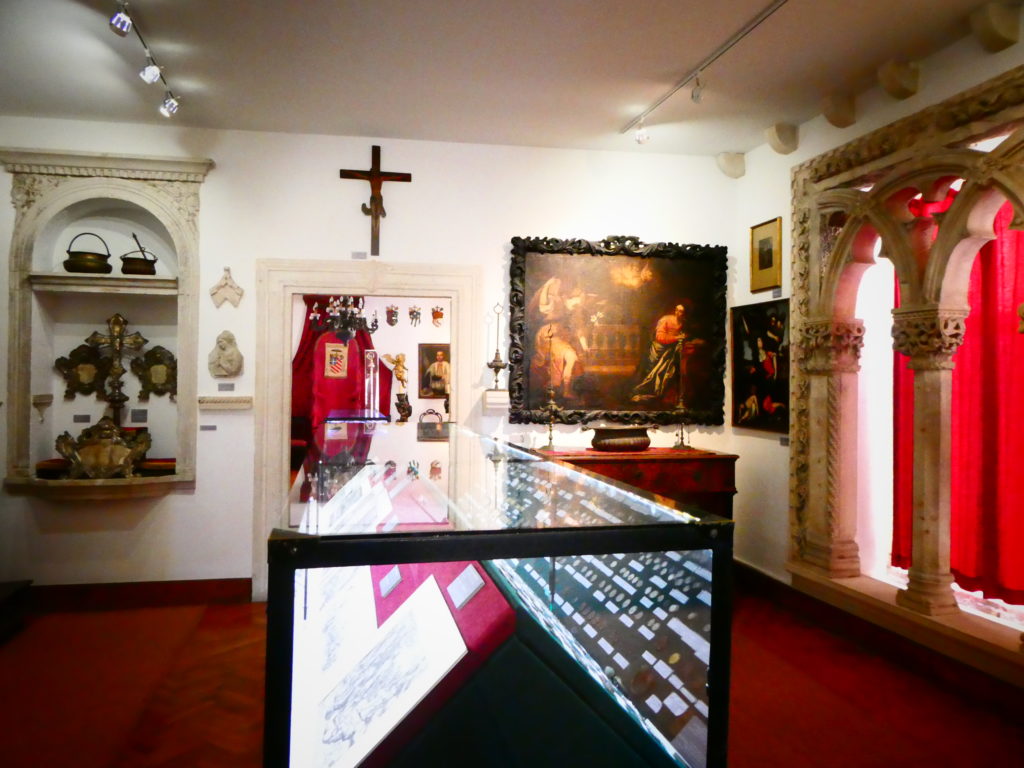 See a Moreska sword dance – This traditional sword dance dates back 500 years, and is only performed here on the island. You can see a performance in the summer, on Friday nights. Yes, they use real swords, so there is a serious element of danger in there!
Listen to Duo Sol – This amazing duo play traditional Croatian folk music in the area of the Land Gate. Their music is atmospheric and heartfelt, and gives a joyous atmosphere to the town. Stay to watch them for a while. Their CDs are available for sale in between songs, if you want to replicate the experience at home.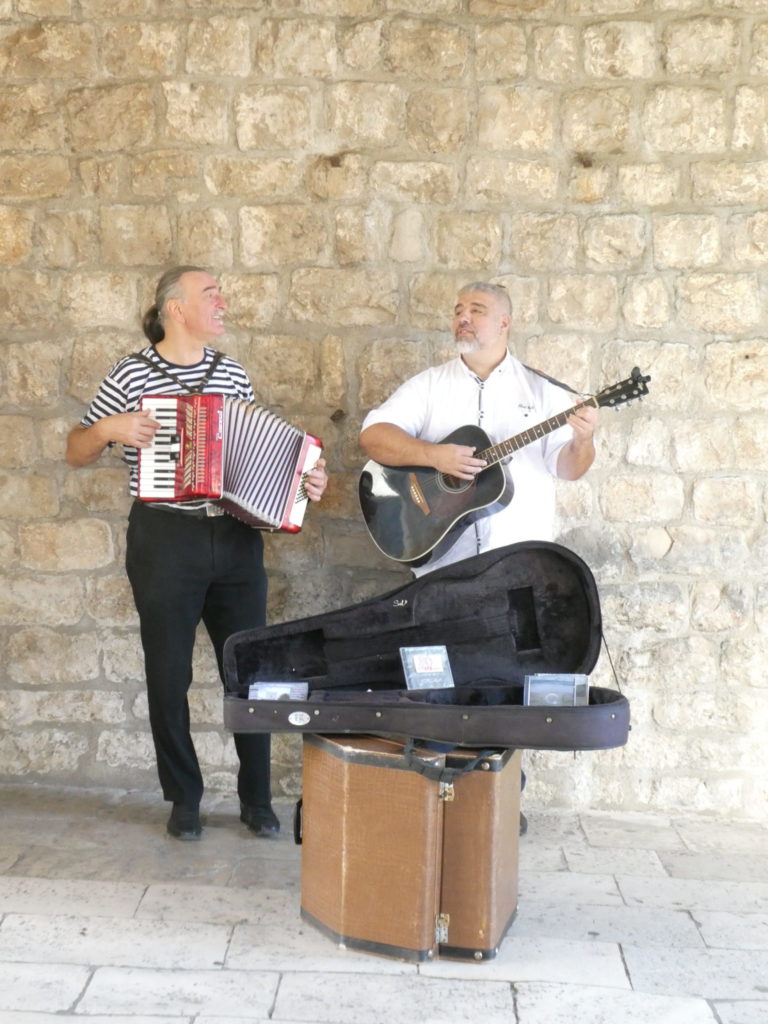 Vapor Gallery – Korcula is filled with artists. It is only natural in a place as beautiful as this. Many have set up galleries where you can purchase their works. If you only have time for one, make it this one, housed atmospherically within the town's fortifications.
HOW TO GET TO KORCULA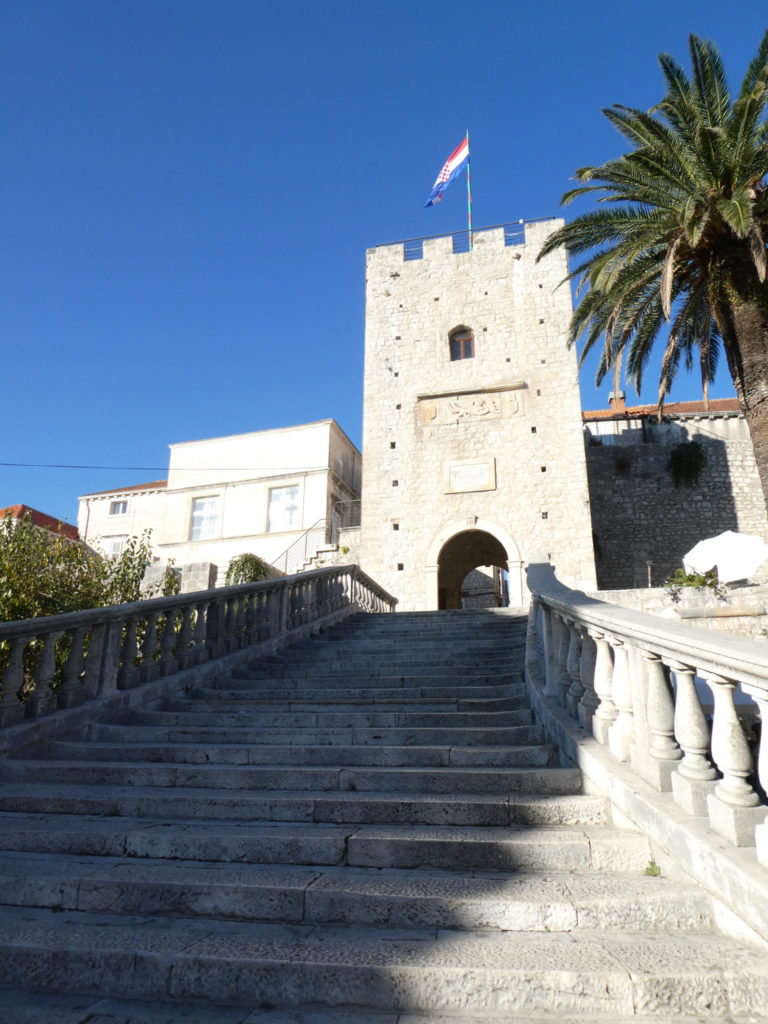 From overseas? The nearest airports are Dubrovnik and Split. To find a cheap flight from your nearest airport, click here.
From within Croatia? It is easy to get to Korcula by either bus or ferry from both Dubrovnik and Split. As an island without road access to the mainland, you will need to get a ferry over. The buses are the cheapest method, and they include a car ferry where you will get the chance to stretch your legs. Check Bus Croatia for buses, and Jadrolinija for ferry timetables. It is also fairly easy to get to Korcula from most other places on the Dalmatian Coast.
By car? Renting a car is not advised in Korcula. The old town is traffic free, and parking can be an issue. Unless you are desperate to get to the furthest possible corners of the island, it isn't worth it. However, to get a good price for car rental, check here.
WHERE TO STAY IN KORCULA
Luxury? Hotel Korsal is a romantic place to stay overlooking the sea, and next to a public beach. It is close to the port, ideal for those arriving by ferry. Well worth splurging for the sea view rooms. Book here.
Mid-range? House Dijana is an exceptionally charming B&B in the heart of the old town. The relaxing stone patio area is perfect for chilling out when not exploring the area. Book here.
Budget? Ante's House is situated on the hill, with unbelievable coastal views. The outdoor terrace is a place you could while away several hours easily. The owner, Ante, is extremely friendly, and often greets guests with a glass of wine from his own winery. Book here.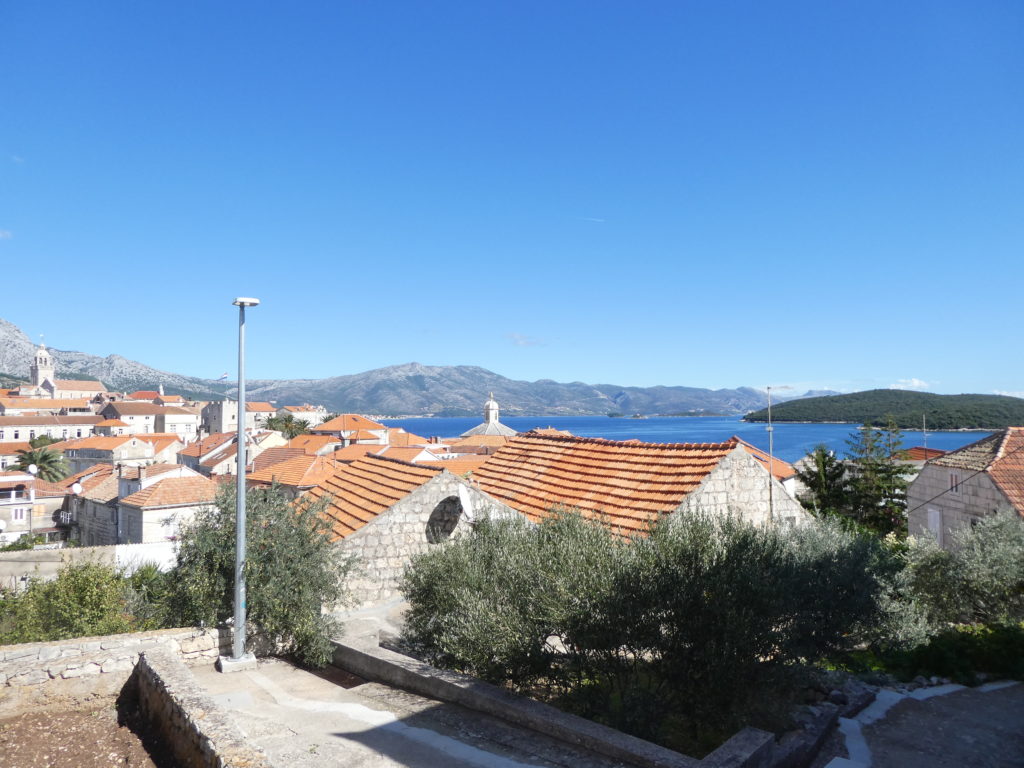 Cheaper and more authentic? Try Airbnb, where you can find some unusual and fantastic homestays in more traditional surroundings. Click our special link to receive £25 off your first stay!
Free? Couchsurfing is a vibrant community of over 14 million world travellers, who host others on their travels.
WHERE TO EAT IN KORCULA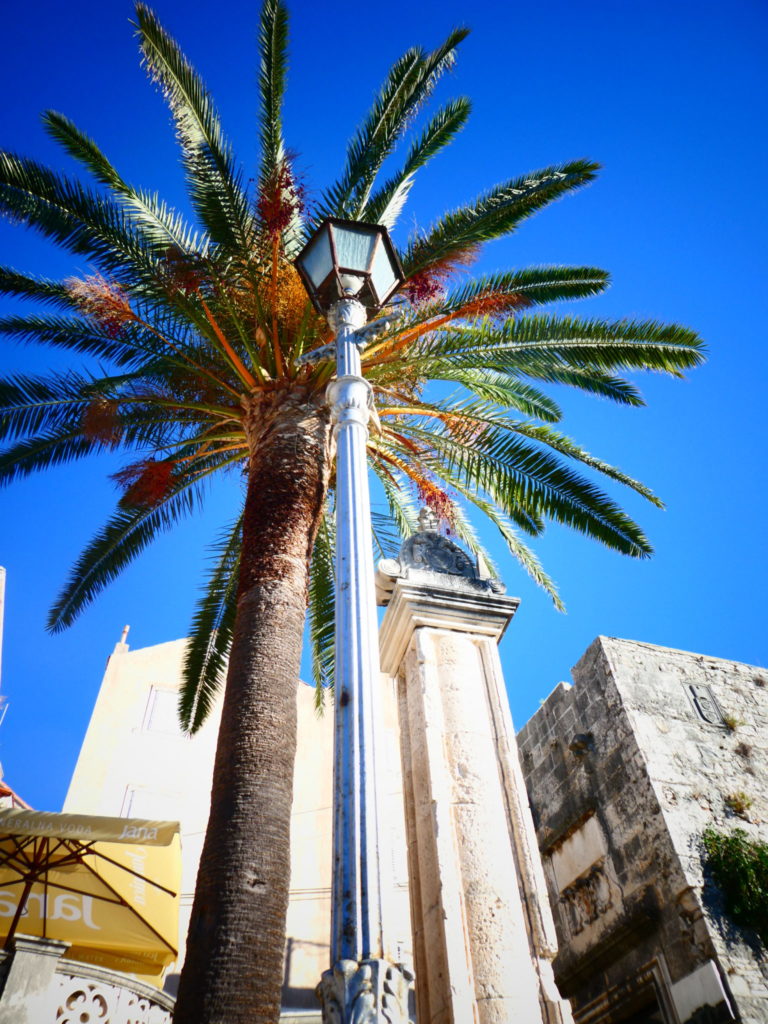 Dalmatian food deserves its own post, so stay tuned. However, we recommend sticking with the traditional local restaurants whilst in Korcula.
Special occasion? Fillipi Restaurant offers a gourmet touch to traditional Dalmatian dishes. The breathtaking sea views will make dining here an occasion to remember.
Mid-range? Aterina is a great choice for fresh fish dishes, with its seaside location making you feel that they have cooked it directly from the sea! Don't miss the posip wine. Posip is a light bodied dry white wine which can only be found on Korcula.
Cheap and cheerful? Fish 'n' Go is the Korcula take on the fish and chip shop. It is a casual place with outdoor seats, and offers decent food. It isn't cheap by western standards, but Korcula is lacking in good budget options. Our cheapest meal came from sharing a pizza at Pizzeria Leut, ideally situated in the Old Town.
OTHER TIPS FOR YOUR VISIT TO KORCULA
How to pronounce Korcula? Korr-chu-la
English is spoken very widely on Korcula. You won't have any trouble communicating. However, it is always worth downloading Google Translate just in case!
It is best to climb the tower of St Mark's Cathedral early in the morning. The views will be better, and the lack of space makes this one you want to see without the crowds.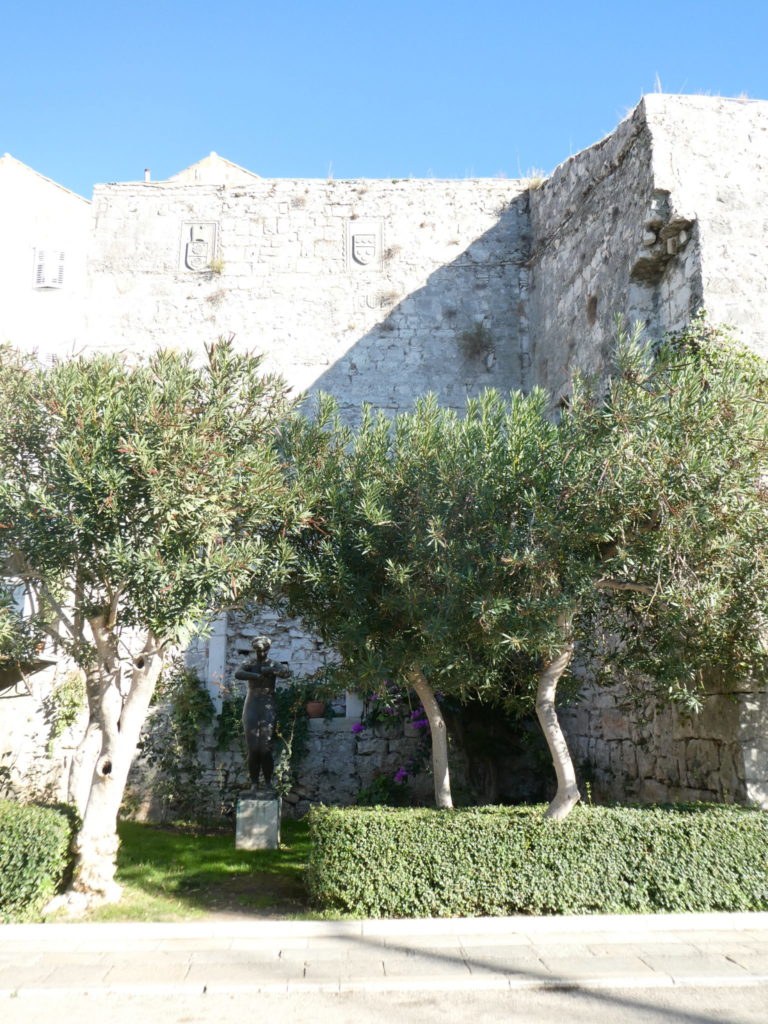 Korcula is a very walkable town. Most of its main attractions are within easy walking distance of each other. In fact, many of them are based right around the main square!
If you like Baroque music, time your visit for early September to catch the Korkyra Baroque Festival.
The best months to visit are June and September. The months in the middle can be crowded and too hot. If you visit out-of-season, be prepared for poor transportation options to get to the island from elsewhere.
Don't forget your camera. Korcula is an immensely photogenic place.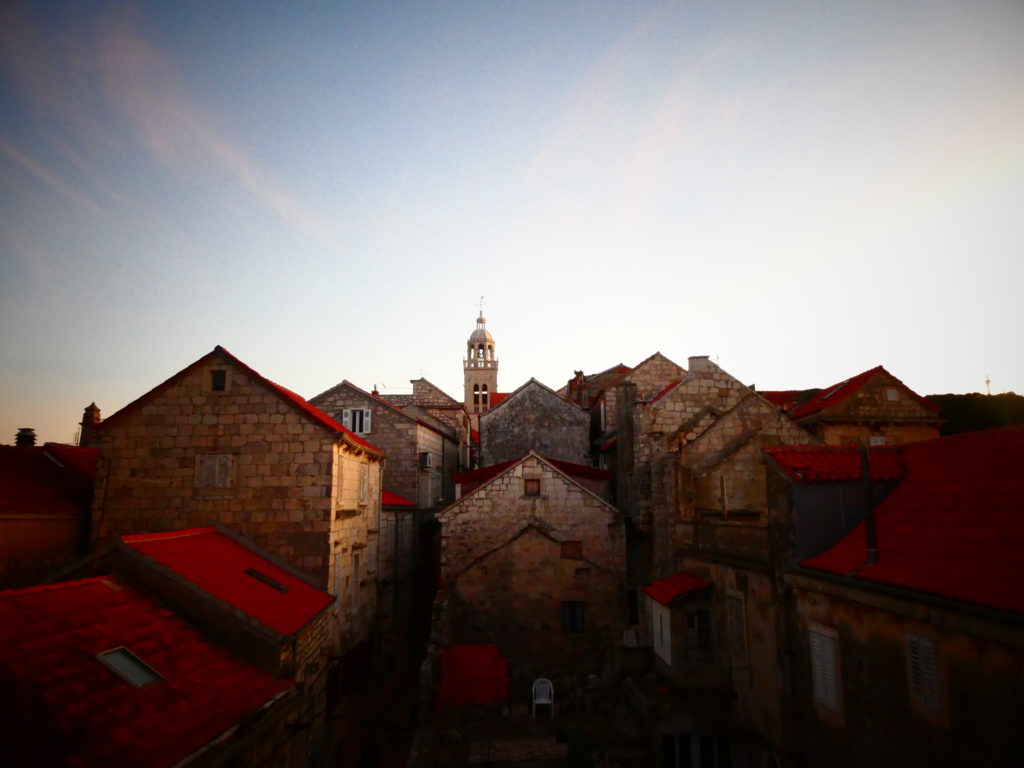 There is a Konzum supermarket near to the Land Gate. Konzum is one of Croatia's top supermarkets, and they will sell everything you need to prepare a meal, or for lunch supplies.
There are very few fast food options on Korcula. If you are on an ultra-tight budget and staying for a number of days, you may want to look for accommodation with cooking facilities.
Don't be afraid of getting lost. The town is so small that you would find this extremely difficult. Yet, there are many cute side streets that are begging to be explored.
The town can be easily seen in one day. However, it has the sort of peaceful atmosphere that will make you want to linger for longer. Factor this into your plans if they are inflexible, and don't base your decision on attractions alone.
If you wish to see more of the island than Korcula Town, you can rent a bike in the old town. There are plenty of beaches for sunbathing, and you can also snorkel. Kayak hire is available from the beach on the west side of the old town.
It is easy to get a ferry to another destination on the Dalmatian coastline from Korcula. Try Dubrovnik, Hvar, or Split. The islands of Mljet and Orebic are also good options.
Has this travel guide to Korcula helped you to plan your trip? Anything else that you would like to know?
Like it? Pin it!
This post contains affiliate links. By clicking them to purchase your flights, hotels, and car hire, the companies involved pay a small commission to us at no cost to yourself. This helps to keep us on the road, creating guides like this one. Thank you for using them!