Prague Zoo: One of the world's best
Prague Zoo opened in 1931, and is now one of the world's greatest zoos. It contains around 450 species of animals, including over a hundred that are classed as threatened. We spent an amazing day out there, and could barely tear ourselves away when it was time to leave!
The journey to Prague Zoo can be pretty stressful by public transport. Whilst there is a direct local bus from Nadrazi Holaeovice, they pack the buses so full that it can be an unpleasant journey. Once at the zoo, you can purchase your tickets and use the free lockers if you need to. Maps are available for a small fee. It is a minor annoyance to have to pay for a map, but well worth paying for, since it is a sprawling site.
Prague zoo is absolutely huge, and you'll therefore have no idea which way to go first. You can try to avoid the groups of children that head left to the penguins, and instead go up a very steep hill to the right where you may see some lovely red pandas. This dark and mysterious area is themed around the Indonesian Jungle. They have an awesome komodo dragon, and the cutest little monkeys ever, swinging from tree to tree. After checking out the otters, enter the twilight zone. In here are all of the animals that prefer the dark, like bushbabys and various rodents.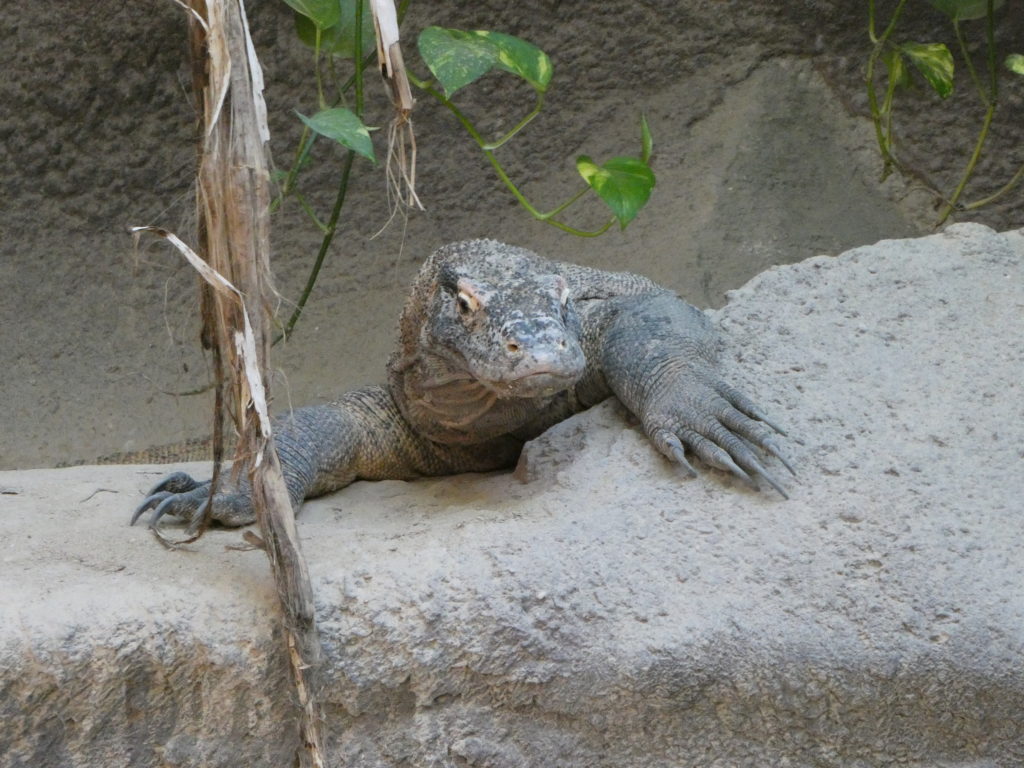 Seeing the animals interact with each other is priceless
It is a thrill to see the polar bear, since unless you live somewhere very cold, you're unlikely to see many! The orangutans are always fun to interact with. We caught one playing with a hay bale on his head, which was hilarious. Africa Up Close is a really cool area which contains a fennec fox who is adorable. You'll love seeing the cape ground squirrels play fighting with each other too, with the bigger one stealing the smaller one's nuts.
There are some interesting rock formations, a la Stonehenge about the area too. You might get to see a bat-eared fox, and African pygmy mice who are so, so tiny it is unbelievable. There are even a couple of honey badgers wandering around, looking menacing.
From here, we had to return to the entrance. Since it was quieter now, we went down the left hand path towards the fur seals. The penguins are next, and it is great fun trying to get them to follow your finger on the glass. It is strange when coming out of their enclosure, since they also have an outside area. This is a grassy area rather than the fake ice look that are preferred in UK zoos. It looks funny seeing penguins walking on grass.
It is a journey around the world
In the birds of prey area, you can spot owls, vultures and eagles. Flamingos elegant sit on the opposite side of the walkway, with tapirs and all manner of exotic and rather large, birds. The Sichuan area is a Chinese themed indoor pavilion with birds flying about. Outside, there are extraordinary views of the chairlift, which looks mega scary.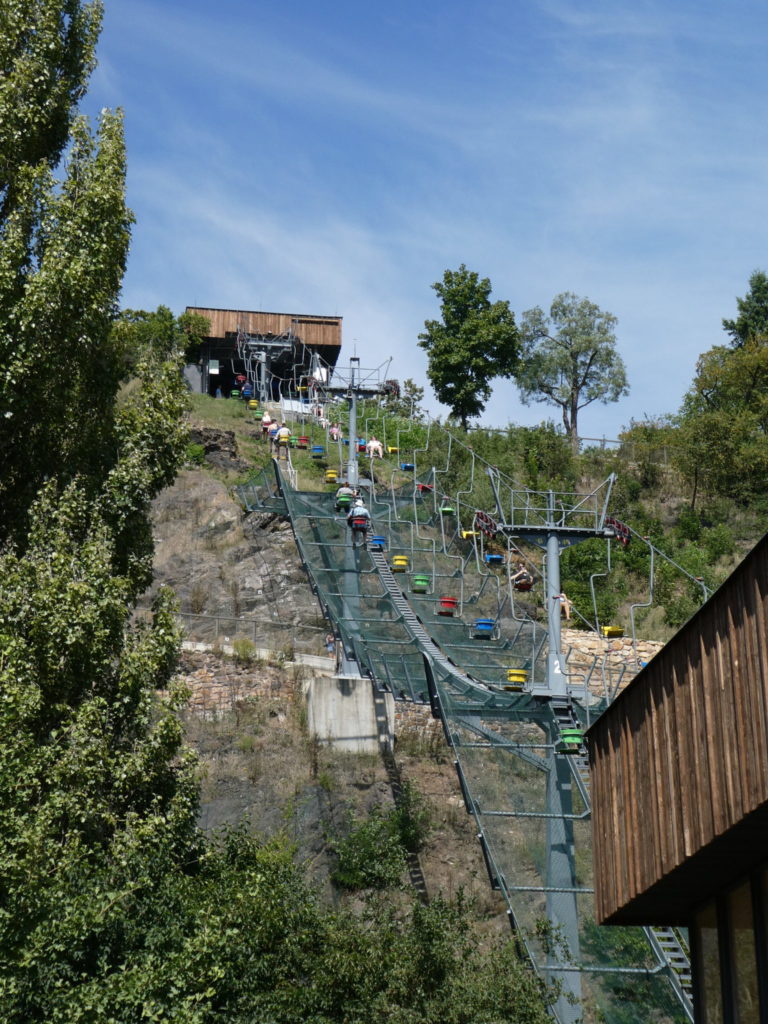 Another pavilion contains giant tortoises and monitor lizards. It is cool inside here, perfect for cooling off if it is warm outside. What is interesting are the signs that were dotted around, showing the height that the floods reached in 2002. It must have been a scary time in Prague!
Squirrel monkeys are on the way to the gorilla pavilion. A huge pregnant gorilla and a little mischievous child with two teenagers were the first gorillas we saw. Hopefully, you'll be lucky enough to see the Silverback. We love the gorillas, and the next area contains another of our favourites – the big cats.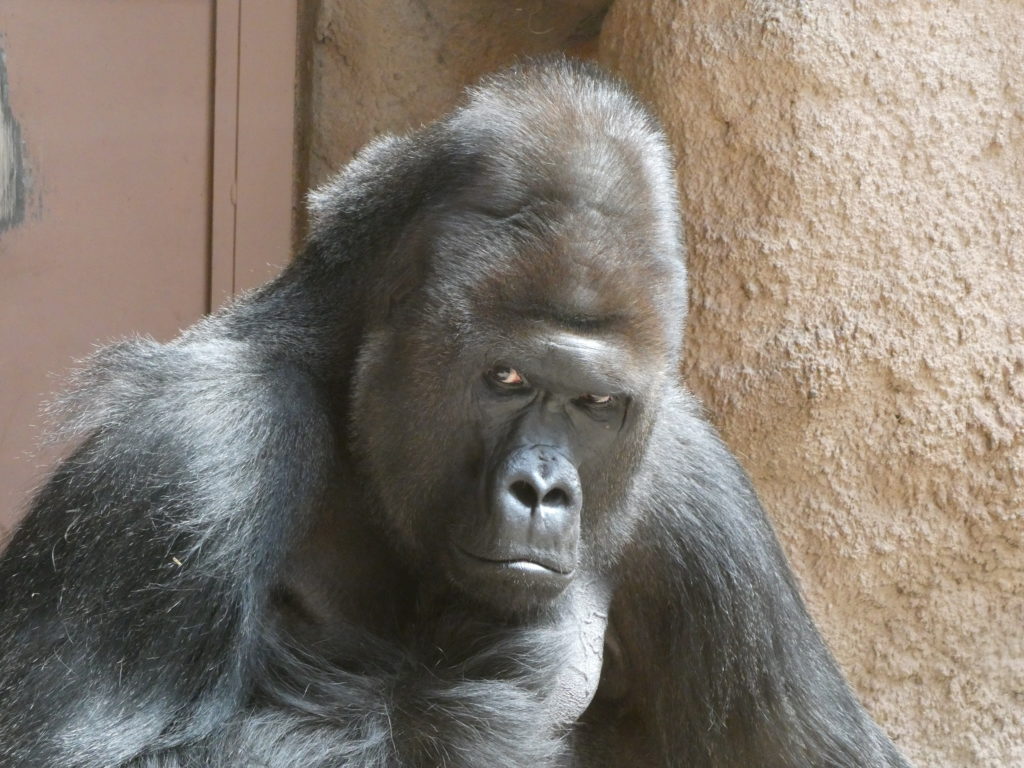 Go at feeding time to ensure you see the big cats
The big cats are often difficult to see. However, if you time your visit with their feeding time, you can guarantee seeing them inside. The tigers and the lions devour their lunch with just the glass separating them from your view. There are also reptiles in here, like iguanas. Amongst the big cats is an enclosure containing what looks like a domestic cat. It always makes us laugh to see tiny cats like this with a huge enclosure.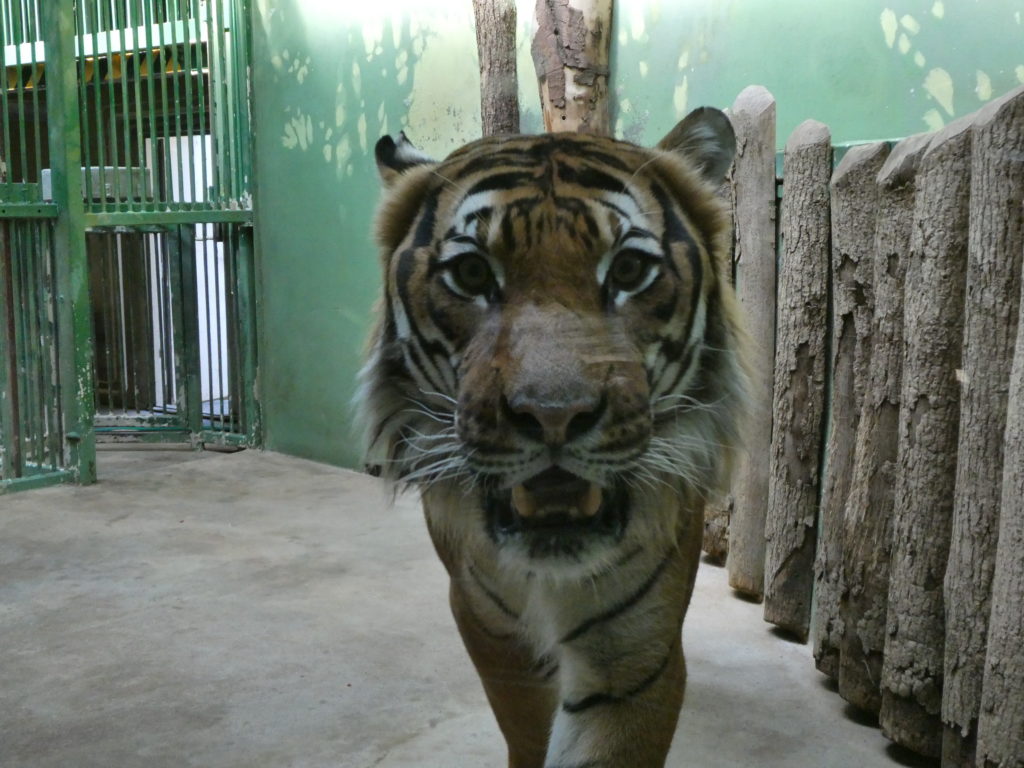 People with a fear of snakes won't like the seating area in the middle, since a huge fake anaconda looks like it is slithering amongst the seats. They have real anacondas too! The Giant Salamanders have their own house, which has an extremely strict no photography rule in place. Make sure to try and find the ridiculously scary looking bird called the shoebill. The bird wetlands contain all sorts of exotically coloured birds, from ibises to cranes and waterfowl. They also have a walk through aviary.
The rock outcrop offers a natural enviroment
One of the most unusual features of Prague Zoo is the rock outcrop, on which actual mountain-dwelling animals are situated. These include tahrs and turs, barbary macaques and barbary sheep. It is such a cool thing to see. From here, you can walk up the zig-zag path known as the Zakazanka Path. It is hard work in hot weather. From the path, however, you can get amazing views of different areas of Prague. You can even make out St Vitus Cathedral from here!
Some of the animals that are supposed to be on the hill are very hard to spot, which makes traipsing up this path feel not so worthwhile at times. The layout of the path makes it rather difficult to come up with a good route to make sure you see everything without too much backtracking. At the top, there is a playground area with a cafe. The American Bison was moulting, and shedding all of his fur so looked a bit scraggly. There are also camels and deer on the route back down the hill.
Prague Zoo is a world leader in Przewalski Horse conservation
A tent tells the story of the Przewalski Horses. The story is interesting, about how many of Prague Zoo's wild horses have been returned to the Gobi Desert. However, the tent itself can get unbearably hot. Another area takes you past wallaroos towards the Australia section, which contains huge cassowaries, emus and kangaroos. On the opposite side of the path are zebras and wild dogs. The South American carnivores are pretty interesting, and lead back to the otters.
You may even get lucky enough to get a few good glimpses of the notoriously hard to spot hippos in the Africa section, but you'll definitely see the sitatunga. The Elephant Valley is the next major stop. Themed to a Hindu-style village, it takes you on a rather long-winded path around. On this path, there are a few different opportunities to spot Prague Zoo's Asian Elephants.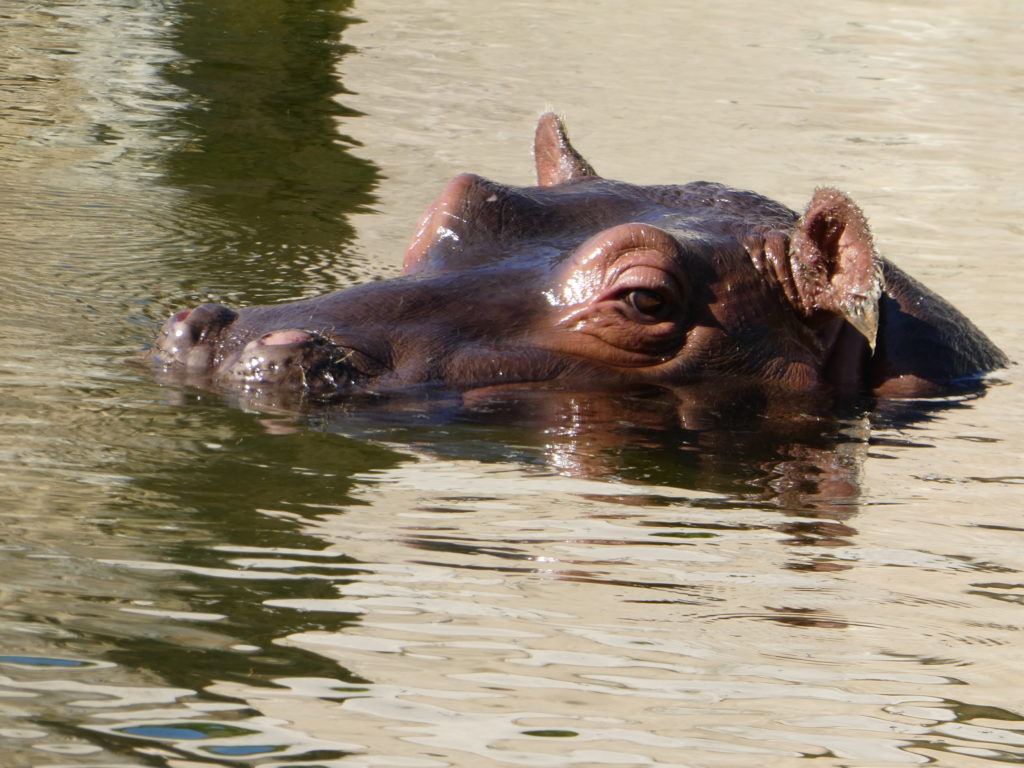 Giraffes wander the savanna
The path has a detour to the African Savanna. This is a viewing platform high above a huge grassy area inhabited by giraffes, ostriches and other African animals. The giraffes are normally close to the platform, since their feeding post is nearby. On ground level, you can see a bunch of meerkats, and get a close-up view of the giraffes. There is an inside part to the giraffe enclosure, called African House. Here, yoy may see some sleepy aardvarks and cute little dikdiks.
Back to Elephant Valley, you may be lucky enough to see some of the elephants enjoying a bath. In particular, it is cute to see a little baby elephant playing around in the water. You can take another path round the top part of Prague Zoo. It takes you past hyenas, to the forested areas that are home to some of the big cats, like jaguars and tigers. Good luck seeing those big cats, though, as they blend in very well to their background!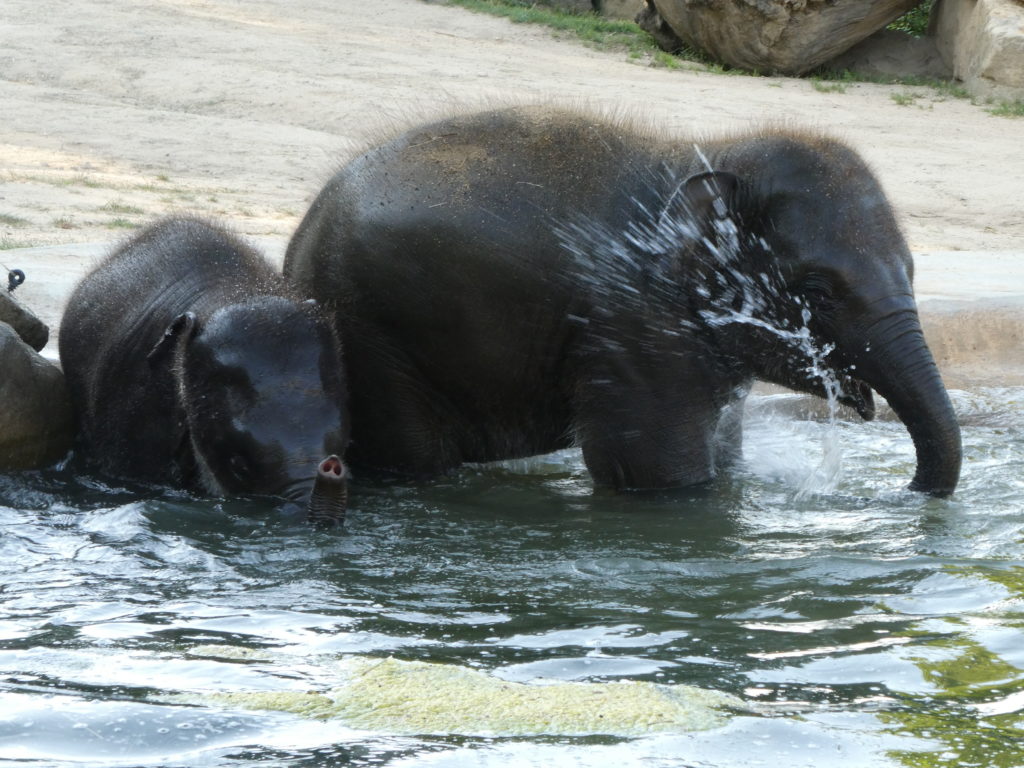 Deer and horse-like kiangs follow on the trail. Down a different path back to the top of the hill, check out the wolves, peccaries, reindeer and European Bison. The European Bison are cool to watch, whilst the European Elk is a funny looking thing! Up the top is an Observation Tower. Despite being someone on the door and an entry barrier, it is completely free, so go on up.
Be brave, and take the chair lift!
It is a wooden structure, that offers great views, particularly over the African Savanna and Prague. You can see the world's largest stadium pretty good from up here too. After climbing down, head down to a walk through area filled with lories and lorikeets. At this point, you can go down the chair lift! To be honest, it is pretty scary, but they views are amazing and it is a very cool experience!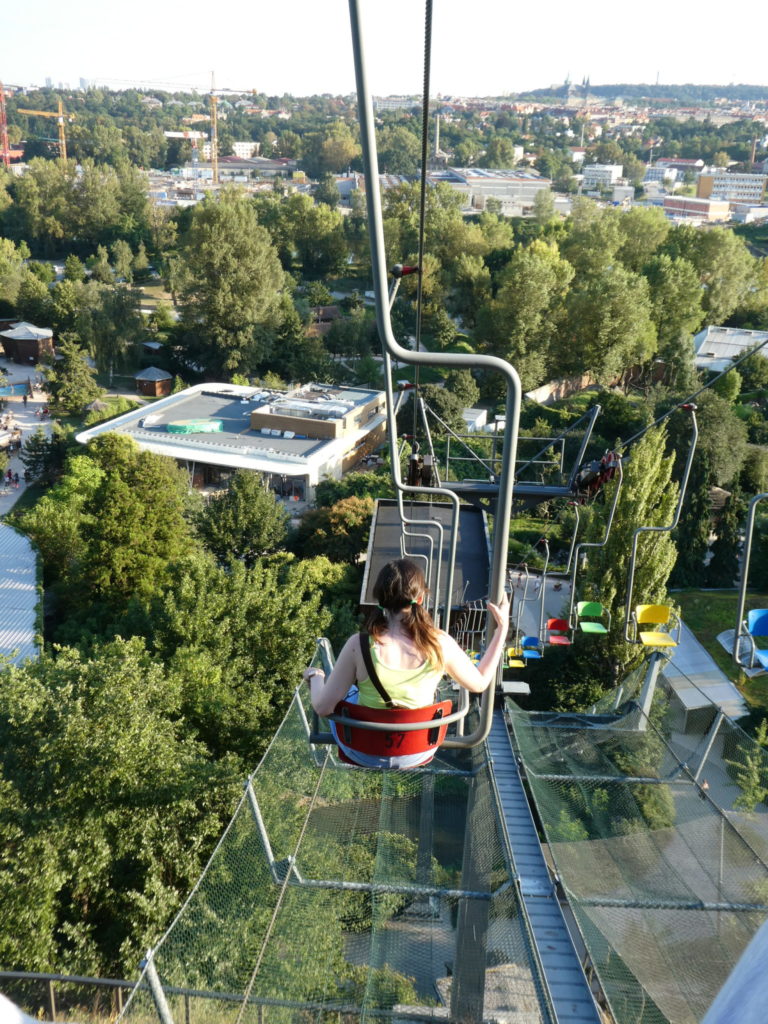 There is a patch of land near the bottom of the chairlift that includes more aviaries and anteaters. One of the coolest animals in Prague Zoo is the gharial, an unbelievable looking crocodile from an area of India called Chambal. He has a really long and thin jaw with ultra-sharp teeth, perfect for catching fish with. European pond turtles bravely share the tank with him.
Monkey Islands are also fun to explore. Our route leads back to the hornbills and prairie dogs near to the entrance and exit. If you like, you can backtrack to the birds of prey aviary. One bird is intriguingly called the white-bellied go-away bird. Again, buses pick up directly from the zoo exit to take you back into central Prague. We'd highly recommend Prague Zoo to anyone who loves zoos, since there are few better zoos in the entire world. If you have enough stamina, we'd suggest allowing the entire day to explore everything.
What is your favourite zoo? 
Like it? Pin it!