The Ultimate Guide to Planning a Trip to Cesky Krumlov in the Czech Republic
Cesky Krumlov is an amazing little town in the South Bohemian Region of the Czech Republic. It is certainly one of the world's true marvels, and the historic centre is a UNESCO World Heritage Site. If you want picturesque scenery whichever way you look, a fairytale castle, winding river, and historic buildings, then Cesky Krumlov should be near the top of your list. Read on for all you need to plan your own fairytale break to Cesky Krumlov…
Things to Do in Cesky Krumlov
Planet Full Of Love's Top 10 Things to Do in Cesky Krumlov – 1. Cesky Krumlov Castle Theatre, 2. Cesky Krumlov Old Town, 3. Castle Garden, 4. Cesky Krumlov Castle No. 1 Guided Tour, 5. Cesky Krumlov Castle Tower, 6. Church of St Vitus, 7. Photo Opportunities Galore, 8. Museum Fotoatelier Seidel, 9. Castle Museum, 10. Wiseman Walking Tours
CESKY KRUMLOV CASTLE – Cesky Krumlov Castle is the reason for the town's existence. You will struggle to find a more beautiful castle anywhere in the world. It is completely free to explore the castle grounds, and see up close its awe-inspiring architecture. However, there is a rather confusing array of tickets available to see various parts of the castle. Therefore, we have summarised what is on offer below. Having been to each and every one, we are perfectly able to give you some insight.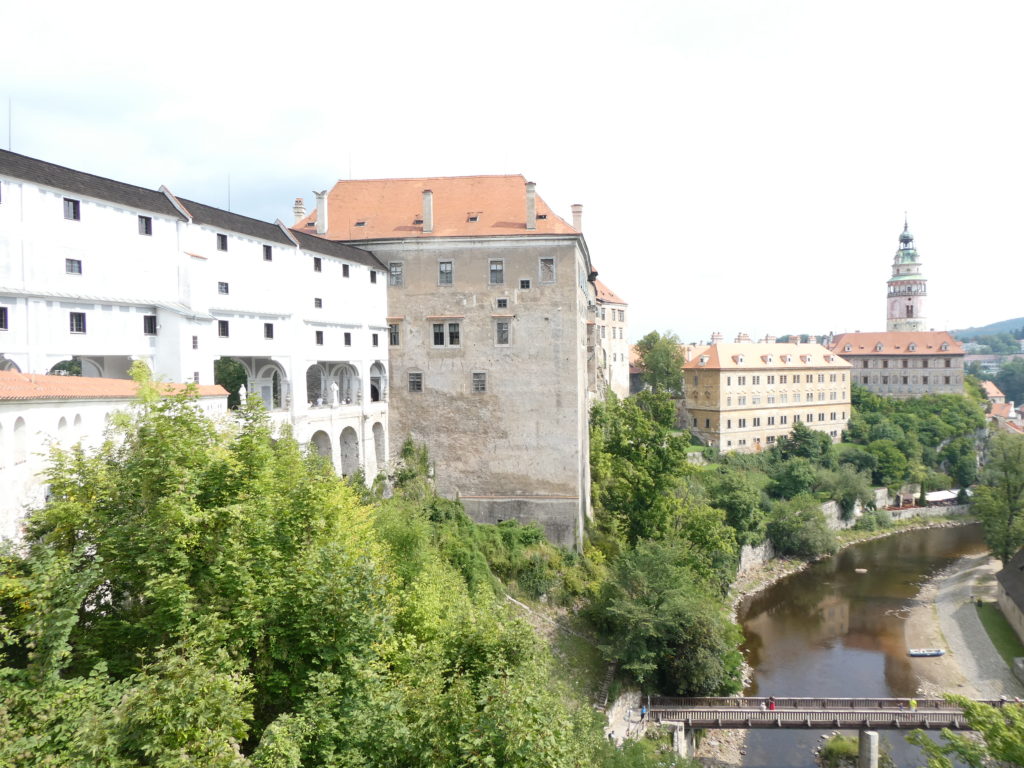 No. 1 Guided Tour – If you must choose between No. 1 and No. 2, go for No. 1. The reason for this is the stunning Masquerade Hall. There are several things to make you go 'wow' actually. They include the golden carriage that the Eggenburg family had made in the 1630s, the Chapel of St George, and some fantastic renaissance and baroque architecture.
No. 2 Guided Tour – This tour takes you into the slightly newer part of the castle, used by the Schwarzenberg family until the early 1900s. Perfect for anyone who classes themselves as girly, you can see Princess Eleonora's pink princess suite here. Another highlight is the long corridor known as the Portrait Gallery, which contains many Old Masters copies.
Castle Theatre – In our opinion, the highlight of the whole town. The best preserved baroque theatre in the world, and a place that will truly inspire you. The stage is made up of many layers of wooden scenery, that survives from the 1700s! Seeing the original stage machinery in action will be something you will not forget. Check out our experience here.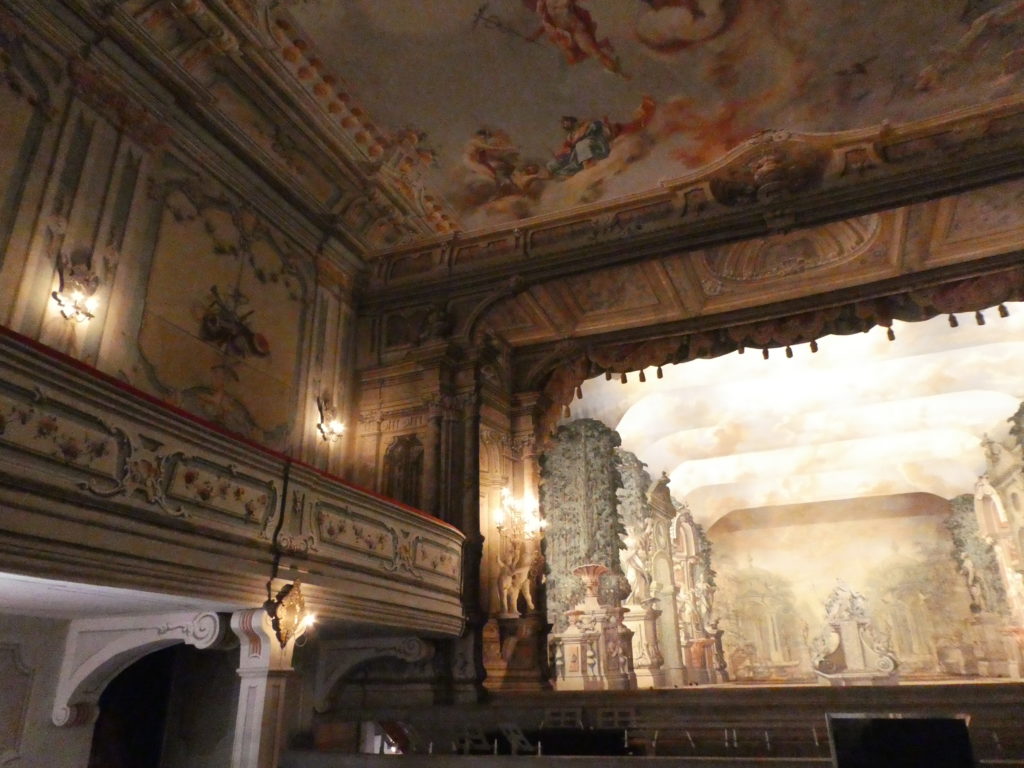 Castle Museum – A superb museum which tells the history of the castle, and the noble families who called it home. It all goes chronologically, with information in English within each room, and high quality exhibits. You'll definitely get a better overview of all of the different periods of history here. Don't forget, the castle dates back to the 1200s, so there is plenty of it!
Castle Tower – For the best views of the town, head up the Castle Tower. It really is like being part of a fairytale. The winding River Vltava looks amazing from up here, with its horseshoe shape hugging the town. The tower is the symbol of Cesky Krumlov, and the views are well worth climbing the 162 steps to the top for.
Castle Garden – The baroque garden dates back to the 1600s, and offers free admission. It extends all the way back to a large pond, covered in lilypads. Check out the marvellous water features and colourful flower beds as you take a romantic stroll.
Stables – A very small exhibition of coaches and harnesses, as well as other horse-related memorabilia. The highlight for us is the sled-coach, for use in snowy weather! See it only if you have extra time.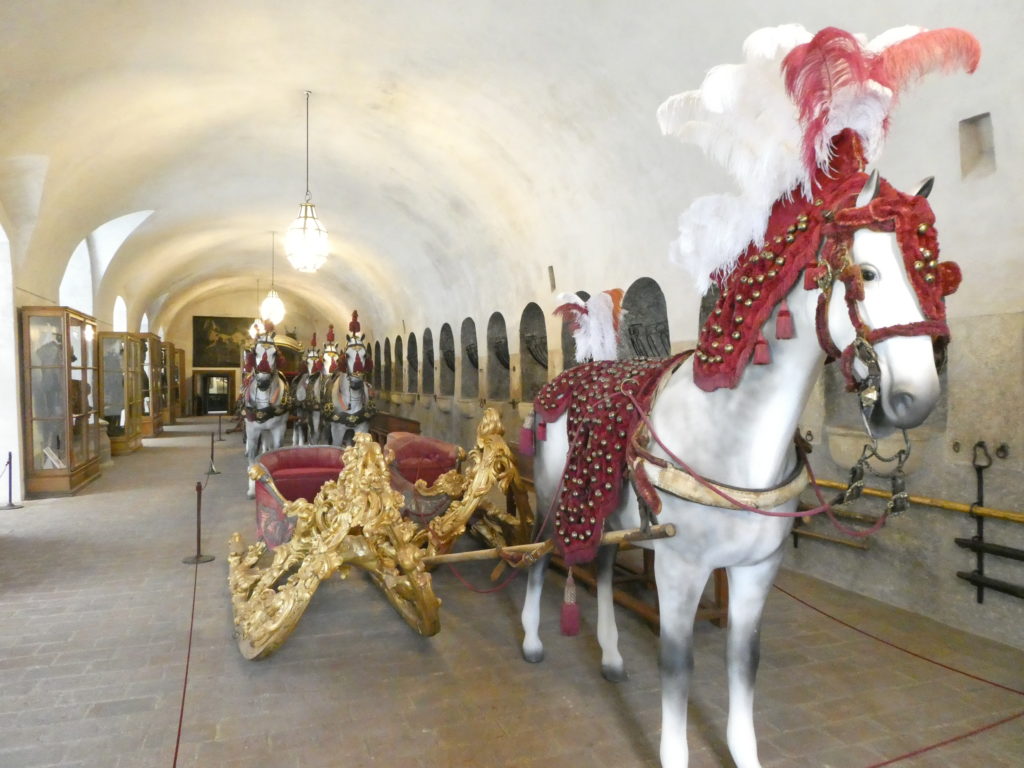 Wenceslas Cellars – The atmospheric cellars underneath the fourth courtyard contain an exceptional art exhibition. The work is by artist Miroslav Paral. He bases his artwork on the themes of the Czech Republic's troubled history over the past century, and is extremely thought-provoking and original. You can also visit the Lapidarium, with a collection of statues.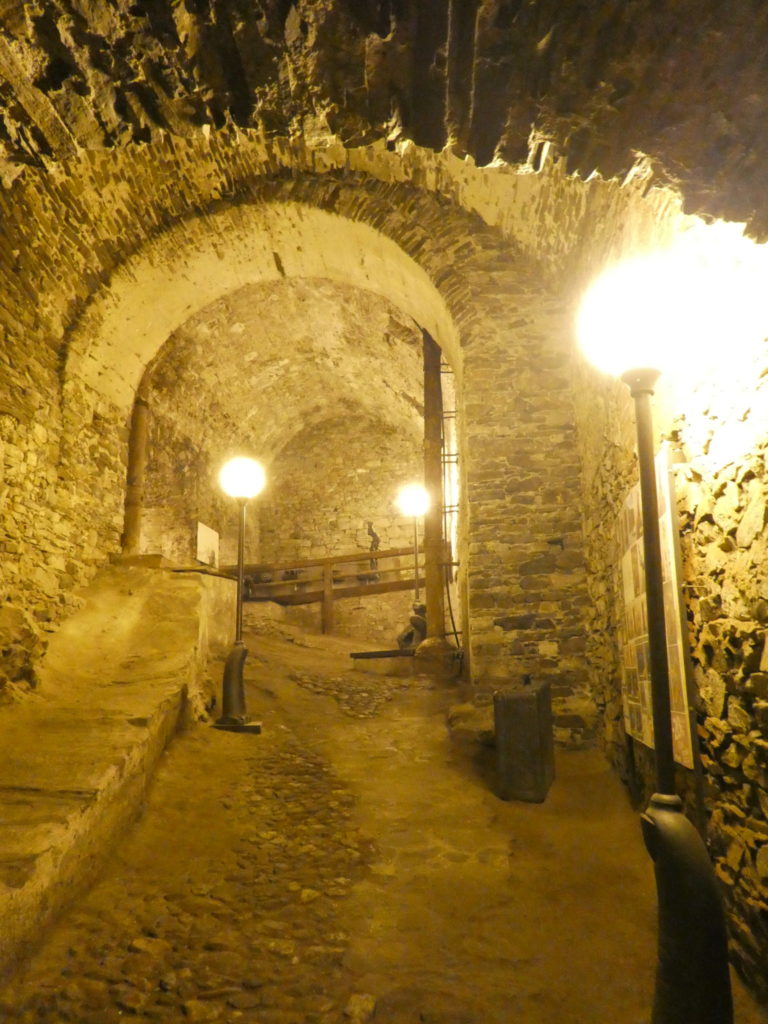 Bear Moat – To be honest, we couldn't quite believe that they still keep bears in the castle moat to this day. The tradition dates back to the 1500s. The Rosenberg family pretended to be related to the noble Italian Orsini family, by keeping the bears as a sign of prestige. Orsini means bears. They are currently refurbishing the moat, so there is now only one bear, named Maria Theresa.
Castle Smithery – A private enterprise on the castle grounds, you can see a blacksmith working on various souvenirs that are for sale. He is more than happy to show you the work he is doing, and perhaps even let you have a go yourself!
Revolving Theatre – A controversial spaceship style structure within the Castle Garden, the Revolving Theatre offers one of the most unusual theatre visits you will ever go on! The seating area actually turns as the action moves on to another part of the garden. Cool, eh?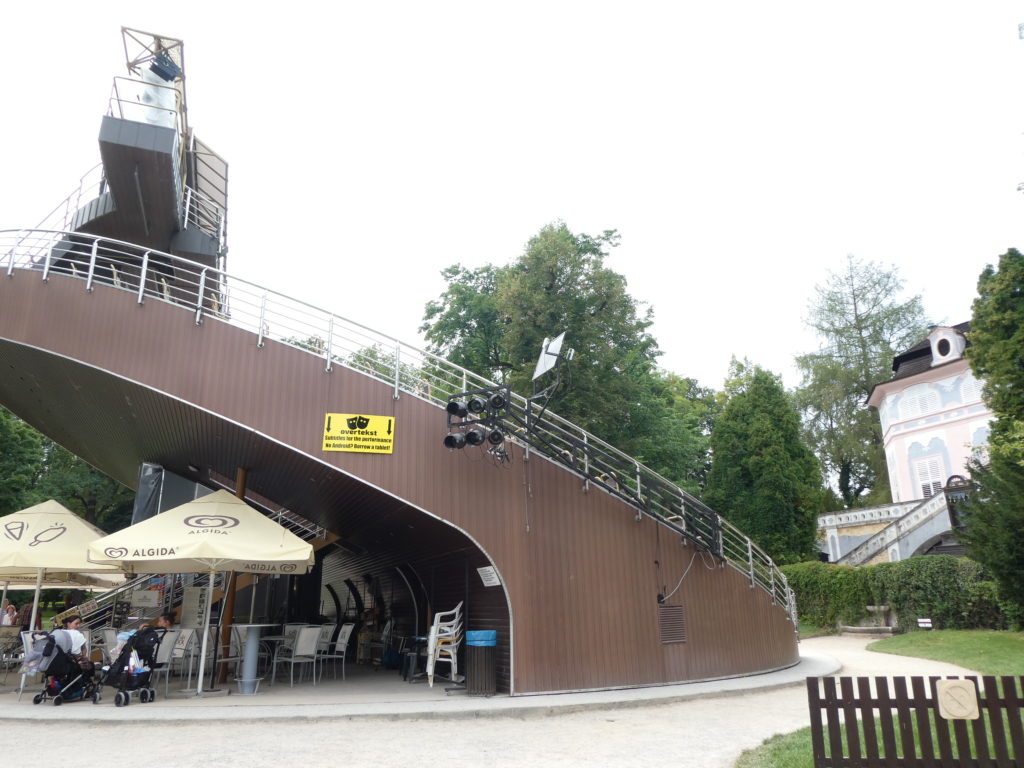 CESKY KRUMLOV OLD TOWN – The old town sits below the castle, and is a complete delight to stroll around. Its narrow, cobblestone streets are filled with historic buildings, riverside eateries, and wonderful discoveries on every turn. Here are some of the top Old Town attractions.
Latran Houses – The town was built around the castle, and the Latran Houses below were home to many of the castle servants. The architecture is especially interesting. Some houses are built in levels, with each being from a different architectural era. Amazingly picturesque!
St Vitus Church – This historic Gothic church contains a beautiful altar, and a nice baroque organ. Worth popping in.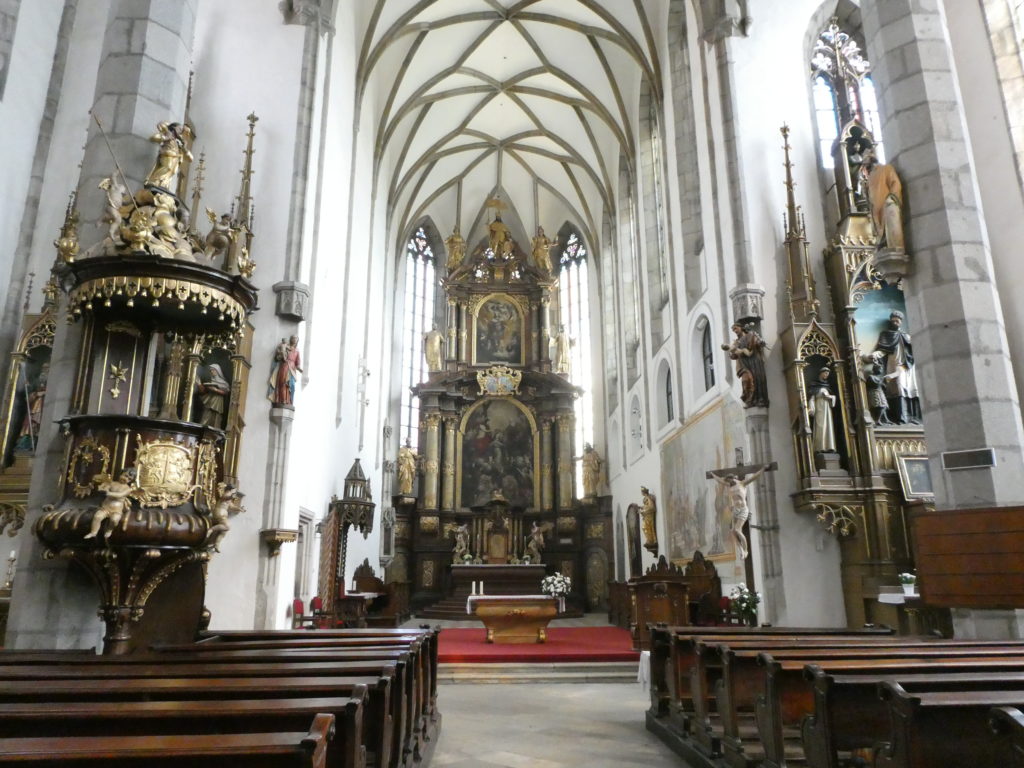 Namesti Svornosti – The main square of Cesky Krumlov is a great place to watch the world go by. It takes on an ultra-romantic feel at night, with musicians performing in the streets and beautifully lit buildings. The Town Hall is just one of many striking buildings that surround the square. There are lots of atmospheric eateries, though the prices are higher than elsewhere in town.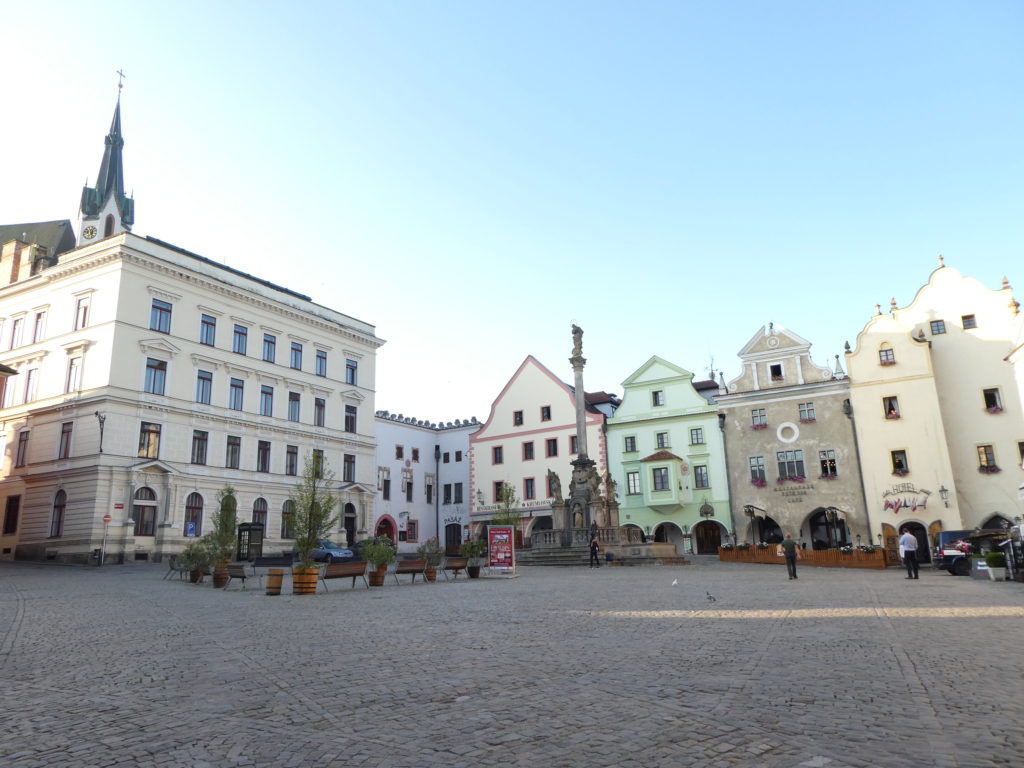 Wiseman 'Free Tour' of Cesky Krumlov – For a great introduction to Cesky Krumlov, look no further than Wiseman. Their tours start in Namesti Svornosti every single day. The tours cover all of the main sights in the town, and add a local's perspective to them. What's more, the tours work on a 'pay what you feel' basis.
Wiseman 'Free' Ghost Tour – Like the tour above, Wiseman also offer a ghost tour in the evenings. The ghost tours are not phoney, for entertainment value. Instead, they focus on real stories and legends from the town. A member of the Schwarzenberg family who was believed to be a vampire due to her pale complexion, and a Russian soldier who fell in the bear pit are just a couple of the tales.
Egon Schiele Art Centrum – A gallery devoted to a controversial artist who painted nude women, which was a scandal in Cesky Krumlov a hundred years ago.
Photo Opportunities – Almost everywhere you look. However, our favourites are the view from the Lazebnicky Bridge, of both the castle and town together on Horni Street, and the viewpoint in the Jesuit College Garden, now part of Hotel Ruze.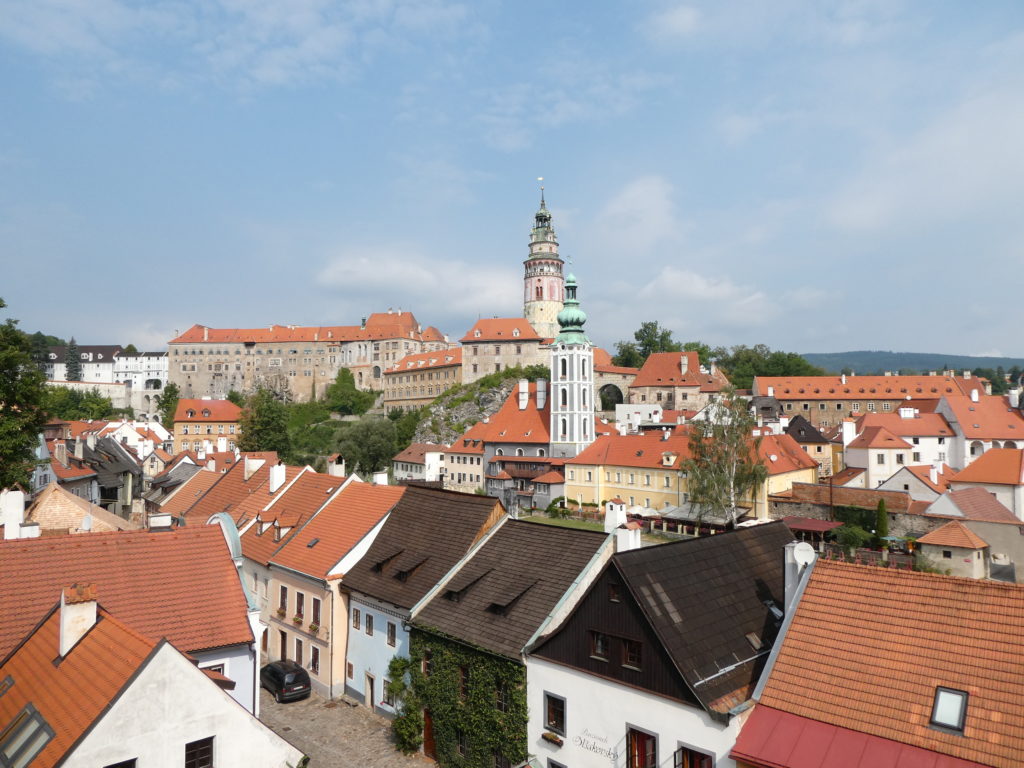 Marionette Museum – An exhibition of old Czech marionettes. Maybe too creepy for most…
Plague Column – The major landmark in the Main Square. It isn't something to allow much time for, but definitely worth checking out this baroque monument. It is topped by the Virgin Mary, and eight saints who they believed would help to ward off the plague. Plague columns are found in pretty much every town square in the Czech Republic!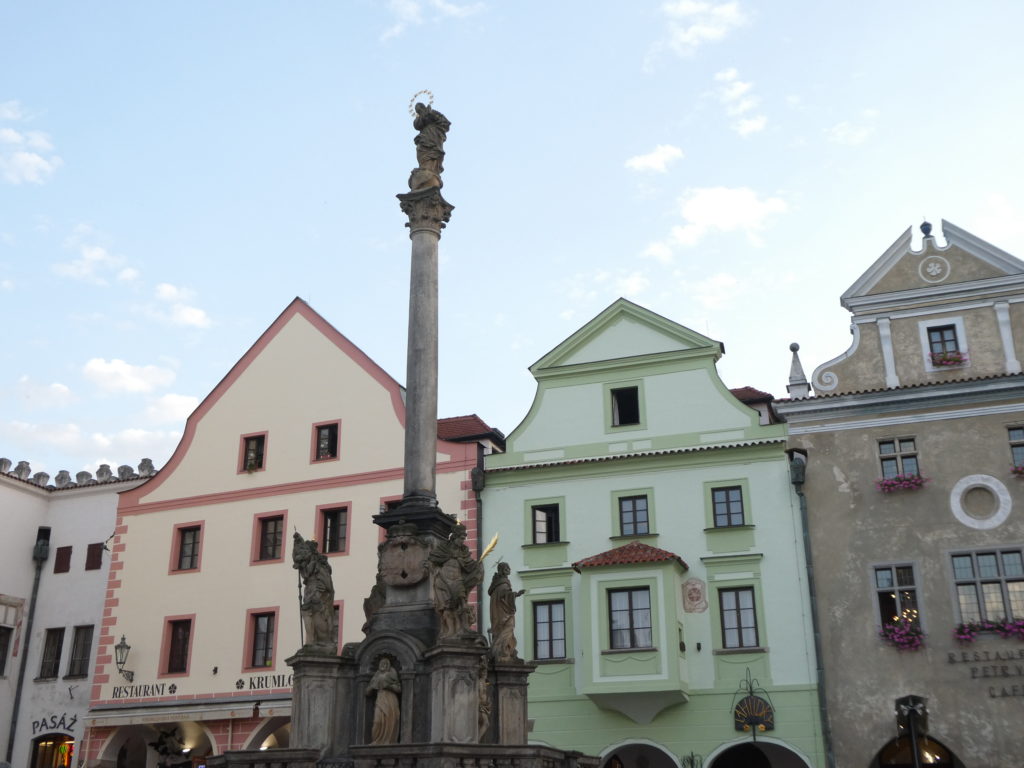 Regional Museum – A short stop-off point with some folk art, and a huge model of the town how it looked 200 years ago…
MUSEUM FOTOATELIER SEIDEL – A fascinating place to visit. This is the former studio and home of a photographer from the late 1800s, kept almost as a time capsule. You can learn much about the history of photography as well as a typical home from the time. You can even have the chance to pose for your own vintage photograph. Check out our experience here.
How to Get to Cesky Krumlov
The best place to fly to from overseas is Prague. Check out if there are any cheap flights to Prague from your nearest airport here.
Once in Prague, Cesky Krumlov is easily reachable on road. To find great prices for car hire, click here.
If, like us, you prefer to try out the local public transport, then you are spoiled for choice. There are direct coaches from Prague to Cesky Krumlov. Student Agency and Flixbus are companies that we have used, and can recommend.
You can also get a train from Prague to Cesky Krumlov. However, you will have to change trains in Ceske Budejovice. Maybe you wouldn't mind visiting the Budweiser brewery whilst there, though?
For bus and train schedules, check out the IDOS.cz website.
Where to Stay in Cesky Krumlov
Luxury? Hotel Bellevue is a luxury hotel within a medieval building, with elegant rooms and free sauna. Click here to book.
Mid-range? Penzion Delanta is within walking distance to the Old Town, but set in a very inconspicuous, quiet area. Click here to book.
Budget? Hostel Krumlov House was once Cesky Krumlov's old bakery. It offers a very cosy stay in an unusual pixie-type house.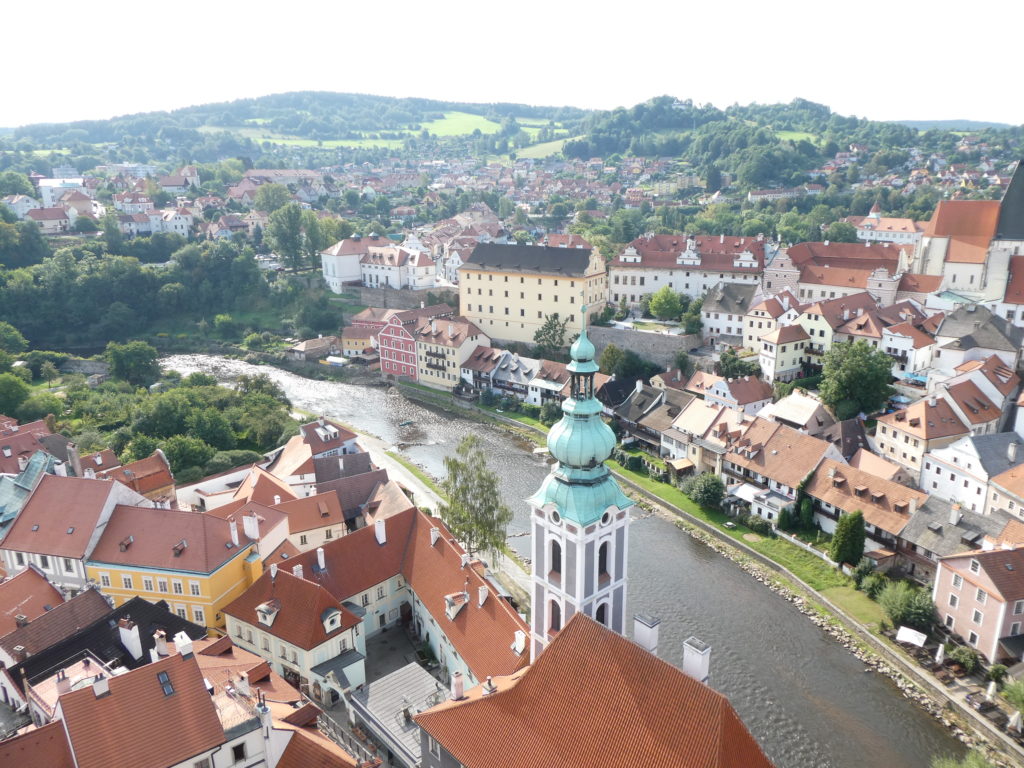 Looking for somewhere even cheaper? Try Airbnb, where you can find some unusual and fantastic homestays in more traditional surroundings. Click our special link to receive £25 off your first stay!
Free? Couchsurfing is a vibrant community of over 14 million world travellers, who host others on their travels.
Where to Eat in Cesky Krumlov
Something special? Try Le Jardin, a charming restaurant with exceptional food. There aren't many tables, so you may have to book in advance during busier times.
Want to try the local food? Krcma v Satlavske Ulici is a traditional pub on the site of the old jailhouse, where meat is cooked on a wood-burning stove. The ambience is like being in the catacombs.
Want something cheap and cheerful? Travel Hostel Restaurant is cheap and tasty, with all of the classic Czech dishes on offer. Try the svickova – sirloin steak in an ultra-creamy sauce, served with bread dumplings.
Other Tips For Your Trip to Cesky Krumlov
How to pronounce Cesky Krumlov? Chess-key crum-loff
If you are going to try and fit everything the castle offers in to a single day, aim to visit the Tower first. It will be much more pleasurable without the crowds that arrive around lunchtime. Most of the other attractions are seen on guided tours, and are likely to be full no matter what time you go.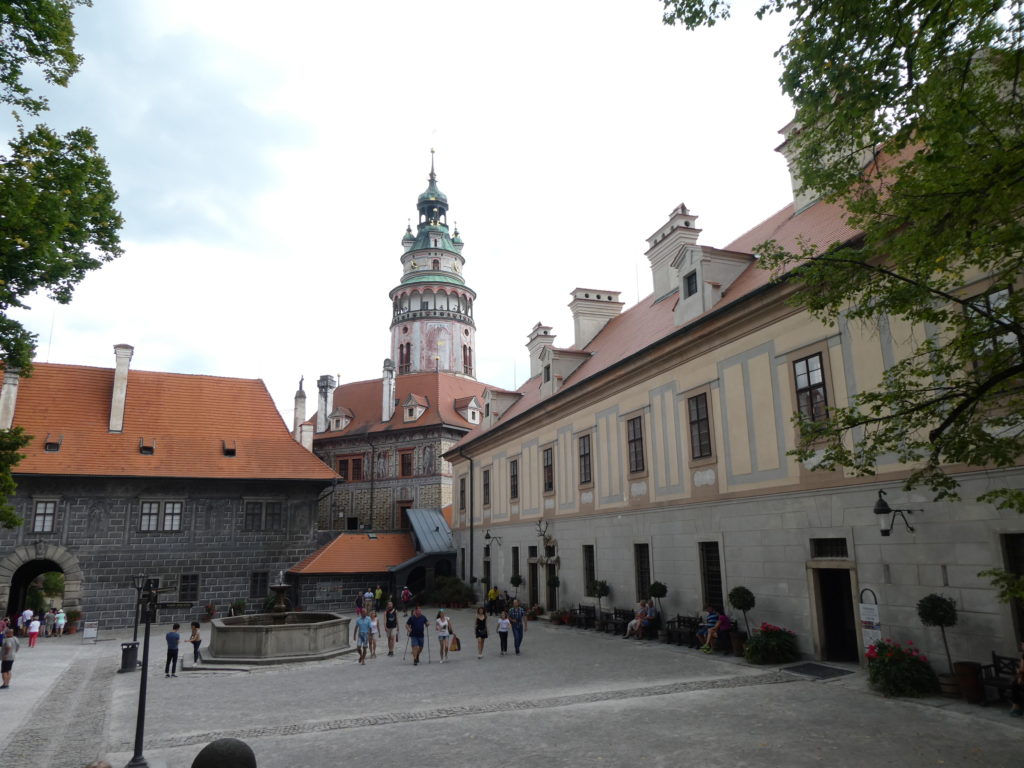 If you want to visit the baroque Castle Theatre, it is advisable to purchase your tickets as soon as possible. It often sells out, since visitor numbers are strictly capped.
Try and time your visit with a festival. Cesky Krumlov has many internationally-renowned festivals. The best are the Five-Petalled Rose Celebrations, with medieval entertainment, held in June; and the International Music Festival, the Czech Republic's longest running music festival, which is held between July and August.
If you would prefer low crowds and decent weather, try April to early May, or the end of September to October.
Don't forget your camera. Cesky Krumlov is one of the world's most photogenic towns.
There are no supermarkets within walking distance of the Old Town. Whilst this keeps its old character, it can be frustrating if you need any essential supplies. Stock up before you arrive if possible. There is a DM shop for any toiletries.
There is also very little in the way of fast food options. A handful of takeaways can be found if you cross over the river Vltava, though on the Old Town side you will find very little. One option for very budget travellers is a place up the corner of the Main Square, that sells pizza by the slice.
Cesky Krumlov is easily walkable. All of its attractions are within walking distance from each other. It would only take around twenty minutes to walk from one end of the town to the other!
Don't be afraid of getting lost. The town is so small that you would find this extremely difficult. Yet, there are many cute side streets that are begging to be explored.
There are lots of restaurants catering to tourists. To avoid the tourist traps, give a wide berth to anywhere charging more than 40 korunas for a small local beer.
If you want to try local beer, you can visit the Eggenberg Brewery. Try the yeast beer if you can.
Do not come to Cesky Krumlov on a day trip. You will leave wishing you had spent at least one night here. Indeed, the evenings have a magical atmosphere all of their own, that really should be experienced.
An ideal amount of time to spend in Cesky Krumlov would be two days, with more if you are using it as a base. Spend one exploring the castle area, and the second exploring the Old Town and the Museum Fotoatelier Seidel.
If you are feeling active, you can take part in lots of watersports on the River Vltava. Canoes, rafts, or even tubes can be hired on the riverside. They are particularly popular with backpackers.
Ceske Budejovice is worth a day trip. Known also as Budweis, this is where the original Budweiser Brewery is located, and tours are available. Other places worth a day trip include hiking up Klet, the UNESCO village of Holasovice, the charming Hluboka nad Vltavou, or picture-perfect Rozmberk Castle.
Has this guide helped you to plan your trip to Cesky Krumlov? Anything else that you would like to know?
This post contains affiliate links. By clicking them to purchase your flights, hotels, and car hire, the companies involved pay a small commission to us at no cost to yourself. This helps to keep us on the road, creating guides like this one. Thank you for using them!