Celebrating Eid al-Fitr as a non-Muslim
We love cultural experiences, and believe that celebrating other people's cultures is essential to creating a planet full of love. After our recent terrible experience in Manchester, where a lunatic killed 22 innocent people using Islam as his excuse, it was important to see that this was not at all representative of Muslim people as a whole. Therefore, we decided to go and celebrate Eid al-Fitr with 106,000 Muslims at Small Heath Park in Birmingham.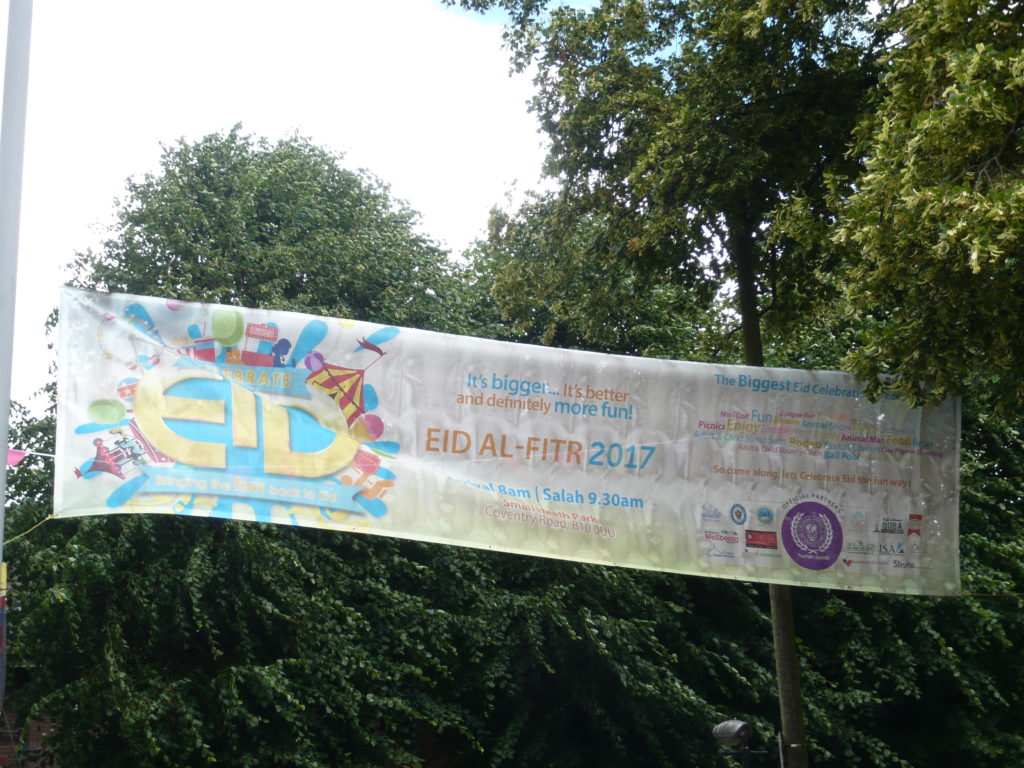 Eid al-Fitr is the Muslim festival that represents the breaking of the fast, marking the end of Ramadan. The celebration at Small Heath Park in Birmingham is the biggest event of its kind in Europe. Parking is an issue with the amount of people attending, and the importance of arriving in time for prayers. Many people had abandoned their cars in the middle of streets. It was chaos. We were literally the only white people walking to the park that we saw.
The deep chanting of people heading to prayer leads the way
We arrived at the park just after the 9.30am start time, and heard the deep rumbling of the Allahu Akbar chant of the people heading to prayer. There was a bit of police presence at the gates for the Eid al-Fitr celebrations. Nothing like what had been reported in the press, due to security fears after recent events. The Muslims were all dressed in their best clothes, and in many different styles. Many wore the long white gowns. The gates were filled with balloon arches, and stewards had foam hands that said Eid on them.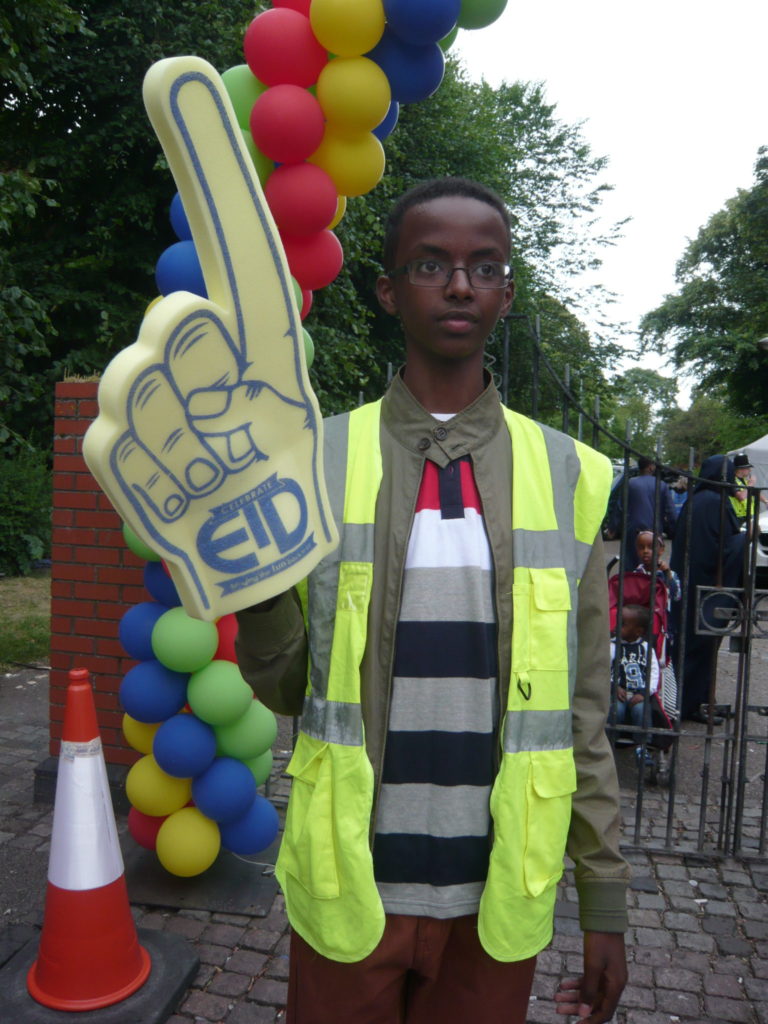 As we approached the gates of the park, we felt slightly apprehensive. We were a bit worried about standing out too much, and offending the worshippers with our Western dress. In the end, our differences actually made people seem to want to welcome us more. At first, however, we were rather unsure as to what was going on. People had started taking their places on the huge tarpaulin prayer mats, and it was difficult to find our way.
Be prepared for segregation
Near the entrance, a steward had said that 'brothers' should go one way, and 'sisters' the other. There was no way we were separating. Therefore, we anxiously looked around to make sure that we saw people of both sexes in any areas that we went in. Eventually, we got to the cut-off point where the men and women were separated for prayer. There were no women ahead of this point. Therefore, we decided to head across to the side of the prayer area. Here, despite being in the women's area, we saw a few other men. Some of them were wearing jeans like me.
Everyone was enjoying the spectacle and filming the scenes. We couldn't see them in person, but there was a big screen showing the speeches from various Muslim leaders and community leaders. Many of the speeches were very inspiring and inclusive. Most of them were denouncing terrorism, welcoming non-Muslims, and talking about the importance of charity giving. A couple of people came up to thank us for coming along.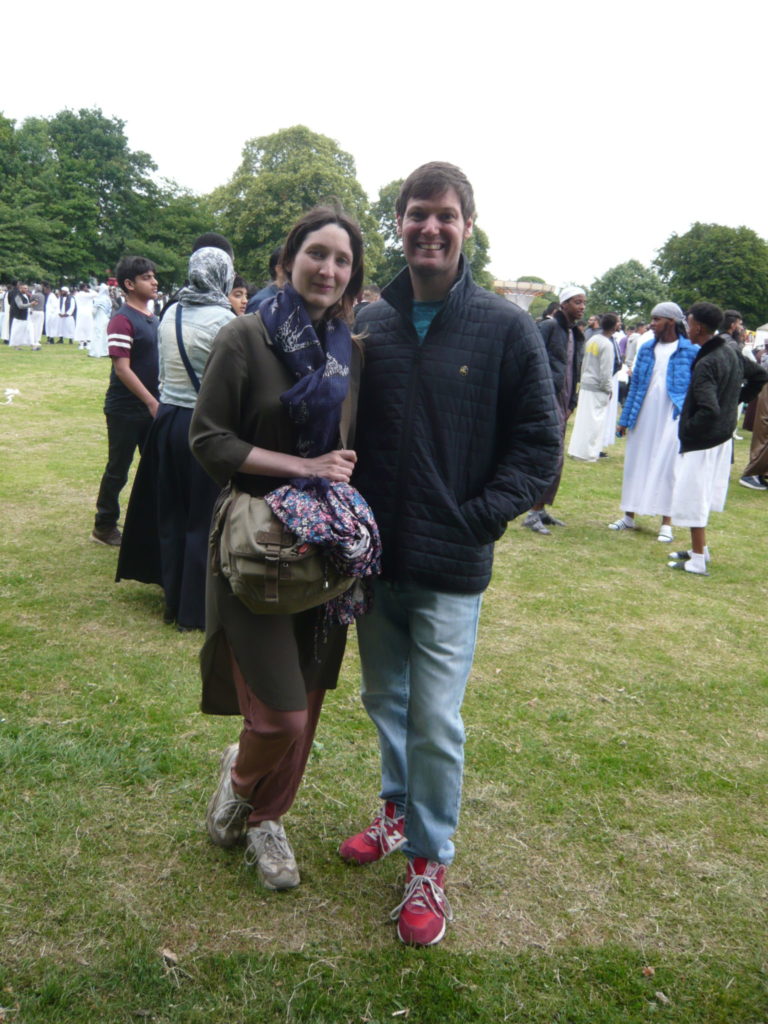 The prayers are an inspiring spectacle
Soon after, the Eid al-Fitr prayers started. The prayers were definitely an interesting thing to see. Thousands upon thousands of people knew exactly what the prayers required. They moved in unity to do things like bow and kneel on the floor. It looked well choreographed. Apparently, some Eid al-Fitr prayers are mandatory, whilst the ones that follow are not. This resulted in a huge exodus of people from the back of the prayer area. We walked all the way around to the front to get a different view of the remainder of the sermons.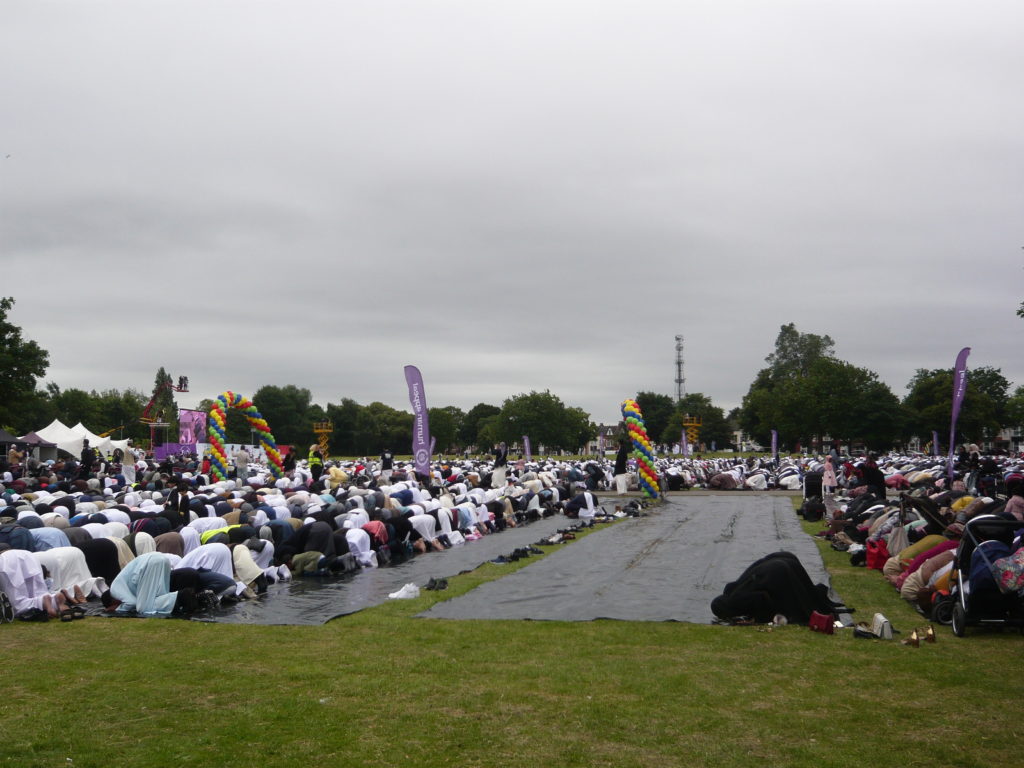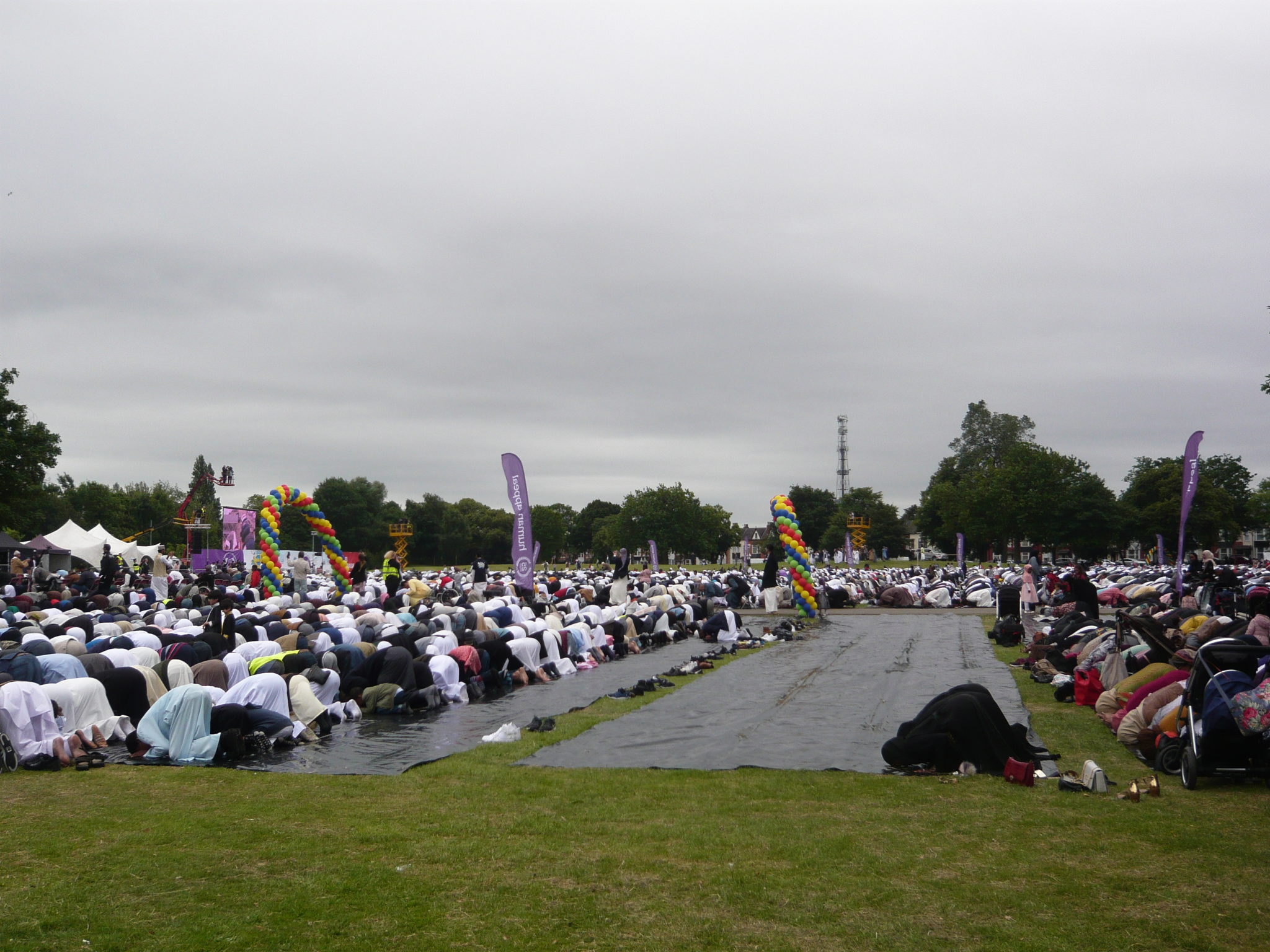 The front was still busy, as that must be where the most devout Muslims were sitting. Just as the prayers finished, the rain began. It was the fine rain that gets you wet, as Peter Kay would say. Luckily, it didn't stay like that for too long, and was warm enough to dry us off quite quickly.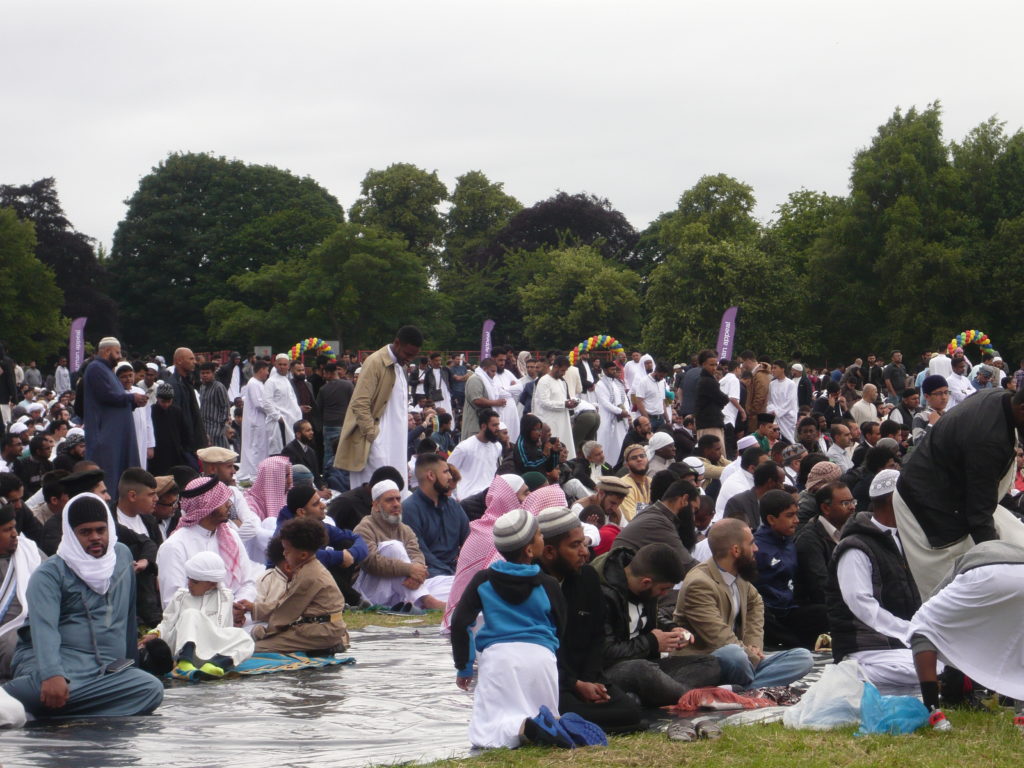 We started by looking at the bazaar area. Stalls were selling Asian gifts, like traditional clothing, extravagant perfume bottles, and children's lucky bags called Bismillah Bag. We were unaware that Bismillah meant 'in the name of God' in Arabic, and couldn't help but think of Bohemian Rhapsody.
Not big on music
To be honest, the whole day had a lack of music that was the main thing I disliked about it. It felt rather soulless. The people were making up for it, of course, in very jovial spirits. Everywhere you looked, people were hugging their friends and family. Being so fond of music, however, it seemed rather strange not to have any. I can't find any information to say that music is not allowed, and in fact the contrary. However, we even felt a bit uncomfortable singing along to ourselves, as we so often do, such was the noticeable lack of music.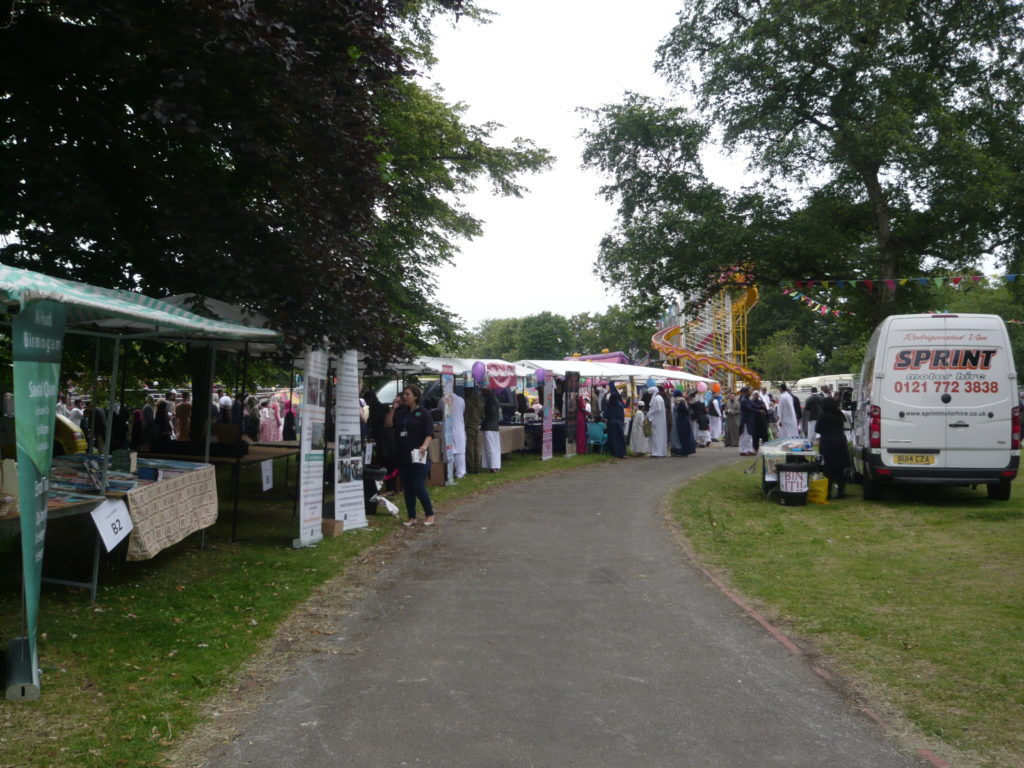 This was also true of the funfair, which we visited after looking at the food stalls. That seemed even more weird. The food stalls were rammed straight away, despite being so early in the day. You can't blame these people, however, after having fasted for the past month! Another noticeable thing was the abundance of huge boxes of Krispy Kreme doughnuts, which were everywhere. The funfair only charged £1 per ride, which was great value. Early on, however, the rides were swamped with people.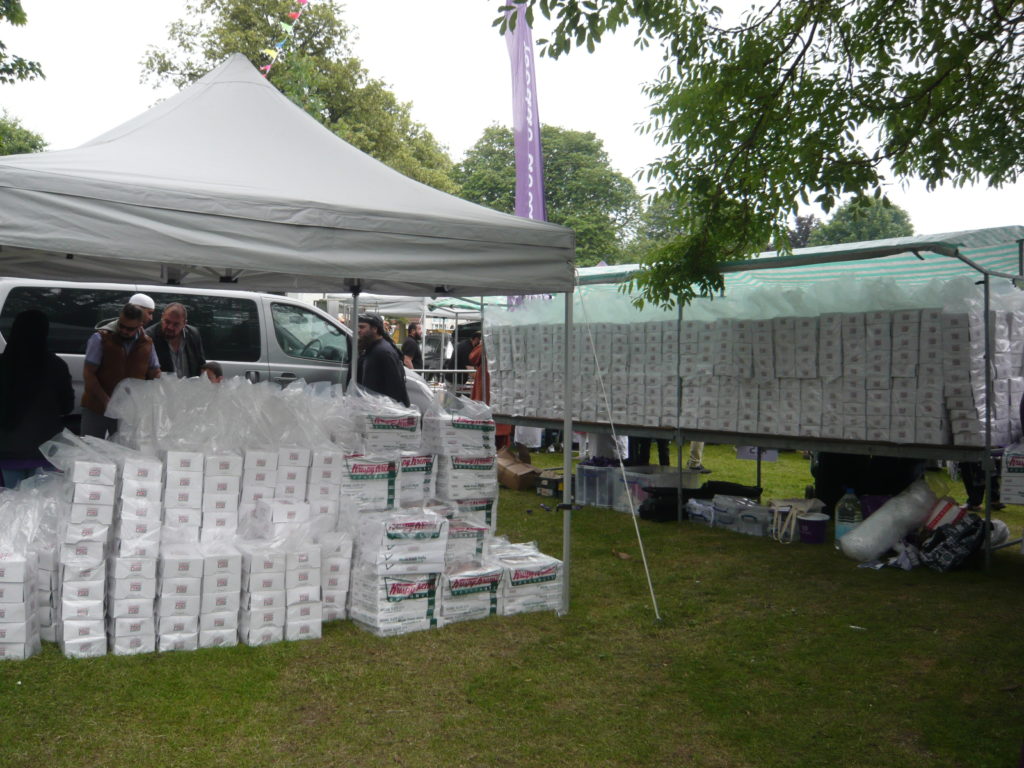 Time to have fun
We walked around, looking at the rather naff little amusements, before finally deciding to queue for the Twister, one of Amy's favourites. We probably only had to wait for around ten minutes, and it was great fun. After our ride, a guy beckoned us over for a chat on Islamic TV. We just chatted about why we were there, and wished the viewers Eid Mubarak (happy festival) at the end.
We also tried the Roller Ghoster, which was probably the naffest ghost train we have ever been on. The guy running it was getting mega stressed. He was having to get people on and off the ride, physically stop the ride vehicles crashing into each other, and taking people's money. At least it was only a pound each!
The children were creating chaos
We enjoyed watching some of the other activities, such as the football challenge. Here, you get a prize depending on how many balls you kick through holes. Most were little kids who couldn't even kick the ball off the ground. The inflatable slide was even funnier to watch. The guy in charge here was powerless to stop the hordes of tiny kids sneaking past him and back up the slide for another go whilst he was trying to organise the chaos.
The huge prayer area looked strange being so empty now. People were starting the huge task of removing all of the tarpaulin. There were lots of activities going on around the park. However, we struggled to find any apart from the bazaar, fun fair, and inflatables area, though they hadn't even inflated them yet. Eventually, we found a white tent with a tiny A4 sign that said 'Animal Man'. It was so hard to spot that Amy couldn't see it even when I pointed it out from right next to it!
Animals In Hands gave the chance to put a python round your neck
We walked into the tent and saw someone with a huge Albino Burmese Python around their neck! We had to have a go of that, and waited for a while to get the amazing chance to do so. It was so heavy that it required two handlers to hold it up as well as us. There was an Eagle Owl at the back of the tent, though we never saw it move from its perch.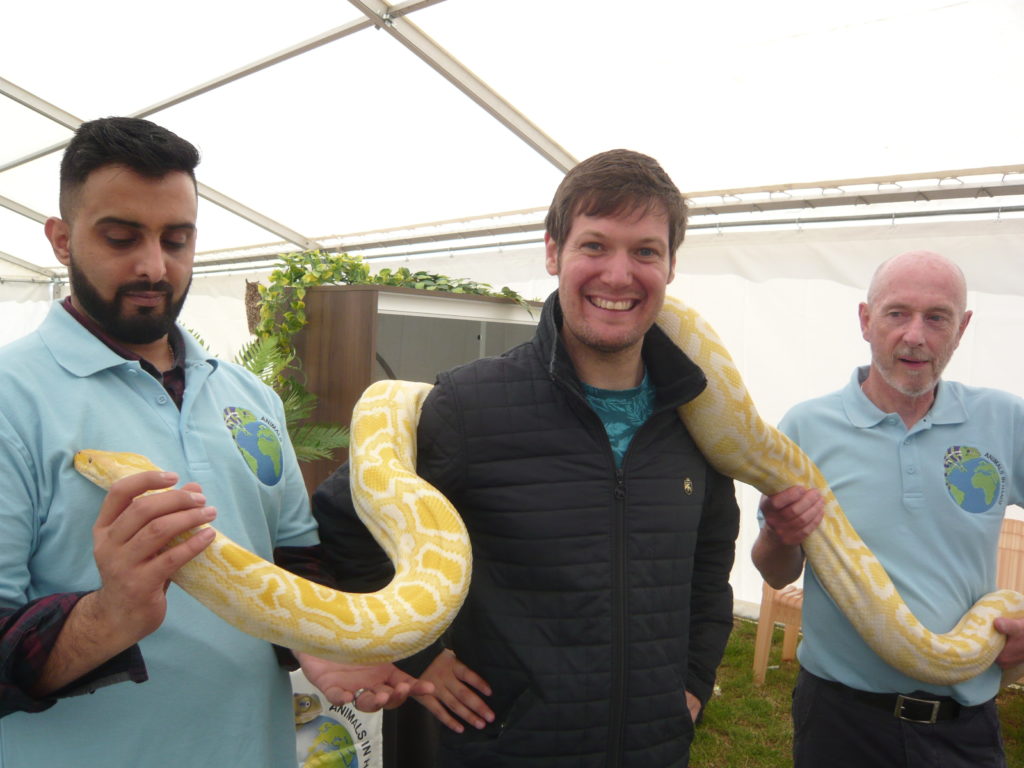 Across the other side, we got the chance to feel no less than four corn snakes. The last one, the guy even put it around our necks. This one was a completely different experience to the python since these were tiny and thin in comparison. We also saw a bearded dragon. They had lots of other creatures including giant snails and tarantulas in cases behind them.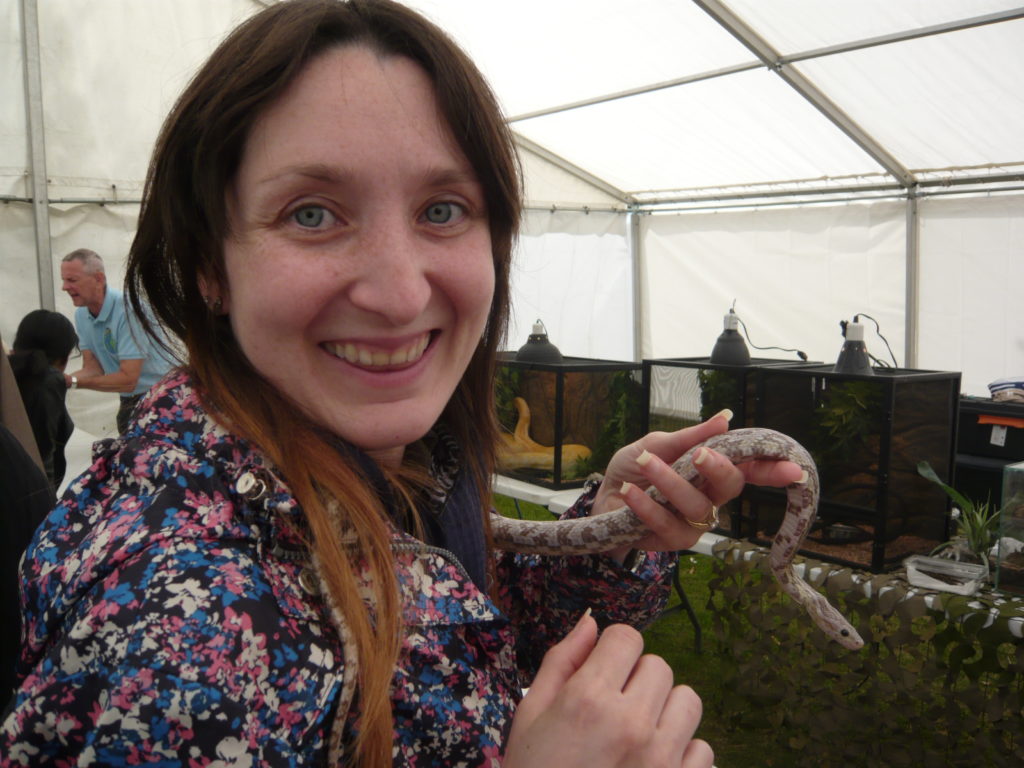 A great cultural experience
Hungry, we went back to the bazaar area to get some food. Amy had five large pieces of tandoori chicken with a portion of rice. I had got my eye on a kebab that I had seen earlier on. It was the largest one I had ever seen. The queue was huge, which seemed like a good sign. However, it was just a sign of ineptitude. There were a few guys working there, who didn't seem to be doing much at all. The building crowd were getting rather restless with them. One guy waited so long he had to get his money back.
Overall, the Eid al-Fitr celebrations made for a great, unusual date. It isn't at all romantic in the conventional sense, since lots of physical contact can be frowned upon. However, sharing new experiences are what brings couples closer together. You won't forget the experience of celebrating Eid al-Fitr with the devout believers. You'll surely come away with the belief that the world isn't such a scary place after all.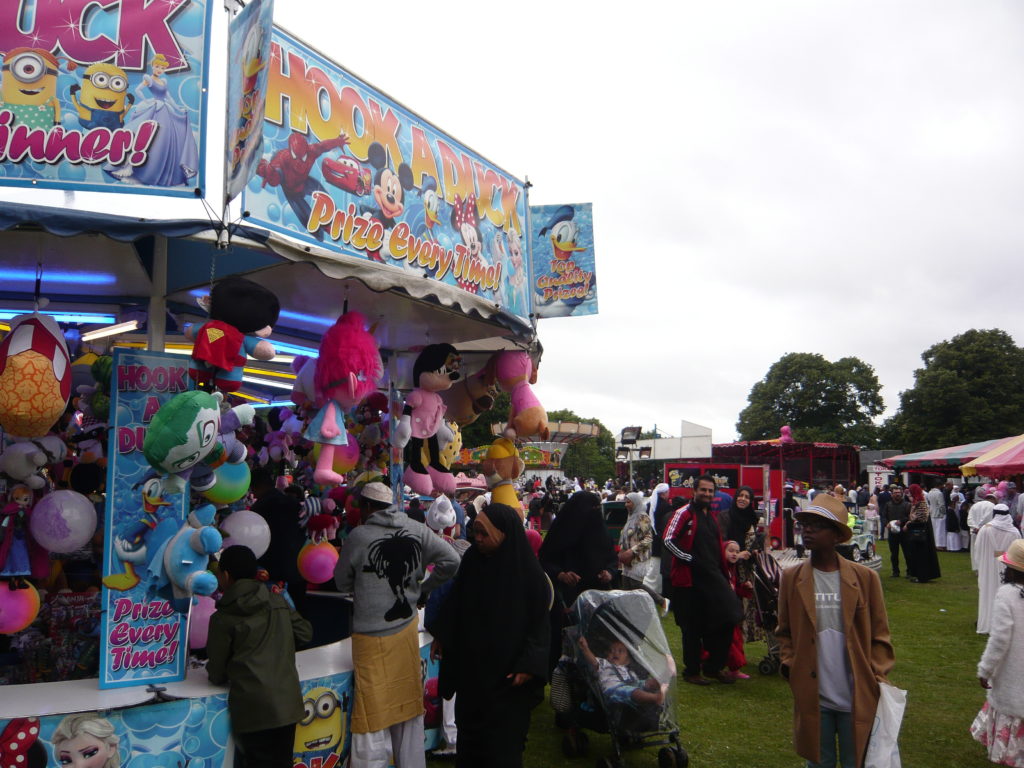 Have you ever celebrated another religion's festival? Christmas doesn't count!