Phil Collins: Not Dead Yet, Live @ BST Hyde Park, London 30/06/2017
Phil Collins played the biggest show of his comeback tour at BST Live, in London's Hyde Park. In the interests of disclosure, we saw Taylor Swift here a couple of years ago. The venue was so bad that we said we wouldn't go back. However, for Phil Collins, we made an exception. Luckily, the venue is much improved. As well as two great music stages and a bandstand, you can pose for 360 degree selfies in the Samsung booth, get as many free Coke Zeros as you like in the fun Coke area, and even play in the Barclaycard playground.
Starsailor were the opening act on the Great Oak Stage, and they had just started playing Alcoholic as we arrived. We started off at the side of the stage where the view wasn't too bad (of the lead singer at least), but the sound was a bit muffled. The problem is that they cordon huge parts of the park in front of the stage for those who are willing to pay a load extra. This makes it really hard to get a good view in general admission. We decided to check out other vantage points so we knew our best plan of attack for Phil Collins. As it was still relatively early and civilised, we managed to get a position just behind the people on the barrier near to the middle. The very middle view was blocked off by a huge VIP bar, which is just ridiculous.
Starsailor and KC and the Sunshine Band got us warmed up
Starsailor did a fantastic set, including a short cover of Come Together. They finished by dedicating Good Souls to the victims of the Manchester and London attacks. It was actually the fourth time we have seen them live, but the first since 2008. Their setlist was Alcoholic, Best Of Me, Come Together, Tell Me It's Not Over, Four To The Floor, Silence Is Easy, Good Souls. We stayed put, ready for the next act, KC and the Sunshine Band, who I was mega excited about seeing. The huge band played in front of a colourful and exotic backdrop. Their show was more 80's than pretty much anything we've ever seen.
KC himself strutted up and down the stage with a radio mic, looking every bit like an aerobics instructor. However, the whole thing was so much fun, and they played classic after classic. Flamboyant costumes and feather boas were the order of the day. Their setlist was Queen Of Clubs, Shake Your Body (Down To The Ground), Boogie Shoes, Please Don't Go, Give It Up, Brick House, That's The Way (I Like It), (Shake Shake Shake) Shake Your Booty, Get Down Tonight, Movin' Your Body.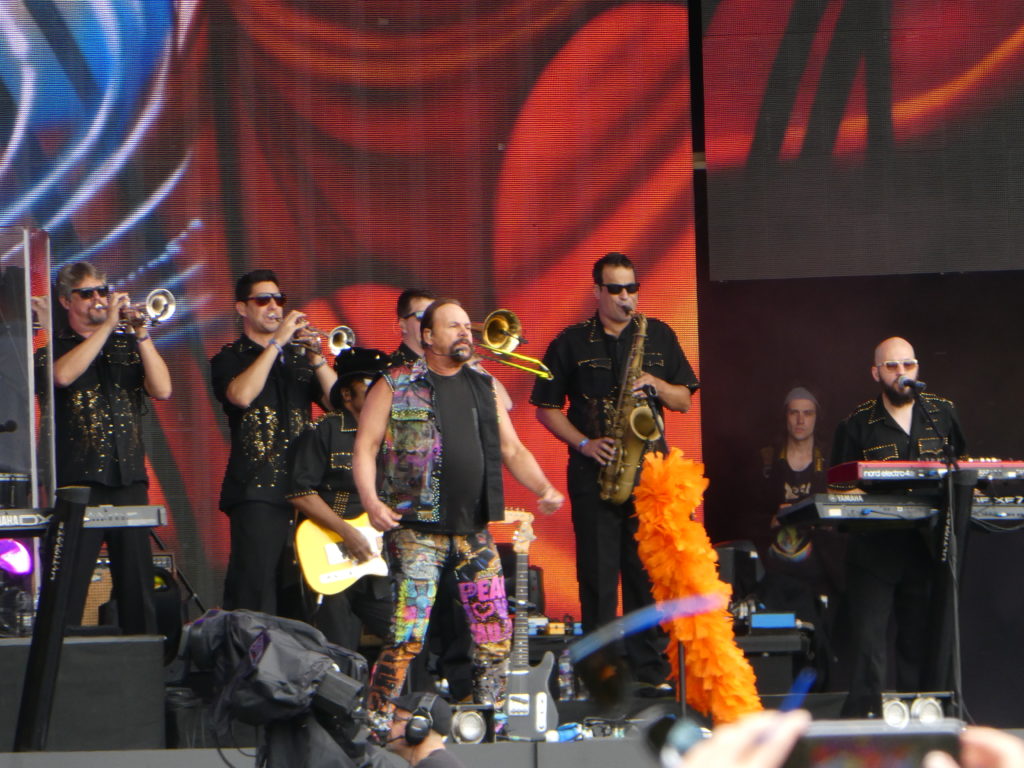 New Power Generation were celebrating Prince
Straight after their set, we raced over to the Barclaycard Stage. Prince's former group New Power Generation had just started their set. They timed it so that only one stage was playing at once, which was good. As a result, we arrived half way through first song Sexy MF. This show was ridiculously funktastic, and a complete joy to watch. Two great new singers took vocal duties. In some ways, this set was even more enjoyable than when we saw Prince himself live. There was more of an air of celebration about it. NPG were kind of a side project for Prince during a contract dispute with his record label. They were responsible for some of his most famous tracks, mainly of an urban slant.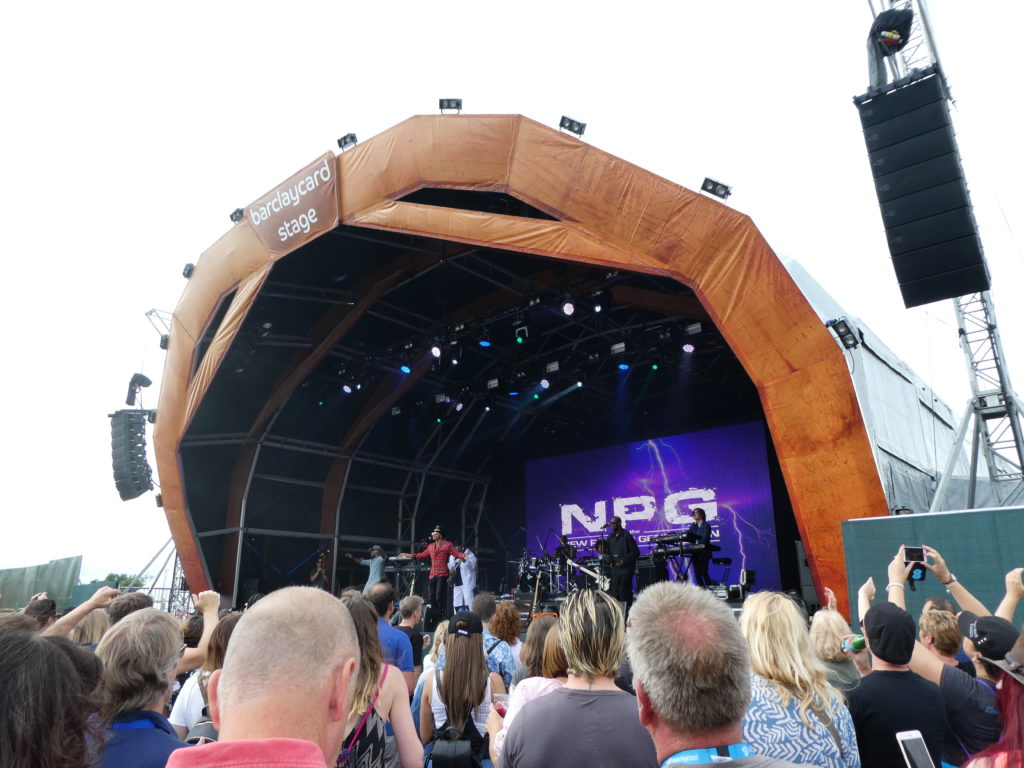 Many were performed, including Cream, Gett Off, and an emotional singalong version of Nothing Compares 2 U. Their setlist was Sexy MF, Pop Life, Cream, Sign O The Times, Hot Thing, Nothing Compares 2 U, Money Don't Matter 2 Night, Head, Uptown, 7, Housequake, Gett Off. They were actually scheduled to do two sets, with a break whilst Mike and the Mechanics were on stage. I had wanted to go back and watch the second set. However, we ended up getting back to the position near to the front where we were earlier. Amy wanted to stay there, rather than risk losing this great view for Phil Collins.
Mike and the Mechanics provided many highlights
Although we love them, we saw Mike and the Mechanics at the Victoria Hall earlier this year. Therefore, we took this opportunity to get a ridiculously overpriced frankfurter hot dog. We also had a go of a golf challenge, where you had to use a double golf club. If you managed to get a hole in one, you got a free VIP upgrade. We had three attempts, and our first one was really quite close. Our next two weren't quite as good. We were quite impressed about getting our space back for Mike and the Mechanics. We were initially a bit further across and cramped up, until someone moved from pretty much our exact spot, so we jumped back into it.
They were fantastic, and we still caught over half of their performance, starting with rousing new song Let Me Fly. The Living Years and Over My Shoulder were highlights of the day. The setlist that we heard was Let Me Fly, A Beggar On A Beach Of Gold. The Living Years, Over My Shoulder, All I Need Is A Miracle. Blondie were up next, and predictably great. It was the third time we have seen them, the others being at Blackpool Opera House, and V2014. Debbie Harry, who is nearly 72, came on stage wearing a bee horn helmet, to perform One Way Or Another. She wore a long coat that said Stop F*cking The Planet on the back. Heart Of Glass was the perfect way to close their classic heavy set.
Blondie are still rock and roll personified
The setlist was One Way Or Another, Hanging On The Telephone, Fun, Call Me, Rapture, Fragments, Long Time, Atomic, Too Much, Maria, Heart Of Glass. Images of Phil Collins flashed up on the big screens to get everyone in the mood. At 8.50pm, Phil took to the stage. It was a remarkably un-rock and roll entrance, making his way slowly with the aid of a walking stick to an office chair where he sat for the entire show. In fact, the tour is called Not Dead Yet, Live. Despite this, it was one of the best gigs I have ever been to. The songs were just fantastic. This was despite the disappointment of cutting six songs from the setlist he has been performing at the Royal Albert Hall, most guttingly Against All Odds.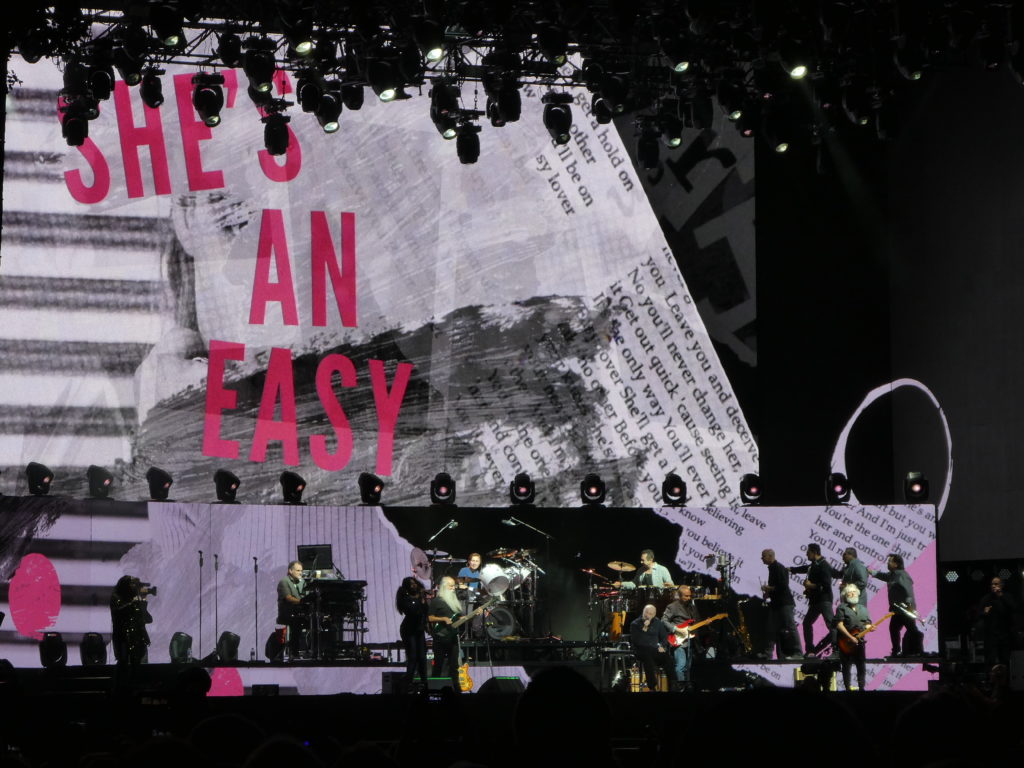 Phil Collins: classic after classic
After his retirement over a decade ago, I thought this moment would never arrive. In the end, it was well worth the wait. He can't play the drums anymore, but he can certainly sing every bit as good as in his heyday. His band were just sensational, and included his own 16-year old son Nicholas, on the drums. He got the honour of doing the famous drum roll in In The Air Tonight. Every song was joyous, from Another Day In Paradise, to the uplifting Dance Into The Light. Separate Lives had a woman next to us bawling her eyes out. He even treated us to two Genesis tracks, though it was rather a shame that Mike Rutherford didn't join him on stage.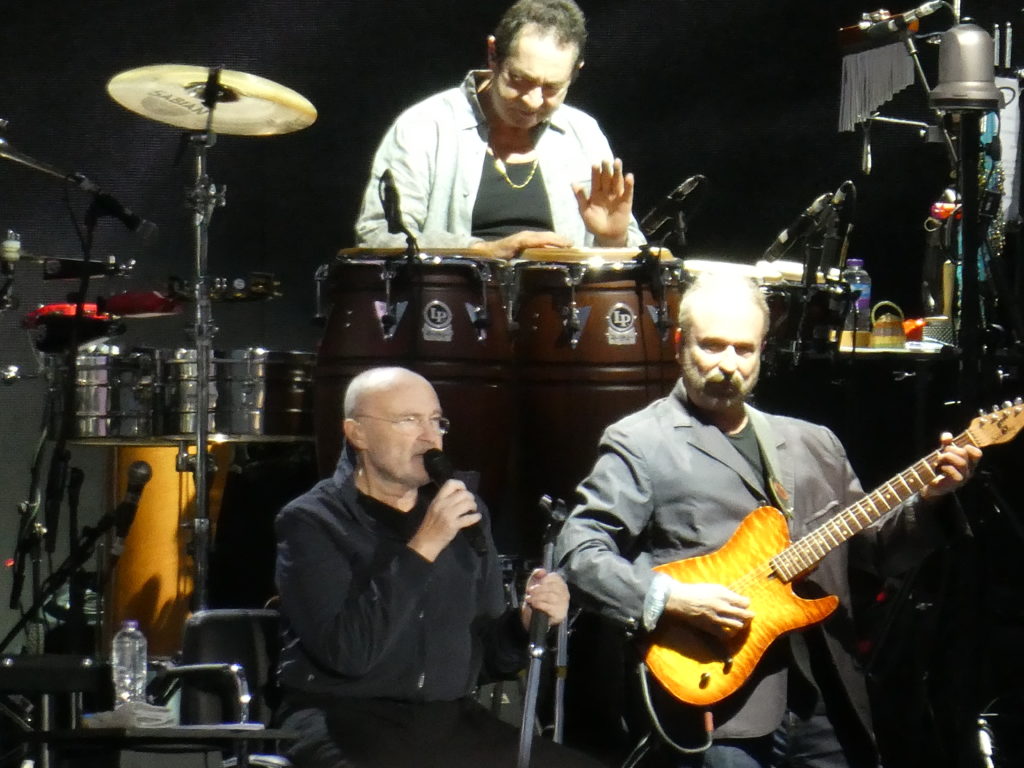 His one song encore hardly seemed worth leaving the stage for. It did provide the first time on this tour that he has performed a song whilst standing, however. The setlist was Another Day In Paradise, Something Happened On The Way To Heaven, Wake Up Call, Follow You Follow Me, I Missed Again, Hang In Long Enough, Separate Lives, In The Air Tonight, You Can't Hurry Love, Dance Into The Light, Invisible Touch, Easy Lover, Sussudio, Encore – Take Me Home.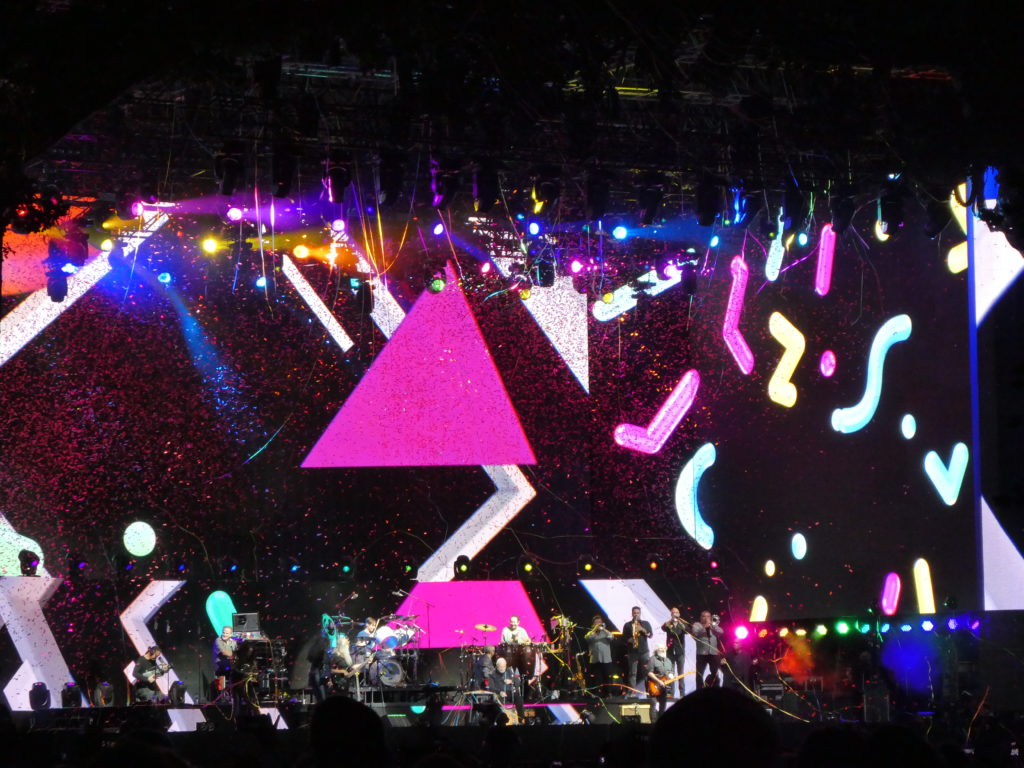 Are you excited about Phil Collins' return to the stage? Have you ever been to BST Hyde Park?