The Adrspach-Teplice Rocks are some of the world's most stunning rock formations. They are to be found in the north of the Czech Republic, only fifteen miles away from the border with Poland. They are actually two separate sites, with a gorge in the middle. However, it is very possible, and recommended, to hike through the gorge between them as well. Just a couple of hundred years ago, nobody knew much about this natural wonder, since it was overgrown with trees. A fire devastated the trees, but revealed the hidden beauty that they had obscured for so long. Now is a great time to visit, and our guide to Adrspach-Teplice will show you what you need to know.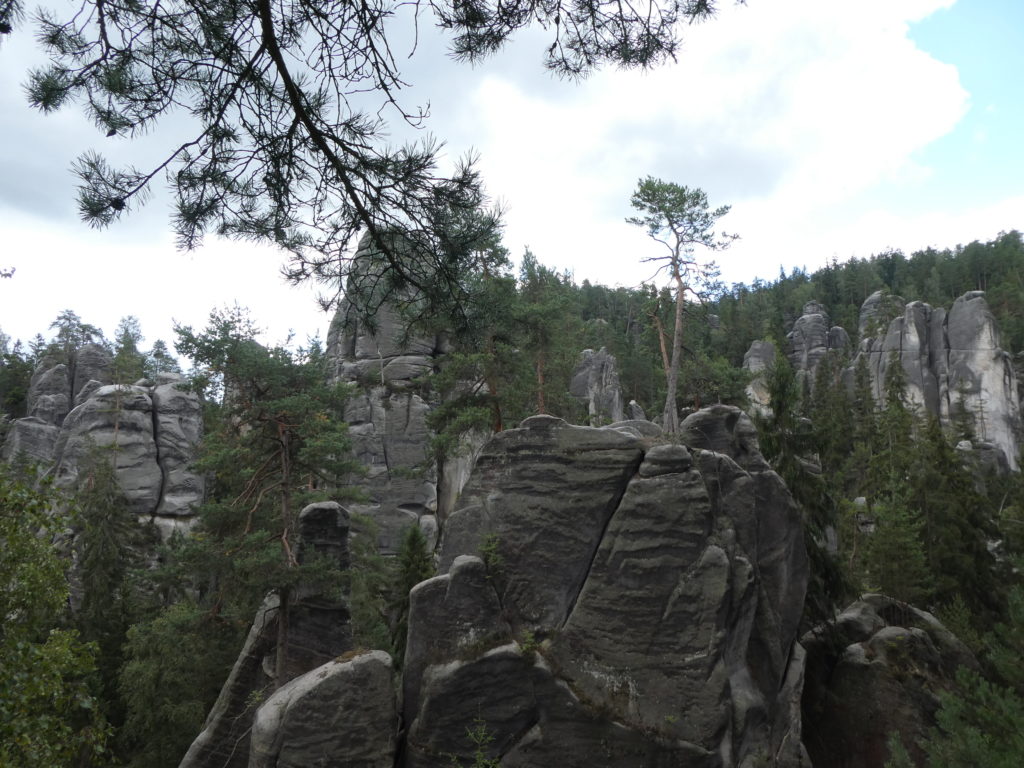 THINGS TO DO IN ADRSPACH-TEPLICE
Adrspach Rocks – The most beautiful rock formations are found in the Adrspach section. The only drawback is that crowds tend to be much larger here than at Teplice. Each rock formation has a name based on something that they look like. For example, you can look out for The Lovers, the Mayor and Mayoress, the Tooth, and the Indian. The Sugar Loaf is unusual, as it is bigger at the top than the bottom. People place small twigs up against it in the hope it helps it to not fall over! You'll also have to squeeze through a tiny gap called the Mouse Hole!
Wolf Gorge – The link between the two sites is just spectacular, with its typical tall trees with greenery at the top and nothing but bare twigs at the bottom. This path is not for everyone as it has lots of ladders and roots to climb over. There are lots of tight gaps to squeeze through in the rocks too.
Teplice Rocks – The walk through Teplice Stone Town takes around three hours. Whilst in our opinion the rock formations aren't quite as striking, you are far more likely to have the route to yourself than at the popular Adrspach. The scenery is stunning, so it is well worth adding the Teplice Rocks to your itinerary regardless.
Boat Cruise on the Stony Lake – A rather amusing boat journey, complete with comedic skippers. Although the commentary is in Czech, if you let them know you speak English, they'll give you a sheet with the commentary on it, so you won't miss out on the very funny jokes! The boat is more like a large raft, with the skipper pushing you along like a Venetian gondolier.
HOW TO GET TO ADRSPACH-TEPLICE
By car? The best way to arrive is by car, since the area is rather remote. To find a good price on car hire, check Skyscanner.
By train? Adrspach and Teplice nad Metuji are the two closest train stations. They are tiny, so you will likely have to take a number of connections to get there. However, don't let this put you off. Many connecting trains in this part of the Czech Republic will wait until the previous train arrives, so it is unlikely you'll miss the connection, even if your train is running late.
WHERE TO STAY IN ADRSPACH-TEPLICE
Luxury? Skalni Mlyn Adrspach is a four star hotel in a nicely restored old mill. Its location by the rocks is perfect. Book now on Booking.com.
Budget? We stayed in a guesthouse called U Janecko near to Teplice Rocks. The room was large and comfortable, but communication with the owner wasn't great, as he can't speak a word of English. But we coped enough. Book now on Booking.com.
Cheaper and more authentic? Try Airbnb, where you can find some unusual and fantastic homestays in more traditional surroundings. Click our special link to receive £25 off your first stay!
Free? Couchsurfing is a vibrant community of over 14 million world travellers, who host others on their travels.
OTHER TIPS FOR YOUR TRIP TO ADRSPACH-TEPLICE
How to pronounce Adrspach and Teplice? Ad-dur-spackh and Teh-pleet-seh.
You'll find no restaurants during your hike, so it is imperative that you find a supermarket before your hike to stock up on supplies such as food and water. There is a small supermarket near to the Teplice Rocks entrance.
You can get a local train between Teplice and Adrspach. Therefore, whichever is your starting point, you can return without having to retrace your steps. You could also get the train in the morning, and walk back to your accommodation point.
Be sure to get a map for both Teplice and Adrspach when purchasing your tickets.
One ticket is good for both locations if you walk through Wolf Gorge. If you exit and take the train, you will be expected to purchase another ticket at the next site.
Both Adrspach and Teplice are circular routes, so it is easy to get back to the starting point if you only wish to experience one of the hikes, decide to split them up over two days, or prefer not to hike through Wolf Gorge.
It is easy to find your way through Wolf Gorge, since they use a lot of yellow paint to point the way. The only problems may come from fallen trees making it difficult to find the path.
You'll have to climb a fair few of what are called ladders. They are more like a staircase, but on a slant. Be aware that the route can be quite strenuous. You will sometimes have to squeeze through tiny gaps in the rocks.
Many people come to the area to try their hand at rock climbing, and even slacklining. However, it looks very challenging, so make sure to come with an instructor if you're not an expert yourself.
Has this guide to Adrspach-Teplice helped you to plan your trip? Anything else that you would like to know?
Like it? Pin it!
This post contains affiliate links. By clicking them to purchase your flights, hotels, and car hire, the companies involved pay a small commission to us at no cost to yourself. This helps to keep us on the road, creating guides like this one. Thank you for using them!