Our romantic couples guides to London are some of our most popular posts. As regular visitors to London, we have only scratched the surface in terms of places that we have visited and can recommend. Here is another bunch of tips to make the most of your time in West London. If you haven't seen it, check out the first part to our guide to West London here.
EVENTIM APOLLO
More commonly known as the Hammersmith Apollo, this Grade II* listed building is one of London's most iconic live music venues. It has seen many huge names, with AC/DC being the first to perform with the seats taken out in the stalls. Live at the Apollo is a phrase that brings prestige, and has been used in live albums and DVDs by the likes of Black Sabbath, Kings of Leon, Dire Straits, and David Bowie. Buddy Holly did his final two UK shows here, The Beatles performed 38 times in 21 nights, and the BBC's famous comedy series is filmed here. We were lucky enough to see one of the ultra-rare performances of Kate Bush, exclusively at this venue in 2014.
SCIENCE MUSEUM
This major museum attracts over 3.3 million visitors annually. It offers free admission, and is totally amazing! You can see the iconic Stephenson's Rocket, a replica of Crick and Watson's DNA model, and Old Bess – a steam engine made by James Watt himself. The galleries are themed after power, space, the modern world, flight, media, the information age, and engineering, whilst there are countless interactive exhibits to have fun with. Check out our guide to a date in a science centre.
STICKY FINGERS
We can't get enough of the tantalising ribs at Sticky Fingers in Kensington. The rock-themed American restaurant is owned by Bill Wyman, the Rolling Stones former bass player. Indeed, it gets its name from the Rolling Stones album! We actually got to meet Bill Wyman ourselves, back when we lived in Blackpool.
KENSINGTON PALACE
This remarkable royal residence is set within the beautiful Kensington Gardens. Its history goes back a long way, and was the childhood home of the future Queen Victoria. Nowadays, it is the home of Prince William and Kate Middleton, as well as Prince Harry. Visitors are more than welcome, and it is a thrill to see some amazing artefacts from the Royal Collection. You may remember the sad scenes with over one million bouquets laid outside the palace on the death of Princess Diana in 1997.
ROYAL ALBERT HALL
We've only been into the Royal Albert Hall once, but it was for the world famous Royal Variety Performance. Attended by Prince Harry, we saw performances from the likes of Elton John, Kylie Minogue, and ELO. Whilst not always on such a scale, most events held at this most prestigious of venues will involve dressing up a bit. Otherwise, you might feel completely out of place!
KENSINGTON
Kensington offers one of the best shopping experiences in the world. The luxury department store Harrods is an icon of the shopping world. Many people used to go in and buy just a carrier bag, to say that they have bought something from Harrods, such is its prestige. Harvey Nichols and Peter Jones are also in the area. Kensington High Street and King's Road offer some of the best designer goods on the planet. Amy's favourite shop is a jewellers called Butler & Wilson. On our first visit there, Amy was delighted to have her purchase wrapped by the designer Simon Wilson himself!
LITTLE VENICE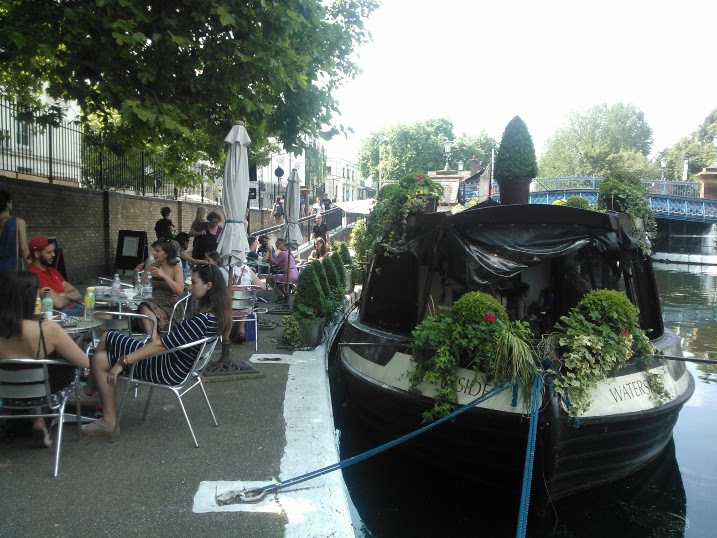 You can read all about our walking tour of Little Venice here. Little Venice is a scenic and affluent part of London, home to many of the world's great and more importantly, rich. It is a perfect place to have a stroll down the canal arm in arm with your partner. London Walks do a guided tour to show you all of the history and main features.
What are your favourite West London attractions? Let us know in the comments…..