A science centre is a fantastic place to go to on a date. It offers you the chance to participate in experiments. You will constantly have new topics to discuss without any pressure on the conversation due to there being so much going on all around. There are often hands-on displays too, where you can maybe work together to build something. Or alternatively, for the more competitive amongst you, you could compete to complete the activity in the shortest time!
Some science centres might even open in the evenings just for adults, which might be a little more romantic. Another romantic thing that many science centres offer is a planetarium. Planetariums offer a cosy stargazing session without the worry about how chilly the night may be.
Magna Science Adventure Centre – Rotherham, UK
We recently visited Magna Science Adventure Centre, which is in Rotherham, South Yorkshire. It is extremely close to the major city of Sheffield (literally down the road). Therefore, it can be easily combined with a short stay there.
During the winter months, Magna opens at 10am, and closes at 4pm. As usual, we did as much research as possible before our visit. Most people suggested that just a few hours would be plenty. Therefore, we didn't stress about getting there fifteen minutes after it opened. However, we would definitely recommend you allocate a full day (10-4) to enjoy this attraction to the fullest. We say this as we didn't have time to see everything and we were there for nearly six hours! Be sure to wrap up warm too. Due to the size of this building, it can get very cold, even indoors.
Parking is free of charge and there is plenty of it. It is also worth purchasing your tickets online. This works out to be £1 cheaper per person, which is worth it if you are on a budget. Your ticket is valid for an entire year if you live close enough to take advantage of this. This makes the £10.95 fee great value for money.
Housed in a former steel works
The science centre is housed in the former Templeborough Steel Works, which once held the world record for steel production. This is a very iconic and atmospheric location for it indeed. The first room you come to is an exhibition on the history of the steelworks. It offers a great way of understanding the history of the site before you tour it. It actually went as far back as Roman times, as a Roman fort was found underneath the site. The history goes through to the advancements of the steelworks, aided by the World Wars, in which so much extra steel was required.
Head for the interactive areas first
It is mainly information boards giving you the information, with a handful of interactive bits like flaps to lift. There is also a video at the end which shows vintage footage of the steel making process in action. Although interesting, I would advise anyone without children to head straight for the highly interactive science areas. These are themed after the four elements needed for steel production – fire, air, water, and earth. By doing this, you will have a lot more freedom to play around, without having to wait in line with a bunch of kids to have a go on the super soaker! You can then return to this exhibition later, as it will rarely get busy.
From here, you enter a huge, dark, and cold hangar. Massive steel hooks linger above your heads, that are actually pretty scary, such is their size. At the far end of the room is a staircase up a tower which leads to the main exhibition area. There are also a couple of artefacts down here, including a vehicle and some machinery. Don't miss the swinging chime, which you use a hook to pull back. When you let go, it swings and hits pieces of steel to make a nice sound. However, if you are anything like me, then the chimer will do everything possible to avoid the chimes!
Room of sparks
Leave the 'people of steel' exhibition for now, located on the walkway, though do stop to have a go on the huge spotlights that help to light up some of the features of this dark and ginormous room. It feels like being in a 1980's sci-fi film to be honest, especially when you enter the Transformer House. This is a room of sparks, which flash on and off while making that familiar hum of a spark. From the walkway, you can see a few of the stunning pavilions, including the blimp-like air pavilion, as well as the most-anticipated Big Melt. This is a huge display of the equipment needed to produce steel.
Don't miss the Big Melt
The Big Melt is shown on the hour, in the 'E' furnace, which was one of the original electric arc furnaces that once powered the area's booming steel industry. However, it has been unused for many years now. Get yourselves a good place on the walkway, in the centre. From here, you can listen to the narration, which tells you the details of the steel making process. There are lights illustrating the machinery that is being talked about, but the immense noise of the works, and some pyrotechnic effects help to bring the experience to life. Of course no actual steel is involved, so the room remains cold, rather than the immense heat that would have been felt by the workers. They used to have to drink lots of beer to keep cool.
The furnaces are now rather rusty looking, but immensely scary and imposing. You would not want to have worked here, yet many ex-workers tell very fond stories about the camararderie that they shared. It is all very well done, though Amy feels that she built it up too much in her head as something spectacular. This was mainly as a result of many of the reviews we read saying that it was the attraction's saving grace.
The Fire Pavilion
The Fire Pavilion begins with a great sound and vision display with thunder and lightning encompassing all of your senses, before you see the 'Fire Tornado'. This really had the wow factor. Pressing the button starts a chain of events that begins with some oil being poured onto a metal surface. It is then heated until the oil evaporates, before being set alight with a spark, and uses fans to make the flame rise and twirl like a tornado, five metres high. It was hot, beautiful and exciting. Another exhibit let you heat up some wires to glow red hot and create the shape of a face. We were wowed by the crystal lattice.
One of the most popular machines uses nanotechnology to create an image of a tiny object, which you then had to guess what it is. We didn't get Amy's, which was a human hair, but Amy managed to get mine, which was velcro. They also have a steel bridge, with a bouncy centre, to illustrate the longetivity of steel. Another fun exhibit involves putting one hand on a hot surface, and the other on a cold one. You then put both hands on a warm surface. It results in the opposite feeling in each hand, despite the temperature now being the same.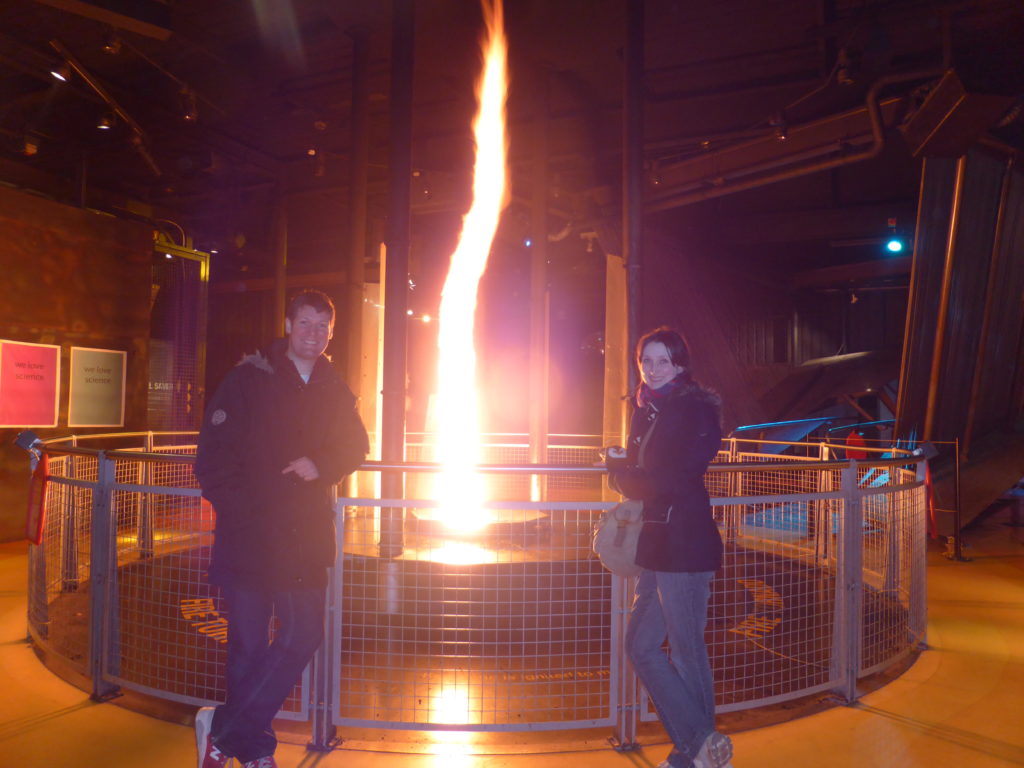 The Air Pavilion
The Air Pavilion is also very impressive indeed. The first thing you come to is a massive set of fans which blow large wind forces out. This may well be popular, but it is well worth waiting your turn at feeling the forces. It is great fun to pretend to be blown back by it, though it will freeze your teeth if you open your mouth! They have a set of pipes you can talk through, to people at the other end. You also get the chance to make ripples in metal tiles by blowing air at it. The musical pipes are great fun to make a tune on, while you can spin ball bearings around a drain-like thing, and blow to disrupt a wind tornado too.
The Water Pavilion
The Water Pavilion has a beautiful and dramatic entrance. It consists of two pools of water either side of the walkway which overflow down the sides to create the illusion of you walking through the water. Every five minutes, the room 'rains' as well, though you won't get particularly wet from it. You can put your head into a plastic hole and get shot at by water cannons on the other side. It is great fun for couples, though the actual cannons are quite hard to get to from here. I recommend going back out, and in through the exit, as it is much quicker.
You can have a go on a contraption that you place plastic balls on, and they shoot in the air being powered by air, which was probably in the wrong pavilion. Don't miss the chance to play a computer game as a fish, see your weight in terms of water, and play with a huge display which shows different ways of powering and manipulating water. You can also create waves with a machine, and have a go on the super soakers yourselves. Don't miss the canal locks experiment, using model boats, as this is great fun. However, I didn't understand it as well as Amy did, so my boat kept capsizing!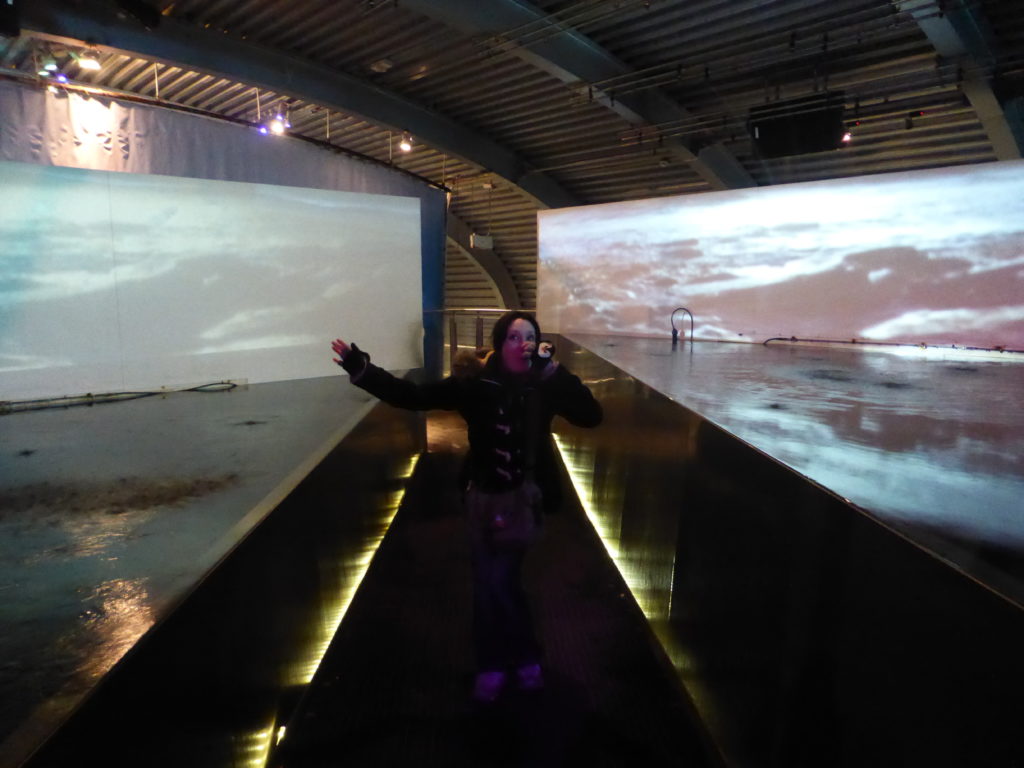 The Earth Pavilion
The final pavilion is the Earth Pavilion. Here you can play games and quizzes, control JCB diggers, and raise each other up on a hydraulic platform! There are three JCB diggers, so if one doesn't work perfectly, just try another. You will have loads of fun picking up little bits of steel and letting them drop to the ground with the digger. Other interactive bits include lifting huge weights with pulleys, and demolishing something with a lever. This results in some rubber rocks falling out. You can then take them over to a conveyer belt system where they are sent around to where they need to be.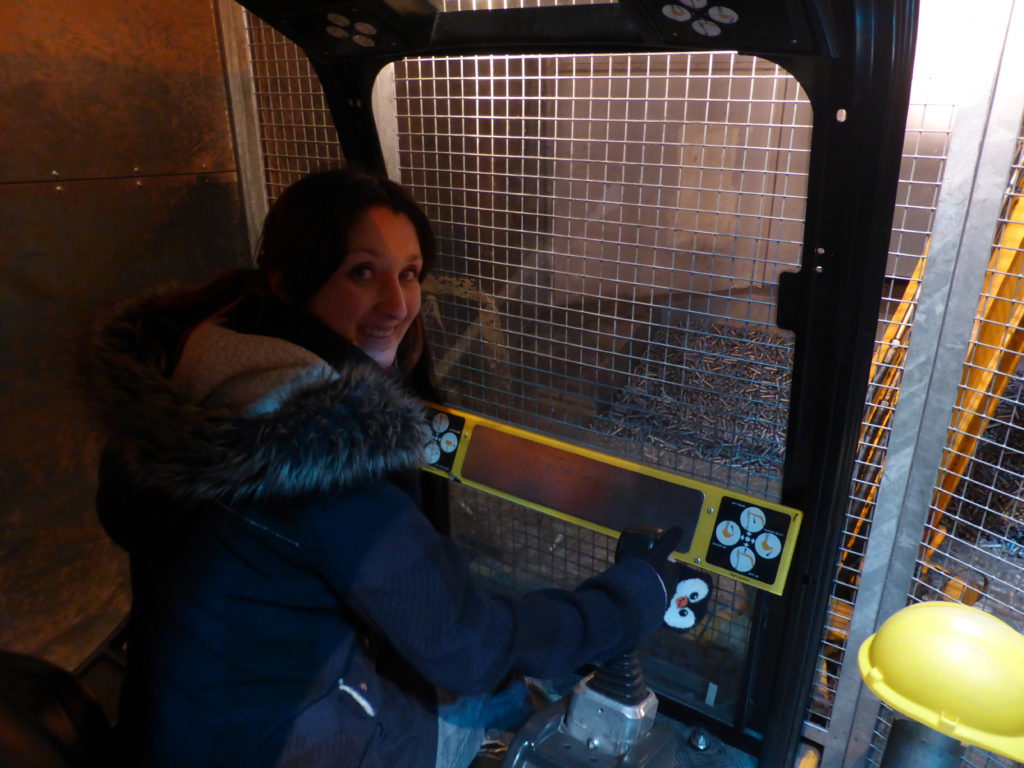 Lunch options and other features
The cafe is in a large room next to the main entrance. We had penne pasta, which was frozen and poured into an individual fryer, and topped with bolognese sauce. It came in a pot for a reasonable £3.25 each, which isn't bad at all for a tourist attraction. They also did sandwiches, burgers, hot dogs, and curries. Check in advance that they are open, as in the winter it may be open at weekends only. Picnics are allowed though.
The major disappointments of our visit were that the attraction did not offer any sort of map, or guidebook. Instead, they had a picture of a map on the wall which they encouraged you to take a photograph of. This seemed a bit mean. However, it is very easy to find your way around despite this. They also offer 'History of Steel' tours with a former steel worker. However, we were told that these only happened on weekdays, though the official website made no mention of this. These tours are free of charge, and last for just under an hour. I'm sure they would be a fascinating addition to your day. In the warmer months, you may also wish to allocate some time to Aqua-Tek, and Sci-Tek. These are two outdoor playground areas, that we didn't get time to check out.
Our overall thoughts
As the reviews on Trip Advisor weren't exactly gushing, we were half-expecting a lacklustre experience. However, we absolutely loved it at Magna, and could have spent longer there. Many people complained of a large number of the hands-on activities not working or having 'out of order' signs everywhere. However, we didn't find this to be the case at all. I think there were only a couple that didn't work. For a place like this that has so many experiments to do, is pretty impressive!
What To Do Afterwards
Maybe nip over to the fantastic Meadowhall Shopping Centre. It is just one mile away, also has free parking, and lots of dinner options too.
Best Photo Op Locations
By the large shiny steel bull statue, with the building in the background. Be warned that this involves traipsing over a bit of rarely-used ground to get to.
In the 'hangar'.
By the wind tunnel, with your hair blowing everywhere.
With the 'Fire Tornado'.
Is a science centre an ideal date idea for you and your partner? Have you ever been to Magna Science Adventure Centre?