Have you explored all there is to do in your local park recently?
This secret date involved exploring Hanley Park. in our home city. Most of us are going to live near to a park. Have you explored yours recently? There is likely a huge amount of things that you can do in the park. You can go for a romantic stroll, play sports, check out artwork, get closer to nature, see wildlife, have a picnic, go jogging, fly a kite, do yoga, take your dog for a walk, play on the playground, throw a frisbee, or check out what special events are on. These are only a few of the multitude of date ideas you can find in your local park.
We went to Hanley Park, in Stoke-on-Trent, which opened in 1897, three times within a week. The first visit was timed to coincide with Circus Zyair appearing at the park. Circuses are regular visitors to Hanley Park, and are always great fun. There are always loads of great deals on tickets, so you should never have to pay full price. We'd originally planned to take a picnic to the park with us, but the unpredictable British weather resulted in it raining, so we decided against it.
Anyone for tennis?
A day later we were back. This time, we had rackets in hand, for a game of tennis. Hanley Park has great sports facilities, including three tennis courts, a cricket cage, basketball court, table tennis table, football pitches, and a crown green bowls pitch. There is also lots of open space in which to play anything. You'll find anything from a game of rugby, to people throwing a frisbee, and picnicking around these areas. We had the three tennis courts to ourselves on our visit, though its not uncommon to have to wait for a court to become free.
A few days later still, we made our third and final visit for the week. This time, we wanted to properly explore the park. We coincided our visit with a restoration walk ran by the Friends of Hanley Park. Hanley Park is having £6 million spent on it at the moment, and the plans are very exciting indeed. It has suffered from a lack of investment over recent years, and the plan is to return it to its original splendour. It is thoroughly welcome, since, despite its positives, large parts of the park are in a rather dilapidated condition.
The canal runs right through the middle of Hanley Park
An unusual feature of Hanley Park is that the Caldon Canal cuts right through the middle of it. Indeed, the canal predates the park. We took a pleasant walk along the canals, which went right through the park, before entering at the far side. It is a lovely feature of Hanley Park that is currently not seen at its best. Luckily, the canal bridges are part of the restoration project.
There are maps on large boards by each entrance, which have a numbered route to follow, starting from the Top Lodge, by the main gate to the park. The gates have recently been refurbished, as the first stage of the restoration. The lodges are being done up too, and will be rented out. At the moment, they look a bit unwelcoming, with security screens and the like.
Walking past the former bowling green, we spotted a gazebo where the Friends of Hanley Park had set up. They had a display on the restoration process, and were keen to come and talk to us about it. Afterwards, we had a bit of a play on the playground. There are various spinny type rides that we could make ourselves feel dizzy on. We spotted the sensory play area, which has colourful plants and different types of paving, some appearing like fossils.
We couldn't resist reliving our youth
The toddler play area was completely empty, so we took advantage and had a go on some mini see-saws and a roundabout. The main play area is quite impressive, with a zipline, and a huge spiders web climbing apparatus. We couldn't resist climbing up, though it is ridiculously high! We also had a go on a spinny thing here too, though we couldn't get on much as it was a lot busier around here. After a sit down on a bench to recover, we continued our tour of the park.
The centrepiece of the park is the area around the main pavilion and the bandstand. The park's architect, Thomas Mawson, designed it to look like a country estate. The pavilion was like the country house, with cascading steps leading down to the beautiful gardens below. Currently, the pavilion is somewhat an eyesore, with missing tiles and security fences around it. However, this time next year it will be a real centrepiece, with a cafe/wedding venue inside.
It'll be lovely to see a concert on the bandstand on a summer's day
The bandstand will also be restored, with access to electricity enabling more events to take place there. A distinctive feature of the park is the terracotta tiles used on the walls and other features. This owes to the area's pottery heritage, although ironically the tiles weren't made locally. On each side of the landscape here is a semi-circular garden, which is rather romantic. Beyond its archway entrance are a couple of well-positioned benches. Already rather lovely, it will be amazing when all of its plants are fully grown.
A display of artwork inspired by the park s hung on the security fences around the pavilion, yet now sadly neglected. Over the bridge that connects the two parts of the park over the canal, there is currently a hoarding over it. This has been decorated graffiti style in order to brighten it up, yet still feels slightly unwelcoming, so it will be great to see the bridge finally restored. We didn't cross the bridge here, but carried on around the path to some more sports courts.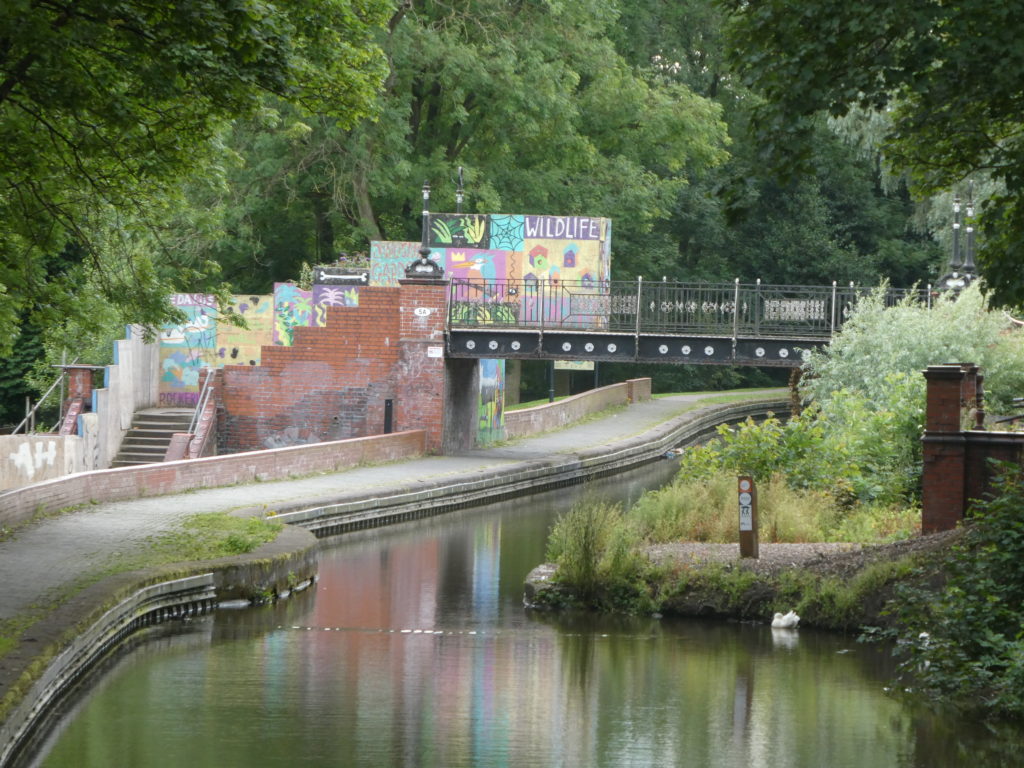 If you're into playing sports, Hanley Park is the place to be
Hanley Park has great sports facilities, including three tennis courts, a cricket cage, basketball court, table tennis table, football pitches, and a crown green bowls pitch. There is also lots of open space in which to play anything. You'll find anything from a game of rugby, to people throwing a frisbee, and picnicking around these areas.
A large expanse of grass nearby seems to be a resting ground for a huge amount of geese. The park is well-known for its birds, and some rarely spotted birds can be found. We only really saw the water ones though, like mallards, coots, and moorhens.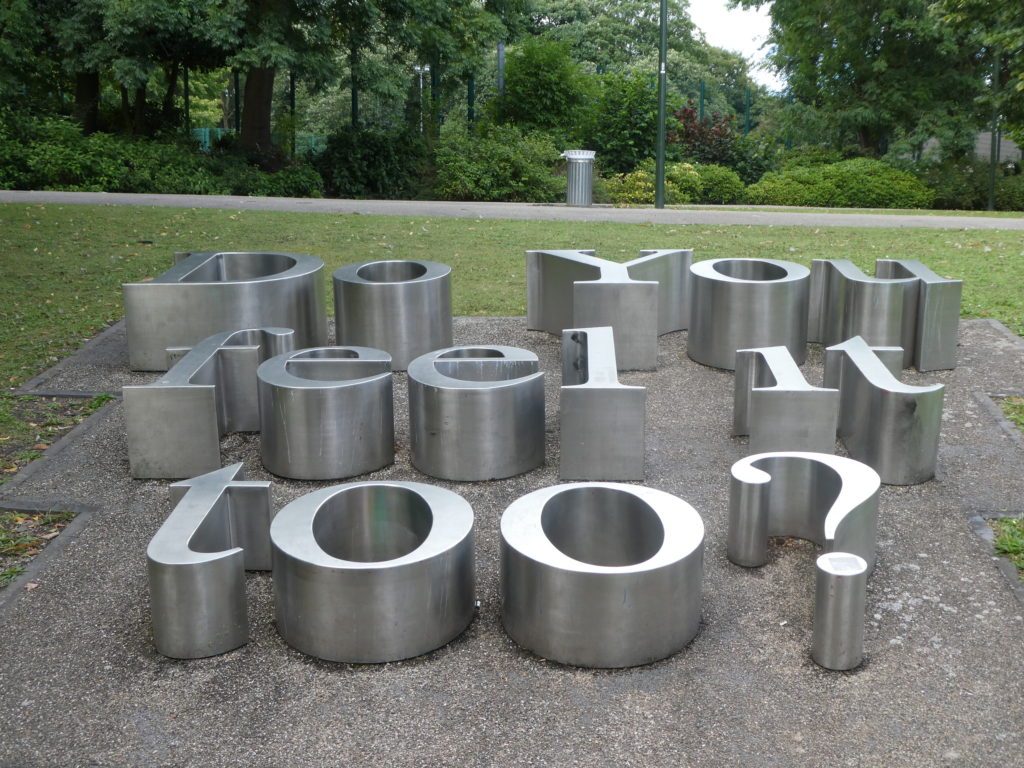 The lake is another focal point of the park, and a very pleasant place to stroll around. There is some very eye-catching artwork on display, including huge metal lettering saying, 'Do You feel it too?'. The island on the lake has a similar piece of artwork as well. The boathouse hasn't been used in many years, so it will be great to see it restored as a cafe and centre for hiring boats to take out onto the lake. Water jets help to improve the water quality, and also provide a fresh feeling to the area.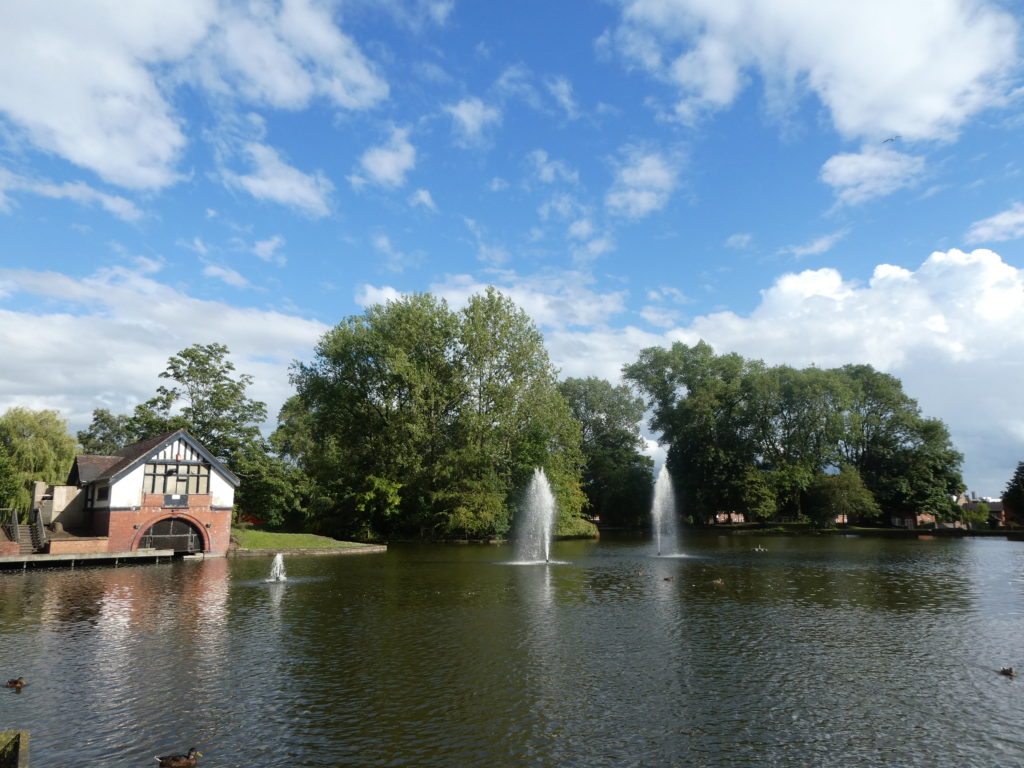 The park is expertly landscaped to provide great views
There is also a poem on the steps leading down to the lake from the oval, once one of Europe's largest crown green bowls spaces. Now, one line remains – 'since knowing you I smile'. It works on its own to be honest! The steps provide a great view over the lake and beyond. It was all expertly designed by Mawson in order to provide a space in which all of the smog of industrial Stoke-on-Trent could be hidden from view.
When the park was built in 1897, the smoke would have been noticeable all around. Therefore, Mawson carefully designed it to hide these features, only framing what he thought to be attractive scenes, such as Stoke Minster in the distance. This also applied to the canal. Now, it is a positive thing to have the canal run through the park. Back then, however, the canals were dirty and industrial, so Mawson did what he could to hide them from view.
Hanley Park is a haven for wildlife
A pretty cascade is further around the path, with lilypads offering a nice feature. Outside the ladies' toilets is a tree carving with various birds, a bit like the one at Rudyard Lake. The current bowls pavilion has a cute little metal gazebo, with some nice paving featuring two birds, at its side. The park has a secret garden, which is a haven for much wildlife. We did see a little bird here, though couldn't work out what it was. A squirrel was leafing through a nearby bin, making for a great photo opportunity, particularly when all we could see was his tail!
The restoration walk started from the far gates of what is now known as Cauldon Park. It used to be part of Hanley Park, until a road was built that divided the two. The park's Liaison Officer, Tom Pine, was leading the walk. He started by telling us about the restoration process, and took us into Cauldon Park. The gates here are some of the most ornamental in the park, and the crest that tops them has only just got back from a workshop in Wales where it was restored. Apparently, a couple more bits are yet to be added to make an ever grander entrance.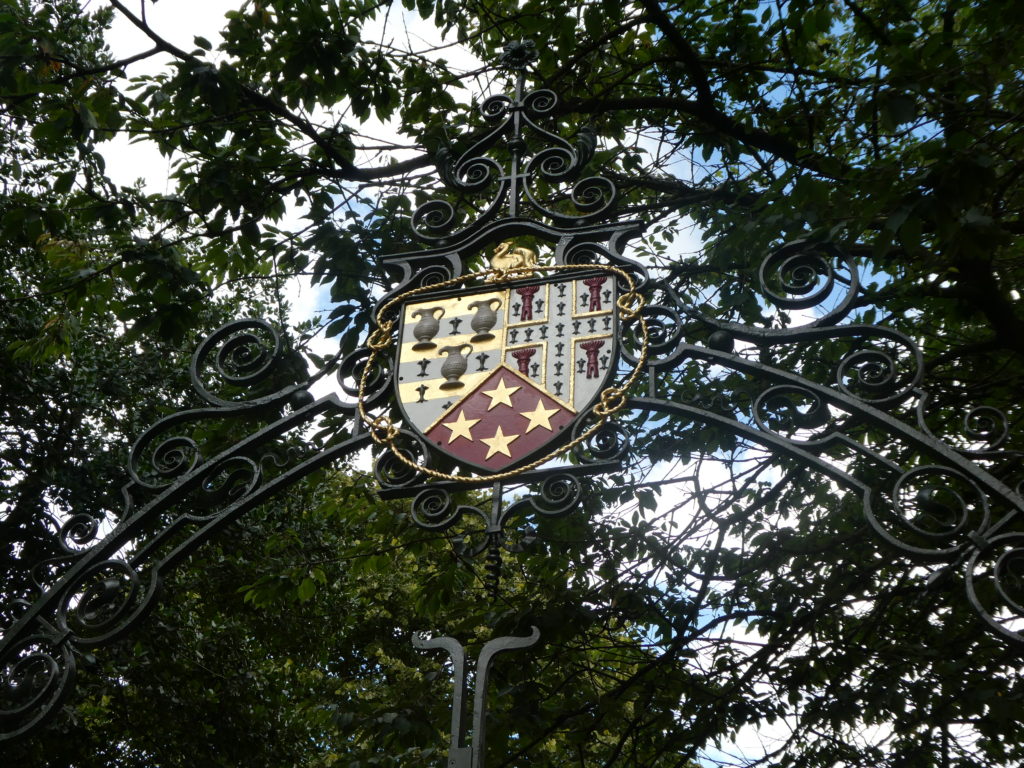 The dragons are back!
The main achievement of the restoration as of yet has been the Hammersley Fountain. It is a fantastic terracotta fountain that has been dry for many years. Indeed, older people remembered that there used to be dragons around it, and an appeal in the press led to the finding of photographs that has allowed the dragons to be recreated. The fountain is now in working order, and looks great. There is also a lodge building here too.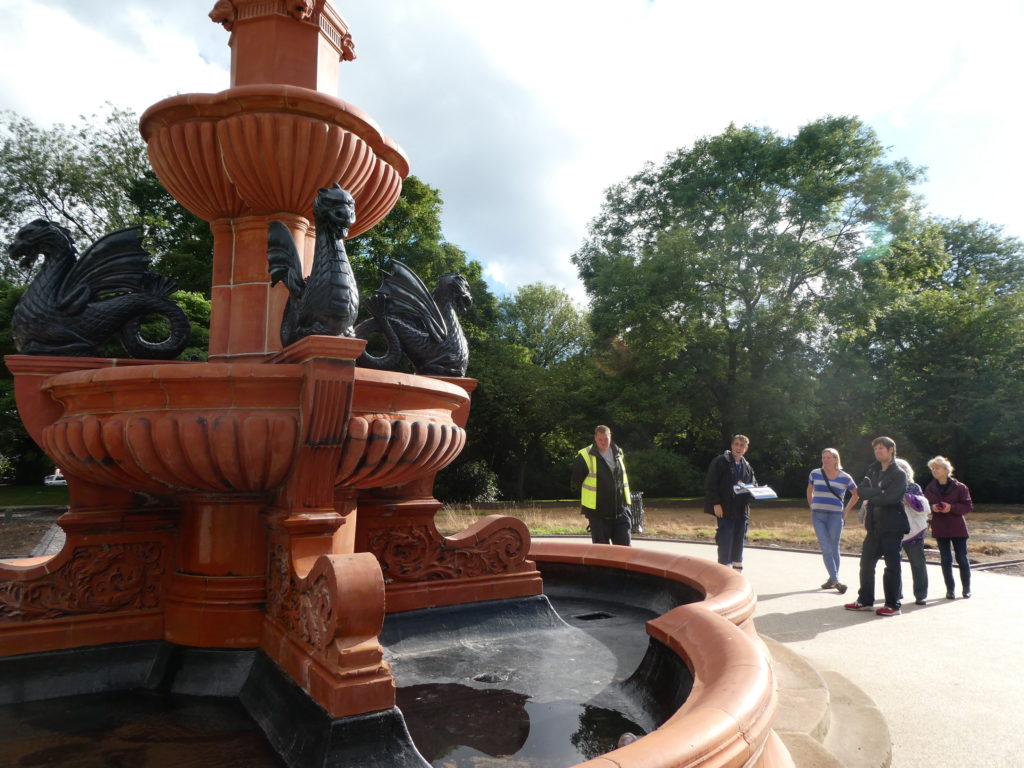 Walking alongside the edge of the park, we were told that the modern Stoke-on-Trent College buildings were on the site of a former conservatory that was home to a variety of birds. Unfortunately, now the space is gone, those can't be restored. Back into Hanley Park itself, Tom pointed out the Veterans Club, which is a great example of a utilitarian building of its time, and said that the lake will have sloped edges, rather than the sharper edges we currently have.
Looking forward to the future and a restored Hanley Park
We also crossed over the canal bridge for the first time, and were told how the canals would be made more of a feature by the removal of a wall that was originally built to hide them, but is now more an eyesore itself. It was interesting to hear the extremely vivid memories of the park from two older ladies in the tour group. They could remember lost fountains, and taxidermies of a monkey holding an orange inside the pavilion. It was a fascinating tour, and exciting times ahead for Hanley Park.
Have you explored Hanley Park recently?