If you're looking for somewhere with history galore and the most picturesque market square you can imagine, then our travel guide to Olomouc will help you plan the ideal trip. Supposedly founded by Julius Caesar, it is truly an undiscovered gem. We visited in a very warm early September, and it was empty. The 'tourist season', whilst small by many cities' standards, only lasts for a very short time in summer. However, with a stunning mix of beautiful buildings, romantic surroundings, and culture, it is well worth visiting.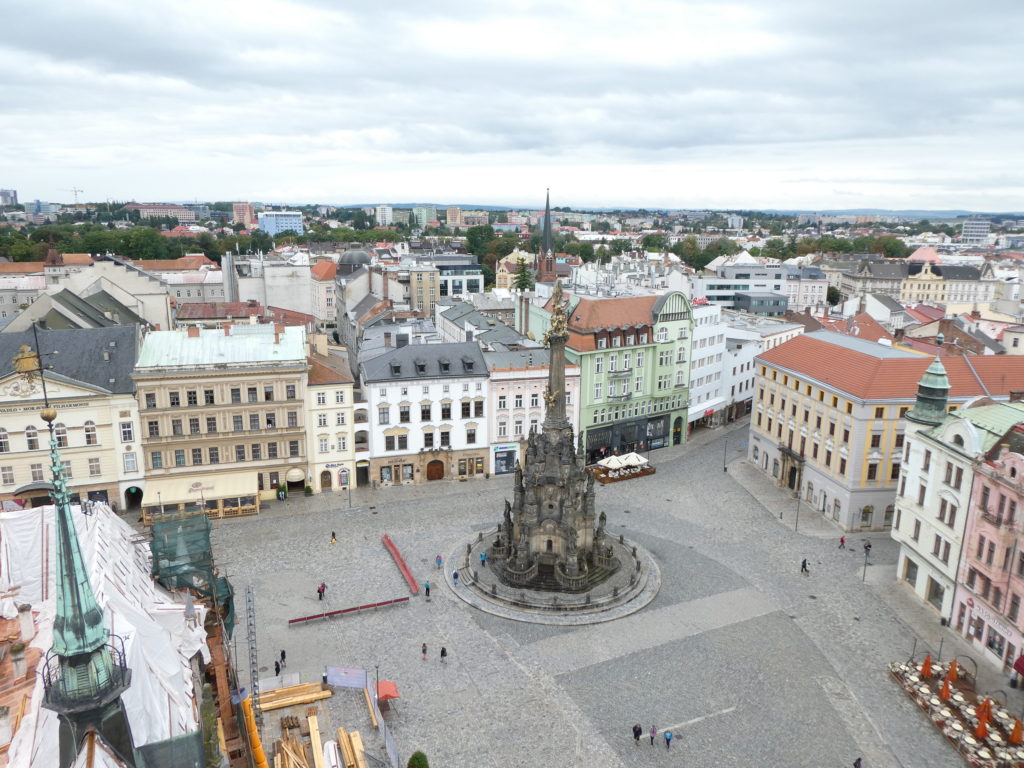 THINGS TO DO IN OLOMOUC
Upper Square – You should start your visit to Olomouc by exploring this vast and wondrous space. You can find many of the cities' top tourist draws in or around the square. Don't miss the bronze scale model of the city as you wander.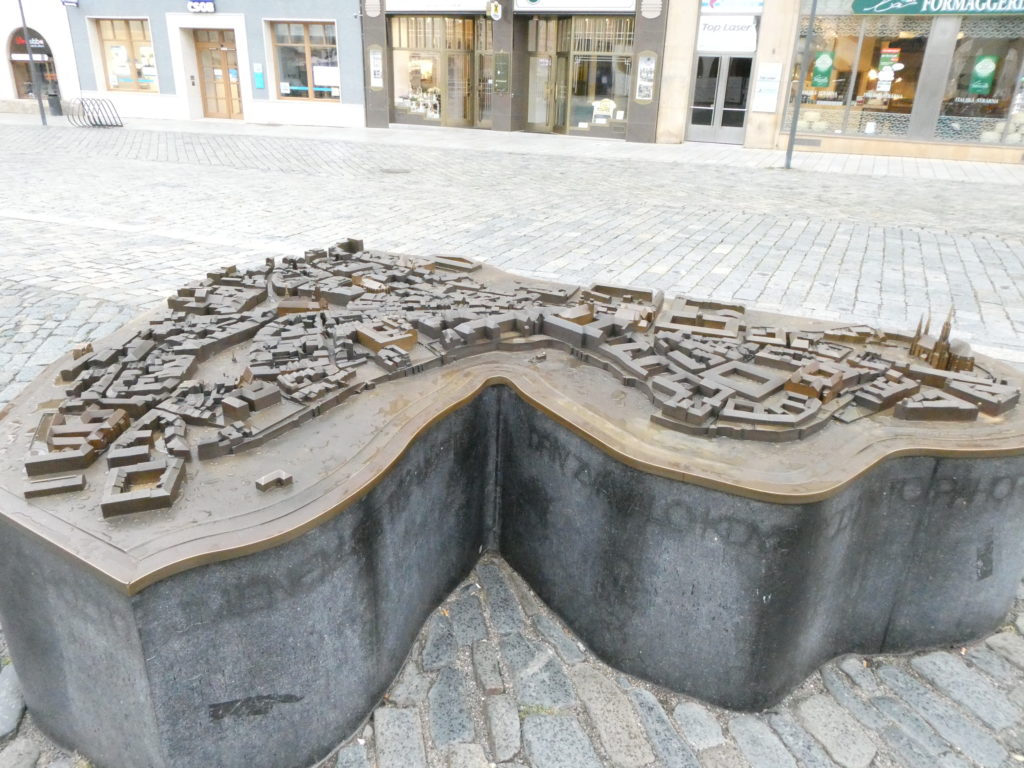 Holy Trinity Column – The pride of Olomouc is its elaborate Baroque carved stone column, and a UNESCO World Heritage Site. It was built in the 1700s and consecrated by the Empress Maria Theresa. Most cities in the Czech Republic have a column of this sort. This is the best one, so don't miss it!
Fountains – Both Upper and Lower Square contain a series of beautiful fountains mostly dating back to the 1600s and 1700s. The baroque Caesar's Fountain is the largest, built in honour of the city's legendary founder. There are five other baroque fountains in the area, mostly with Roman themes. There is even a modern addition to the set, with Arion's Fountain that features a dolphin that saved a man from drowning.
Olomouc Old Town Hall – In the middle of Upper Square, you'll find the majestic Old Town Hall. It dates back to the 1300s! It is well worth climbing its tower. However, this can only be done as part of a guided tour, which is only run at certain times.
Astronomical Clock – The most interesting part of the Town Hall's exterior is its fascinating communist-era Astronomical Clock. It was once a grand medieval clock like the one in Prague, but was destroyed in World War II. Its replacement, in line with communist values of the time, replaced the saints with ordinary 1950s style workers. It is amazing to see. At noon each day, it does a little show with the figures spinning around. Stay until the end, if only to hear the dreadful cockerel sound it makes!
Baroque Architecture – Fans of architecture will delight in a walk around Upper Square. Its pastel coloured buildings are a true marvel. Many of the buildings have marvellous history of their own. A self-guided tour of the city, which you can get from the tourist information centre in the Town Hall, can help point them out.
St. Wenceslas Cathedral – The number one religious building in this religious city, it is huge and filled with history. It is around a thousand years old! Remarkably tall, with a beige vault painted with a geometric pattern, it is an awesome sight. Make sure you go down into the crypt, where you can see some of St Valentine's bones. Creepy indeed, but a Catholic tradition. Albeit an odd one. In the burial area at the bottom of the crypt, you can see the tombs of former Bishops of Olomouc that wouldn't be out of place as a prop in a vampire movie.
St. Kopecek Church and Monastery – Get the number 11 bus from the train station here. The area around it has the appearance of a Wild West town. However, the interior of the Basilica of the Visitation of the Virgin Mary is unbelievably stunning. One of the most beautiful churches we have ever seen. The sumptuous ceiling even has a painting of a horse with pink hair! The views from outside are expansive. Ask around and they will open up the museum within the monastery for you, and head up the 'Holy stairs'.
Archdiocesan Museum – On the site of the former Olomouc Castle, which dates back 1000 years, you can learn about the history of both Olomouc and its importance to the Catholic church. The assassination of King Wenceslas III took place on the site. The building is built around the Romanesque foundations, and you can see the development of architectural styles as you go around. Despite the age of the building, the exhibits are very modern and easy to follow. Don't miss the large golden coach, and the huge painting of medieval Olomouc where you can spot how it has changed over the years. Try to time your visit to a Sunday, since they offer free admission on Sundays.
St. Moritz Church – This dark, Gothic church contains the largest pipe organ in central Europe. It has a staggering 10,400 pipes. Look out for regular performances. It is a great experience to see it played by an expert. There are two oddly shaped towers, and you can climb one of them for a small fee.
The ambience at night – In the evenings, Olomouc can feel deserted. However, they illuminate many of its finest buildings, such as the Town Hall and the Holy Trinity Column, beautifully at night. This gives you a unique opportunity to stroll around the vast market square practically alone. Olomouc is one of the most romantic places in the world when seen like this.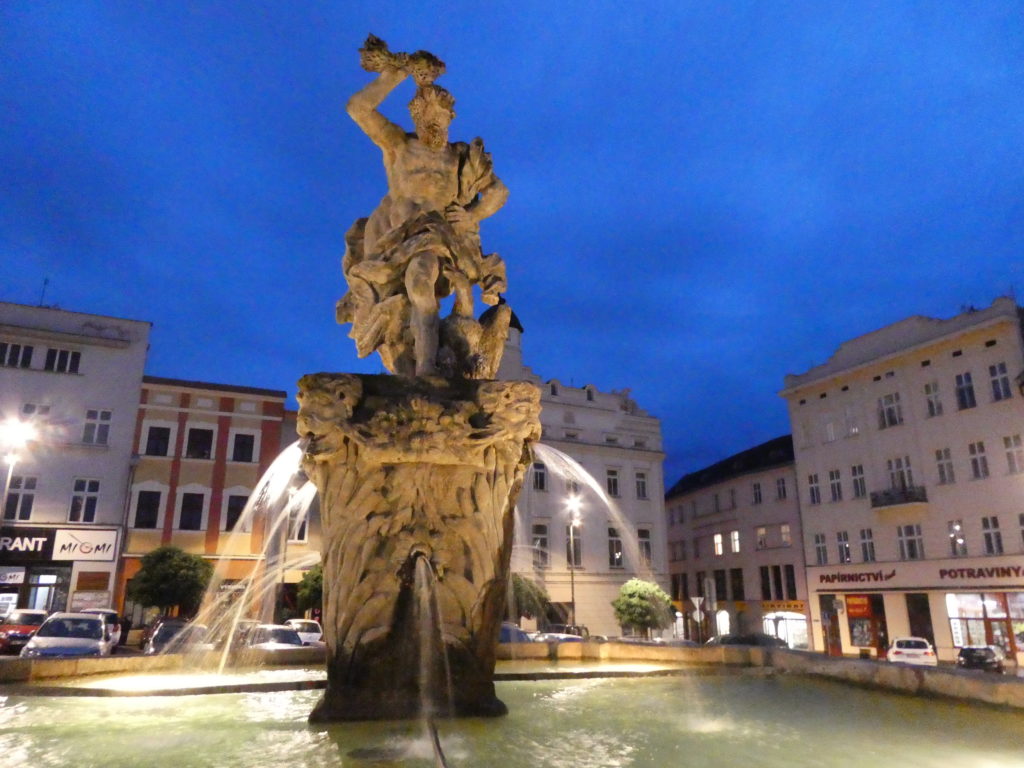 Bouzov Castle – One of the finest fairytale castles on the planet! It is rather difficult to get to, despite being quite close. However, the picture perfect scenes are well worth the effort. It is a popular filming location for fairytale movies, and it is not difficult to see why. It also has a darker history, and was once the Czech headquarters of the Nazi Party. You can take a guided tour of the castle, and a separate one up the tower. However, tours are rarely offered in English, and you will have to take a sheet offering the translation instead.
St. Michael's Church – Another grand discovery, that is well worth a quick stop. An early Baroque church, it doesn't look that impressive from outside. However, inside it is luxuriously decorated. You won't regret stopping by for ten minutes or so.
Chapel of St. John Sarkander – This is a stunning round chapel built around the city prison where the Catholic priest John Sarkander was tortured in the 1600s. His relics can be seen at St. Wenceslas Cathedral.
Try the 'stinky cheese' – Olomouc's famous local delicacy, 'Olomoucke Tvaruzky' or stinky cheese, doesn't sound appealing at all. However, don't be put off. It is quite an experience to try it, and will cause a bit of excitement should you dare. Some eateries even provide mints to eat straight after! Actually, we found it to be quite tasty, and the smell not as unpleasant as we had feared. Restaurant U Morice is a great place to try it. Alternatively, there is an official shop on the Upper Square where you can purchase it, and the tourist information centre even have a vending machine!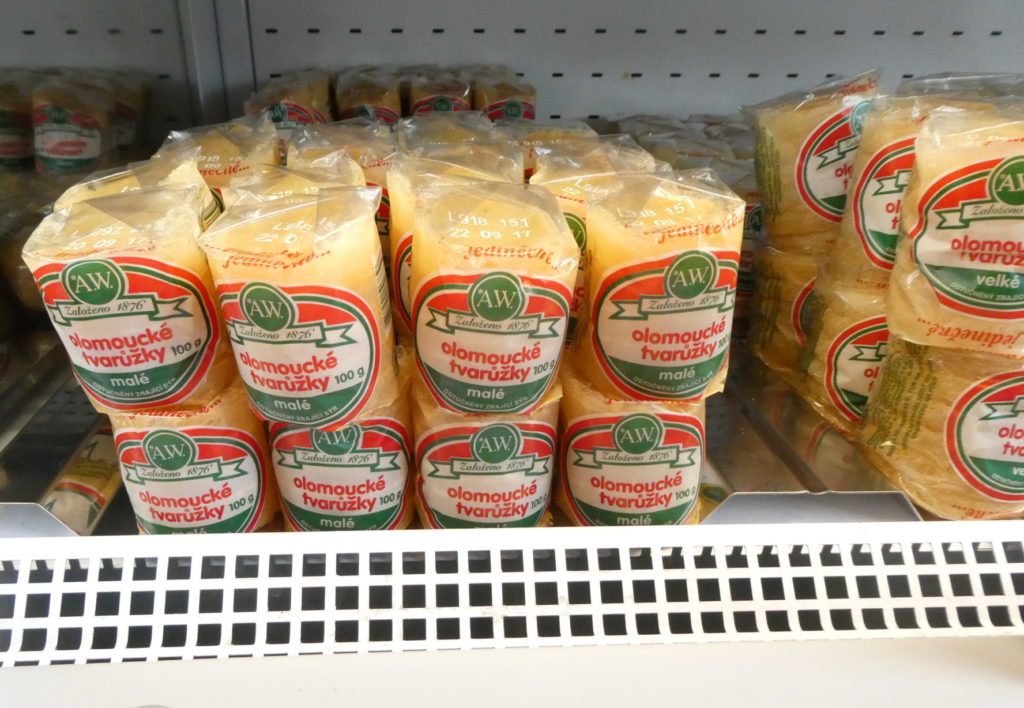 Church of Our Lady of the Snows – Yet another grand Baroque style church. It is nice to see if you are passing, but the others mentioned come more highly recommended.
HOW TO GET TO OLOMOUC
From overseas? Brno and Ostrava are the closest airports to Olomouc. However, you would probably find it easiest to fly to Prague or Vienna. Both have excellent transport links to Olomouc. Check Skyscanner to compare flights from your location.
By train? Olomouc has an excellent train station, with regular fast arrivals from Prague, Brno, Ostrava, and other cities in the Czech Republic. There are also trains from neighbouring countries such as Poland. Check Czech Railways for timetables and prices.
By bus? You can easily reach Olomouc by bus from Prague and Brno. It is often cheaper, but slower, so best for people rich in time and not in money. Check Student Agency for the most comfortable ride.
By car? It is easy to reach Olomouc by car from all over the Czech Republic, or from Vienna. Check Skyscanner to compare prices on car rental.
WHERE TO STAY IN OLOMOUC
Luxury? Clarion Congress Hotel is great for those arriving by train due to its proximity to the railway station. Book now, on Booking.com.
Mid-range? Ibis Olomouc Centre is, like the name implies, close to the centre. Rooms are spacious, and the Wi-Fi is fast. Book now, on Booking.com.
Budget? Poets' Corner Hostel is a retro style place, where you can have views of St Wenceslas Cathedral from the balcony. Book now, on Booking.com.
Cheaper and more authentic? Try Airbnb, where you can find some unusual and fantastic homestays in more traditional surroundings. Click our special link to receive £25 off your first stay!
Free? Couchsurfing is a vibrant community of over 14 million world travellers, who host others on their travels.
WHERE TO EAT IN OLOMOUC
Something special? Entree Restaurant has you sitting within an exclusive open kitchen area with a living garden. The dishes are inspired by nature, and its experimental dishes feel like food theatre.
Local food? Restaurace U Cerveneho Volka, or The Red Bull is a fantastic mix of modern and romantic, with some unusual brewery inspired decor. Dishes are local specialities, at reasonable prices, especially considering its location on Lower Square.
Cheap and cheerful? Don't look for takeaways, try the stinky cheese! Our favourite place to try it is Restaurant U Morice.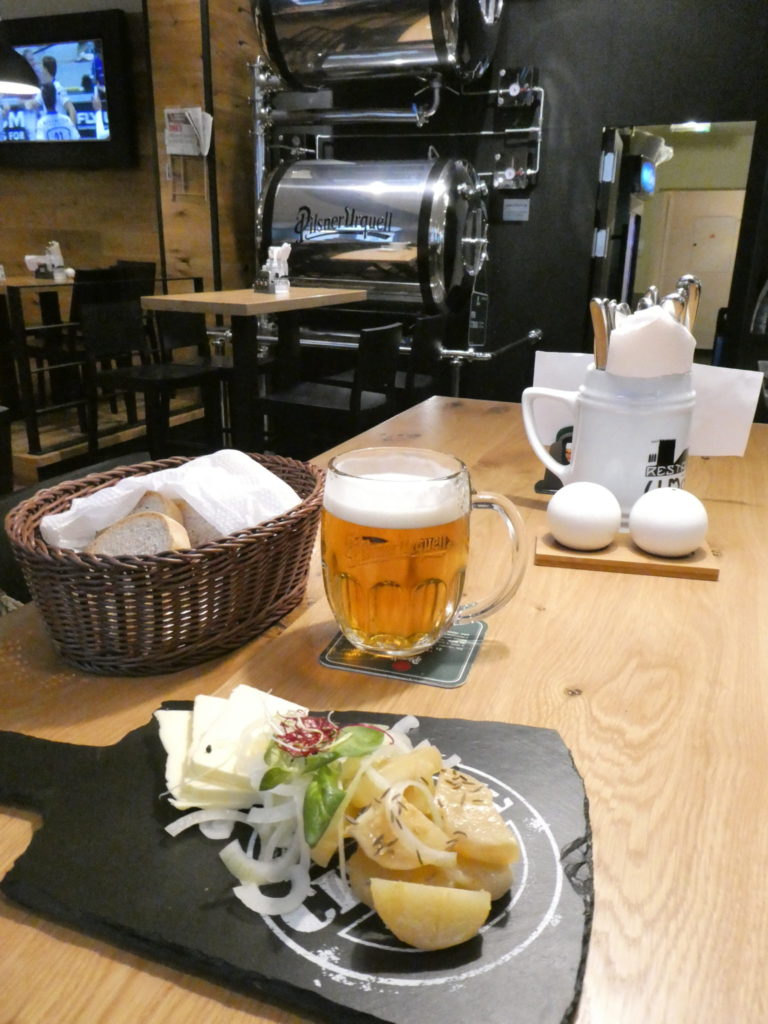 OTHER TIPS FOR YOUR TRIP TO OLOMOUC
How to pronounce Olomouc? Ol-oh-moats.
Olomouc is a very walkable city. You will only need public transport to get to St Kopecek, and Bouzov Castle, from the things to do list above.
The city has been the seat of the Catholic Archbishop for around 1,000 years. Its churches are some of the most ornate in the Czech Republic.
You'll find it hard to believe how few tourists are there. Visit now whilst it is still undiscovered.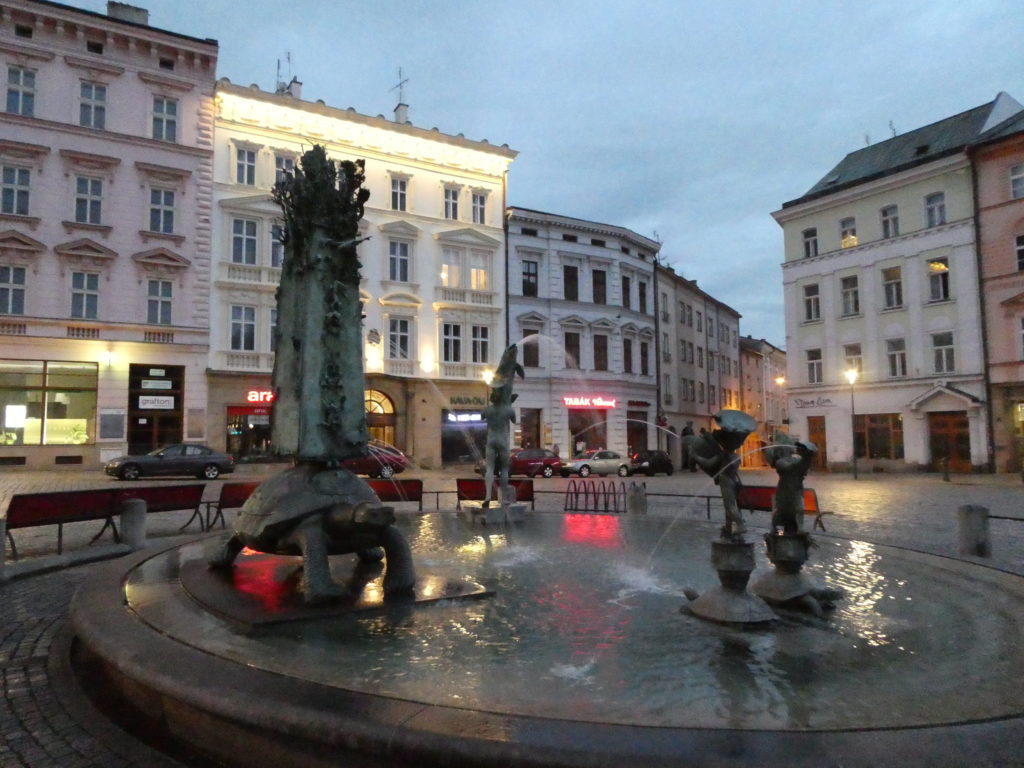 Olomouc has many cultural festivals. It is well worth trying to catch the International Organ Festival in late summer. You will get the chance to see the famous organ at St Moritz Church performed by a star of the organ world.
Olomouc City Festival in June, and the Marshall Radetzky Celebrations in September are also well worth seeing.
Bouzov Castle is our top tip for a day trip on a short stay in Olomouc. On a longer stay, we recommend Litomysl and Kromeriz. Prague is doable, but it would be rather silly to see Prague on a day trip. There is way too much to see!
You can find plenty of places to try Moravian wine or local beers. Olomouc has a sizeable student population. The quality of the nightlife depends very much on term times.
You should allow at least two days to visit Olomouc. Longer would allow you to take your time, and do a few day trips though.
Has this travel guide to Olomouc helped you to plan your trip? Anything else that you would like to know?
Like it? Pin it!
This post contains affiliate links. By clicking them to purchase your flights, hotels, and car hire, the companies involved pay a small commission to us at no cost to yourself. This helps to keep us on the road, creating guides like this one. Thank you for using them!