Mahmya Island: Paradise amongst Hurghada's concrete shells
For some year-round sun, you can always look to Hurghada, on Egypt's Red Sea Coast. Over-development has taken its toll on the area, with many half-built shells of unfinished ideas post-revolution. Not only that, but it has taken its toll on the coral reefs that have attracted tourists from many areas of the globe. Thankfully, there is one place in Hurghada that offers luxury in an eco-friendly setting. The first eco-project in Hurghada is Mahmya, and we recently spent a day with them to find out all about it.
We took the sunset trip, which involves arriving at the Mahmya Beach Marina by 9.30am. This excursion to their private island with lunch and snorkelling can be booked through many large travel agencies, or directly with Mahmya via e-mail. Indeed, this is Hurghada's most popular day excursion, and for good reason. While you wait for one of their fleet of ten stylish boats to whisk you away to paradise, you can relax in the sparkling new beach bar that opened just last year, or dip your toes in the sea on the beach.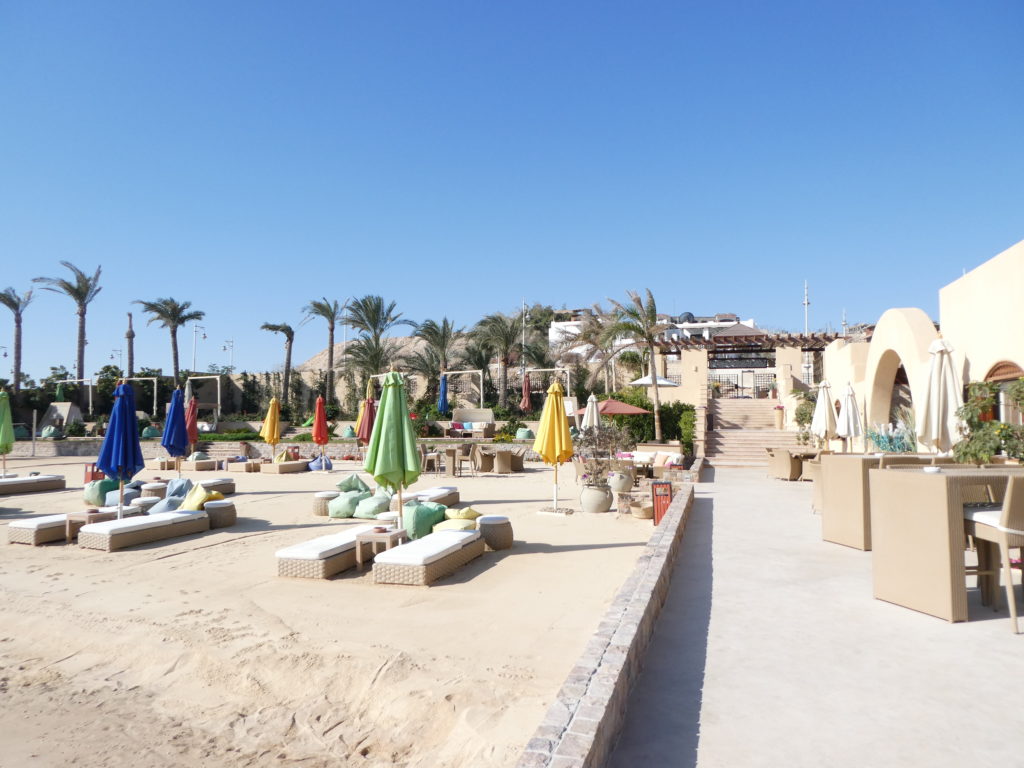 A groundbreaking eco-resort in Egypt
As Hurghada's first eco-resort, the staff of Mahmya work hard not to destroy the coral reefs and the habitat of the fish. They know that Hurghada's future depends on their actions now, to avoid the mistakes that many others have made in other areas of the city. The boat ride is enjoyable in itself, with scenic sea views and photo opportunities galore. With ten boats, they can take up to 700 people per day in the summer. Even so, the luxury that awaits you at Mahmya will feel like a world away from the nearby public beach, where space is at a premium.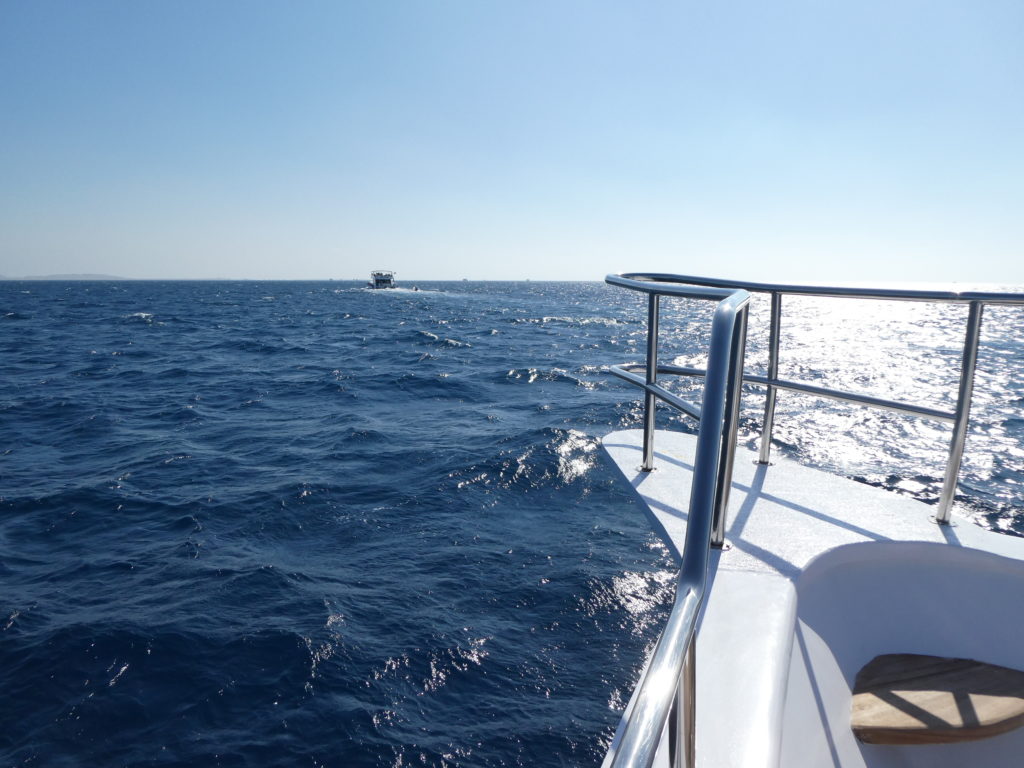 The views back to Hurghada are sensational, especially the mountainous backdrop, though the concrete shells of buildings hinder the appeal slightly. Soon Mahmya Island comes into view. In fact, Mahmya, which means protected, isn't an island but a beach resort on Big Giftun Island, one of three on the island. It looks very strange, as it is a tropical oasis in a barren landscape. A large Hollywood style sign states its name above the resort.
Snorkel equipment is included for use all day
When you get closer to the island, you'll transfer to a smaller boat to take you on the last part of the journey. The first thing you should do is head to the equipment hire area, and get yourselves kitted out with snorkels, fins and life jackets, before the obliging staff present a choice of places to sunbathe. The prime spot on a blazingly hot day would be one of the many palm tree leaf umbrella sunloungers. There are also plenty of relaxing places to sit out in the sun, including options like bean bag chairs or sun loungers.
The sand is incredibly soft, and contains the tiniest little shells that we have seen. We had a competition to find the smallest one. It is amazingly relaxing to play with the sand with your hands and feet. The snorkelling trip leaves at 12pm, then lunch is served when you return. In the meantime, you can chill out on your sunbeds or use the provided snorkel gear in the coral reefs just off from the beach.
Snorkelling in the Red Sea will be a highlight of your trip to Hurghada
At 12pm, you will again take a small boat before transferring to a larger boat for the fifteen minute journey to the specially selected coral reefs, and given a safety briefing. The snorkelling is guided, so you won't be able to swim off wherever you like. It is all controlled in order to protect the coral reefs and for safety reasons. You are asked to swim in twos behind the guide, with a motorboat nearby to help if you need it. The visibility under the Red Sea is famously good. Poor swimmers can take an easier route, so don't let a lack of swimming skills hold you back.
The actual underwater action is good, but not as good as we'd hoped it would be. We saw a number of fish, including a needlefish. Our first sighting was a school of tiny fish who swam right in front of us. The waves can be quite strong at times, which makes it quite difficult to swim in. Once on the boat, it can be absolutely freezing, especially in the Egyptian winter. Make sure to borrow a large, warm towel from the staff before you set off if you don't have one, as you'll need it!
A superb setting for lunch
Once back on the island, you can enjoy the lunch buffet. Make sure to head there straight away, to enjoy freshly cooked food. The dishes served include staples such as rice and chicken, pasta, and beef sausage, with some arabian bread. They also provide refillable soft drinks. The restaurant itself is a very nice space, in a big hut like structure with a palm tree leaf roof. It sits on an elevation overlooking the rest of the resort, which gives it incredible views over the beach and out to sea.
Don't miss the chance to head up to one of the stunning viewpoints which overlook the beach and the adjacent public beach. Although you can't stay on Mahmya Island, the maintenance workers do live there. There is a VIP section, for when ministers and celebrities visit, and a football pitch.
Snorkelling off the beach is superb
Despite having the snorkelling excursion, don't forget to do some snorkelling off the beach. To be honest, this snorkelling can be more enjoyable than the open water snorkelling. There are coral reefs nearby, and plenty of fish. The fact that you can swim alone means you are under no pressure to keep swimming when we saw a cool fish, and could linger.
The idyllic experience comes to an end with a sunset boat ride back to Hurghada. The scenery is gorgeous, particularly as the sun sets over Hurghada. You can often spot dolphins swimming alongside the boat. Twenty years after setting up the first eco project in Hurghada, Mahmya is undoubtedly the best excursion in the city. Their constant improvements, and trailblazing spirit go a long way to making Hurghada a Red Sea resort of choice.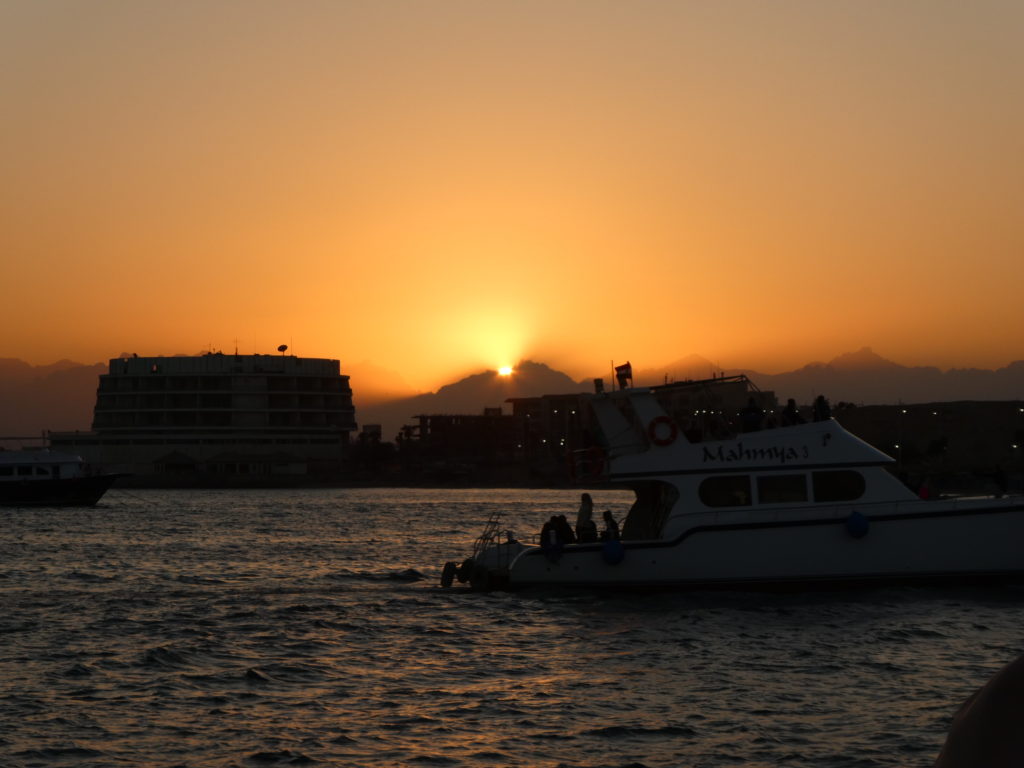 If you are on a package holiday to Hurghada, your tour operator will most certainly offer a trip to Mahmya Island. To book an excursion to Mahmya Island, however, we recommend booking directly through their Facebook page.
Have you ever been to a slice of paradise that catches you by surprise? 
Like it? Pin it!