The Ultimate Guide to Planning a Trip to Plitvice Lakes National Park in Croatia
Plitvice Lakes – a true wonder of the world, and a UNESCO World Heritage Site since 1979. Its forest setting, no less than sixteen clear turquoise lakes, and umpteen mesmerising waterfalls and cascades, make this one of the top natural wonders of the world. It was the first national park in Croatia, and has over one million visitors each year.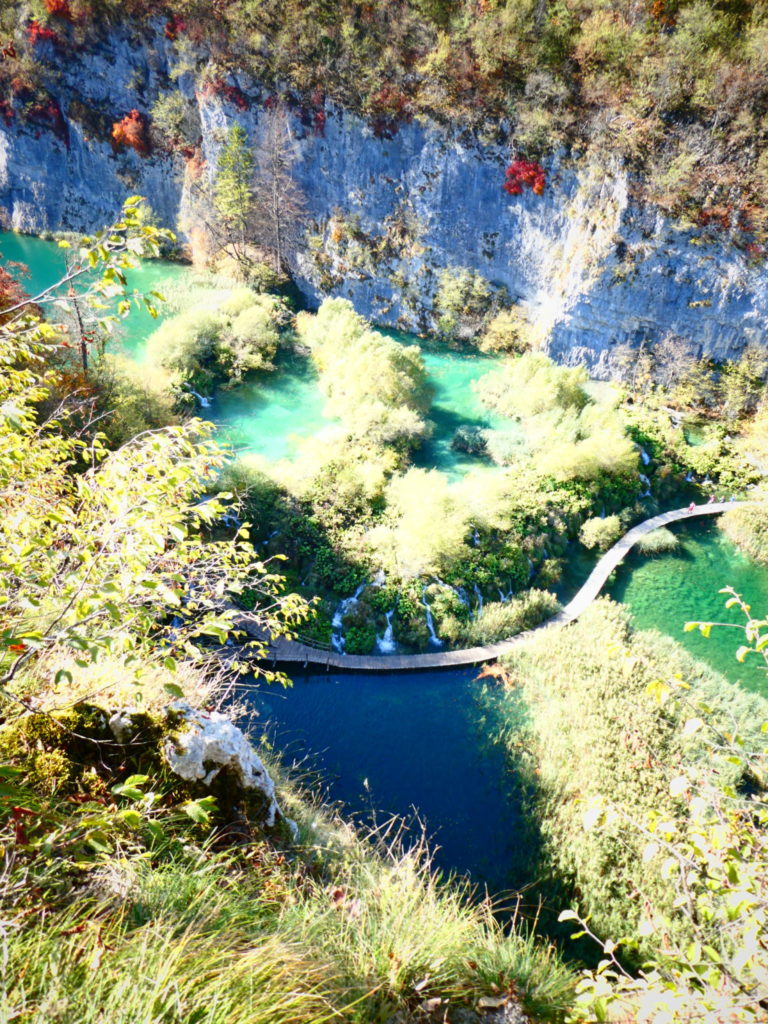 With that being the case, you require a plan of action to make the most of a visit to this truly amazing place. Here is our comprehensive guide to a trip to Plitvice Lakes National Park.
Things To Do in Plitvice Lakes National Park
Planet Full Of Love's Top 5 things to do in Plitvice Lakes – 1.Upper Lakes, 2. Lower Lakes, 3. Boat Ride on Lake Kosjak, 4. Dinner at Licka Kuca, 5. Hike up to the Vidikovac view point.
UPPER LAKES – Whilst the less visited of the two, the Upper Lakes are the most beautiful. Start your trip with a visit here, and you will likely be alone for good stretches. A rare bit of solitude in such a wondrous setting will make for memories that will last forever.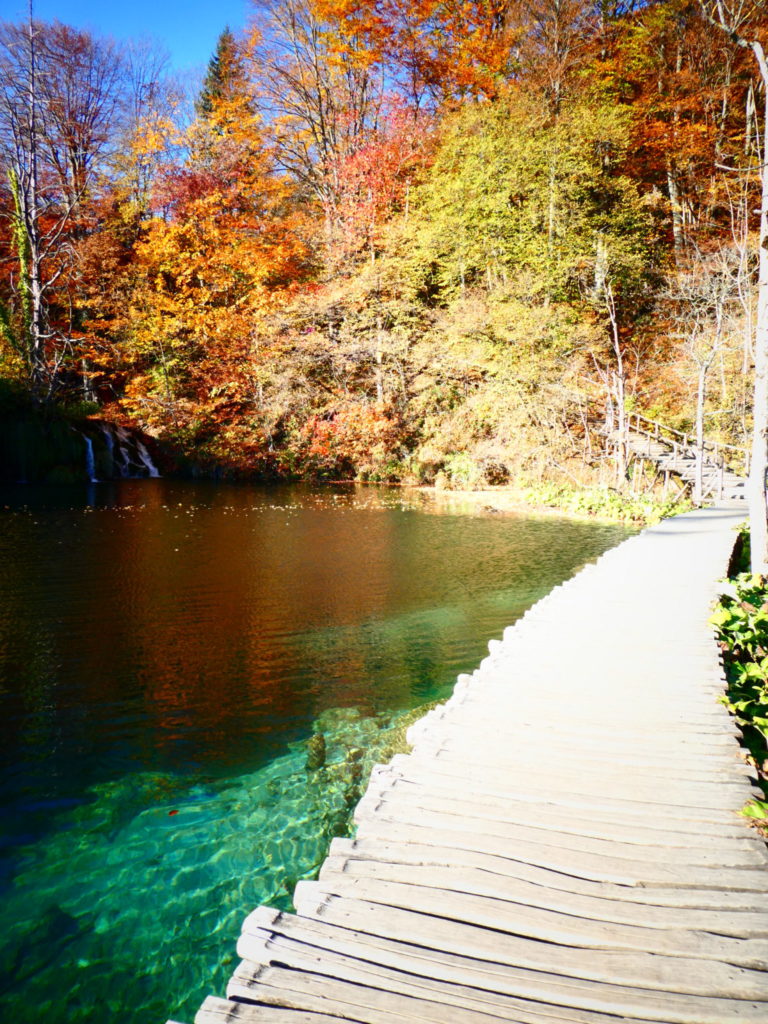 LOWER LAKES – This is where all of the tour groups head for, so can become unbearably crowded. However, don't let that put you off. The constantly changing landscape is stunning, and you can see the best of the cascades here.
LAKE KOSJAK – The largest lake in the park separates the Upper Lakes and the Lower Lakes. You can get a free, scenic boat ride across, with your park admission ticket.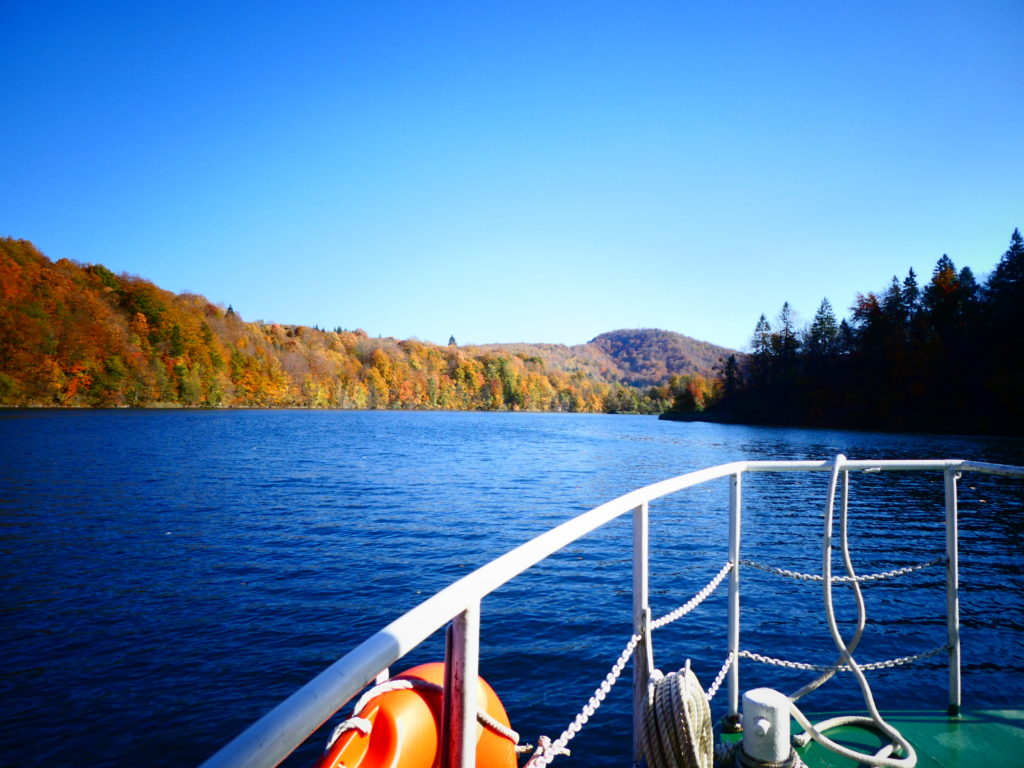 VELIKI SLAP – The main reason for visiting the Lower Lakes is the Great Waterfall. The largest of the park's waterfalls, Veliki Slap is truly awesome.
TRAILS – There are eight trails to choose from, depending on how much time you have and what you'd like to see. If you'd like to see everything, and why wouldn't you, then choose Route H. Or, do as we did, and do both Route B and Route E. Combining the two covers pretty much the same ground as H, but it means you can start from either entrance and don't have to wait for the land trains, which can be hit and miss at times.
VIDIKOVAC – If you want the ultimate photo spot, then take an unsignposted hike up from Veliki Slap to this amazing viewing point. You will likely be the only people there, and this is where you can get those postcard photos of Plitvice Lakes. It is stunning.
BAT CAVE – A worthwhile detour from the Lower Lakes, the Bat Cave is an atmospheric climb down to some impossibly steep stairs. They put you at one of the best vantage points in the park to see the picturesque cascades. It can also be used as a shortcut through parts of the trails, but we'd recommend not missing out on the trails.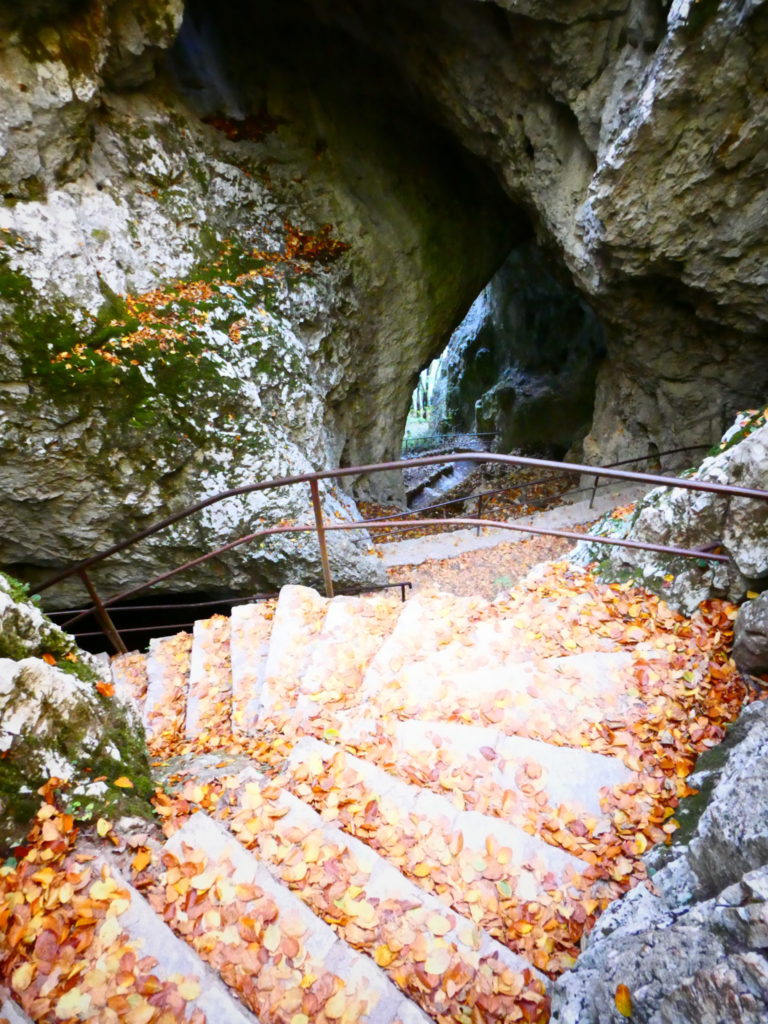 HIKING – The Medvedak Hiking Trail will get you a more solitary nature experience. If you are a wildlife lover, it will give you a better chance to spot animals. Medvedak is actually the Croatian word for bear, and you are sure to hear their calls as you walk the forest trails.
CYCLING – The International Mountain Biking Association has produced trails around the area. Degenija Tours offer guided cycling tours that include amazing views, swimming, and a glass of wine!
HORSEBACK RIDING – Konjicki Klub is a small ranch in nearby Rakovica, where you can organise a horseback ride through some sensational forest and nature areas.
BARAC CAVES – If you want to experience some totally dark caves, and see real bats, then the nearby Barac Caves are a far better bet than the Bat Cave. Only about ten minutes drive away from the lakes, you can visit via a guided tour.
How to Get to Plitvice Lakes National Park
If you are planning a trip from outside of Croatia, the best places to fly to would be Zagreb, Zadar or Rijeka. It is also possible to get to Plitvice Lakes from Split, and even Dubrovnik, though journey times would be off-putting. Check out the cheapest flights to these airports from your area at Skyscanner, the best place to find cheap flights.
If you are already in Croatia, you can reach Plitvice Lakes easily by car. Do be careful of reckless drivers around here, however. You can hire a car for your trip here.
For budget travellers, the public transport options are small but very doable. You can easily get a coach to take you to Plitvice Lakes from Zagreb, Zadar, or Sibenik, amongst other locations. The best site to plan your journey by public transport is Bus Croatia. The buses stop at both entrance 1 and entrance 2 of the park.
Where to Stay in Plitvice Lakes National Park
Luxury? HOTEL DEGENIJA – A small hotel, but with great service. This hotel offers just the right amount of luxury, with comfortable modern rooms, a cocktail bar, and a brand new swimming pool with panoramic views.
Plitvice Hotel – Located within the national park, this hotel is unbeatable for location. As a perk of staying there, you can get your one-day ticket stamped at the reception to give you a second day on the trails for free.
To book a nice hotel for your trip to Plitvice Lakes National Park, click here.
Budget? House Jelena – If you fancy staying in a chalet, this guesthouse will be a great fit. They have lush gardens on site, perfect for relaxing in after a day of hiking.
Looking for something even cheaper? Try Airbnb, where you can find some unusual and fantastic homestays in more traditional surroundings. Click our special link to receive £25 off your first stay!
Free? Couchsurfing is a vibrant community of over 14 million world travellers, who host others on their travels.
Where to Eat in Plitvice Lakes National Park
LICKA KUCA – Make sure to eat at this famous restaurant that evokes the ambience of a traditional house in the area. Order the Platter 'Licka Kuca', which consists of 'peka' style meat. This involves being slow-cooked over hot coals under an iron cover, and is an authentic meal. The hearty platter is served with two meats, potatoes, and vegetables. Pricey, but worth the splurge.
VISIBABA RESTORAN – This clean and cosy restaurant has both indoor and outdoor seating. It is rather less touristy than Licka Kuca, so you will likely be dining with other locals rather than tourists.
RESTAURANT ETHNO HOUSES – This wooden restaurant located within the national park also offers typical Croatian cuisine.
Other Tips For Your Trip to Plitvice Lakes National Park
How do you pronounce Plitvice Lakes? Pleet-veet-seh Lakes.
To avoid crowds, plan to be inside the park the moment it opens. If you can't do this, then it will quieten down a bit in the late afternoon. The vast majority of the 'crowds' are made up of large tour groups, so you need to avoid the times when they are at their height.
For a pleasant experience, we can't recommend enough avoiding the summer months. The crowds are insane, and the boardwalks are narrow with no railings. You will spend more time watching your step, than enjoying the otherworldly scenery. Add to this the fact that tickets are at their most expensive during these months, so you will pay more for a less enjoyable time.
As far as scenery goes, there is no bad time to visit Plitvice Lakes. Every season will have its own charm, and you will be sure to want to return to see it in a different season.
Take a packed lunch, and plenty of water. There is very little on offer within the lakes area, and what there is can be overpriced.
Make sure to try some of the more remote trails. If you just do a short tour of the Lower Lakes, be aware that you will be unlikely to experience Plitvice Lakes as it should be. That is, peaceful nature with unbelievable views.
Wear suitable footwear. The boardwalks often take you directly over the crystal clear water. Whilst this is awesome, the fact that you will often be snaking your way through large groups does pose a risk of falling in the water. Good footwear will at least reduce the risk. You'll also be doing a lot of walking.
There is very little shade in the park. Be aware of the weather report, and plan accordingly if rain is forecast. Also, on a sunny day, be sure to take a hat and sun protection.
The various trails on offer take between two and eight hours. However, it is well worth allowing at least a full day to experience Plitvice Lakes. You will find it extremely difficult to tear yourself away after a couple of hours.
There is an option to buy a two-day park ticket, which is a good saving over two single day tickets. If you have a reasonably good level of fitness, you can easily cover the entire park in one day. If you would prefer to only walk for a few hours per day, then this will offer good value.
Plitvice Lakes is famous for its resident brown bears, and other wildlife including lynx, deers, wolves, and foxes. However, fortunately or unfortunately depending on your outlook, you are extremely unlikely to see any of them. They tend to keep well away from the trails, and the trails only cover a small area of the expansive national park.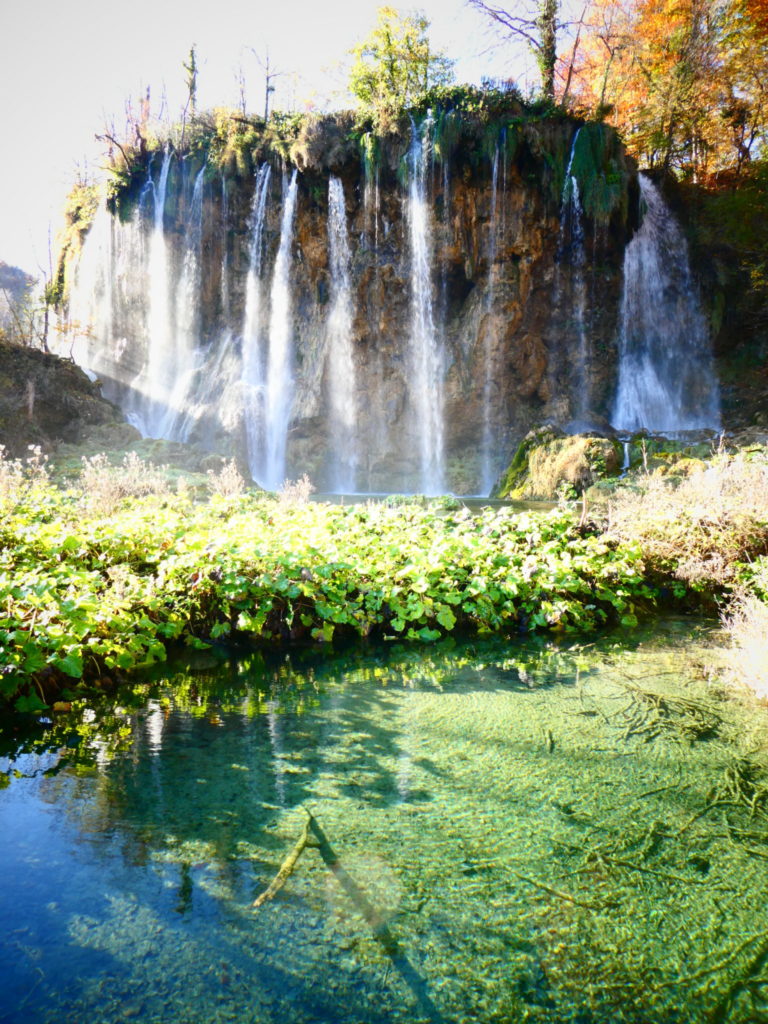 Luggage storage is free of charge, in locked storage containers near to the entrances. Don't lug around more than you need for the day, as it will detract from your enjoyment.
You can enter Plitvice Lakes National Park at either Entrance 1 or Entrance 2. Entrance 2 is the quieter of the two, so would be the best choice. However, if you are staying closer to Entrance 1, it is the time that you arrive that will have most bearing on the queues.
No swimming is allowed in Plitvice Lakes. If swimming is important to you, you may wish to consider the nearby Krka Waterfalls.
It is possible to enter the national park outside of official opening hours free of charge. However, we would not recommend this. Firstly, the park is not well illuminated at night, so you won't see much. Secondly, you need a ticket to use the boats and land trains, which are a big part of the experience.
A guided tour is not necessary. In fact, for us it would detract from the experience. The tour groups that we saw were just marched from sight to sight. If you really want a tour, it is easy to find one.
Has this guide helped you to plan your trip to Plitvice Lakes National Park? Anything else that you would like to know? 
This post contains affiliate links. By clicking them to purchase your flights, hotels, and car hire, the companies involved pay a small commission to us at no cost to yourself. This helps to keep us on the road, creating guides like this one. Thank you for using them!