Guns 'N' Roses @ London Stadium 16/06/2017
We headed to the Olympic Stadium for the second time within two weeks, to see Guns 'N' Roses do their first UK show with the original line-up since 1993. We arrived relatively early, so we got a seat in the lower tier of the stand. In fact, we were in almost exactly the same place we were at for Depeche Mode a couple of weeks previously. Almost everyone was wearing a band t-shirt, as rock concerts often dictate. A guy in a kilt held his young daughter on his shoulders. She had one of those foam hands giving the middle finger, reminding us of a little girl in Darlington on our Jail Break. Whilst dressed as a bunny and a chicken in aid of charity, a father said to his daughter as we were about to leave, "what do you say to the Easter Bunny?". She replied with the middle finger!

There were two support acts for the show, with the first being Tyler Bryant and The Shakedown. We saw them last year supporting the Axl Rose fronted AC/DC. Their setlist was Weak & Weepin', Criminal Imagination, House on Fire, Aftershock, Got My Mojo Working, and Lipstick Wonder Woman. After an enjoyable set from them, we had The Kills. Fronted by an androgynous female, they seemed to have some technical difficulties at the start which may have cut in to their set time. They seemed to do a very short set indeed. Their setlist was Heart of a Dog, Kissy Kissy, Hard Habit To Break, Doing It To Death, and Whirling Eye.
Not In This Lifetime? Oh yes it is!
Guns 'n' Roses built up the excitement with the help of big screens and loud gunshot sounds. I must admit it did put us on edge a little bit after our horrific experience in Manchester less than a month ago. Soon enough, the classic line-up of Axl Rose, Slash, and Duff McKagan bounded on to the stage. The tour is called 'Not In This Lifetime', after the band's response when asked if they would ever reunite. Well, they were definitely there, reunited, and whether or not they get on these days, they gelled superbly. Welcome to the Jungle was an early highlight, with Axl's performances clearly reinvigorated by his spell with AC/DC last year. Axl did quite a few costume changes, often wearing his trademark bandana, and checked shirt around his waist.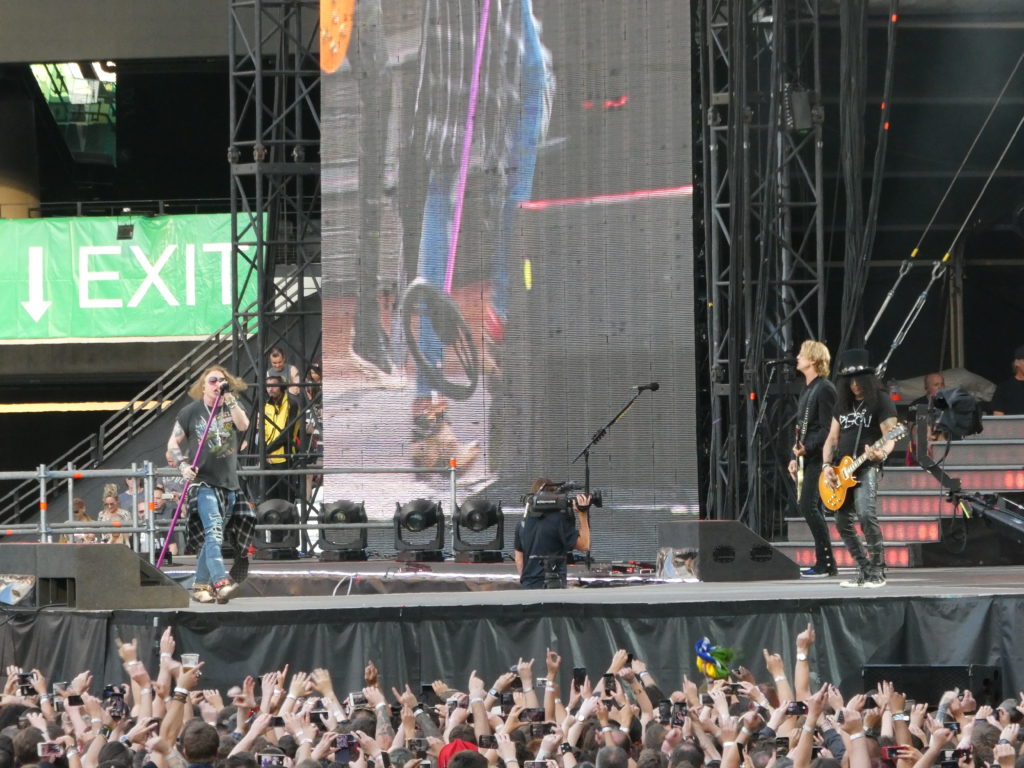 At one point Axl came out in some weird Union Jack themed outfit. Slash wore his iconic top hat for the whole night. There were lots of singalong moments throughout, especially with Sweet Child O' Mine and the closer, Paradise City. November Rain was the great lighters in the air moment, with a grand piano rising from the walkway part of the stage. I'd assumed Axl was playing it out of view until Amy pointed out where it was! Surely one of the most epic rock ballads of all time. They did a completely mind-blowing show, which also had a smattering of covers of bands like The Who, Pink Floyd, The Misfits, and Soundgarden, whose singer sadly killed himself recently.
The setlist
Guns 'N' Roses put on a superb show. We can only hope that they manage to stay together, and maybe even write some new material. That is probably a step too far however. The setlist was It's So Easy, Mr. Brownstone, Chinese Democracy, Welcome to the Jungle, Double Talkin' Jive, Better, Estranged, Live and Let Die, Rocket Queen, You Could Be Mine, Attitude, This I Love, Civil War, Yesterdays, Coma, Slash Guitar Solo, Speak Softly Love (Love Theme From The Godfather), Sweet Child O' Mine, My Michelle, Wish You Were Here, November Rain, Knockin' On Heaven's Door, Nightrain, Encore – Black Hole Sun, Patience, The Seeker, Paradise City.
Are you a Guns 'N' Roses fan? Have you seen them in their heyday, or on this reunion tour?