The Jacksons @ Haydock Park Racecourse 07/07/17
Have you ever been to a concert at the races? We recently headed to Haydock Park Racecourse in Merseyside to see The Jacksons. It was third time lucky for us with the Jackson family. We have previously had tickets to see both Michael and Janet. Of course, Michael died, and Janet was going to have a baby when we had tickets for each of them. As well as the concert, there was a full card of horse racing starting from 5.50pm. Parking is easy and free in a field close to the exit.
We only arrived in time for the 7.20pm race, and wanted to have a bet. There was hardly any time at all to decide who to bet on, but we quickly chose Lincoln Rocks. We then had a quick run around to get the best odds, finding one that had it down for 4/1 compared to all of the others being 7/2. Having not discussed how much to bet, we went for £5. We're not big spenders! We went to the front of the fence to watch the race. To be fair, our horse started off in the lead but ended up being knocked back to fourth position. Gutted.
The racing was cool but the music was the main event
We noticed that a few people had already started crowding around the music stage, and wanted a good view for The Jacksons the most, being as though that was the main reason we were here. The barrier was full, apart from the far sides, but we got a good position on the second row. It wasn't mega busy behind us for quite a while, so went off to have another bet, putting £5 on Grey Diamond to win the 7.50pm race. It had quite high odds, like 20/1 or something, though it wasn't a surprise with that in mind that it came in around last.
There was an 8.20pm race, but it was getting busier now so we didn't bet. We watched on the big screen though, and both of us would have lost had we bet. We'd already lost £10 too. Just as The Jacksons started, it started to rain, and continued to rain throughout the entire set. As far as rain goes though, it wasn't too bad, as it was pretty warm and very fine, so we didn't get soaked.
The Jacksons are celebrating their 50th year together, and it was certainly a thrill to see them. They had a full band behind them, and Tito played guitar throughout. Jermaine added bass on some of the band's earlier hits too. Despite being in their 60's, the brothers still looked every bit the Motown icons that they are in sparkly black leather outfits, and still knew how to pull off those famous dance moves.
They really miss their little brother
The big screen behind them showed vintage footage of them with their little brother Michael. At times, it got quite emotional, especially with I'll Be There, and Jermaine's version of Gone Too Soon. The setlist contained all of the Jacksons classic tracks, including a medley of their very earliest tracks that saw the family explode onto the world's TV screens and radios, and having such a long-lasting impact on music history. Tito also did a couple of tracks off his new solo album.
Marlon had thrown his towel to the audience earlier on, and it was caught by a woman near us. Near the end of the show, he did the same again. It was during a massively extended version of Shake Your Body (Down To The Ground). I launched up into the air and grabbed it, bringing it low to me as soon as possible, whilst people squabbled behind me, wondering where it had gone. After a short break, I quietly said to Amy, 'I've got the towel, put it in your bag quick!'. Amy was flabbergasted, as she hadn't thought it had landed anywhere near me!
The setlist
The setlist was Can You Feel It?, Blame It On The Boogie, Rock With You, Enjoy Yourself, Show You The Way To Go, Lovely One, I Want You Back, ABC, The Love You Save, Dancing Machine, Never Can Say Goodbye, I'll Be There, Gone Too Soon, When The Magic Happens, Get It Baby, Can't Let Her Get Away, This Place Hotel, Wanna Be Startin' Somethin', Shake Your Body (Down To The Ground), Encore – State Of Shock.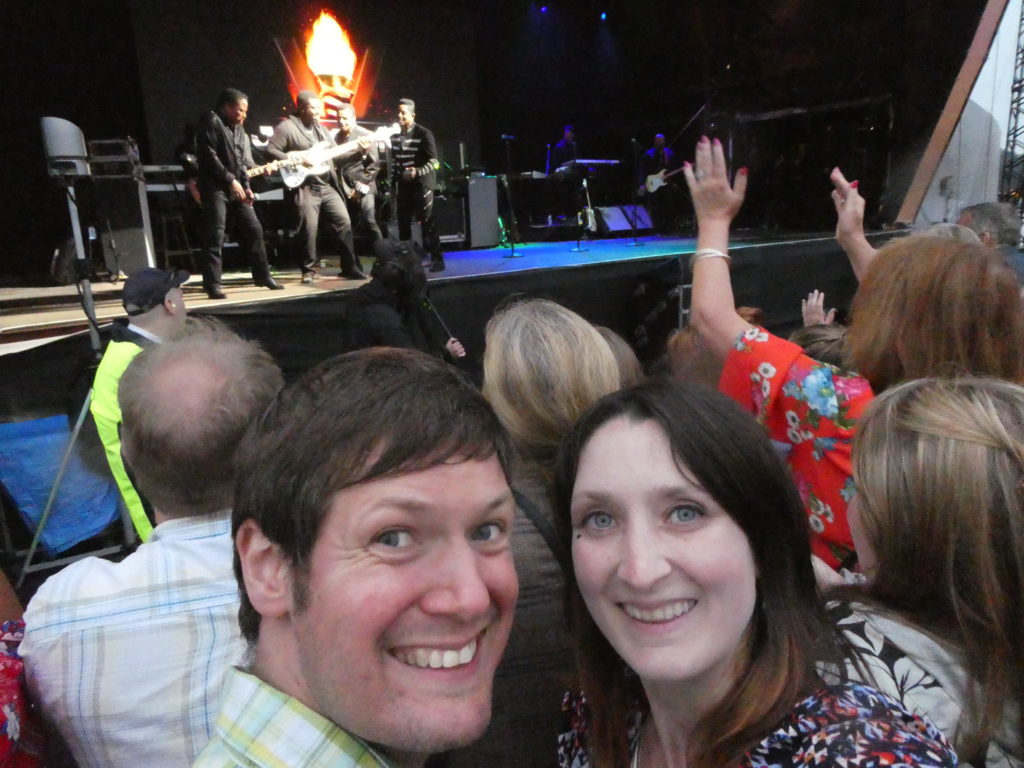 Are you a fan of The Jacksons? What's your favourite song of theirs?