Stoke-on-Trent UK City of Culture 2021
Stoke-on-Trent's bid to become the next UK City of Culture was handed in on Friday. They even had an aeroplane with a banner flying around the city, though we missed it. Tonight the city held an extravaganza to celebrate the bid, all throughout the city centre. We arrived to Hanley Bus Station to find it looking like the Theatre and Circus Field at Glastonbury! There were walkabout entertainers absolutely everywhere, including some that we weren't expecting. We started by watching Body Guards – Protect and Serve by Infuse DANCE. They looked like the Men In Black, and were doing a roving dance piece in the characters of body guards. They were circling us at one point, though we're not sure who they were protecting us from!
It was very exciting to see Acorn Academy by Creature Encounter. In some of the finest costumes I have ever seen, this professor badger and head mistress fox were perfectly in character as we chatted with them. Another walkabout, in a less impressive but still very funny costume, were the Puddle Ducks, by Cirq Delight. They waddled around, squeaking away like a child's toy, and being generally delightful to watch.
It is great fun chatting with these rather odd characters
Next we saw Dodgy Boys by Fair Play. These East End Del Boys were right in character. We caught them trying to lift the road sign of Lidice Way to sell as scrap metal, and offering dandelions from the side of the road. They were also trying to sell us a ticket on their executive coach that was apparently due to leave the Bus Station soon. Our favourite of all the acts was Hodman Dodmanott and Sally Forth by The Flying Buttresses. These tiny and ancient backpackers hailed us as love's young dream. Apparently, we reminded them of what they were like several thousand years ago. They proceeded to hail me as their long lost nephew, and said they were coming around for Christmas.
Friendly volunteers were out in force, offering freebies such as pens, badges, wristbands, and flags. The City of Sport team were giving out free medals if you played one of the street games. We went over, and played a ball target game to get our medal! The final walkabout act around this area was the Snap Happy Paparazzi by The 2 Men. These two rather creepy looking photographers were on the lookout for celebrities.
The Potteries Museum: jam-packed with culture
The Potteries Museum was also a hive of activity, and was also very busy. There were workshops going on in everything from Bhangra, to Brazilian drumming. Another walkabout act, the Art Critics by Circadian were wandering around interacting with the crowd. It was hard not to get distracted by the UK City of Culture Colouring Cube, ran by the guys from Entrepeneurs. This was a huge cube with colouring sheets pasted on (rather freshly we felt). The interesting thing was that the drawings were all icons of Stoke-on-Trent, such as Ozzy the Owl, Her Head, the Staffordshire Knot, and Know One's owl graffiti. Amy decided to colour in the latter really beautifully, whilst I did a multicoloured Staffordshire Knot.
Around the city centre, the Roaming Poets were a-roaming. These are a group of local poets who stop people in the street to recite a poem to. The talented pair of Alan Barrett, and Murdoch, who had a huge ear piercing, like a Zulu warrior, treated us to a couple. On Piccadilly, STAMP with the British Ceramics Biennial was taking place. People were making a design from a lump of clay on one of the fancy new benches outside the Regent. The finished work was making a walkway all the way down the street.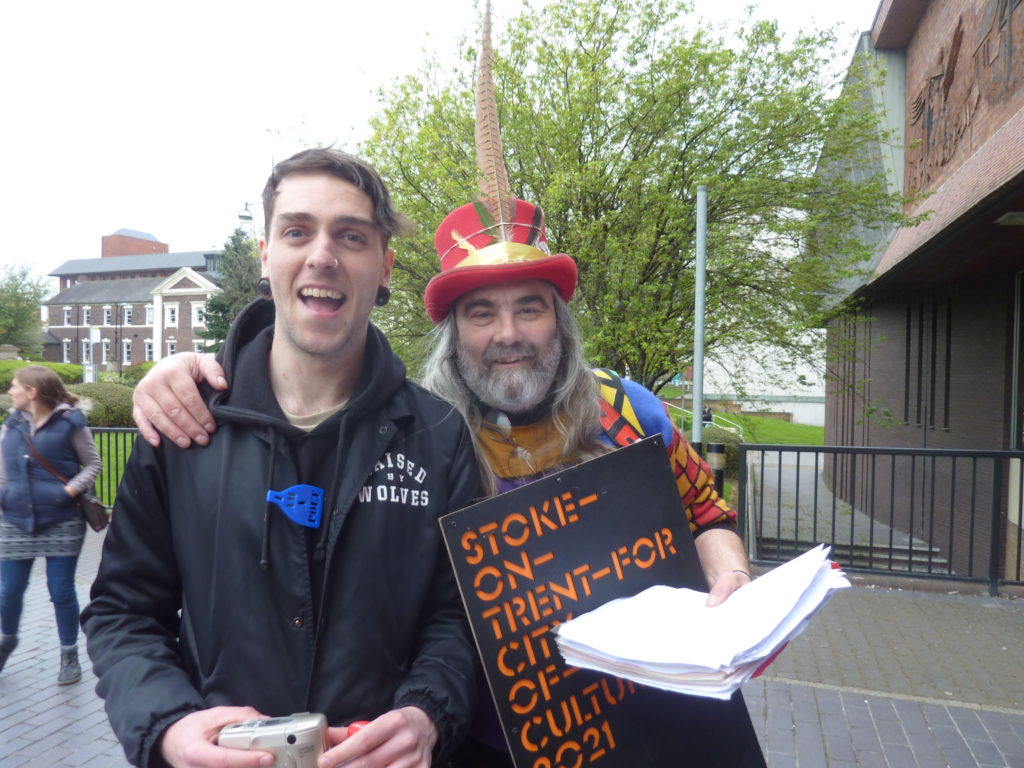 Who would have guessed that the choir's performance would be ruined by pirates?
The Allotment by Plunge Bloom was back in the city. It is a vegetable garden, but the vegetables are dressed like babies, and they have a couple of nannies looking after them. The Pirates of Northants by Markmark Productions were coming down the street, and creating quite a scene. They were a couple of rather dodgy looking pirates, a bit like Captain Hook and Smee. The Smee one was pulling a tiny mobile boat, on which the Hook one was standing and crooning easy listening songs. They were very funny, even chasing kids up and down the street. Inadvertently ruining the performance of the Ashley Community Choir, who were very tunefully serenading theatregoers on their way in to see Mamma Mia, they proceeded to make a big deal about not making any noise, as they loudly beeped their reversal back up the street.
Albion Square hosted the finale extravaganza. Called 'There's Something in the Water, Duck' by Avanti Display, it was due to start at 20:21PM. Just prior to that time, we heard the thundering sound of five drummers, who looked like something from another planet. They were head to toe dressed and painted in white and silver, with huge drums attached to them. As if they didn't look strange enough, their drums actually lit up in sync with each other. They interacted brilliantly. There were moments of slapstick, as two of them played cat and mouse.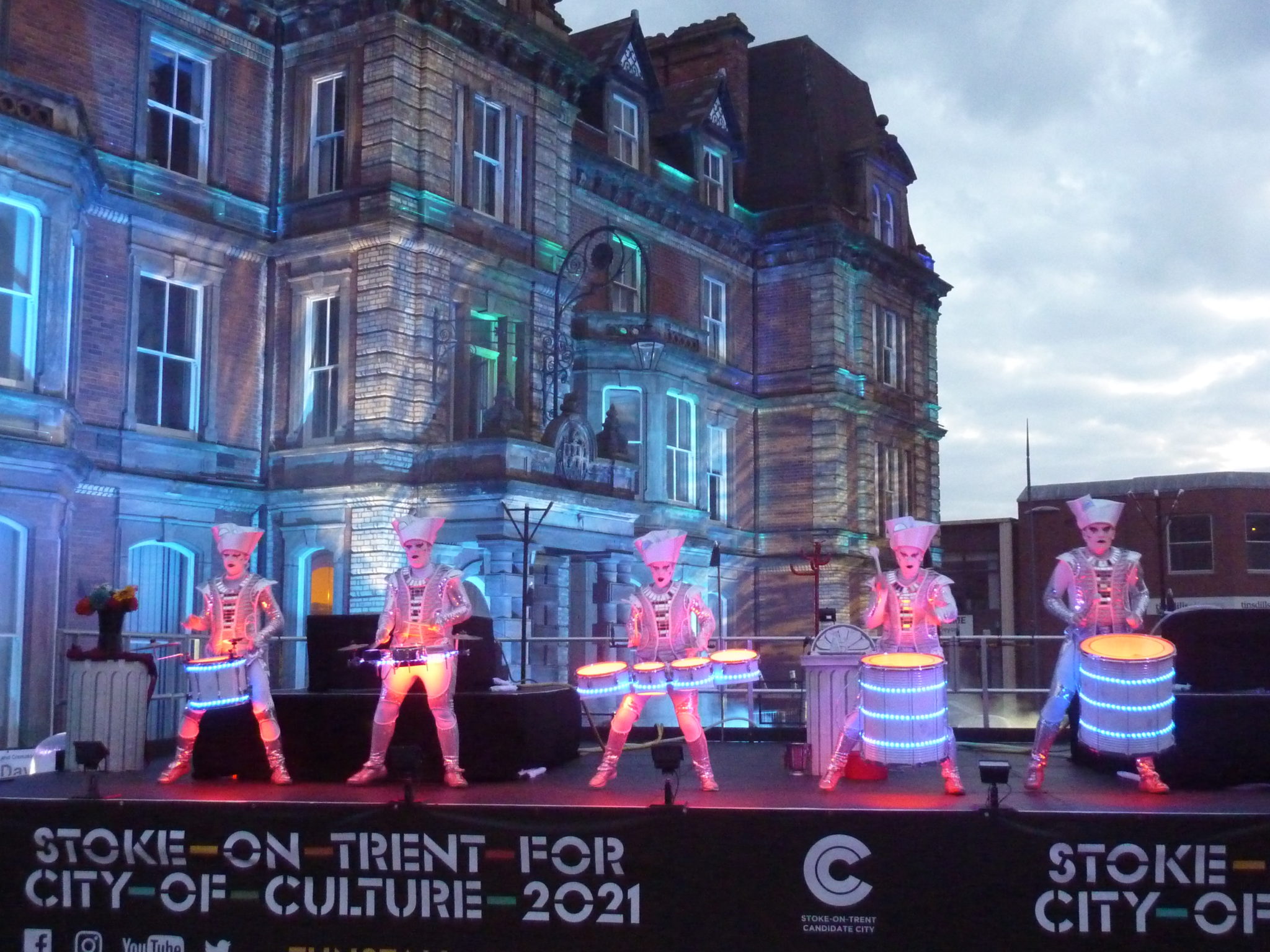 Stoke-on-Trent City of Culture celebrations began at 20:21
At 20:21PM, we heard a poem by local poet GKA Gay, before the drummers continued to build excitement. Up on the balcony of Hanley Town Hall, we saw an opera singer. As she sang, some ballet dancers appeared on stage, presenting flowers to a regal looking clown. His butler was getting more and more exasperated, as he was being pulled from pillar to post. In the end, he threw some darts at the regal clown's chest. Impressively, they were aimed at the target on his dressing gown with precision. What this did was to make the clown literally spring a leak.
Proceeding to remove his gown, he reinvented himself as a classical statue, atop a plinth. After doing some statuesque posing, the fun began to start. Beginning with the obvious water from a fountain gag, he got more and more leaky as the show went on. In the end, he was springing water from everywhere and anywhere, and it was a remarkable sight. The butler, who was getting drenched, stood in a bucket full of water. He too began to spurt out water. As the opera singer impressively made it to the little tower atop the Town Hall, they were joined by the ballet dancers from the start of the show. Now they appeared to be statues themselves.
This city definitely knows how to put on a show
We all knew what would happen, but it was a spectacle like no other. Twelve dancers plus the clown became human fountains en masse, and it was a stunning sight. Pyrotechnics at the back added to the occasion. The show ended on a spectacular high with much cheering and admiration from the crowd. Stoke-on-Trent has been treated to many excellent arts events like this over the past few years. Groups such as Appetite have made such a difference. The amount of culture that the city works hard to provide is definitely something to shout about. We definitely feel that Stoke-on-Trent should be the UK's City of Culture for 2021.
What do you think about Stoke-on-Trent's bid to become UK City of Culture? Do you think any of the other bidding cities have more to offer?