Mamma Mia, how can I resist you?
Last night, we went to see the fantastic jukebox musical Mamma Mia, at Stoke-on-Trent's Regent Theatre. The theatre is our absolute favourite, and we are really lucky to have it local to us. Mamma Mia is based on the glorious songs of Abba, so what could go wrong? From the amount of jukebox musicals we have seen that have failed to deliver, quite a lot. Luckily, British playwright Catherine Johnson delivered the sort of script that must have had Benny and Bjorn beaming with pride.
If you know anything at all about theatre, then you know of Mamma Mia. It is the eighth longest running show in both West End and Broadway history. For eighteen years it has been a must-see show. The show has been translated into twenty two languages. Can you imagine seeing Mamma Mia in Mandarin Chinese? It exists! Despite this, as well as our huge love of theatre (and Abba), we have never been to see the show. What we have seen though is the movie version starring Meryl Streep, Pierce Brosnan, and Colin Firth. Until Beauty and the Beast this year, it was the highest grossing live-action musical film of all-time. There were even cameos from Bjorn and Benny.
If you liked the movie, you will LOVE the show
Whilst we enjoyed the movie, the live show is on another level. Despite only being around for ten years between 1972 and 1982, the amount of classic tunes Abba have is unreal. The musical contains many of them. However, the writers have been careful not to put songs in the show just for the sake of it. In fact, one of our favourite Abba songs, Fernando, doesn't make the cut. What the writers did notice was that Abba's songs are mostly written from a female perspective, and have a wide generational span. Therefore, the idea for the script was born.
On a Greek island, a wedding is about to take place. Bride-to-be Sophie (played by Lucy May Barker) has found her mother's diary from the year before she was born. Not knowing who her father is, she did some detective work, and narrowed it down to three possibilities. Inviting all three of the men to her wedding under the guise that it was her mother's doing, the potential for chaos is evident. The script could easily become a farce at this point. However, the writers keep things heart-warming and jovial, rather than laugh out loud funny.
Romance and comedy go together like tea and biscuits
There are, however, some stand-out funny moments, including a couple of unlikely romantic pairings. Donna (played by Helen Hobson) was a former singer. She and her former bandmates Tanya and Rosie offer much light relief, especially for the more mature ladies in the audience. Of course, this is the main target audience of the show, but it was great to see a huge range of people at this performance. With regards to those odd romantic pairings, there is young Pepper's pursual of the multi-divorcee Tanya in 'Does Your Mother Know', and secondly that of explorer Bill and the carefree Rosie, in 'Take a Chance on Me'.
It is always exciting to see an orchestra in the pit, and they did not disappoint at this show. We were treated to a medley of Abba's hits as an overture at the start to get everyone right in the mood. I previously mentioned that the show was heart-warming. This is doing it a great disservice to be honest. It is possibly the most joyous show I have ever seen. From the camaraderie shown by Donna's friends when she tells them that the three men are in town (Chiquitita), to the performance of Super Trouper as Donna and the Dynamos, you cannot fail to smile from ear to ear.
As the show progresses, all three men start to become convinced that they are Sophie's father, and ask to walk her down the aisle. Sophie begins to realise that this may become a bit of an issue. The problem is, not even Donna knows who the father is! We are all left guessing over the interval how this may get resolved (unless you've seen the film or attended the show previously of course!).
Abba's songs can be as moving as they are catchy
The second half continued where we left off, both in terms of the storyline, and those classic Abba tunes. After much deliberation, Sophie asks her mother to walk her down the aisle. Donna's true past feelings for Sam really come home in a powerful and moving rendition of 'The Winner Takes It All'.
Of course, the real showdown takes place at the wedding itself. Donna announces that Sophie's father is present, which of course Sophie already knew. However, she also confesses that she has no idea which one of the three it is. In true heart-warming style, the three men agree to be a third of a father each. Overjoyed, Sophie and husband to be Sky decide to abandon the wedding and go travelling together to the melodic 'I Have A Dream'. Is this all heart-warming enough for you? Well, they've not even finished! There is another surprise wedding to see the show end on a high note, to the obvious I Do I Do I Do I Do I Do.
Don't worry, you will get the chance to get up and dance
The show had everyone tapping their toes and mentally singing along throughout, so it was particularly welcome when they performed a three song encore. Most of the crowd had no hesitation in getting to their feet to dance away to a reprisal of Mamma Mia and Dancing Queen. The show finished with Waterloo, with Donna and the Dynamos in Abba-esque costumes joined by the Dads in their own versions. There were no star names in this show, but the cast were all first rate. The true stars of the show however, are Benny Andersson and Bjorn Ulvaeus. Their often underappreciated musical talents have been responsible for a lot of joy over the past forty five years. Nowhere is that better seen that in Mamma Mia!
Mamma Mia has been shown in over forty countries, on every continent on earth. If it is showing in your country, then go and see it. It is in Stoke-on-Trent for the rest of the week, and continues to tour the UK. They also perform the show in its permanent home at the Novello Theatre in London. It would make for the perfect date night, as it is guaranteed feel good fun with plenty of romance. Highly recommended.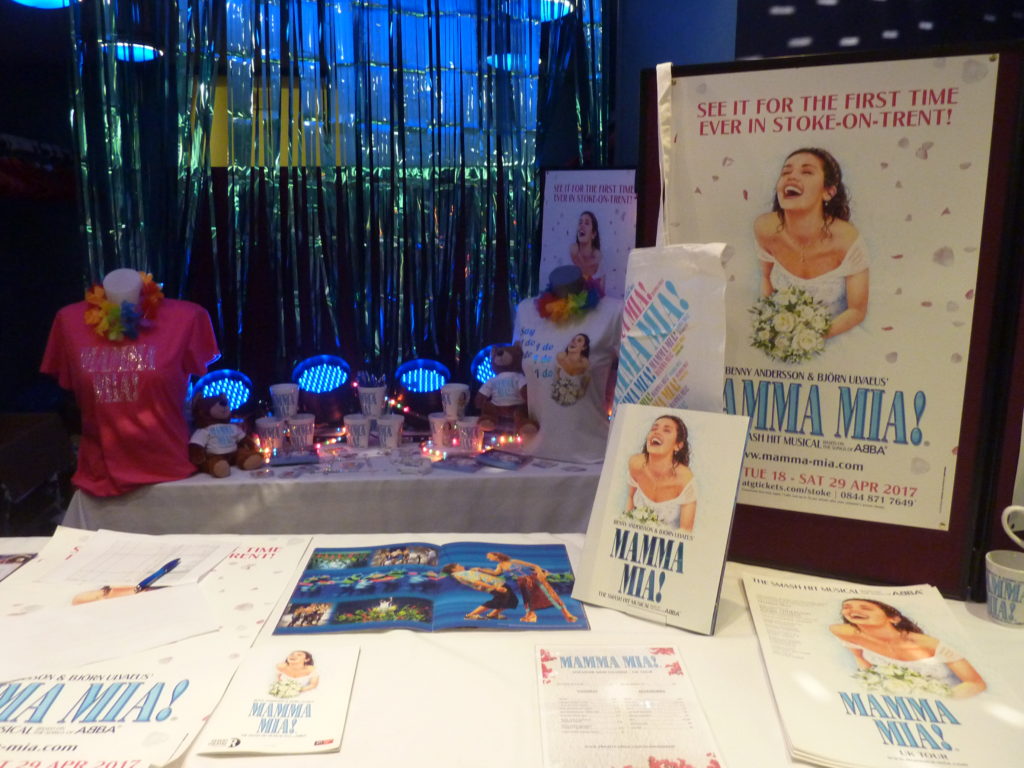 Have you ever seen Mamma Mia? Let us know what you thought, especially if you saw it in another language!