A spring fete is a very British phenomenon
This secret date came in the form of a spring fete! A spring fete is a uniquely British phenomenon. Mostly held in small villages, they see various groups within the village set up stalls selling things, and organising fun games and activities for the community. Usually, a spring fete aims to raise funds for a local charity, or community group.
The spring fete we attended was not held in a village, but at Fordhall Organic Community Farm in Market Drayton. It was a lovely day for it – pleasant and sunny without being scorching hot. It cost £2.50 each to get in, a very reasonable price for what was on offer. The first thing we came to was a bunch of stalls selling everything from cupcakes to crafts. We didn't pay much attention to the stalls, instead heading for the large marquee. Inside, we found a bunch of spring lambs in a pen! They looked extremely cosy in here, and were very cute to watch for a while.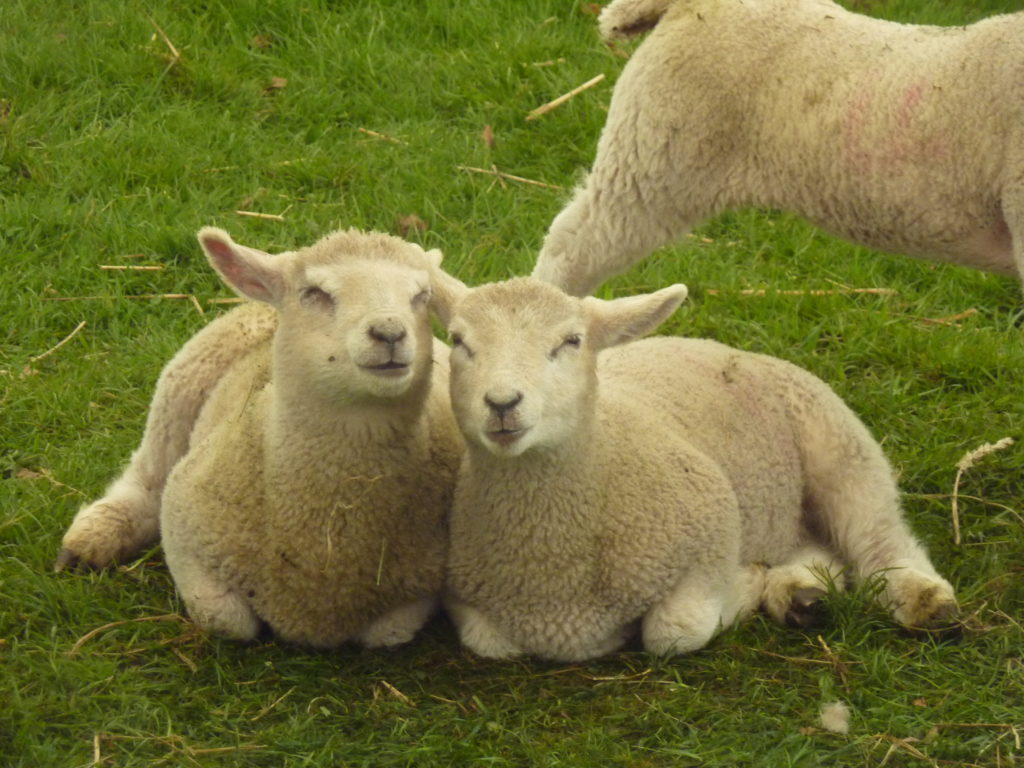 Next, Amy got her face painted! She got her cheek done with flowers in purple and pink for just 50p. We also had a go on the tombola, which cost a pound, but unfortunately we didn't win anything. We were given a consolation prize of a green balloon, which seemed to chuff Amy for some reason! The programme included a lot of timed events from 11.45am onwards, so we decided to run around trying all of the non-timed stuff first.
Many quaint activities but you could also fire a cannon!
We began with Dan's Cannons, which was a huge tent filled with Robot Wars style cannons. You could have a go of some of the more basic tennis ball cannons. We paid £3 for 12 balls, which we shared between the two of us. The friendly team there even let us use two adjacent cannons so we could compete with each other. These cannons involved putting a tennis ball into a large tube, pushing it to the bottom with a rod, using a foot pump to inflate a bag, and then stamp on the bag to fire.
It was great fun, and they went surprisingly far. To be honest, it was more fun seeing how far they would go rather than trying to hit the targets. These were set up a bit too close, probably for children. Dan himself was testing out one of the more impressive cannons that looked like a wolf. Very cool. Amy managed to get a picture pretending to fire it to add to her cannon pictures collection.
After the cannons, we checked out the medieval re-enactors – The Ferrers Household. They base their activities on the time of the Wars of the Roses. A full little camp is set up doing woodwork in an authentic way. Geoff Turner was sitting nearby playing the hurdy-gurdy, which we stood watching for a few minutes. Looking at the stalls, we stopped at one where a guy was selling hand-painted animal bookmarks, which were made in Kenya. He even showed us a picture of the people that made them.
Some of the entertainment at the spring fete really raised the baa
There was a hay bale tunnel set up. However, this was really small so only intended for small children really, and a circus skills tent. They had all kinds of things to try, including hula-hooping and diabolo. Noticing a sheep shearing demonstration, we headed over to watch. A guy with the shears had a trailer full of sheep. He was bringing them out one by one to be sheared. We watched one sheep get done from start to finish, and it was really interesting. The shearer had to really hold the sheep tightly to prevent him moving. The sheep didn't appear to be fighting against it. At the end, we were able to go and feel the ridiculously soft wool that had just come from the sheep.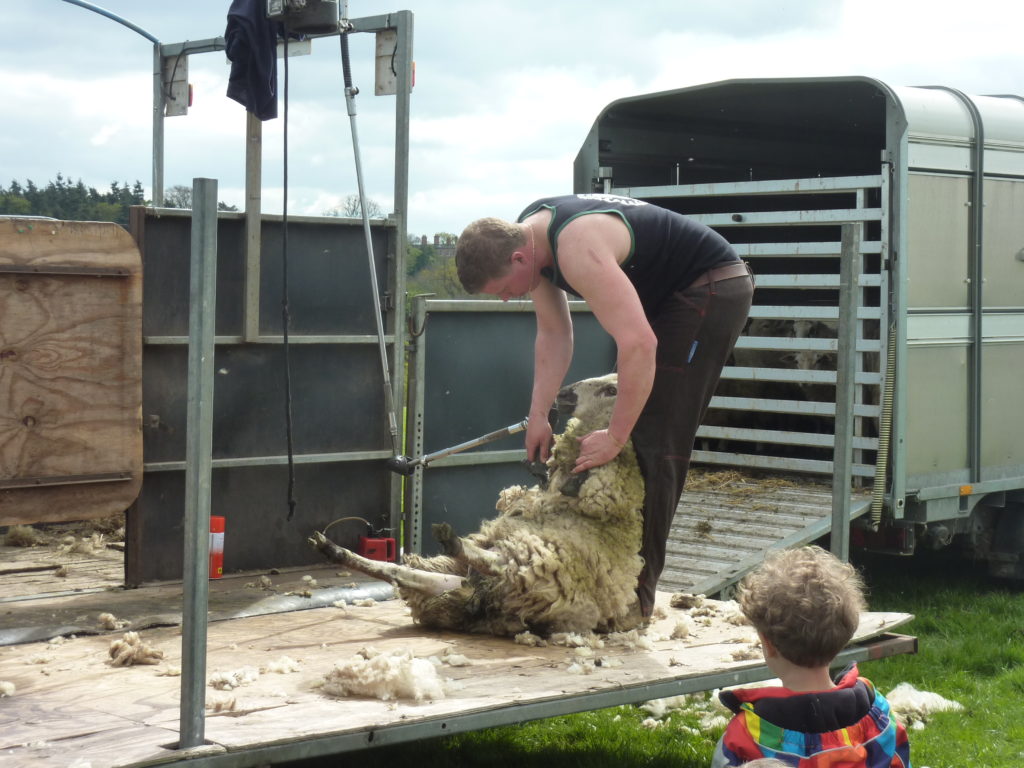 We went back to the circus skills area, having a go on the stilts, and at plate-spinning, though not too successfully. Amy got the plate spinning working once though. Welly wanging was next, another traditional fete activity. It cost a pound each to have a go, and Amy went first. Her first attempt didn't quite go to plan, but her second reached over ten metres. My first attempt was pitiful. I held the welly too high up, and it pretty much struck the ground as I swang it. My second one was a really good attempt though, going over fifteen metres. It wasn't enough to put me at the top of the leaderboard, though.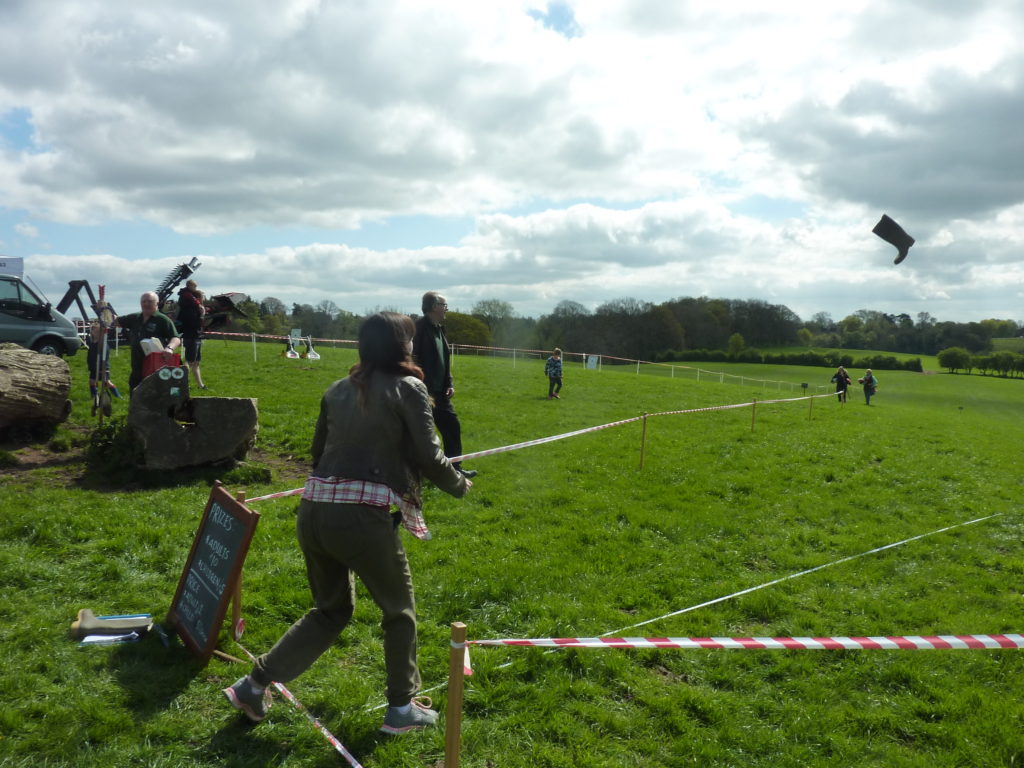 Where else can you take bets on the next cow to do a poo, if not a spring fete?
Hawkeye Falconry had a marquee set up too, with many birds of prey on display. They were offering the chance to fly one of the birds for a pound. Therefore, we booked ourselves onto the next session, which was about an hour away. The most intriguing game of the day was Cow Pat Bingo. Spring fete activities at their best! We heard that they were now taking bets, so rushed over to the pen. The pen had been split into squares, and you had to choose a square, for a pound a go. If the first cow pat landed in your square, you won an afternoon tea. Amy wanted to go for lower numbers like our anniversary date. However, I didn't think the cows would go right by the fence. Amy went with number 13, whilst I chose 38 which seemed a bit off centre from the middle.
Whilst waiting for the cows to be brought in, we got lunch from the Fordhall Farm Hog Roast van. I probably ate one of the cows from this farm! Amy had a sausage bap, whilst I went for a homemade beef burger with cheese and caramelised onions. Both were very nice. A dog agility competition was taking place. It was running as and when dogs and their owners turned up. Each one had a go then left, rather than being a competition where they all get together and take it in turns. We watched one of the dogs attempt the course, and it did quite well, particularly on the slalom cones. I think it was a poodle. Animal shows are another common feature at a spring fete.
Come on Daisy, its time to go to the toilet
It was now time for the cow pat bingo. We rushed over there to cheer the cows on towards our square. They had put two cows in the pen to increase the chances of one pooing soon, and they had apparently been well fed. One of the cows did exactly what I thought it wouldn't do, and went right for square one. It proceeded to stay there for ages. The other one, however, hovered right over my square, 38, for what seemed an eternity. Still, nothing happened though.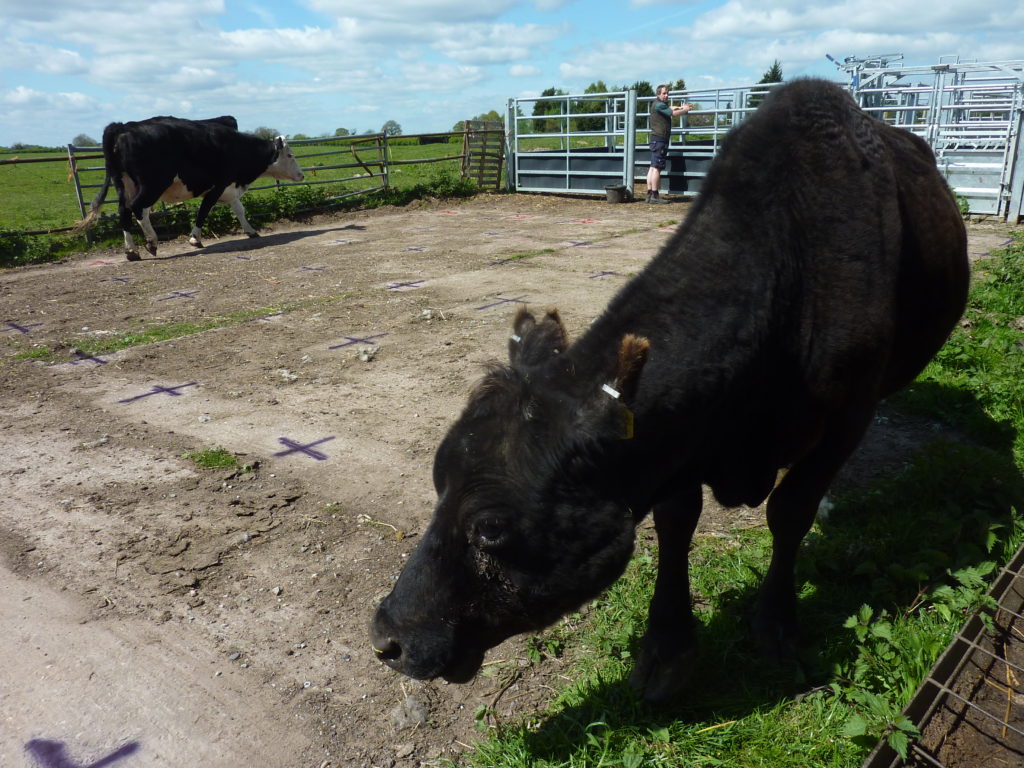 The farmer Ben jumped in to try and move them around a bit to add some excitement. They went around Amy's square quite a few times too. Ten whole minutes later, and there still wasn't a single cow pat. Ben had to go off and get a couple more cows to increase the odds. One of them was very heavily pregnant. One person joked about whether a baby calf would count instead of a cow pat! It was over half an hour of watching cows in a pen before one of them did a rather small cow pat in square 22, which was kind of in between our two numbers.
Donkey rides were offered for children, which seemed popular. It was now time to attend our birds of prey flying session. While we waited, we tried out our juggling and balancing skills in the circus skills area. We felt a bit under time pressure, since so much stuff was going on. Dan's Cannons was just about to launch his huge Dragon Cannon, and the sausage linking competition was setting up. The first bird used in our flying session was a British Barn Owl with a black face called Squeak. Unfortunately, Squeak really wouldn't play ball, and kept flying off around the arena!
We watched Mylo fly low right towards our faces
The handler ended up swapping him with a Peruvian Striped Owl called Mylo. Amy was well chuffed since Mylo was her favourite one when we looked at them earlier on. We got to put on a glove, and the handler dangled some food of some kind in front of it. This caused Mylo to fly towards our faces, land on the glove, and we walked him back to his perch. It was very cool!
The sausage linking competition was about to begin. This involved three of the farm's workers competing with each other to make a link of sausages in the quickest time possible. There was a second competition for the best quality. The same guy won both. I'm guessing he is the butcher! At the end, they were offering people the chance to have a go. It was very popular, though, so we decided to leave it.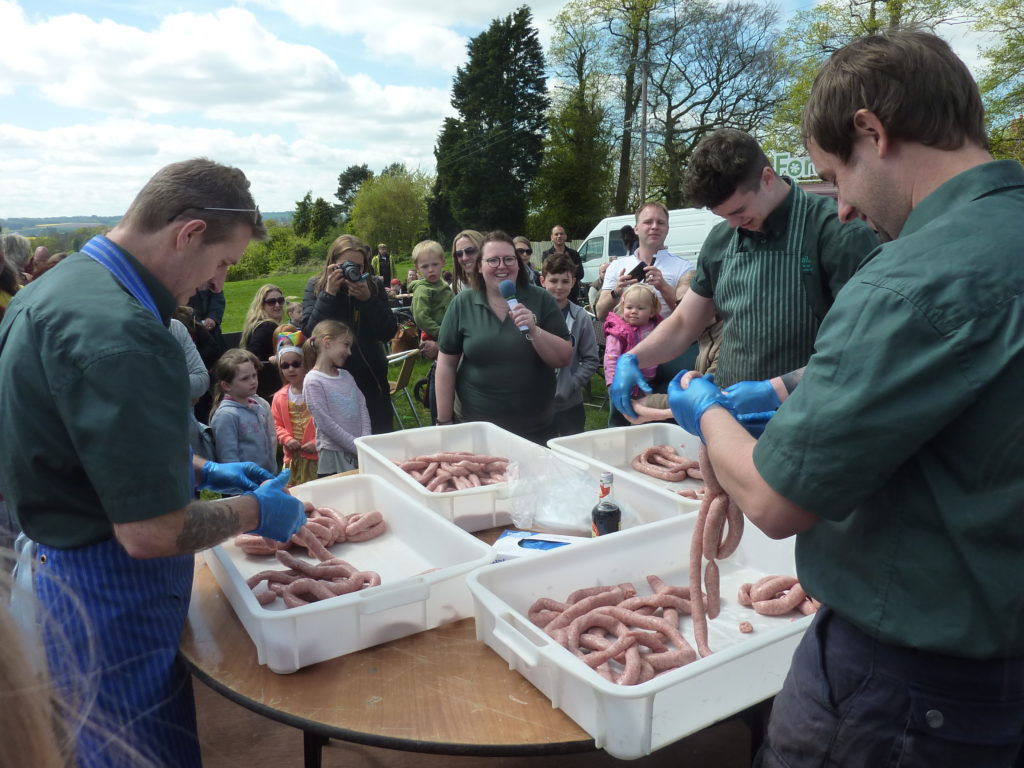 As it was such a lovely day, we treated ourselves to an ice cream from Polly's Vintage Ice Cream Parlour. It was served from a 1966 VW Split Screen Ice Cream van. It looked well retro. Jack the Jester was performing a show themed for St George's Day, which was today. He called it 'The Dragon and The Fool'. We ate our ice cream whilst we watched. Jack got the crowd hyped up first of all, whilst telling his story. The dragon was played by another guy, who was skilled with fire. His fire breathing was probably the best we have ever seen.
Fire breathing dragons? Only on St George's Day!
During the show, an Avro Anson plane flew past, which was awesome, but completely distracted everybody, including Jack the Jester! He did some great juggling, doing unusual tricks, and getting the dragon to breathe more fire. Of course, soon enough everyone realised that he wasn't just a fool, but a wizard. He had a cool big stick that bellowed green smoke, and let off sparks at various times. In the end, Jack the Jester ate the fire that the dragon had got, saving the day. It was an enjoyable show.
An animal show nearby had attracted a huge crowd. This was Simon Airey, from Corner Exotics. His animal show was one of the best I have seen. He is a very funny man, and yet educational as well, a bit like how Steve Irwin used to be. He was pretending to eat a hedgehog when we arrived, pretending it was a coconut snowball! A chinchilla was making its way around the crowd. His humour was pretty risque for the children watching at times, but he got away with it well.
A young girl brought the hedgehog around for us to stroke, only for it to do a massive poo on her. Gross. He then brought out some huge spiders, including a bird eating spider. We got to touch its hairy red banded legs! He was just letting them run all over his shirt, and didn't care one bit. Not only did he have live animals literally by the crateload, but also showed us dinosaur fossils. It was a really entertaining show, and we really didn't want to leave. However, we wanted to see a bit of everything else.
What to see? There's so much going on at a spring fete!
We headed over to Hawkeye Falconry's birds of prey show, where a flying demonstration was taking place. Literally, behind us, Dan's Cannons was about to fire the Dragon Cannon again. It was a real dilemma as to which one to watch! We decided to watch the cannon, as a giant dart went hurtling through the air. A very mighty cannon indeed! Afterwards, we had a go on the assault course, which was rather basic, and in places, battered, by now.
We had heard that the pregnant cow from the cow pat bingo earlier had actually given birth! It was in the very same pen, trying to help the calf stand up for the first time, and licking it clean. Apparently, it had been trying for a while. We were there to see it stand up for the first time, and it stayed stood up for quite a while, only falling briefly, before getting up again. It also instinctively went to suckle his Mum's udders to feed, though had a hard time gripping them!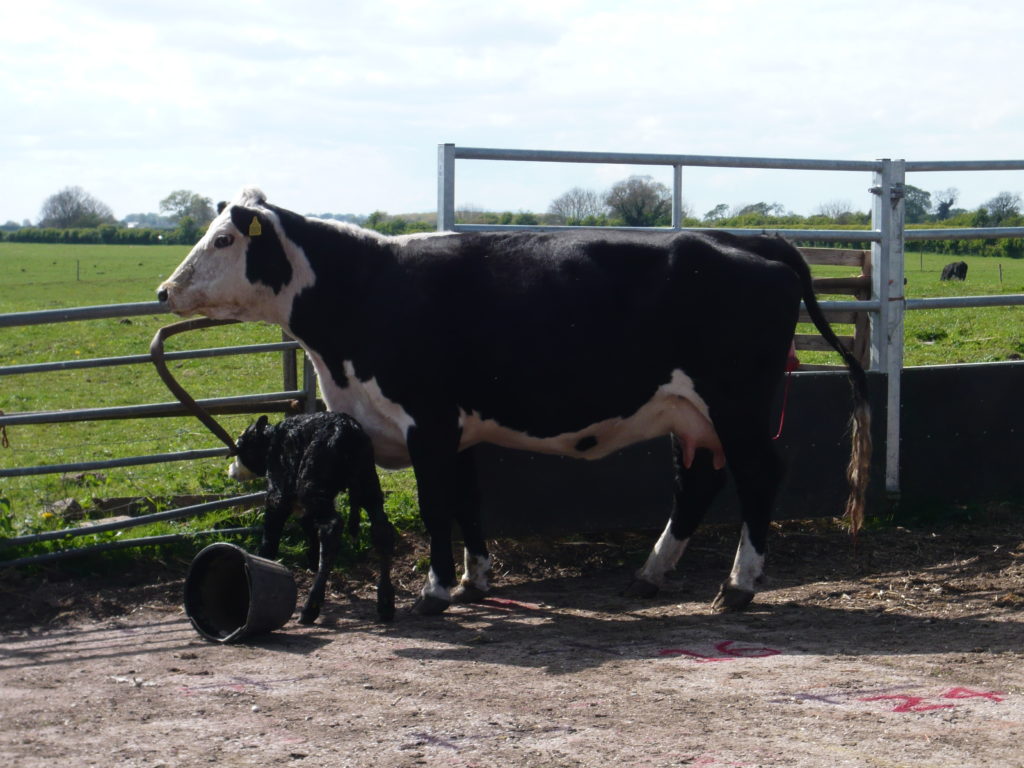 We played with the diabolos in the circus skills area, and then noticed that Hawkeye Falconry were doing another handling session. This time it featured the other English Barn Owl, Bubble. This one was much better behaved. As we arrived towards the end of the session, they let us have a go at flying Bubble too.
A bumpy tractor ride is the perfect way to end a day at a spring fete
As the event was due to finish soon, we went on a tractor ride around the farm. We sat at the back of the large trailer. The tractor took us through the fields and past the river Tern, where we saw horses, cows and sheep. This cost just a pound too, for a half hour ride. After the ride, we went back over to the animal man. He was showing a large snake off to some of the farm staff. The stalls had pretty much come down now, as the event had officially finished.
Luckily, the giant snakes and ladders game that we saw in the marquee earlier was still there. No-one was playing it, so we had a game, with a large sponge dice. It was great fun. It took what seemed like ages, though, as we kept sliding back down on the snakes and having to start again. After a few attempts at getting the required number to finish, Amy won the game. We also got to see the spring lambs again, before taking a quick walk around the community farm.
We saw the pigs and some very energetic chickens, before finding ourselves in a marvellous community garden. It has been very well decorated, with tin can musical instruments, a coal fire oven, which had been making pizzas earlier on, and a seesaw. We were a bit too big to get that to work properly! We left at gone 5pm, over an hour after the event was scheduled to finish. All in all, our date had cost us just £26.50 for the two of us. This included all of the activities, games, and food. It was a great day out, and good value for money.
Have you ever been to a spring fete? What are your favourite activities?