One Love Manchester @ Old Trafford Cricket Ground 04/06/2017
As you may know, we had a terrifying experience at the Ariana Grande concert in Manchester recently. The last thing we expected was the kind gesture that Ariana Grande made to the attendees and the people of Manchester. She put on a huge outdoor concert called One Love Manchester, to raise money for the victims of the attack. All of the attendees of the original show were invited to attend for free. Despite the fact that we were in London on that day, we made a special effort to get all the way to Manchester for the show.
The event took place at Old Trafford Cricket Ground. We've been here to see a few concerts in the past, having seen REM twice, and Richard Ashcroft. On arrival, there was a lot of people in the area. Many were wearing bee-themed outfits, including Amy who had bought a t-shirt with bees on it. The bee has become a symbol of the unity of the people of Manchester against terrorism. Many have even got tattoos with the design, including Ariana Grande herself.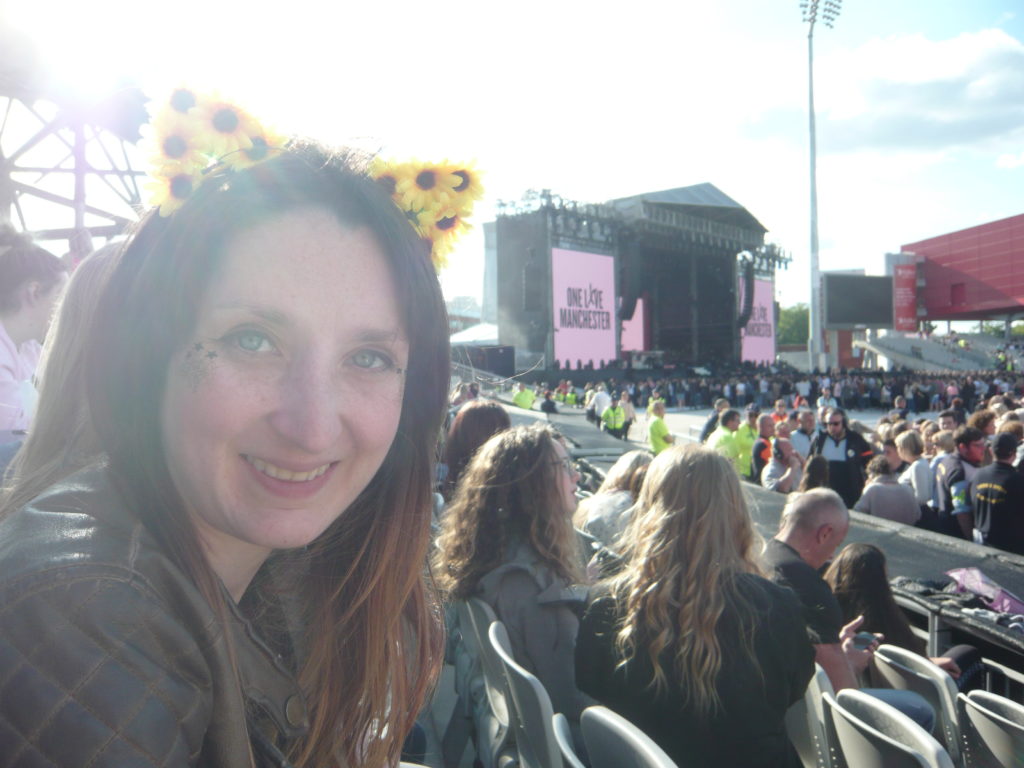 We were given the choice to stand or sit down, and we decided to go for the seating option. The view was a bit side on, but we could at least see. The bloke next to us managed to sneak through into the Golden Circle area at the front. It turned out that this was for the attendees of the original show like us. We hadn't known, so were a bit gutted we went for seats. The first sign of action from the stage was a bunch of dignitaries, including Mayor of Manchester Andy Burnham, the Bishop of Manchester, and representatives of the emergency services. They led us all in a one minute's silence.
This is the Place indeed
Then we saw the fantastic Manchester poet Tony Walsh. He repeated his inspirational poem This Is The Place, which he had read at the vigil. People around us were getting very excited to see Paddy McGuinness and Ariana Grande's brother Frankie up in the stand next to us. Another unexpected surprise was the first act, Marcus Mumford, of Mumford & Sons. After leading us in another minute's silence, he performed the song Timshel. Next up was Take That, who performed Shine, Giants, and Rule The World. I desperately wanted to go down to the golden circle area. Loads of people were just strolling in and getting wristbands. For some reason, Amy was just being really stubborn.
Our fellow Stokie, Robbie Williams was up next. After posing with the three remaining members of Take That, including a blonde Gary Barlow, he launched into a vocally poor version of Strong. He had changed the words to 'Manchester we're strong', but he looked really half-arsed in like a tracksuit and a Justin Bieber hoody. It sounded like he could barely sing. That was part of the problem with being quite far away from the stage. It was evidently the emotion of the occasion that was getting to him. We just couldn't tell from where we were. He also did Angels, though again it wasn't vocally great. A steward up the top was going crazy with his dancing, giving a real feel good atmosphere to proceedings. It livened us up a bit.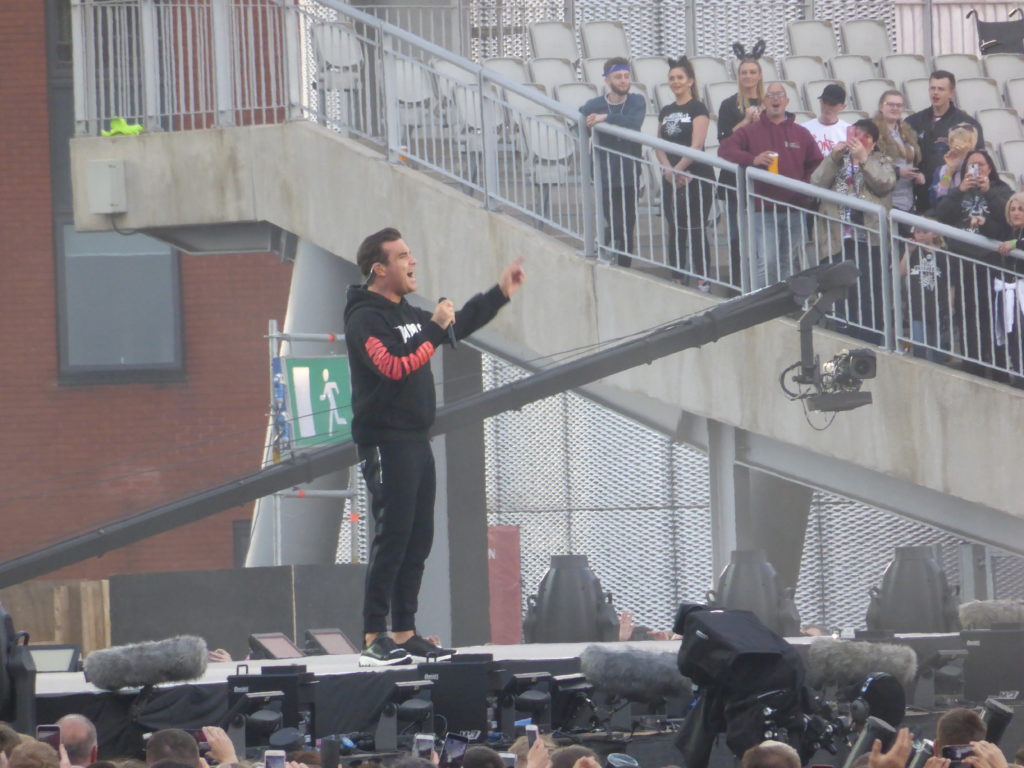 Is that LIAM GALLAGHER? Argh. It's Justin Bieber.
The only big act we hadn't seen before was Pharrell Williams. He opened with Get Lucky, and then performed Happy with the help of Miley Cyrus. Miley stayed on stage to perform a song called Inspired. The crowd was going wild for someone up in the crowd that we were sure was Liam Gallagher. Unfortunately, it turned out from the photos to be Justin Bieber! Sorry Liam. During Niall Horan from One Direction's first song, Slow Hands, we decided to head down to the golden circle. It was brilliant! We had a much better view, and a nice souvenir wristband too! Niall also performed This Town. We were mega impressed with him. Unlike Bieber, Horan can play an acoustic guitar very well indeed, and did both songs on his own I think.
Memories of happier times just prior to the attack came flooding back
Ariana Grande's manager, Scooter Braun came on stage next to read a speech off his phone. He introduced Ariana herself to the stage. It was quite emotional watching her perform Be Alright and Break Free. Memories came flooding back of last Monday night. Pink confetti burst out during Break Free. Amy grabbed a big piece of it and wrapped it around her, including her 'ears' that she was wearing. Stevie Wonder then performed a song on the big screen, before Little Mix came to do an impressive version of Wings, in rather skimpy outfits. Another unexpected act was Ariana Grande's support act from last Monday, Victoria Monet. Ariana joined her on stage to sing an moving version of her song Better Days.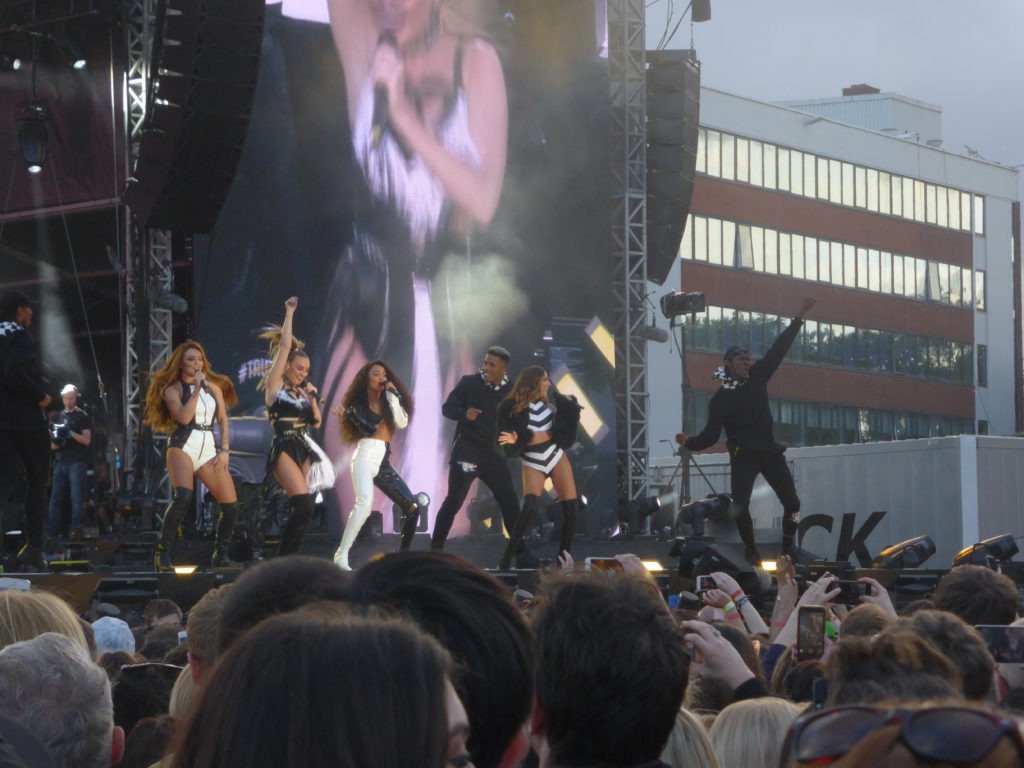 Lots of emotional moments
Ariana stayed on stage to perform a very emotional (a theme) version of Where Is The Love? It is one of our favourite songs, and very apt on this occasion. They got everyone to raise a finger in the air. Will.I.Am had a bit of a blunder though, occasionally mixing Manchester with London. We let him off due to the attack in London the previous night. Ariana then introduced one of her favourite ever singers, Imogen Heap. She performed a quirky, heartfelt song called Hide and Seek at the grand piano, mixing in a bit of Jason Derulo's Whatcha Say. Then we had the Parrs Wood High School Choir, who had released a charity cover of Ariana's My Everything. Ariana joined them, and their twelve year old soloist could barely contain herself.
Another surprise was Mac Miller. It wasn't particularly exciting to see him, but it meant that Ariana got to perform one of our favourite Ariana songs, The Way, as it features him. She didn't perform it on her tour, so it was a real treat. She let him do one of his own called Dang! Not really the highlight of the show. Miley Cyrus was back out next, to do a duet of Don't Dream It's Over with Ariana. Ariana seemed to struggle with the words at the beginning, but Miley helped her along. Ariana stayed on to sing Side By Side. She told us that she had originally planned a different setlist but one of the victims Mums had persuaded her to play the hits.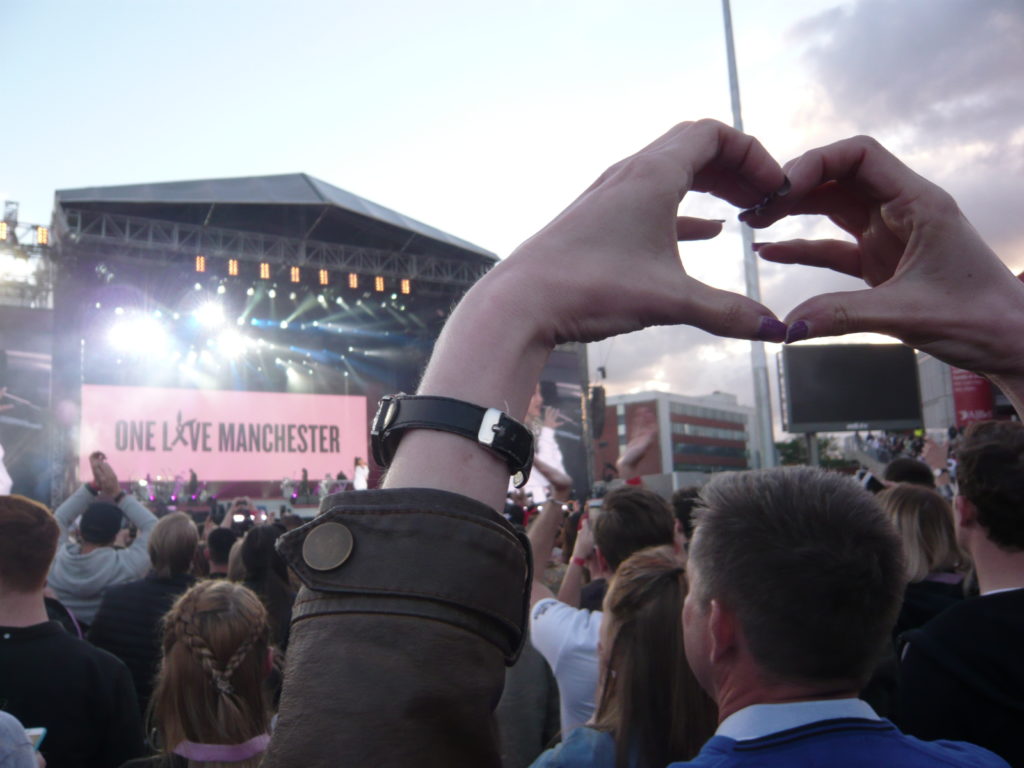 Lots of the songs were picked for their positive messages
Katy Perry was next, and did a poignant acoustic version of Part Of Me in an extravagant white coat and mini dress. She then did an amazing version of Roar, which really got the crowd going. Justin Bieber followed her. It was the only time the show had a lull on stage between acts. The egomaniac obviously wanted to keep everyone waiting. We were gutted to see him come out with an acoustic guitar, as the talentless little git can't play to save his life. Last time we saw him, he said Manchester couldn't handle him after he stormed off because his little girl fans couldn't help scream at him.
His set was really creepy, with Bieber telling the crowd to repeat 'we adore you' or something. The songs he played were our least favourite of the show of his we saw, Love Yourself and Cold Water. He performed them to the same three or four chords over and over, which weren't even the correct chords. He also messed up the chords on a few occasions, and the singing was tuneless. We are a little bitter towards Bieber after his behaviour last time he came to Manchester.
Ariana then performed Love Me Harder before introducing Amy's, and possibly mine too, favourite act of the night, Coldplay. They joined Ariana with a brilliant cover of Don't Look Back In Anger first off. It has become something of an anthem in the city after the attack. It kind of put paid to the Oasis reunion rumours though. Then, they had three songs to themselves, and they blew most of the acts out of the water. It helped that they followed Bieber of course. They opened with another Manchester classic, Sit Down by James, which they brilliantly segued into Fix You, one of their most emotional songs.
Coldplay were the highlight of the evening (apart from Ariana of course)
On a couple of occasions, we got confetti cannons which were perfectly timed with the music. One was stars, and the other was little confetti bits that came out like a rainbow of colours. They also performed Viva La Vida, and Something Just Like This. They really did uplift the crowd. Ariana had teased a surprise, and after Coldplay left the stage, it went dark and another set of musicians were soundchecking. We heard the unmistakeable guitar sound of Oasis! Looking at the stage, we became convinced that it was Noel Gallagher that we could see in front of us. And we already thought we had seen Liam! The excitement was intense. Soon after, the name Liam Gallagher flashed up on the screen.
There was a slight disappointment that we weren't getting the long awaited Oasis reunion. Still, we were seeing Manchester's most famous star performing live again. He opened up with a blistering performance of Rock and Roll Star, before his new single Wall Of Glass. Lastly, Chris Martin joined him to perform another touching song, Live Forever. Ariana Grande was then joined on stage by many of the other artists for her performance of One Last Time. She finished the show herself with a moving rendition of Over The Rainbow. It kind of felt too early to finish, despite it being on schedule.
It was a most emotional night, surrounded by all of those who had been through these traumatic events with us. Amy hugged a teenage girl who was upset after being at the concert last week. It is hard to believe that such a huge and successful event was put on at such short notice. It is a credit to all of the stars who turned up (apart from the creepy Bieber). What a great way to show defiance to terrorism and evil in the world, and help so many people begin to heal the mental scars that will remain after the previous show.
Did you see any of the worldwide coverage of this amazing event? Who was your favourite act?