Hawkwind @ Buxton Opera House 23/05/2017
After the terrible experience we had in Manchester the previous evening, you would think that attending another show would be the last place we wanted to be. However, in what was either an act of defiance or just the desire to keep going, we found ourselves at a live music event yet again. Security was noticeably tighter in the light of what happened the night before. Even so, we did feel a bit on edge at times, recalling the horrors we had just been through.
We travelled to the gorgeous Buxton Opera House to see space rock pioneers Hawkwind. Hawkwind actually supported themselves, with an acoustic set. It was an interesting introduction to their quirkiness, with lots of banter between the band members. The drummer even brought out a badger puppet! The setlist included Quark Strangeness and Charm, Age of the Micro Man, and The Watcher.
Psychedelic space rock at its pioneering best
The main set was brilliant. They are now a six piece band. Hawkwind are fronted by the main man Dave Brock on guitar, and Buxton local Mr Dibs on vocals. They perform in front of a psychedelic backdrop. It really makes you feel like you are on drugs, despite it being a bit Windows 95. Early songs in the set seemed to go on forever, with extended instrumental sections that really induced a dreamlike state. The main disappointment was that they didn't play Silver Machine. I can't believe they left that one out.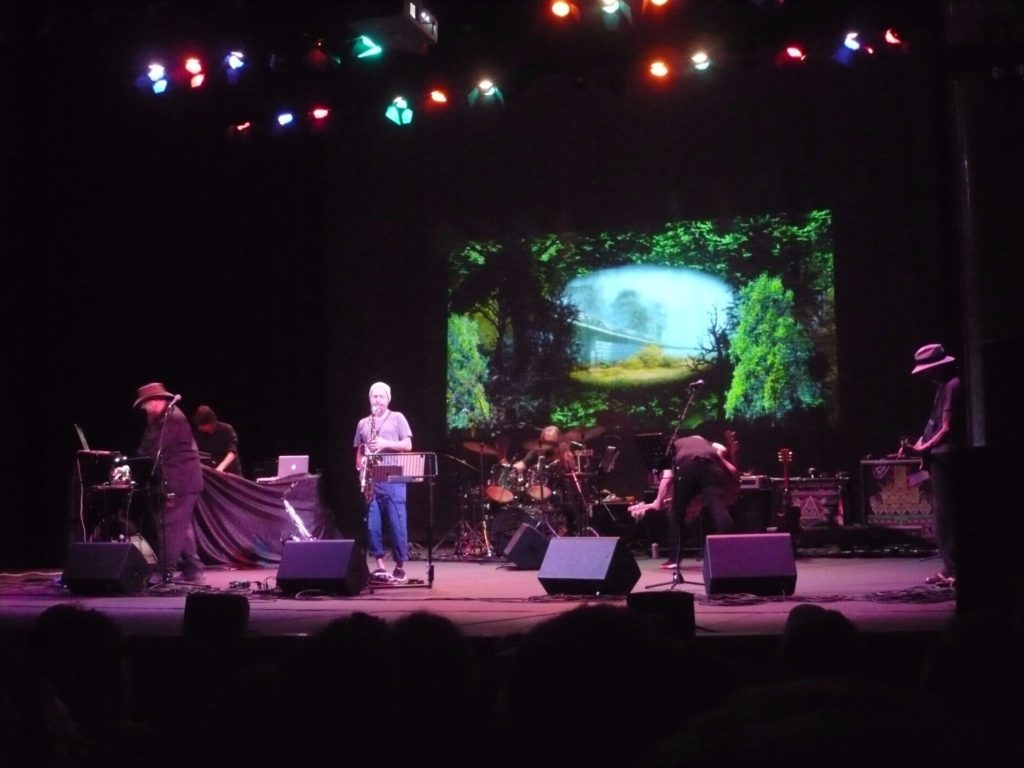 The band were amazingly tight together, and seemed cosmically in tune with one another. A green balloon with a light inside made its way down from the balcony. The crowd were having fun batting it around the stalls for a fair few songs towards the end. There was a wide range of people there, with some very eccentric looking characters in the audience. I imagine it was nothing compared to what their concerts in the late 1960's and early 1970's would have been like though!
The setlist was Earth Calling, Born To Go, Poem, You'd Better Believe It, Have You Seen Them, Vegan Lunch, Steppenwolf, Darkland, Magnu, The Golden Void, Synchronised Blue, Into The Woods, The Machine, Welcome To The Future, Encore – Utopia.
What do you think of space rock pioneers Hawkwind? Have you ever seen them live?