A car picnic goes perfect with a peaceful drive
This secret date saw us driving around the most unbelievable scenery for thirteen hours. We stopped wherever we fancied, from an interesting town or village, to a spectacular viewpoint. When we saw a particularly great place to pull over, we enjoyed a car picnic. What a fantastic way to spend a day with your partner!
Our first stop was the local supermarket, to get our car picnic supplies. Either get together some items from home, or get it all on the day from a supermarket or delicatessen. Don't forget the cutlery, like we did! You will need drinks, sandwiches or wraps, lots of bite-size food, and of course some sweet treats.
For our driving route, we took a roughly circular tour of the northern Peak District. We chose to do this as it included a lot of places that we have never been to before. We started the route in Bakewell. The drive there is through very familiar roads, passing the Roaches, and some beautiful, if bumpy, country roads. The northern part of the Peak District is known as the Dark Peak. This is because a lot of the landscape is browner in colour than the green White Peak that we are more familiar with.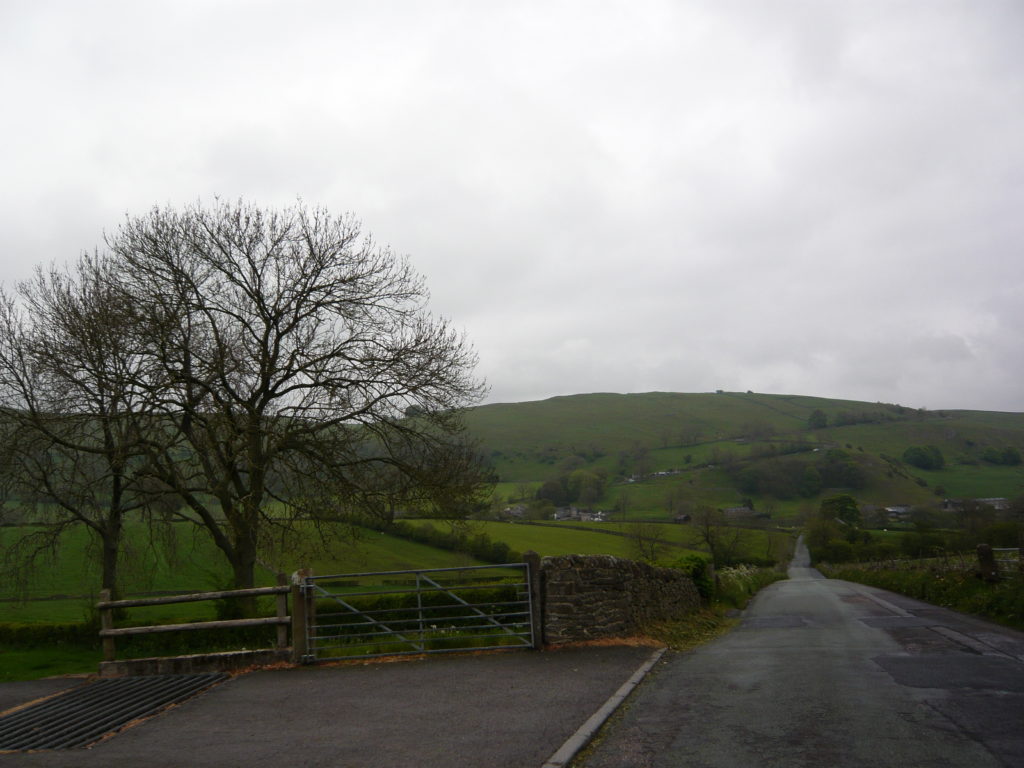 You can't pass Bakewell without getting a Bakewell Tart
Parking in Bakewell is quite limited, since there are hardly any free parking spaces. The main purpose of our stop was to visit the Original Bakewell Pudding Shop. This historic shop is the site of the very first ever shop to sell bakewell puddings. The puddings are meant to be served hot, with custard or cream. However, we wanted to take ours away to eat with our car picnic. Therefore, we went with a Bakewell Tart each. Not the site where it was invented, but still in the village at least! A slice of Bakewell Tart was an eye-watering £2.50, but we couldn't resist getting one each. Amy had an iced one, whilst I had a flaked one.
Our drive took us through Ashford-in-the-Water, where we have seen a Well Dressing in the past, to Monsal Head. This is an absolutely gorgeous viewpoint. All we did was admire the view from the platform at the top, and then went down three jutting stones masquerading as steps to a lower viewpoint. The view is sensational. You can see all the way down Monsal Dale and up the Wye Valley, with the river winding through a steep and rocky valley. There is also a mighty impressive viaduct.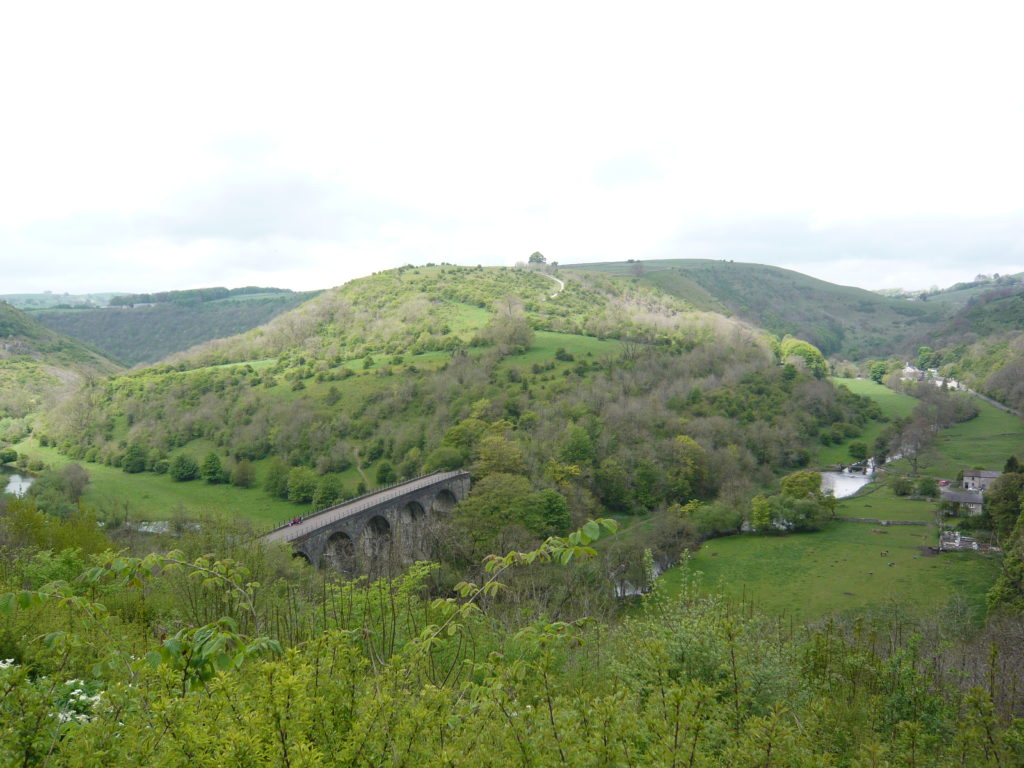 After descending into a dark, claustrophobic gorge, we pulled up in Eyam. We last visited Eyam at the end of a charity holiday back in 2010. We parked up by Eyam Parish Church, which looked suitably old. Right away in the churchyard, we found a very cool sundial from 1775, and an eighth century Saxon Cross with celtic designs.
Eyam Parish Church is well worth a visit
The door was open, so we went inside. It turns out it is a brilliant place to visit. This medieval church was a key location in the sad story of the village, that led to it being known as the plague village. It is very atmospheric, with wall paintings high up in the Nave, and two fonts. One is from Norman times, and the other from Saxon times. They have a few items relating to the plague. These include a brilliant stained glass window that tells the story, a plague cupboard, the chair and pulpit used by the heroic rector Mompesson, and the register of plague victims. There is also a brilliant exhibition about the story of the plague, which was very informative.
It is a brilliant, and free, alternative to the Eyam Museum, where we went on our previous visit. Outside in the churchyard is the tomb of Mompesson's wife, and the previous Reverend. It is assumed that he would have been influential in persuading the village to stay confined. We couldn't resist pulling over in Stoney Middleton to see its imposing crags either side of the road. There is a sign telling why one part of it is now known as Lover's Leap. A girl jumped from the cliff due to being rejected by a man, but survived due to her petticoat acting as a parachute.
Wooden Pole? Really?
The road then climbed up to the open moors where we came across Wooden Pole. We have passed this many times on our way to Sheffield, and always been really intrigued why this wooden pole has a National Trust sign directing people to it. We couldn't resist pulling over to check it out. Unbelievably, a wooden pole, and a rather flimsy one at that, was all it is. There is no information board to go alongside the fancy National Trust sign to say what its significance was. Maybe it is a hoax, or maybe an historic boundary marker? There was at least one other guy lured in by the National Trust sign unwittingly.
Soon enough, we came to our chosen car picnic spot, on Ringinglow Road. The parking space had enough room to set up our chairs, and pretty decent views of the rocks and crags too. Unfortunately, the wind was a bit on the cold side. Therefore, we actually ended up deciding to eat our car picnic in the car. We still had the great views, and it was warmer. We ate a lot of food. The wraps were filling enough, and then we had half of a box of cocktail sausages, salad, and chicken bites. I had a scotch egg too. We also finished off one of our bottles of Schweppes, which was lemon and elderflower flavour. Although we were pretty full by now, we couldn't resist eating our Bakewell Tarts. They were absolutely delicious, and worth the splurge.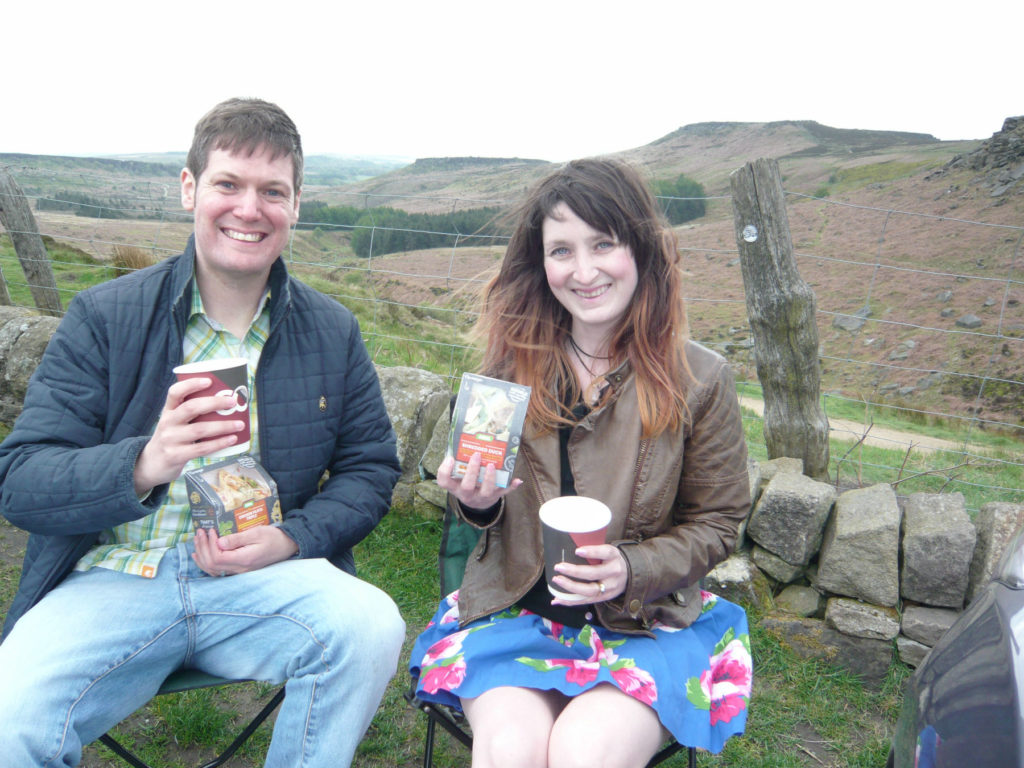 Reservoirs and countryside make for a relaxing drive
The road kept winding around some very open dark moors, eventually crossing Sheffield in just thirty-odd seconds. It then drops steeply and dramatically, with beautiful, green views all around. We ended up going down Mortimer Road. This is a very long moorland road which feels extremely remote, passing over some stone bridges. It feels as close to nature as a road can get. We then passed the Midhope Reservoir and the remote hamlet of Upper Midhope, to get to Langsett Reservoir. We passed many reservoirs today, and they were all stunning.
You can really see why it is called the Dark Peak here. The fields are a foreboding dark colour, and look as barren as fields can possibly be. We must have pulled over every five minutes to get a picture of yet another amazing view though. The next one was the Winscar Reservoir. We got out to enjoy the views of this huge and attractive body of water. It is one of the more attractive reservoirs that we passed.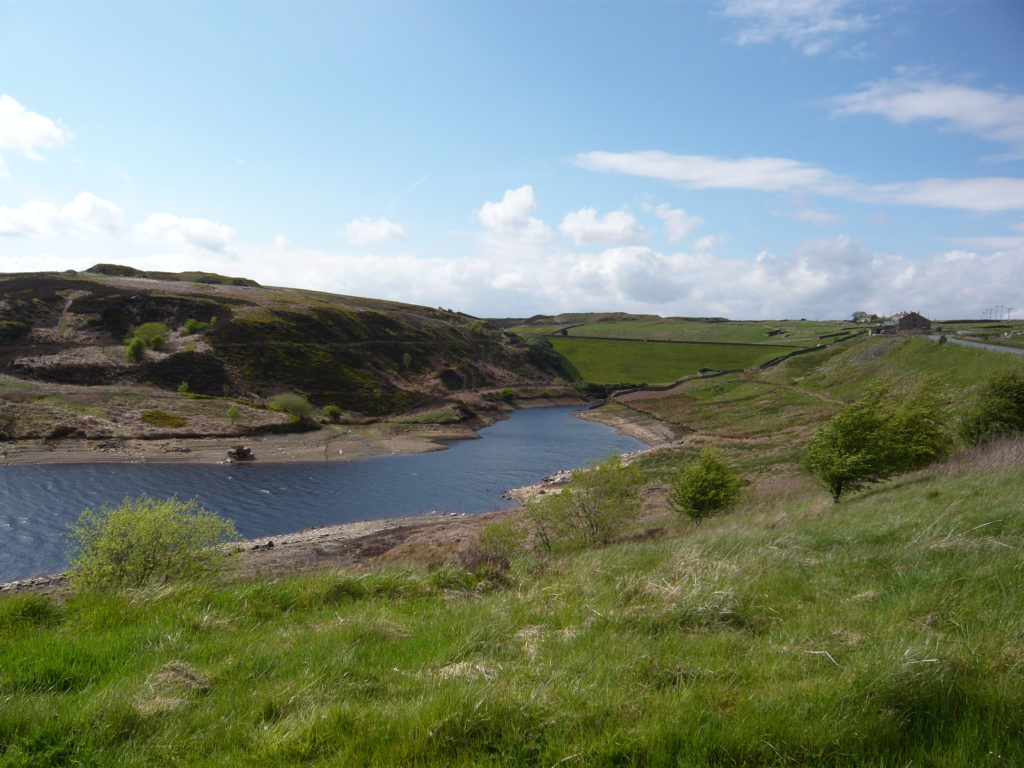 Soon enough, we were in the charming Yorkshire town of Holmfirth. We nipped into a shop called Harrisons Interiors, which had lots of unusual arty-type items for the home. There is a river that passes next to the main street, and seemingly under the road. A very unusual sight indeed. Holmfirth is where Last of the Summer Wine and Where The Heart Is were filmed. There was a very nice atmosphere about the place, and it was nice to stop there briefly.
Is that a field of alpacas?
We followed the road through the pleasant, low-key town of Meltham, stopping briefly to admire some alpacas grazing in a field. The roads around here pass through the Pennines at their most towering and imposing. We managed to pick up a bit of speed down here, before taking a very sharp, deep cutting to the right to descend into Delph. We pulled over at the Dowry Reservoir, which again was just beautiful, to have a second helping from our car picnic.
The views on the next part of the journey were incredible, and we eventually passed over the M62 on Scammonden Bridge. A remarkably narrow lane skirted around a huge dam wall. This was very cool, and we pulled into a car park to see the water-filled side of the dam wall too before continuing our journey.
The road curved up the hill impressively, and looked rather wacky on the approach. We turned into Long Causeway, which passes directly underneath two parrallel lines of National Grid pylons. It looks ultra futuristic and imposing. The road headed through Littleborough, to Hollingworth Lake. This very strange seaside-town type place has fish and chip shops and arcades lining the front. It was cool seeing the M62 in the background on huge stilts.
Passing by many tree-lined roads, we found ourselves climbing Dog Hill and pulling into the car park of Binn Green nature reserve. We went to explore the rocks to the side, and found amazing views over another lake or reservoir. There was no way we could miss out on stopping on Holmfirth Road. The views were unbelievable, like something from a movie. Its dramatic mountains and pleasing bodies of water were the sort where you could imagine being from a bygone era going back to prehistoric times.
The Snake Pass is a real driving highlight
We descended a very pretty country road to Digley Reservoir, which we crossed on the bridge high over it. Climbing a steep hill saw us stop at the top of Holme Moss hill. The car park here has fantastic views, including a cool picture frame put up by the University of Huddersfield. Going back down it on the other side gave amazing views of a couple more reservoirs and expansive countryside, pylons, dramatic roads, forest and mountains. From Glossop, we took the Snake Pass, one of the country's most famous and dangerous roads. It was past 8pm by this point, so it was a lot quieter and therefore more pleasant even than the last time that we drove on it back in 2011. The sun setting majestically in the sky added much to the dreamlike experience.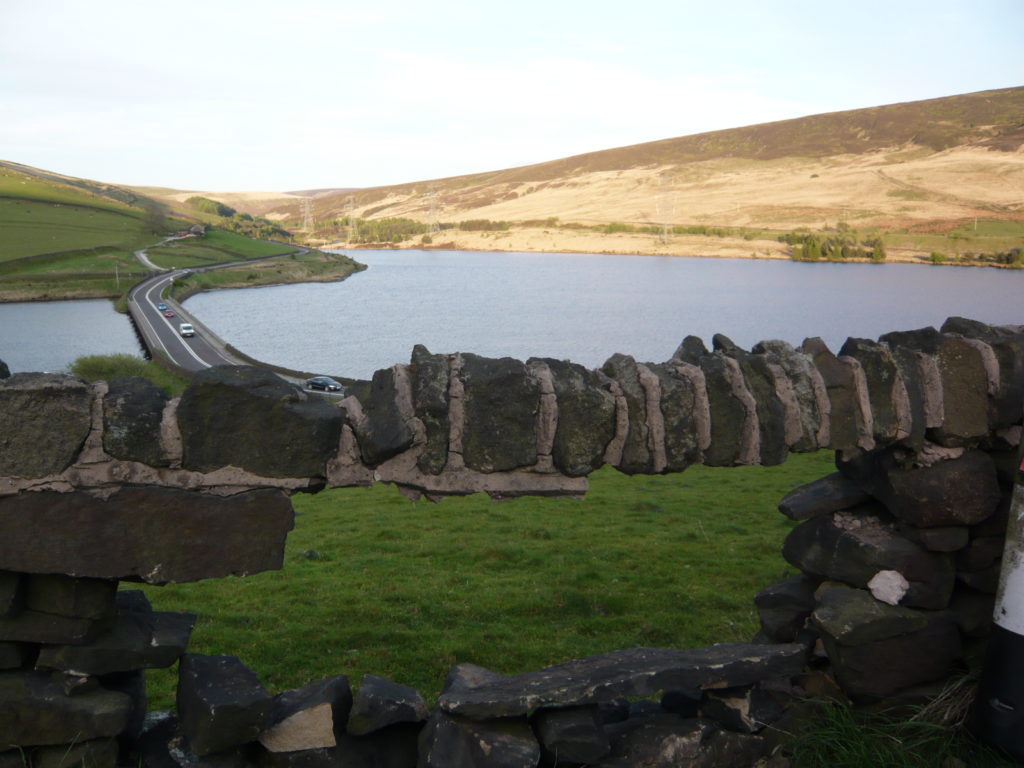 We pulled over to see a pretty stream weaving between the hills. On the other side of the road a waterfall fed water into it. There was a large Indian family pulled over who were blasting out Bollywood music from their car. An interesting juxtaposition. We stopped to watch the rest of the sunset by the massive Ladybower Reservoir. Our route took us two thirds up the northern slopes of Mam Tor. This was hard work for the car but provided nice views, despite it going dark.
The former A625 looks post-apocalyptic
We pulled over by the car park to the Blue John Cavern, to see the damaged former A625. This road has been closed since the 1970's due to severe landslide, and has been twisted out of all recognition. It looks very post-apocalyptic. Though it was dark, we still enjoyed the experience of driving on my favourite ever road, Winnats Pass. This amazing winding road passes through a unique limestone gorge. There was barely any traffic at this time of night either.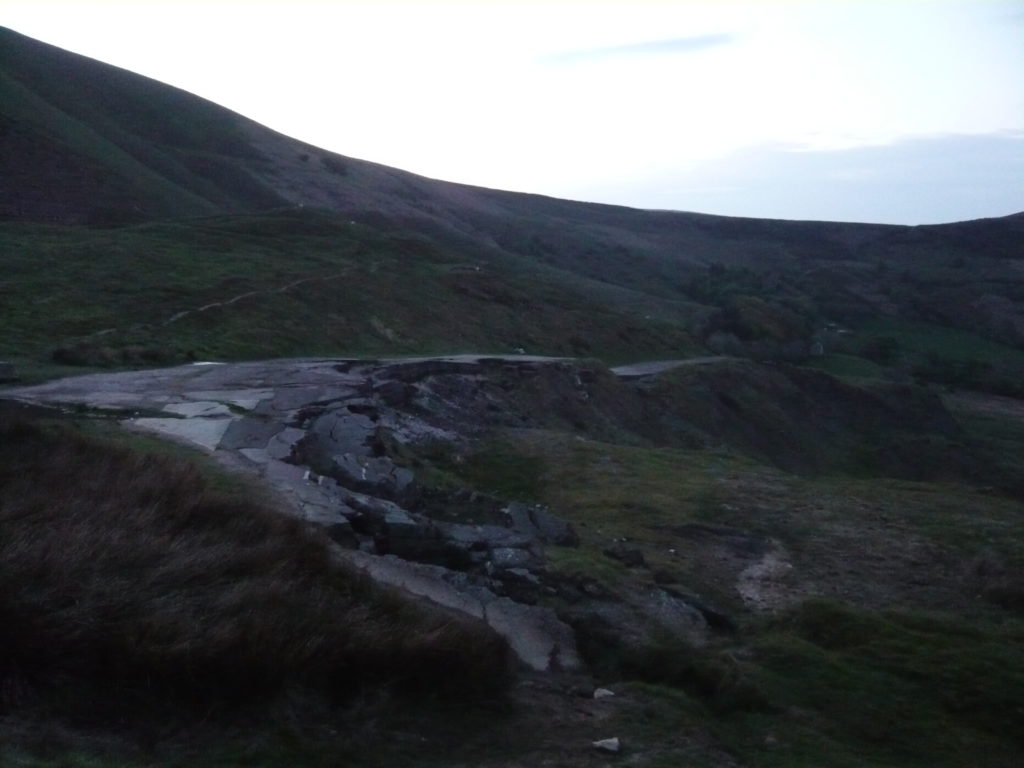 From here, we started the journey home. It took us back up Winnats Pass – bonus! We even managed to get out for a photo standing on the road, since it was so quiet! The rest of the journey home was through well-trodden ground for us, including Buxton and Leek. We arrived home at around 10.30pm, thirteen hours after setting off. What a day!
This secret date is easy for any of you guys to replicate in your own area, as long as you can drive and have access to a car. Find the nicest roads, maybe going through some pleasant areas that you have never visited before. It is lovely getting out every now and then to admire the views or explore a new village or town. However, if you just drive without stopping, you could have a much shorter date. This is advisable for those of you with slightly less sense of adventure, or a lower threshold for discomfort. The most important part is the car picnic. Pack your favourite finger foods and snacks, and some nice drinks, and you are all set for an amazing date.
Have you ever had a car picnic? What are the nicest roads to drive on in your area?