The National Museum of Scotland is huge!
The National Museum of Scotland is absolutely huge! It is split into five or six main themed sections, split over multiple floors. You can pick which floor you fancy the most to start with. They include Natural World, World Cultures, Art Design and Fashion, Science and Technology, and Scotland.
Amy picked our first one, and she went with Natural World. It is easy to spend an hour in the first room alone! This room is called Animal World, and is one of the best animal exhibits we have ever seen. The room is filled with taxidermies, with a huge wildlife panorama dominating the room. Animals from hippos to narwhals hang in the three-storey space. However, they aren't just there to look at. They are set into themes, showing how different animals do different tasks – moving, eating, breeding, and defending themselves, for example.
The animals in each display are wildly different from each other. It really encourages you to think more closely about the wonders of life. A T-Rex dominates the entrance to the gallery. The gallery contains a giant panda, giraffe, freakishly alive looking baby elephant, and a tiger in pursuit of a deer. You can also weigh yourself, and it tells you which animal you most closely resemble in weight. Amy got an Emperor Penguin, whilst I got a Giant Anteater. Earth in Space is in an adjoining room, and displays cameras and telescopes used in space research. We enjoyed it so much!
The hands-on activities are perfect for couples
Make sure to head upstairs where you can quiz your partner on the names of the taxidermied animals hanging from the ceiling as part of the wildlife panorama. As well as the fascinating displays, and the chance to learn about animals mimicking others, there are plenty of hands-on activities. You can shine a light into a leopard's eyes, and see how our hearing range compares to other animals. You will also have fun matching the sound to the animal. The adjoining room is filled with beautiful crystals, including some very large and impressive specimens. The top floor contains Ching Ching (an amazing taxidermied giant panda), fossils, and information on evolution and the extinction of various species.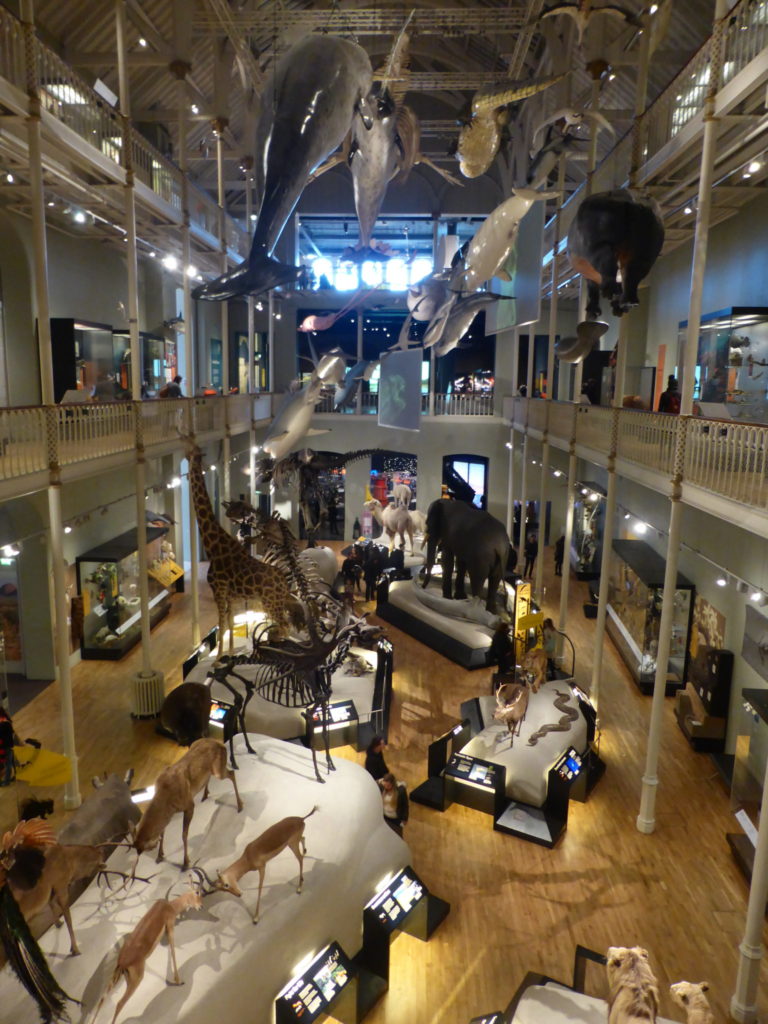 You can head back down to ground level through another section. World Cultures is next to Natural World, and is another fascinating one. These amazing collections reflect the vast differences in creativity throughout the world. They contain examples of art and culture from almost everywhere. Fascinating glassware from America stands alongside Japanese wood paintings. Don't miss the striking Benin Head, with his many rings covering his neck and lower jaw. Heading down a floor, you might catch the Millennium Clock chiming, which is marvellous. The Facing The Sea section contains a rare Maori war canoe. The next room contains parade masks from Ghana and Tibet, as well as a huge collection of musical instruments.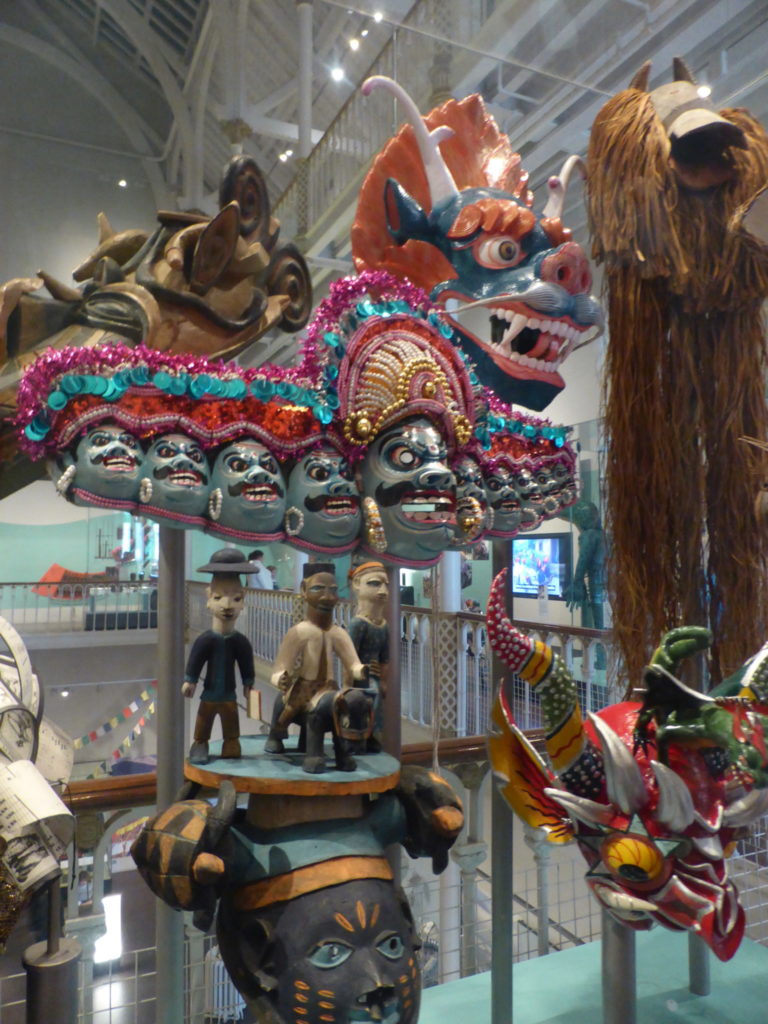 It would be so easy to spend many days in here. The National Museum of Scotland is brilliant, both in its collections, and in its presentation as well. The bottom floor of World Cultures contains a fascinating Thunderbird costume from a Canadian tribe, a Tibetan prayer wheel, and examples of aboriginal art.
The National Museum of Scotland is the perfect place to delve into the nation's history
The Scotland section tells the country's story from the beginnings of time. This section is over eight floors! It is roughly in chronological order from level -1. Head down first to Beginnings and Early People. Here, you see the fossil of Lizzie the lizard, the world's earliest known amniote (waterproof skin, and lays eggs on land), as well as the work of Scotland's first human residents. These include a 5000-year-old carved stone ball, and a hoard of Roman silver called the Traprain Treasure.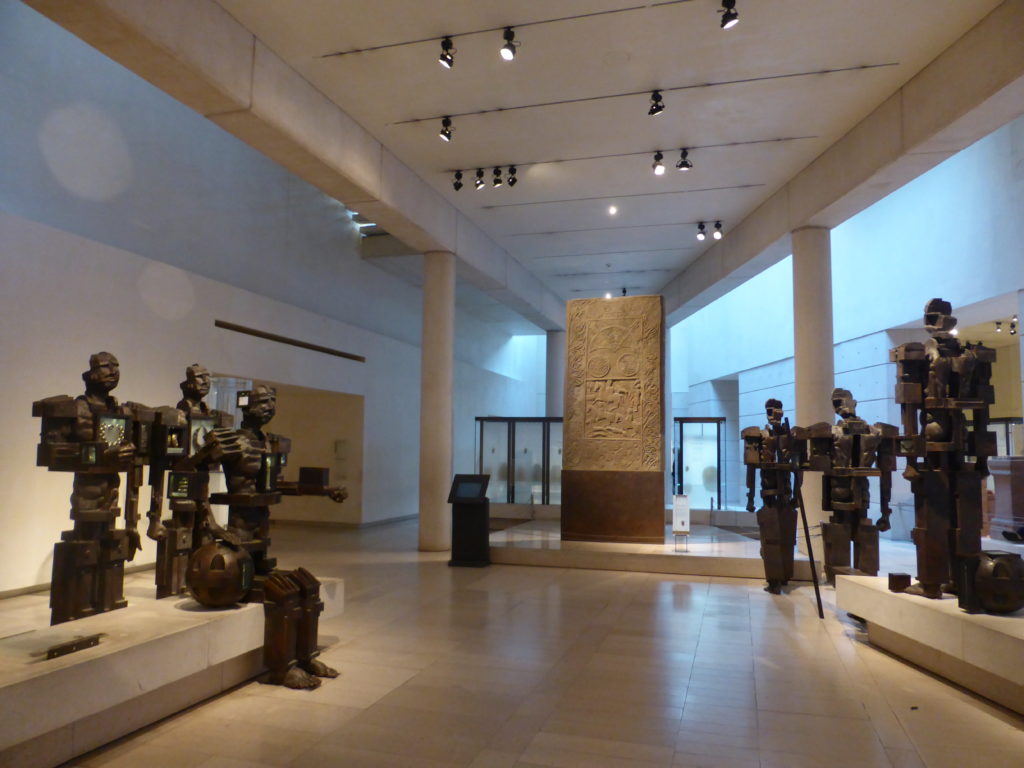 Kingdom of the Scots tells, over three floors, the story of Scotland from its official formation as Scotland to its amalgamation with England in 1707. Here, they have a collection of the Lewis chess pieces, of which the British Museum also has some. There is also a plastercast of the tomb of Mary, Queen of Scots. The original is in Westminster Abbey.
The following three floors show the next part of Scottish history. Its industrialisation is shown by textiles machinery, and a steam engine. They also have Bonnie Prince Charlie's travelling canteen, which was captured after the Battle of Culloden. It has a pretty confusing layout on the higher floors to be honest. You can head up to the Roof Terrace. Up here, you get amazing views of Edinburgh, including Edinburgh Castle, and Arthur's Seat. The modern day section is pretty interesting. A medal given to the first members of the new Scottish Parliament, and memorabilia from recent stars such as Billy Connolly, and Amy MacDonald, are some of the highlights. Don't miss the Victoria Cross that was awarded to the Piper of Loos, in a war-time section.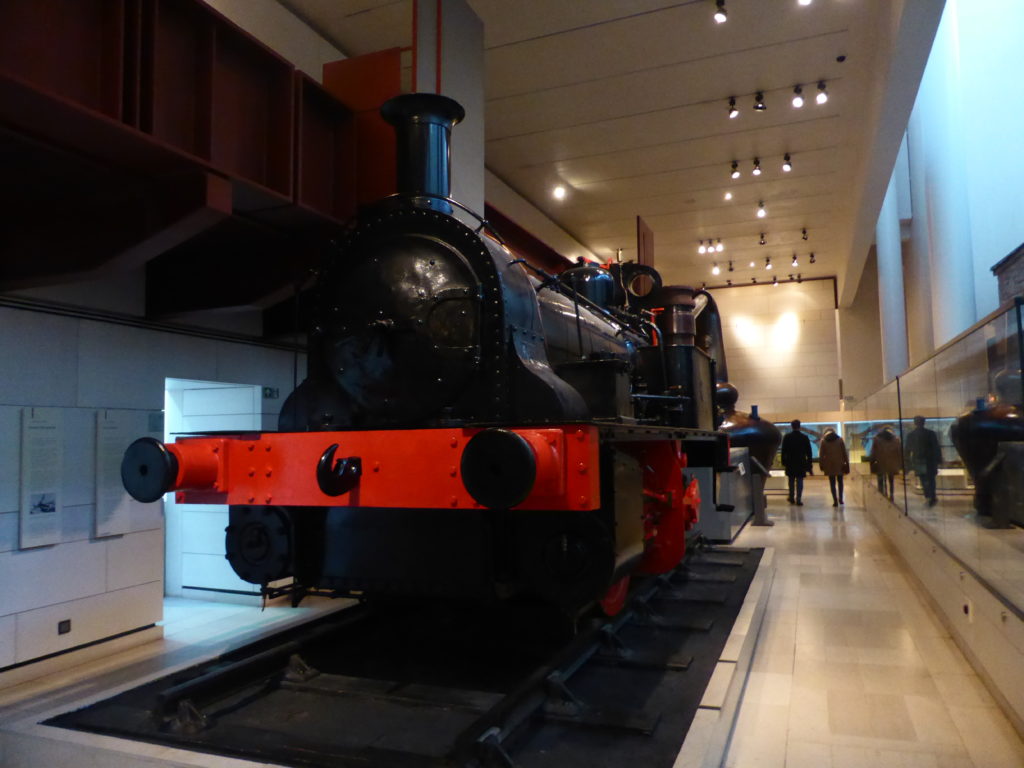 Be sure to pick your sections wisely, since there isn't enough time to see it all in one visit
Despite spending much of two days in the National Museum of Scotland, we had only seen three of the six main sections. There was only an hour left until closing. Therefore, we raced around the rest of the museum to see the highlights. We started with Art, Design and Fashion. In here, you see Mackintosh furniture, including a famous bookcase, and treasures from Hamilton Palace. These include a full fireplace wall, and an elaborate bowl that the Duke of Hamilton bought in the belief it had belonged to the founder of the Roman Empire.
Heading down a level, you can take advantage of the great views of the wall opposite. The treasures hanging from the wall, with the frames of the walkways, make it appear like sections of a doll's house. It really is very impressive. On this floor, you see some amazing glassware, including one designed by Pablo Picasso. The ground floor is devoted to fashion. I am sure Amy could have spent a lot longer looking at the crazy shoes alone. In here are garments from Vivienne Westwood and Jean Muir, among others.
With just twenty five minutes left to do the three Science and Technology floors, we really raced around. You can see a timeline of plane designs, and a CERN accelerating cavity that helped to split atoms. They even have Dolly the Sheep, the first ever cloned animal! You could easily spend ages on the hands-on activities alone, including a cool looking wave machine. There is also a great collection of vehicles, from a Formula One car to the wing of a Red Arrows plane. It is an unbelievably good museum.  There is no admission charge, and you could easily spend days in here.
Have you ever been to the National Museum of Scotland?