On our secret date sunbathing on Rhosneigr Beach in Wales, we felt like we were on the most beautiful beach in the world. However, upon further investigation, we have found that the following might have even more of a claim to the title. Here are the best beaches for sunbathing on!
MATIRA BEACH – BORA BORA, TAHITI
Bora Bora's most popular public beach is beautifully framed by lush palm trees and green hills. The palm trees will give you a bit of natural shade, should the sun be just too hot! This beach has a tranquil, serene atmosphere that will be perfect for sunbathing.
SALINE BEACH – ST. BART'S
This beautiful, unspoiled Caribbean beach is simply stunning. With white sand and turqoise waters, not to mention plenty of shade from the coconut trees to get you out of the sun's rays during the heat of the day, you can't ask for better.
KO PHA NGAN – THAILAND
Although it is best known for its monthly full moon parties, Ko Pha Ngan has plenty of powder-soft white sand to sunbathe on. Grab yourself a hammock and stay until the sun goes down. The views are incredible.
SEVEN MILE BEACH – GRAND CAYMAN ISLANDS
The coral sands and gorgeous crystal clear waters make this beach one of the best in the world. When you get too hot on the perfect sand, head into the water which is cool and refreshing. Be sure to pack some sun cream though, as the sun can be rather intense.
LOVER'S BEACH – MEXICO
Reachable only by a one hour long boat ride, you won't be complaining when you get there. With a huge open-roofed cave and the most other-wordly scenery, you and your partner will be in paradise.
SOURCE D'ARGENT – SEYCHELLES
Where else can you sunbathe and enjoy scenery quite as amazing as this? With shallow, clear water, golden sand and fascinating rocks, you might find yourselves not being able to put the camera down. I don't think you would forget an afternoon spent on Source D'Argent.
GRANDE PLAGE – BIARRITZ, FRANCE
This beach in the quintessential seaside resort of Biarritz offers mesmerising views of the ocean. The sand is fantastic, and perfect for sunbathing with a good book. There are plenty of more active things to do on the beach should you fancy a break.
RAINBOW BEACH – QUEENSLAND, AUSTRALIA
Check out the coloured sands at Rainbow Beach! This town is so relaxed that you will wind down in no time. Make sure to find a good book, and you can easily while away an afternoon in peace and quiet.
COPACABANA BEACH – RIO DE JANEIRO, BRAZIL
Soak up the rays and the ambiance of the world famous Copacabana Beach. It is a great place for people watching, with scores of people playing beach sports including football and volleyball. The sand is gorgeous, though be warned it can get very hot.
CAYO LARGO – CUBA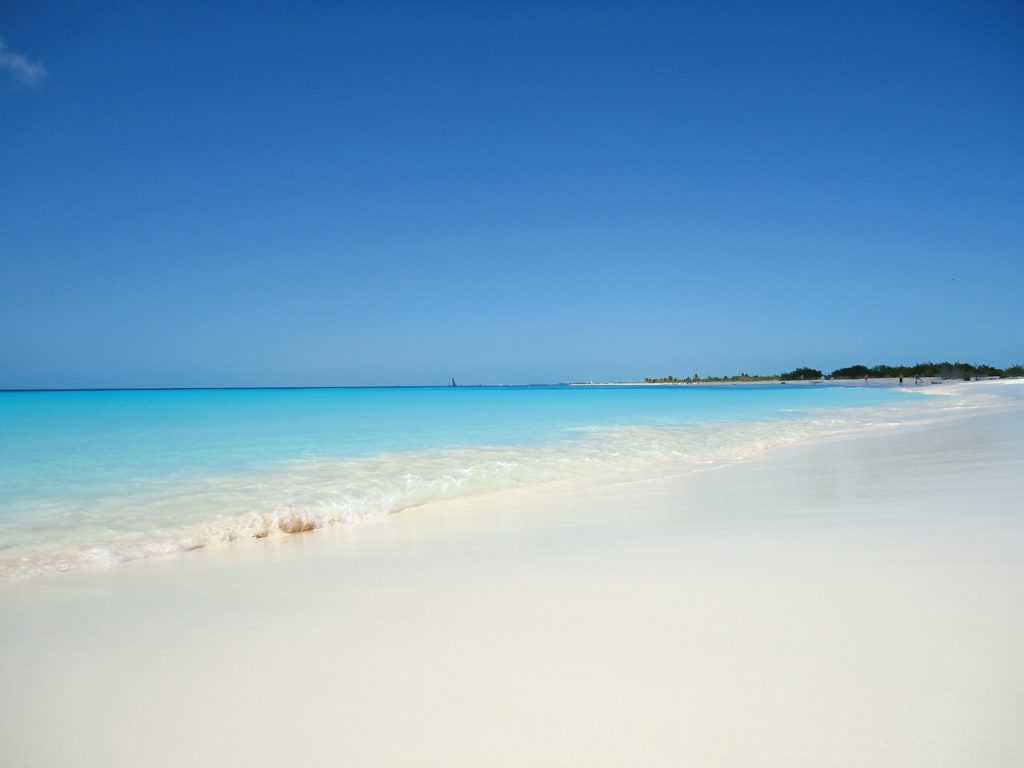 This quiet and isolated beach with its fine white sand is a real slice of paradise. It is actually made up of two beaches, which you can easily walk between when the tide is not in. It is somewhat of a luxury resort, where you will find little in the way of culture. However, the beaches more than make up for it for an afternoon or two!
What do you think are the best beaches for sunbathing in the world? One that we have mentioned, or somewhere else?