Split Walking Tour: An introduction to a city like no other
We had the privilege of joining Split Walking Tour, for a fantastic walking tour of the city. Split is a city like no other, built within the shell of the Roman Emperor Diocletian's Palace. The whole city is a tourist attraction! It is quite feasible to just wander its narrow streets, with palaces galore (and you should!). However, there is no better way to see it than with a knowledgable local guide.
The Split Walking Tour departs from the Golden Gate and the humongous statue of Gregory of Nin by Croatian sculptor Ivan Mestrovic. It is easy to find the Split Walking Tour representatives as they hold blue umbrellas, no matter what the weather! Unlike many other places, Croatia have banned 'free tours', but Split Walking Tours offer fantastic value for money. They are the number one rated tour company in Split on Trip Advisor, and even Rick Steves has recommended them.
The Split Walking Tour is in two parts, the first being the major draw – Diocletian's Palace. If you like, you can save a bit of money by following the tour just up to this point. You'll be given the option to stay on or leave, so you can always decide then. Our guide was Danko, who reminded us of Mulder from the X-Files. We joined a fairly big group of people, from all over the world, from Canada to Brazil.
Split Walking Tour was full of facts, but fun as well
Danko was a very engaging guide, and full of quality knowledge, but he made it entertaining as well. For example, he told us exactly who the bishop Gregory of Nin was, but also speculated that it could be Dumbledore or Gandalf. Since no-one really knew what Gregory of Nin looked like, the sculptor Ivan Mestrovic based it on himself!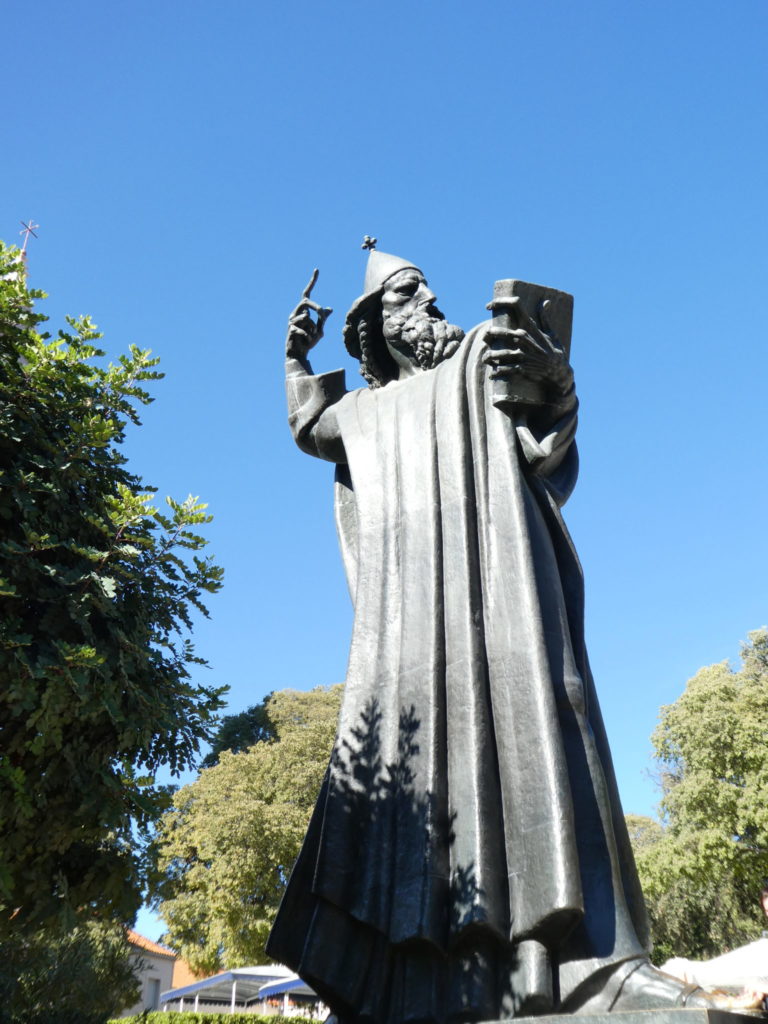 The Golden Gate is a fantastic place to start. It is one of the finest facades of the world-famous Diocletian's Palace, a true Wonder of the World. Diocletian's Palace was built as a retirement villa for the Roman emperor Diocletian, who was the only Roman emperor ever to retire from the post. After he died, it was abandoned. However, an invasion of the nearby city of Salona resulted in the residents of Salona seeking refuge behind the palace walls.
Ever since that date, the palace has been lived in by normal everyday people. They still live inside its walls even today. Funnily enough, it seems that it is the poorer people that live inside, which seems odd being as though it is such an iconic location. I suppose it must be because of all of the tourists wandering around. Danko had lots of pictures and maps, and the like, to give some visual help to his explanations.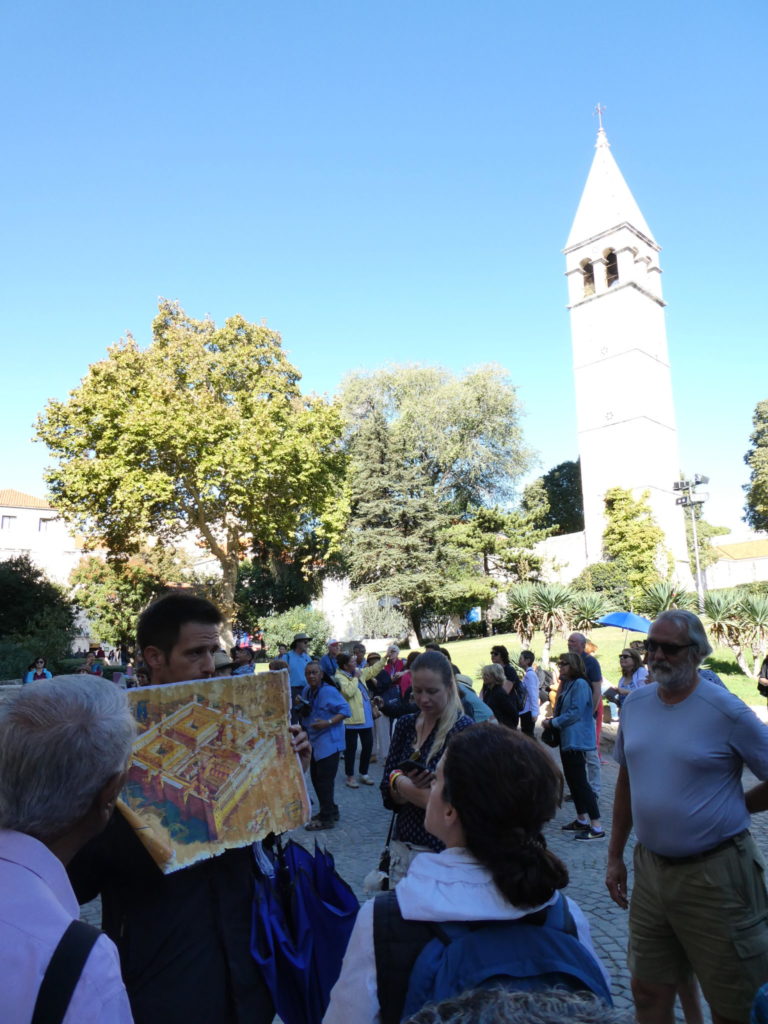 Not just the sights, you'll learn about Croatian culture
Just inside, we were shown the area where guards would have put people when they were deciding whether to let them through or not. He joked that it was the pigeons' job these days to do this. Walking down the narrow street, Danko told us everything from the original purposes of the buildings to their current uses. He even threw in a lot of cultural knowledge about Croatia, such as their sporting habits, and how wedding crashing is a popular pastime here.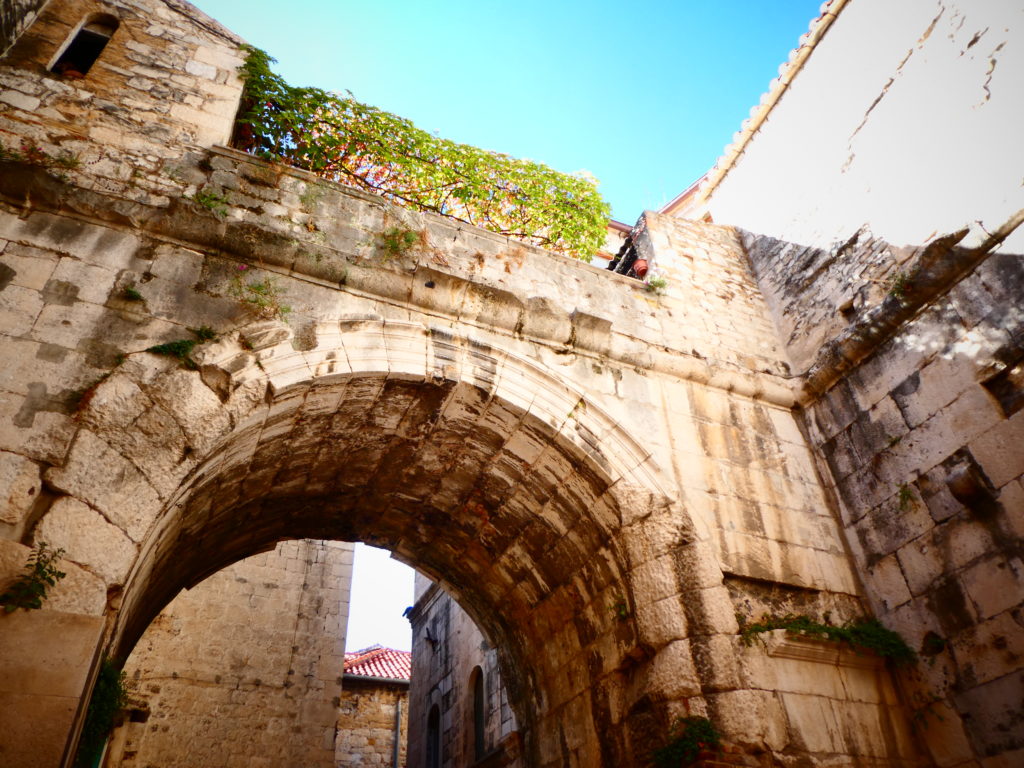 Game of Thrones was also filmed in Split, so the tour contained lots of filming knowledge, important for TV fans. The streets are amazingly atmospheric to wander around. He pointed out the shields above the doors that were the family crests of rich families over the ages. Some are well documented, while others are more mysterious, including an Italian one with a horse. We also passed a bank that was built around Roman ruins!
If you only have a short time in Split, it is a perfect way to see the highlights
The most impressive part of Diocletian's Palace is the huge open courtyard, known as the Peristyle. We sat on the steps for a while as Danko told us all about it, from the original Egyptian sphinx statue, and why some of the pillars are different colours. Basically, the side where the wealthier people congregated had better quality materials.
The balcony at the far end of the Peristyle was where Diocletian would have addressed his subjects from. The vestibule just behind it was designed especially so that the light would have hit the doorframe at a certain time, to produce a mystical effect when Diocletian made his entrance. The spectacular acoustics would have done much to enhance his voice as well. It was like a Roman Wizard of Oz!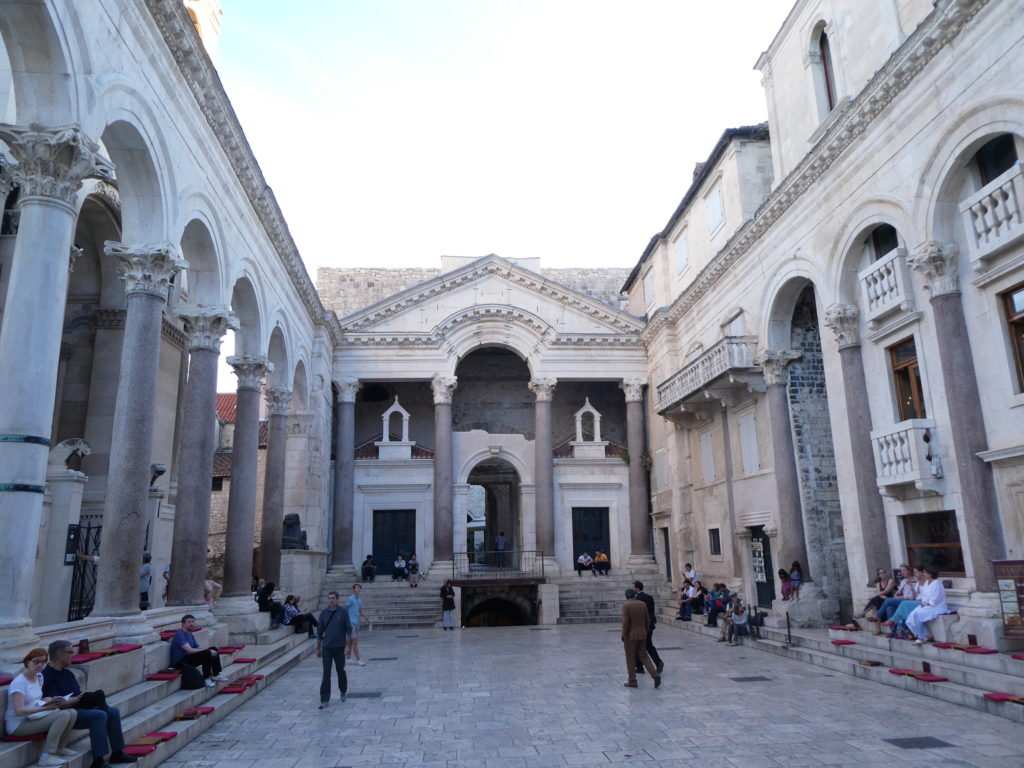 To highlight how good the acoustics were, we stopped to watch a performance of Klappa music. Klappa is a very traditional form of Croatian music, sang acapella, though there was a bit of light guitar accompaniment. The performance had been timed especially for our tour group, in the hope we'd buy a CD after their moving performance. Amy asked Danko what they were singing so emotionally about, to be told it was about inviting a woman to sit on their lap, or something along those lines! So romantic!
Some of it really does need explanation
At the back of the palace area, there are lots of interesting ruins amongst the residential homes that have been built ramshackle around them. There is an area where the emperor would have eaten his meals. Someone asked if it was a vomitorium, and Danko explained that a vomitorium was a large exit from a stadium or amphitheatre. We knew all about that from our time spent in Vomitorium 3 of the Olympic Stadium! There are also some remarkably well preserved mosaic floors.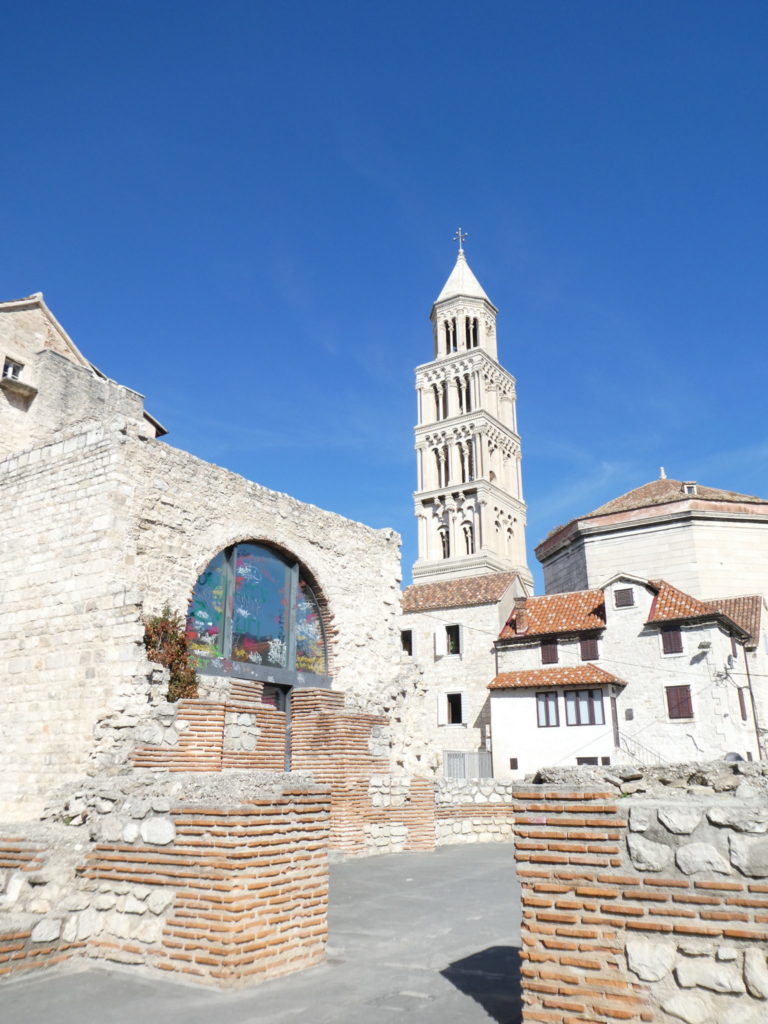 We then went underneath the palace, to the basement cellars. These only got cleaned out in living memory. They are particularly interesting as the shape of them would have matched exactly the rooms in the palace directly above them, which do not exist anymore. Some of it is blocked off for tourists. However, the centre is a bustling set of shops, mainly traders selling tourist trinkets. Split is apparently known for its coral products, though good luck telling the difference between a real one and a fake one.
The tour is given in two parts
The Diocletian's Palace tour ends just outside the bronze gate, on the Riva. The Riva is a gorgeous mediterranean style promenade filled with alfresco cafes. However, if you have time, it is worth staying on for the second part of the Split Walking Tour. You'll hear about the area that visitors were once quarantined before being allowed in, to prevent the spread of infections. You can see here how buildings have been added to the structure over the years. It is really interesting to see.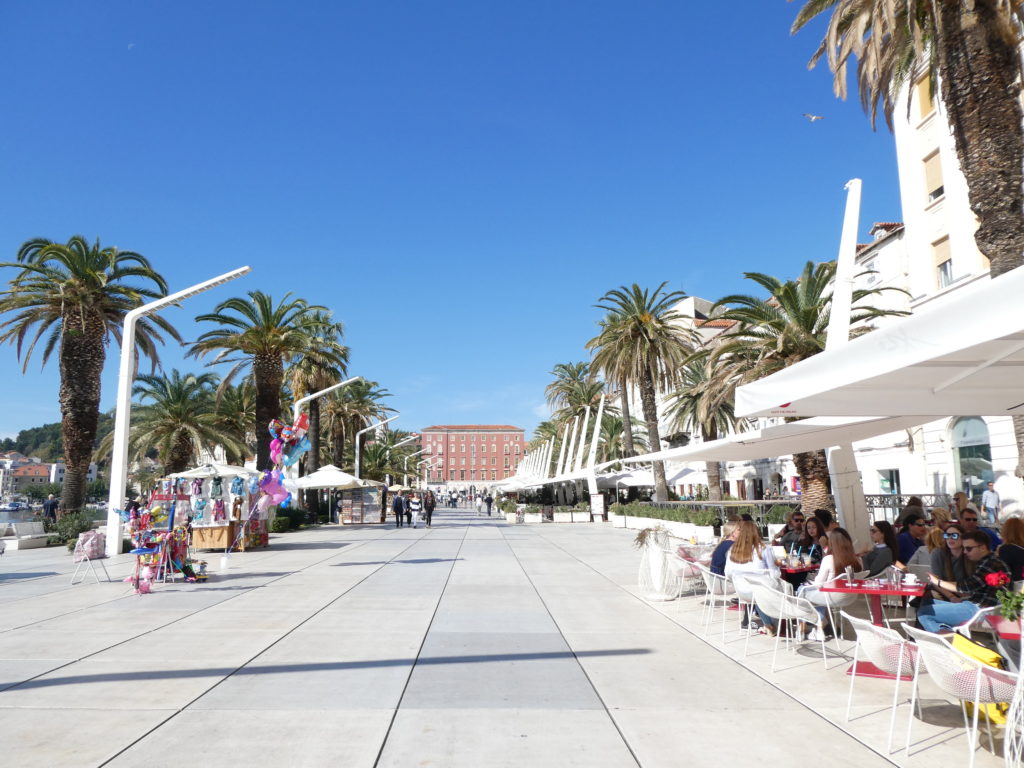 After heading down the Riva, with its palm trees and sea views, and seeing where Sigmund Freud once stayed, we headed back inside the walls to Narodni Trg. Very grand and appealing, it has a beautiful City Clock which has all twenty four hours on it! Venetian palaces with renaissance detailing, and a famous independent bookshop that sadly recently closed down, are other highlights of the square.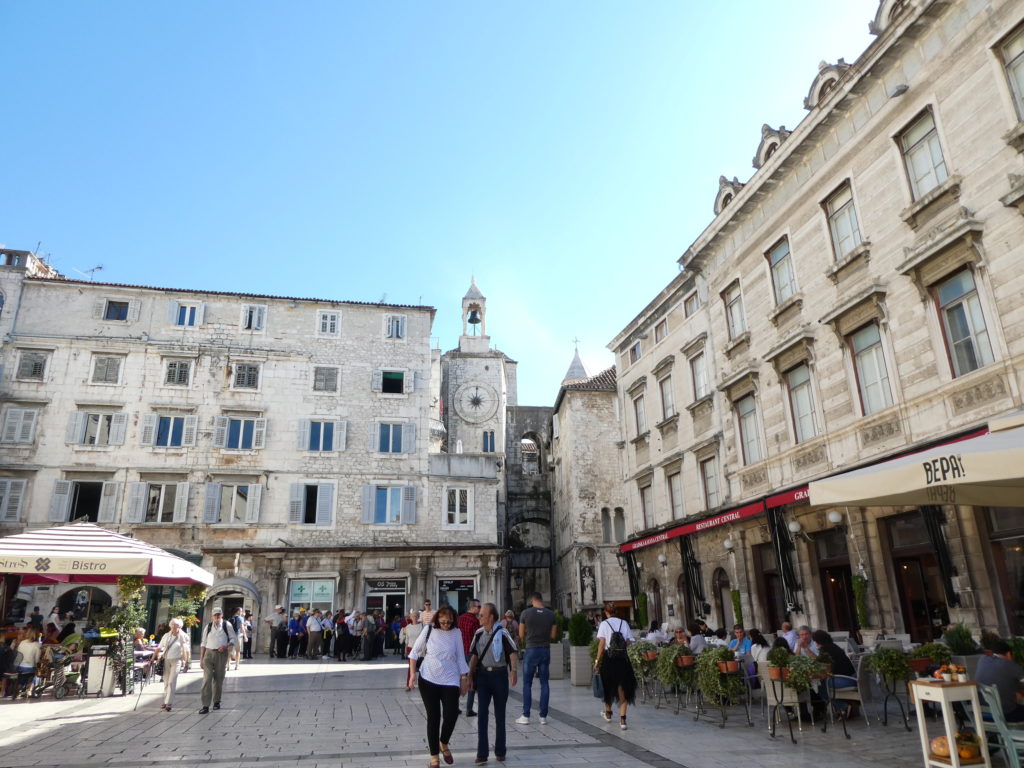 There is a really cool ancient well that Danko showed us next. He told us it was perfectly drinkable water, as proved by a woman who turned up to fill up several bottles while we stood there. There is lots of cool mostly black and white graffiti around it, including that of the local football team Hadjuk Split, which is everywhere in the city.
A tour suitable for everyone – from independent travellers to day trippers
Overall, despite being independent travellers who dislike group tours, we feel that Split is one of those areas that is definitely best served by an introductory tour. It will make your further exploration of the city far more rewarding. As a result of the tour, you will pick out so many details that would have otherwise escaped you. Split Walking Tours showed themselves to be a thoroughly professional company, with a number of heavily-praised tour guides. You can turn up to their office, just inside the Golden Gate, to discuss tour options.
Is there anywhere else that you think is particularly suited to an introductory walking tour before exploring on your own? Or do you prefer group travel?