Garage Sale Safari at Burton Joyce
Garage sales are something of an American phenomenon. In the UK, they are barely heard of. Rather than open their garages to visitors, British people seem to prefer the car boot sale. If you are not familiar, car boot sales involve people driving to a field or car park somewhere. They sell their unwanted belongings from the back of their car. However, we have now been to two garage sale safaris over the past few years. Are they becoming a thing? Probably not. However, some enterprising villages have set up extremely successful events, where residents around the village do sell from their garages, American style. It all happens on one day of the year, rather than as and when somebody wants to offload their gear. However, this does provide for a great community feel to the days.
The garage sale safari that we most recently visited was at a sizeable village in Nottinghamshire called Burton Joyce. The event ran from 12pm until 4pm. The local Co-Op store was selling a map of the seventy households taking part for a pound. It was to raise money for the local primary school. There wasn't really a set route. We just picked a direction and went round all of the houses that way. Amy nearly bought something straight away, spotting a video camera. She wasn't bothered about the camera, but had her eye on the bag. The guy only wanted £10 for both. In the end we decided that we didn't want to carry yet another bag around with us on our travels.
Hunting through the trash to find the treasure
Some of the houses were quite spread out, and ranged from very small houses to huge mansion like places. A lot of the things on sale were children's toys and clothes. Of course, these are the things that are most likely to be grown out of quickly. Some villagers had even baked little cakes, or were offering juice. It was good fun hunting through the trash on display to try and find some treasure. A house early on were offering coca-cola glasses free of charge. Helpfully, many people had printed out posters to advertise where they were, since the map was only giving a rough idea.
It took us less than an hour to find our first buy. We spotted a diabolo for sale for just 75p, including a bag! Bargain! We always have great fun playing with one of these whenever we see a circus skills workshop, so couldn't resist. The same house had a really good condition Commodore Amiga, with loads of games and controllers. I used to have one as a kid. I would have been tempted with it had we got more disposable income. A pair of women got there first anyway. They talked him into selling it for just £55, which is a real bargain.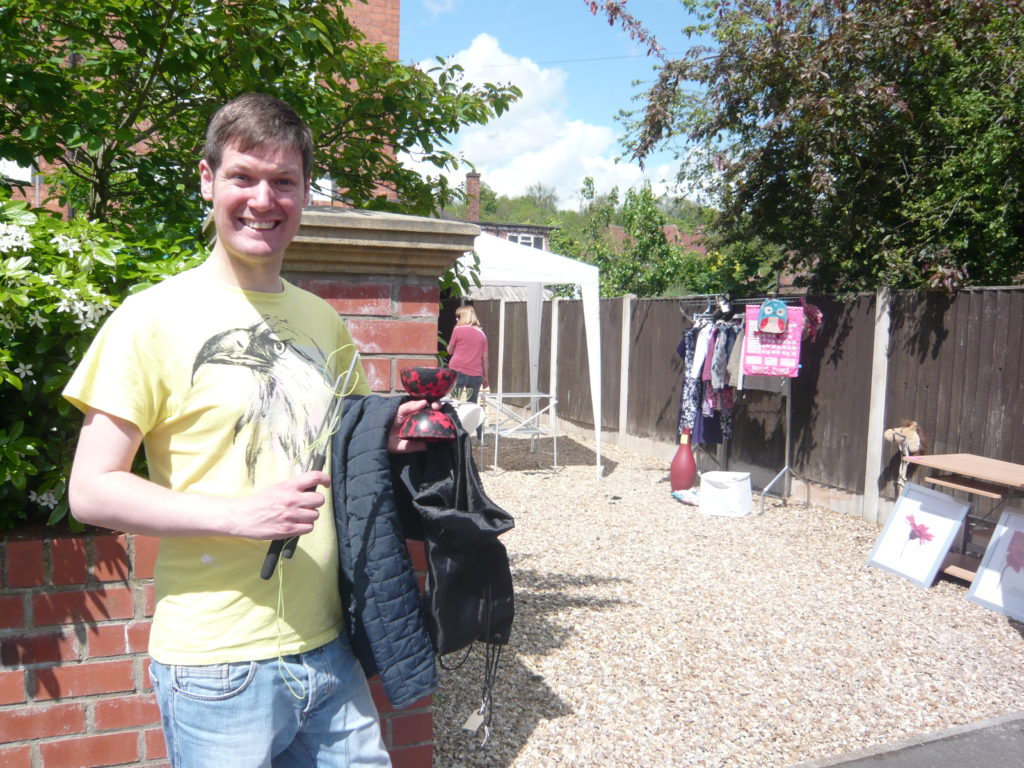 Lunch in the sunshine
At the Cross Keys pub, a guy and his daughter had set up a stall selling hot dogs and burgers from a local farm. Amy had the hot dog. I kind of wish I had, as she got two sausages and it looked more substantial than my burger. Nice though. We sat on a bench in the sunshine to enjoy them. We carried on after lunch up a very steep hill. Most people seemed to be driving up here, obviously knowing the area a bit better. We spent ages at one house, deciding if a wet suit was the right size for Amy. After much deliberation, I pointed out that we have nothing coming up where she might need it. She wouldn't want to take it abroad with us, I'm sure.
The houses at the very top of the bank were mega posh, with elaborate security systems. I wasn't much for the design of many of them though, feeling they look more like office blocks. The last house up here was a right trek away. Whilst they had a large and impressive garden, they didn't have anything exciting for sale. A house around the corner, however, was selling everything but the kitchen sink. It turned out they were moving to Spain, so were flogging everything.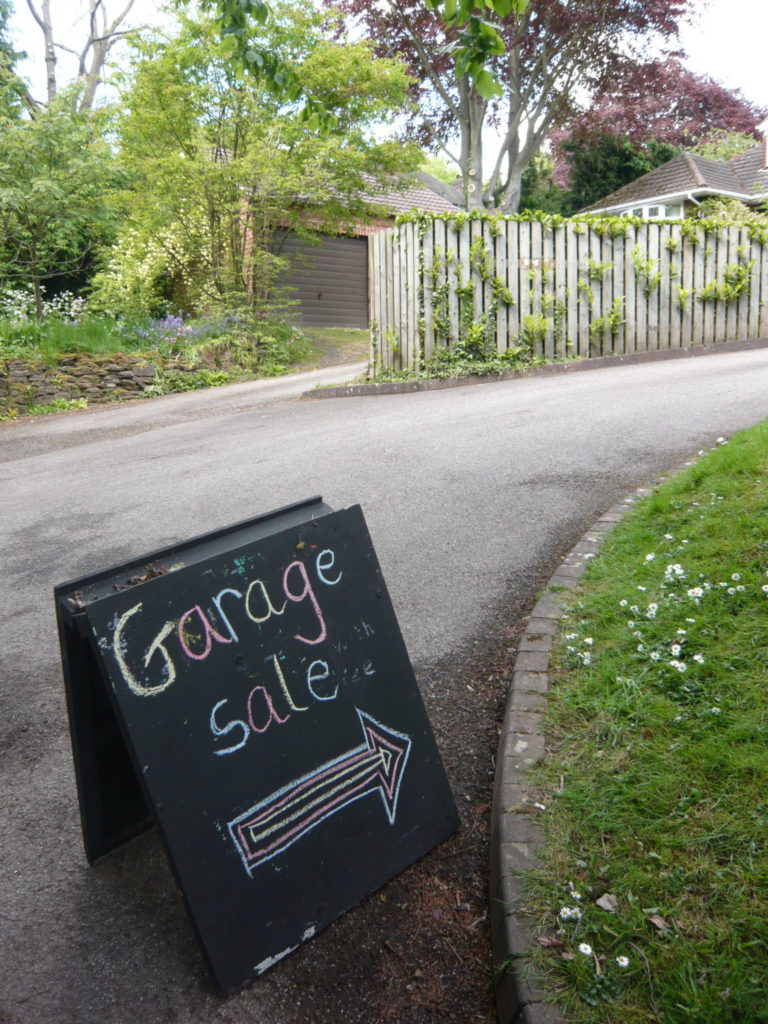 Amy's eyes were drawn to the Wii, since one of her remotes has broken. The woman wanted £50 for everything, the console and all the games, but we didn't really need all of that. In the end, as we were walking away, she said she would sell a single controller for £2.50. Amy was happy with this. She also picked up a nunchuk and was charged just £4 for the two.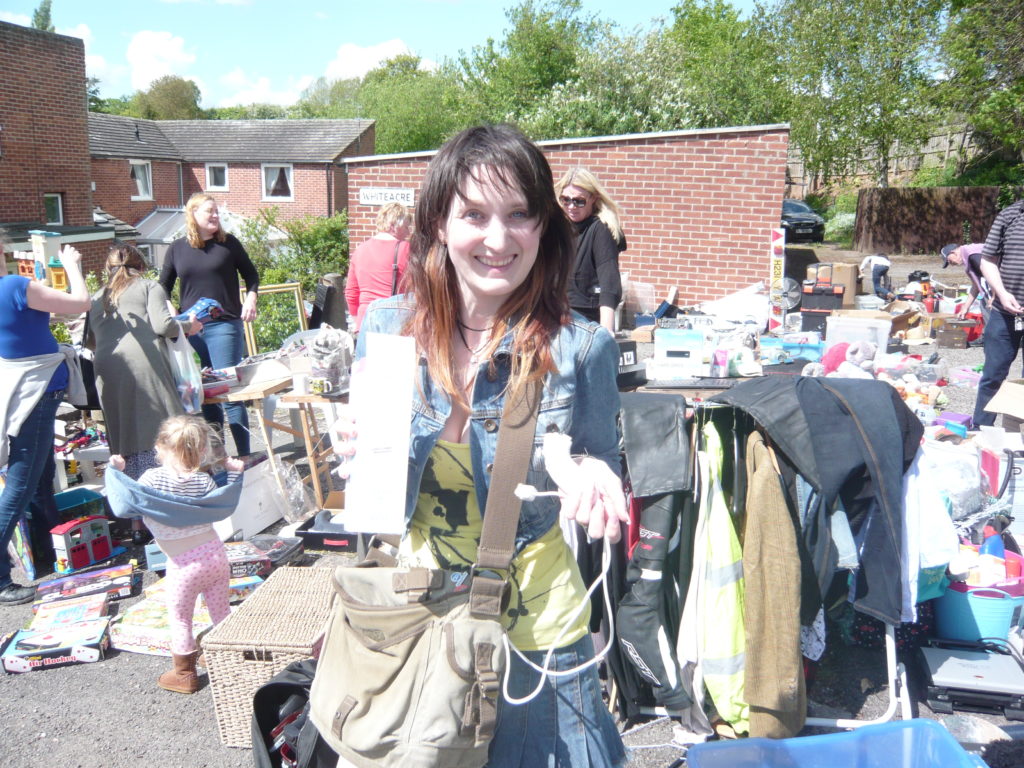 Burton Joyce was a delightful village
Walking back down the hill with these new purchases, we stopped at an old lady's house who was selling jams and chutneys. Each time we finished looking at the sales in one area of the village, we headed back to the Co-Op, which was our navigation point. This took us past the pretty St Helen's Church, with its well presented graveyard. A Mr Whippy ice cream van had set up outside the playground. We couldn't resist getting a large cone, which included a flake and some raspberry sauce. It was certainly the weather for it now. The day had got hotter and hotter.
It was now gone 3.30pm, and it was getting much quieter. Some houses were starting to pack up. The final route we took was right up the Main Street. One house was selling mostly children's stuff, but had a giant inflatable penguin that Amy wanted to buy for me for some reason. A house next to the kindergarten was selling juice and cakes, but we had just had the ice cream. We enjoyed the tyres that had been made into a minion style plantpot!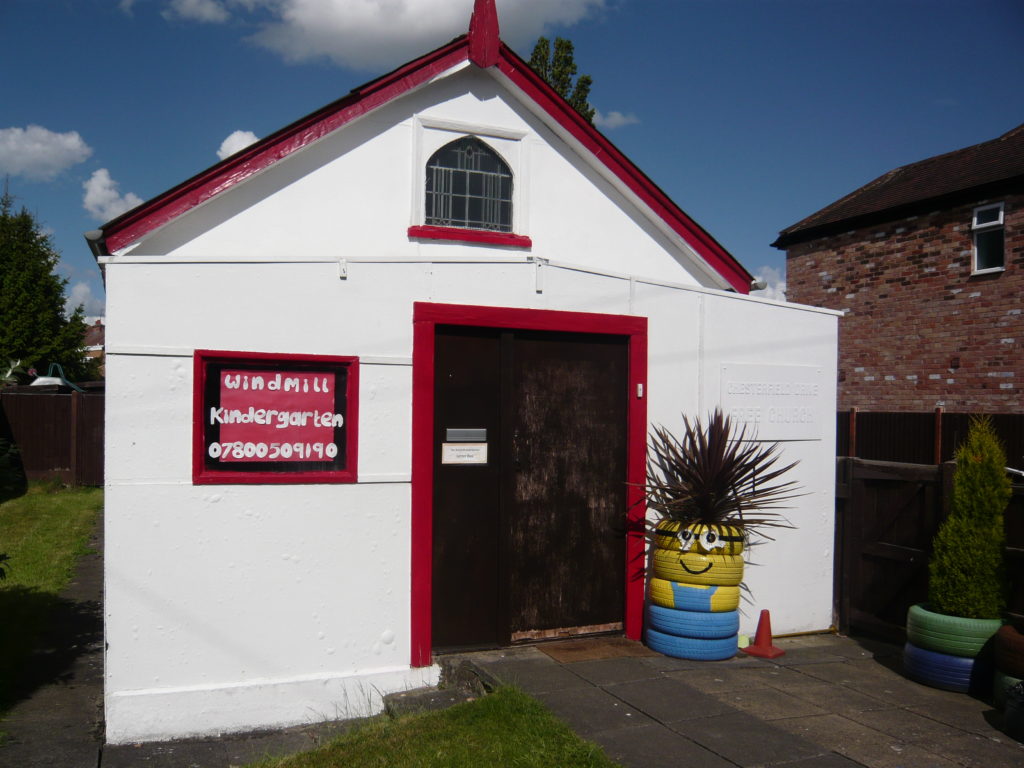 A couple of houses that we passed had now packed up. We were going to call it a day but decided to check the very last house up here. The man here was packing up too, but was jokingly trying to get rid of some stuff to us. He happened to be a professional photographer, and was selling some of his work framed, as well as the junk. We had a good chat with him about photography for a while, which was a nice end to the day.
A date to find treasure at garage sales comes highly recommended
With a combination of most houses packing up and the immense heat, we decided to head home. We'd had a brilliant day. If you live in America, you will find it very easy to find garage sales to do this date idea, I'm sure. If not, do some searching online and I'm sure that like us, you will find somewhere relatively close offering one. It comes highly recommended.
Have you ever been to garage sales on a date? What have been your best buys?