One of the very best things to do on the truly awe-inspiring Greek island of Santorini is to see its most iconic villages. The views are spectacular, with sheer cliffs and the gorgeous bay below, framed by the white-washed villages that cling to its upper reaches. Wherever you stay on Santorini, you should allow plenty of time to see both villages. However, hiking between Fira and Oia is one amazing way to see both in just one day.
How can you see both Fira and Oia in one day?
Luckily, there is a well-defined hike between the two, known by many as the Caldera Trail. It takes at least two hours to complete the walk, being around 6.5 miles (10.5km) long. However, the journey itself is just as important a part of the experience as the two villages that bookend it. That is why you should allow the best part of a full day to complete it. Walking at a steady pace, and stopping at points of interest along the way may take closer to five hours. The hike was one of our favourite experiences in Santorini, so we wanted to share a few tips with you, so that you are able to enjoy it to the full.
Top tips for hiking between Fira and Oia
The walk starts from the island's capital, Fira. The best place would be by the large Atlantis Hotel. If you're staying elsewhere on the island, make sure to allow plenty of time to soak up its romantic atmosphere.
As well as the start and end points, you'll pass through two other picturesque villages: Firostefani, and Imerovigli. It is well worth allowing yourselves to deviate from the hiking trail to explore these villages.
Whilst guides are available, it offers far greater freedom and more romance if you just walk the trail by yourselves. Whilst there aren't always signposts pointing the way, it would be very difficult to get lost, since you are pretty much following the coastline.
One of the must-see stops on the way is Skaros Rock. Jutting out from the island, this distinctive rock feature was once used to defend against pirates. It is accessible from a path leading from the village of Imerovigli. As long as you are careful of your footing, you can easily make it over to the solitary monastery that stands there. 
Oia has some of the most iconic sunset views in the entire world. Be sure to check on the sunset times before you set off for your walk, and allow plenty of time to get there in time.
Take plenty of water with you. Whilst you should never be massively far from someone selling water, it is not always readily available.
If you are staying in Oia for the sunset, like we 100% recommend, then it is best to get a bus back to Fira, rather than re-trace your steps. Make sure you find out when the last bus leaves, so you don't miss it. The times are usually pretty good though.
If you are staying in Oia, we'd recommend getting the bus to Fira in the morning, and then completing the hike in the direction of Oia to get you back to your accommodation. Of course, you can hike both ways if you are energetic enough.
Along the way, you'll come across a number of cocktail bars, and small cafes. Feel free to stop to rest your feet for a while, but be mindful of the fact that you will be paying a bit extra for the view in most cases. Fruit sellers along the route in high season offer a more budget-friendly snack option.
Don't forget to stop and admire the view regularly. One of the most famous views is from the Church of Anastasi. You can follow a sign to a stunning, and free, rooftop view from here
Be careful of homemade signs pointing the direction of the trail. They are usually the creation of local businesses, who hope to steer you closer to their establishments, rather than providing the most scenic route.
Watch out for donkey poo. The donkeys are a familiar sight on Santorini, and often trudge along these paths. Of course, they naturally make a mess wherever they go!
There is a small portion of the hike where you have to walk on a main road. Don't panic, since locals are extremely used to hikers along there. Do watch your surroundings, however, and try to walk in the direction of oncoming traffic.
The closer you get to Oia, the more challenging the walk becomes. Be sure to wear good footwear, since the ground is very slippy in places due to loose rocks. The colours of the rocks, however, are a geologist's dream, and you will be in awe.
In Oia, the atmosphere becomes far more bustling, with plenty of shops, restaurants, bars and other attractions. If this is your only visit to Oia, allow some time to explore before grabbing a position for that all-important sunset view. Most people head for the ruins of an old Byzantine castle, but there are plenty of great viewing spots.
You don't need a ticket in advance for the bus back to Fira. Just get on the bus, and the conductor will give you a ticket during the journey.
I hope you make time for hiking between Fira and Oia, on your trip to Santorini. It will be one of the most memorable hikes of your lives, with a great combination of views, history, and romance. Not to mention it is a relatively easy walk, as long as you are prepared for the conditions.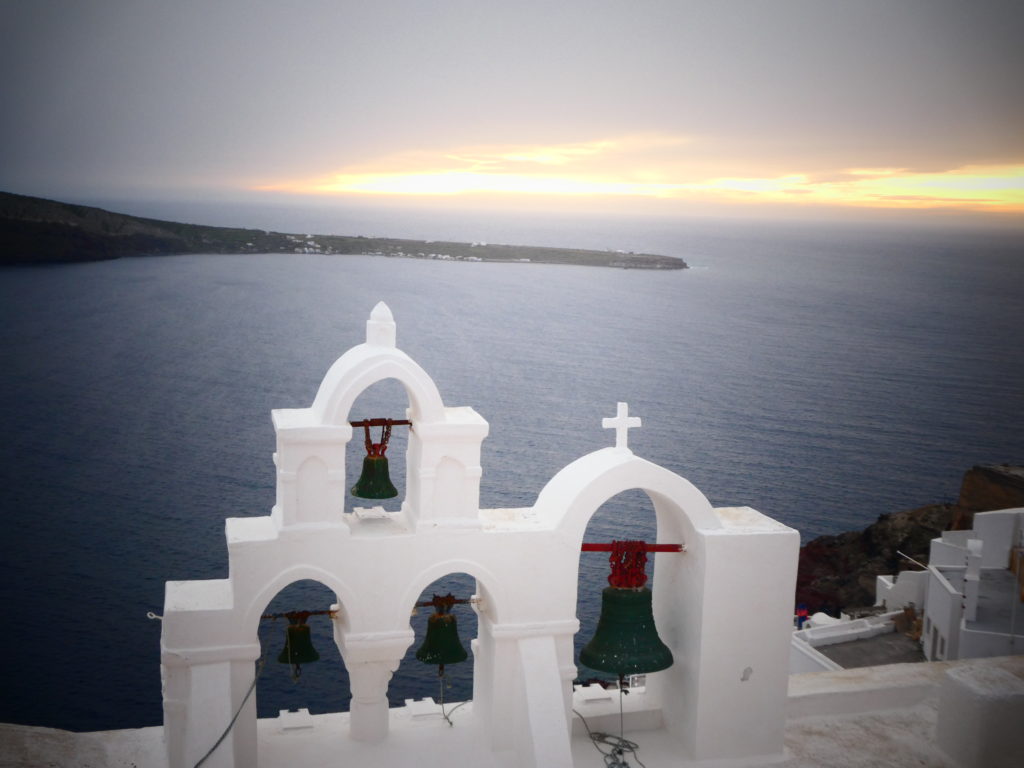 Have you been to Santorini? Did you go hiking between Fira and Oia? 
Like it? Pin it!