Three Island Tour from Kairos Travel, Trogir
When visiting any seaside location, one of the top things to do is a boat ride. For the historic town of Trogir, on Croatia's Dalmatian Coast, this is especially true. Kairos Travel are located just along the waterfront, and have a fantastic array of trips on offer. We were lucky enough to go on the Three Island Tour from Trogir – a full day of fun in the sun.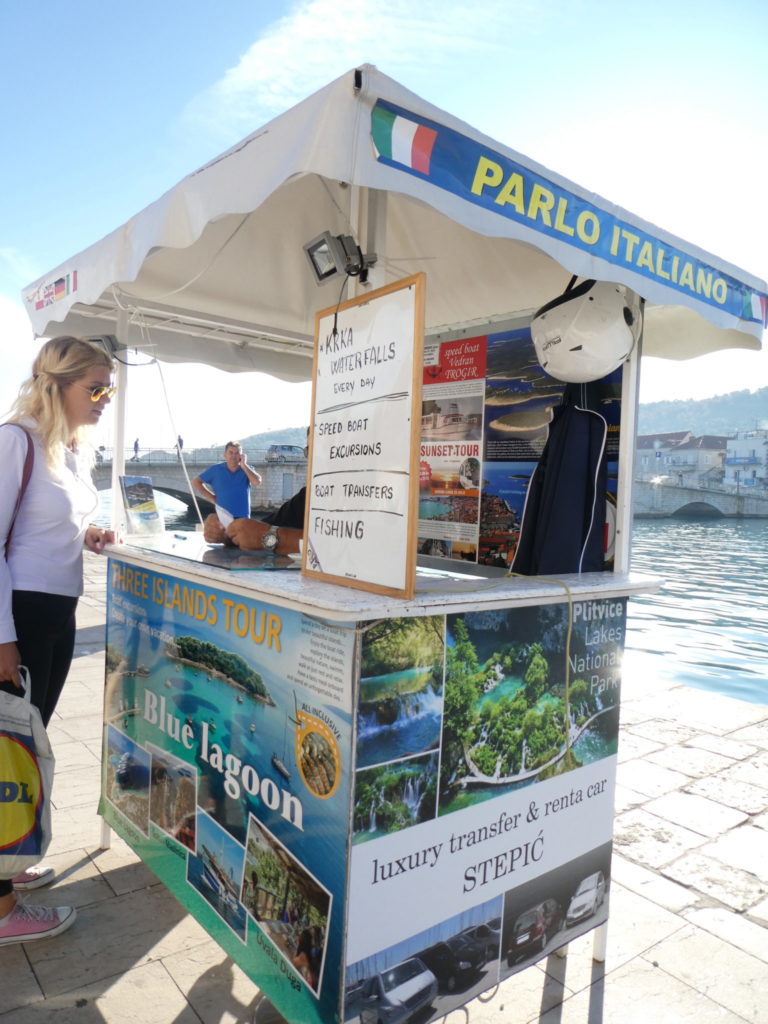 We made sure we were early down to the harbour, as we were excited for the day ahead. Our boat was called Plisivac, with two levels of seating. Of course, we wanted to be up on the top deck for the sun and the views! The boat leaves Trogir at 9.15am. We stopped at a couple of other places to pick up more passengers and were soon on our way to the first of the three islands.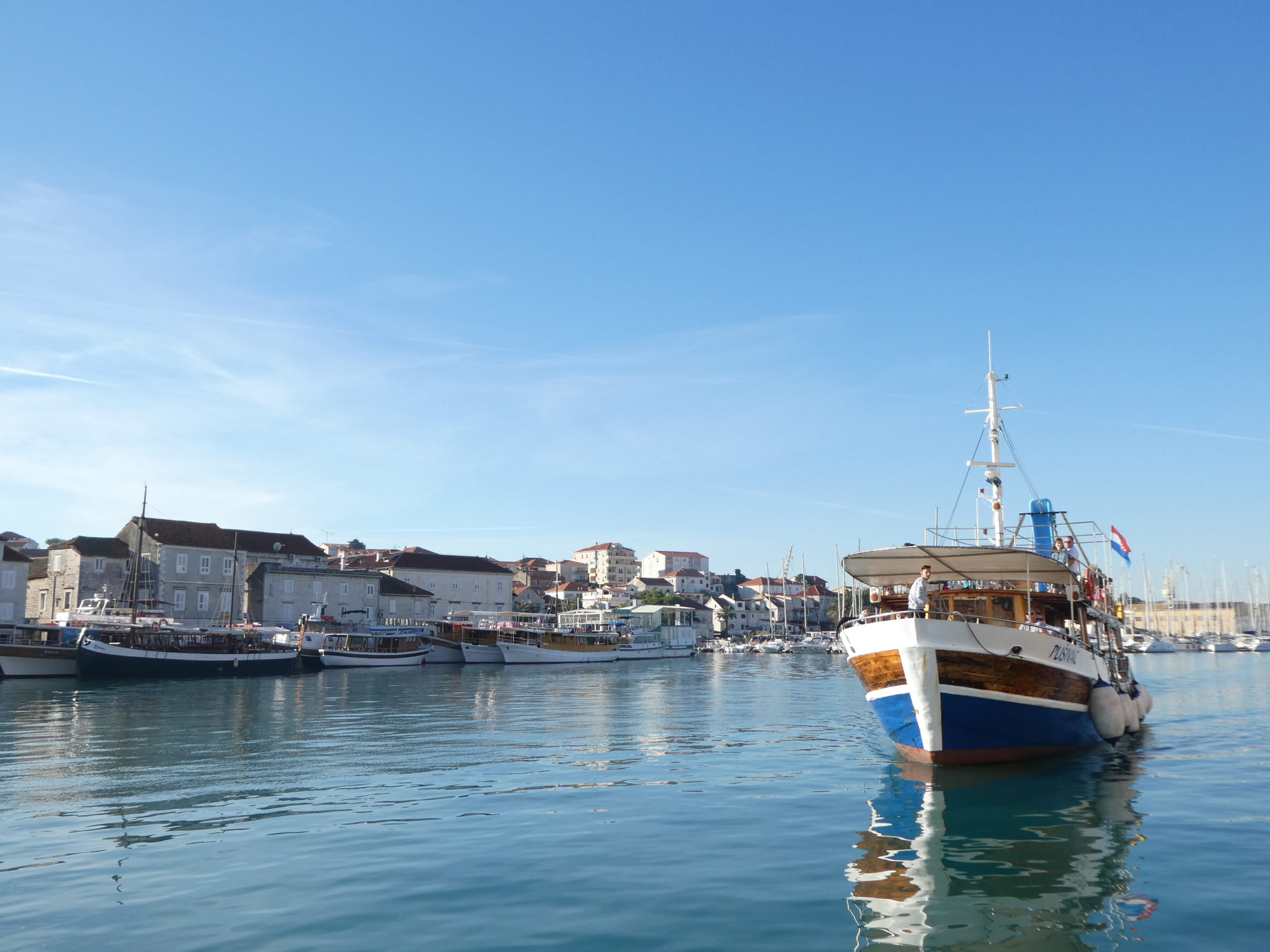 Palinka is a traditional greeting drink in the Baltic regions – even at 10am!
As soon as we were on the seas, the captain came round with a traditional greeting drink of palinka. He wasn't short changing us on the amount of palinka served, but I wish he had. It was so strong, we couldn't manage it without a burnt throat. Shortly after, they brought out the promised all-inclusive drinks. The drinks – wine, orange cordial, and water, are all served in jugs which you could serve yourselves from into a plastic cup. Not exactly classy, but it kept us hydrated throughout the trip! A nice touch was some snacks that were brought out occasionally too. They went like hotcakes!
The sea views are rather dramatic at times, with tiny little islands jutting out of the Adriatic Sea. It was at our first stop, the Blue Lagoon, that the slide made its appearance. The Blue Lagoon is technically known as Krknjasi Bay near to the island of Drvenik. It was a lovely day today, though people had been saying that the water might be too cold to swim in. However, this didn't stop many people on the boat from plunging down the slide into the deep blue sea. Indeed, we soon joined them.
Don't let anyone put you off plunging into the crystal clear waters
The water wasn't all that cold at all really, and the speed at which we entered it probably helped us to acclimatise rather quickly. The water is extremely clear, but we couldn't see any fish where we were. It was great fun, and we spent around half an hour there before the slide was packed away and we were on our way again. About twenty minutes later, we arrived at destination two – the fishing village of Maslinica, on the island of Solta, where we spent the next 90 minutes.
Maslinica is a quaint little seaside town with crystal clear waters and shoals of fish in the harbour area. Strangely, the tourist signposts point to various things, with garbage being one of them! Old examples of fishing equipment are displayed nearby. It is completely free time, though there isn't much to do apart from relax. Many of our boatmates just took refuge in a nearby bar until it was time to board the boat again, whilst others took to the pebble beach.
Maslinica is a place where stress does not exist
We started by exploring the village, admiring the pretty paint splattered effect that decorated many of the doors and benches. The bays are supremely picturesque as we strolled around to an area where some people were skimming stones. It is a great place for photos and Amy couldn't resist a dip in the clear water as kayakers passed by lazily. The boats look great in the harbour too, including one randomly called My Bunny! Eventually, we settled on the pebble beach and lazily whiled our time away.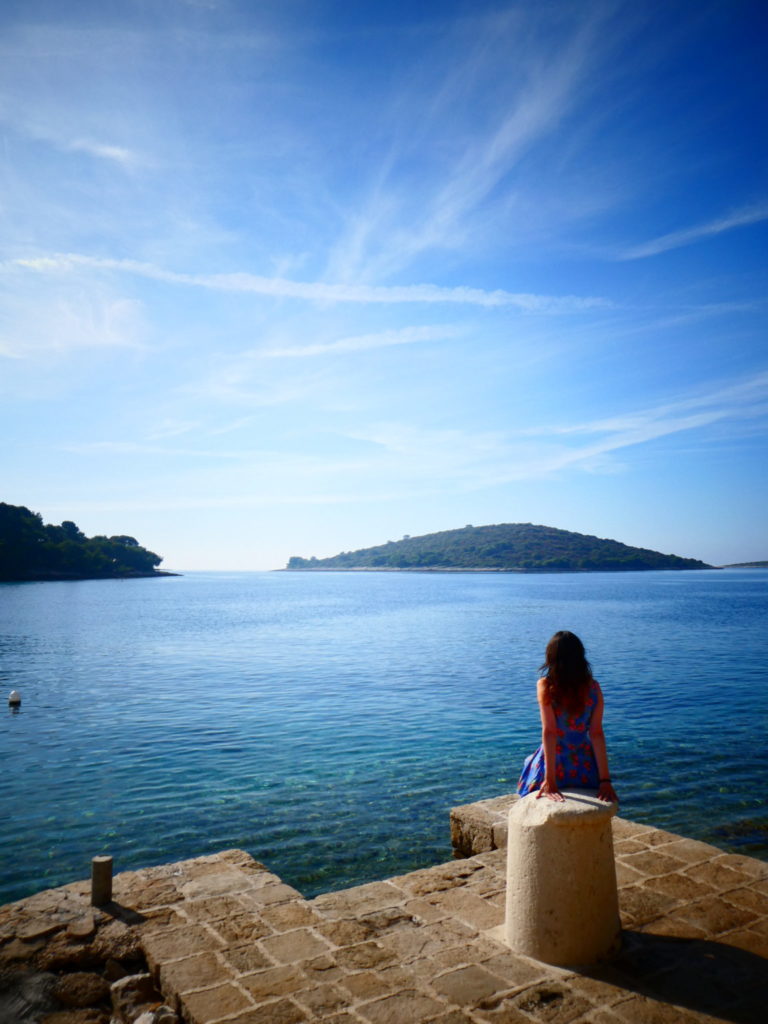 We sailed for around an hour, in possibly the quietest part of the day. It was a wake up call in fact when we arrived at our final of the three island stops – Duga Bay, on the island of Ciovo. After docking, we walked the gangplank onto the island, as the captain held up a sign to ensure nobody failed to understand what time we had to be back onboard for. We had just under two hours, and that included our first stop, which was for the included lunch at Restaurant Duga.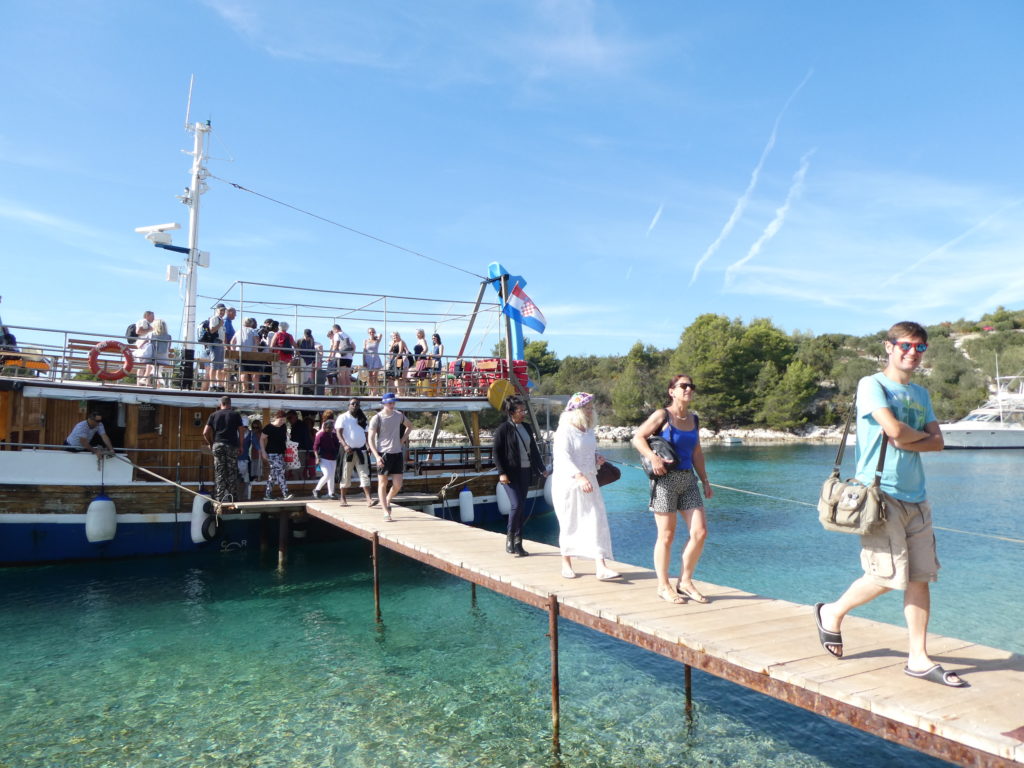 A tasty lunch is included in the trip
We all filed into a restaurant by the harbour, with an outdoor seating area that has stunning views of the bay. The seating is long wooden tables and benches, and very informal, giving you chance to meet some of your fellow passengers. The food was surprisingly tasty, considering it was an all-inclusive and basic meal. It was just chicken, bread and cabbage. Fish and vegetarian options are available. However, it kept on coming and coming and we couldn't get enough of it. The waiter ended up dumping far more on our plates than we could even manage. Locals had set up a stall by the exit selling figs and palinka.
The rest of the time at Duga Bay was for sunbathing and swimming. There is only a small area of rocky beach, but it goes down far so you can easily find a secluded part. We sat and sunbathed for half an hour, before getting ready to board the boat for the final time, for the trip back to Trogir. The hour long journey back started off very sleepily with everyone enjoying the peacefulness. However, all of a sudden one woman broke into song. The other women around us, presumably Croatian, all knew the words. Soon enough, we had a sing-song going on around us! It was quite cute watching everyone joining in, although it was probably the least rock and roll thing we've ever seen.
An all rounder trip that will please everybody
Arriving back at Trogir, it felt like a day well spent. We had most definitely recharged our batteries after a hectic day sightseeing in the old town the previous day. The Three Island Tour is a great all-rounder that should suit everybody in your party. It has a scenic boat ride, the adrenalin of plunging into the Adriatic Sea, a quaint fishing village to explore, a tasty lunch, and time to relax in paradise. If you're lucky like us, you may even be treated to an impromptu Croatian folk concert!
Kairos Travel are a helpful company who strive to ensure a great experience. They followed up with us a few days later to ensure that we had a great time, and come highly recommended. We also love their tagline – 'do what you love, and do it often'. There is a lesson there for everybody….
Do you like the idea of the Three Island Tour? Have you got any boat trip stories to share? 
Like it? Pin it!