Mostar, in Bosnia-Herzegovina, is a city most famous for its iconic bridge, with a turbulent history that has seen it destroyed and rebuilt. It is still suffering from the after-effects of war, yet once again is an atmospheric area well worth exploring. It offers a great collection of Islamic architecture, cheap prices, and a bustling ambience perfect for any explorer looking for a new destination off the beaten track. Our travel guide to Mostar contains everything you need to know to ensure a perfect trip.
TOP THINGS TO DO IN MOSTAR
Stari Most/Old Bridge – One of the world's most beautiful bridges will surely be at the top of your list when you visit Mostar. It was built by the Ottomans in the 1500s over the river Neretva. What you see nowadays is the result of a major reconstruction after the bridge was sadly destroyed by Croat military forces in the 1990s war. Be careful as you walk on it, as the stone is exceptionally smooth and slippery! You can get great views from below the bridge by following a path between the shops in the bazaar area, directly left as you come off the bridge.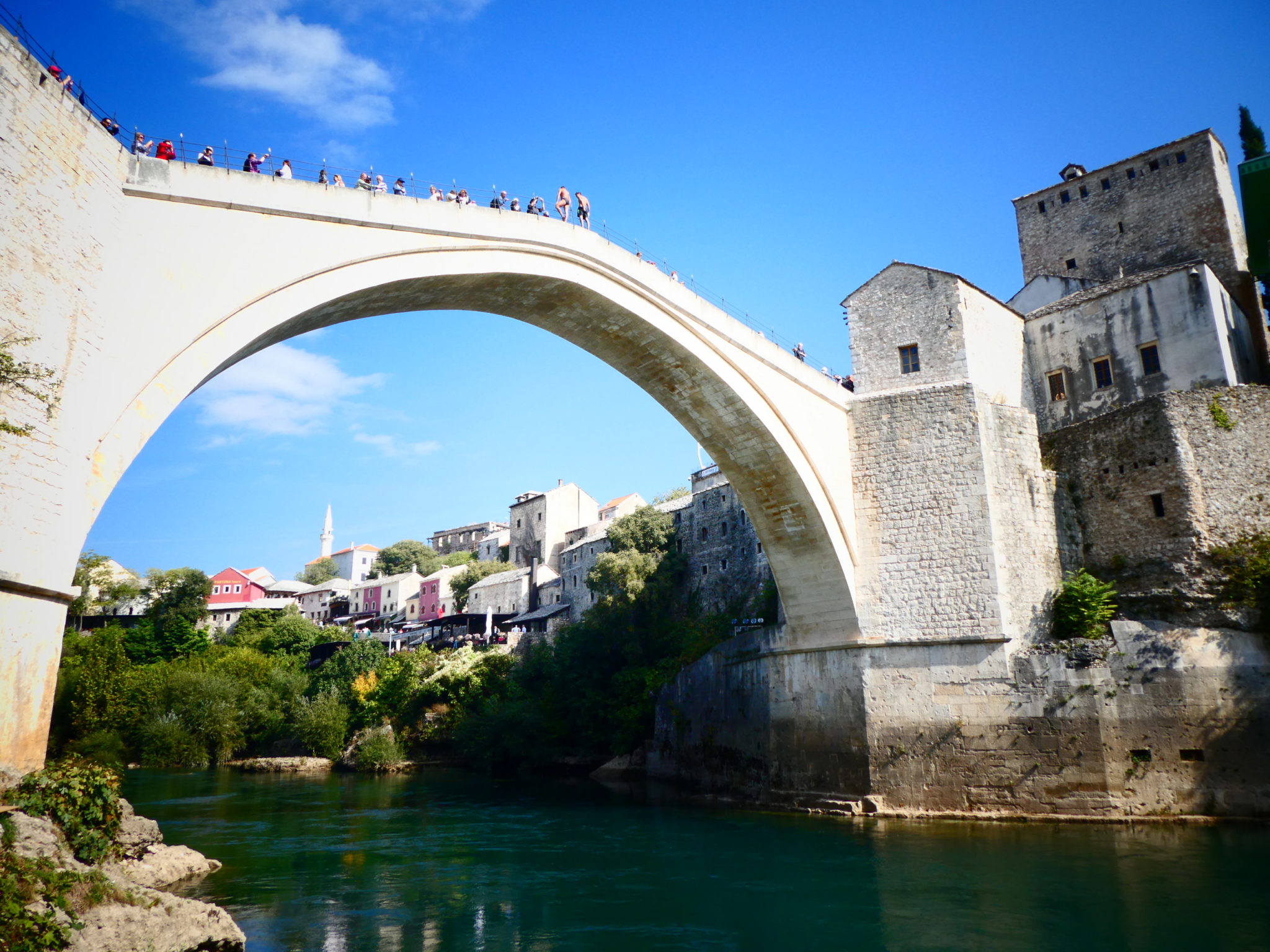 Kajtaz House – Whilst it may feel like a slight trek out of town, it is well worth visiting Mostar's most historic house. Also known as Turkish House, it was built in the 1500s for a Turkish judge, and his harem. You'll see how his 'main' wife got a bigger room and even a higher doorway!
Koski Mehmet Pasha Mosque – This pretty mosque was built in 1618, and is well worth a visit. Stunning inside, with furnishings that belong in an Eastern fairytale. However, the highlight is the climb up its minaret, where you will find the very best view in the entire city! For those afraid of heights, their ground level viewing area also offers an unobstructed view of Stari Most.
Bazaar area – This area next to the bridge is full of Turkish-style shops. You'll forget you are in Europe. You can find craftsmen with traditional artistic skills in metalworking, carpet-making and painters in the area. It is the perfect place to stroll around admiring the handicrafts. You won't find any hassle here, as you do in many other bazaars.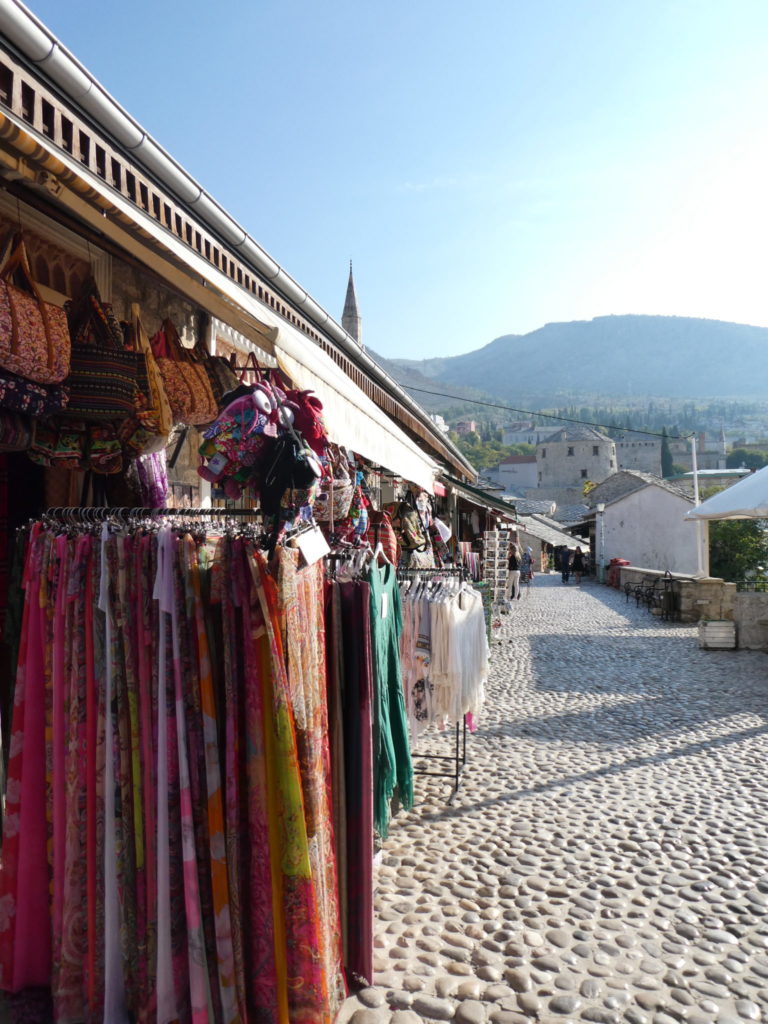 Bridge Diver's Club – One of the oddest sights you'll see in Mostar is the men who patrol up and down the bridge in their swimming trunks. They are part of a club of brave or crazy souls who have trained to jump over 20 metres from the top of the bridge into the freezing cold river Neretva below. They will only do it if they can solicit enough in donations from curious tourists. Why would someone pay someone to jump off a bridge?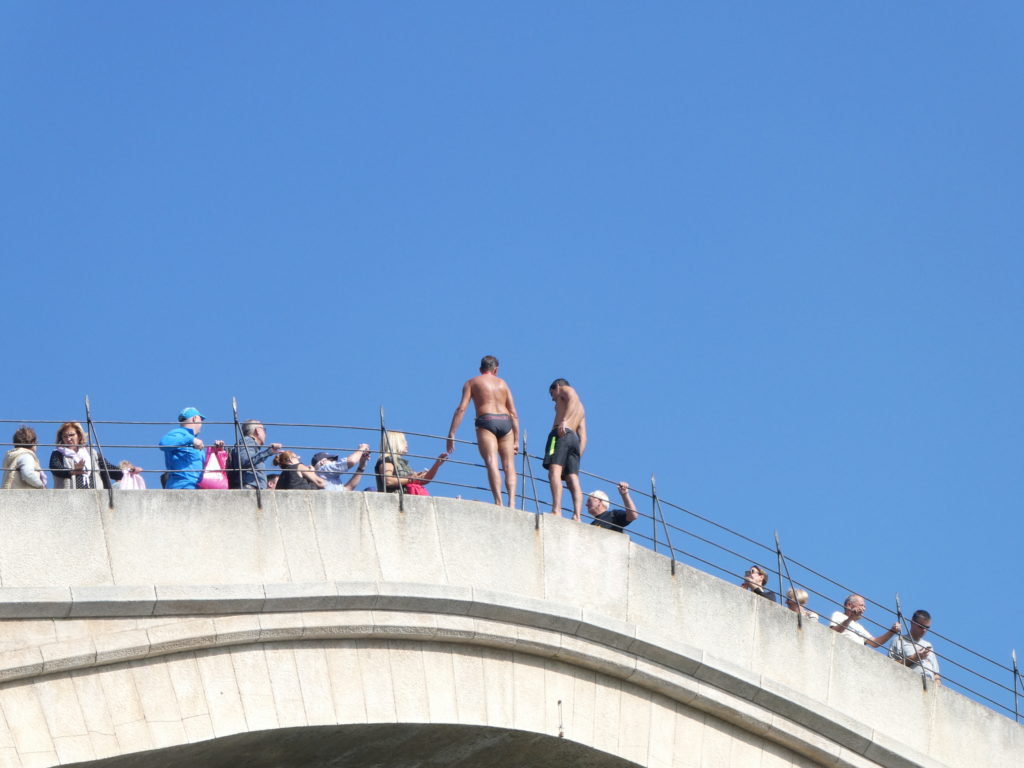 Crooked Bridge – Just around the corner from Stari Most, is a much smaller Ottoman bridge which also dates back to the 1500s. You won't find large crowds here, so can be a very romantic place. Like Stari Most, it was destroyed during the 1990s war and reconstructed by groups such as UNESCO.
HOW TO GET TO MOSTAR
From overseas? Mostar International Airport is obviously most convenient. Sarajevo or Dubrovnik are also only a couple of hours or so away. To compare cheap flights from your location, click here. 
By train? The train journey from Sarajevo to Mostar is one of the most scenic journeys you are likely to go on. The trains are also ultra-modern, and it is cheaper than the bus. Highly recommended. Check ZFBH for timetables.
By bus? You can get the bus to Mostar from all over Bosnia and Herzegovina, as well as Croatian cities such as Dubrovnik and Split, and Serbian cities such as Belgrade and Banja Luka. Check Autobusni Kolodvor for timetables.
By car? Mostar is easily accessible by car. To find a good price on car hire for your trip, click here.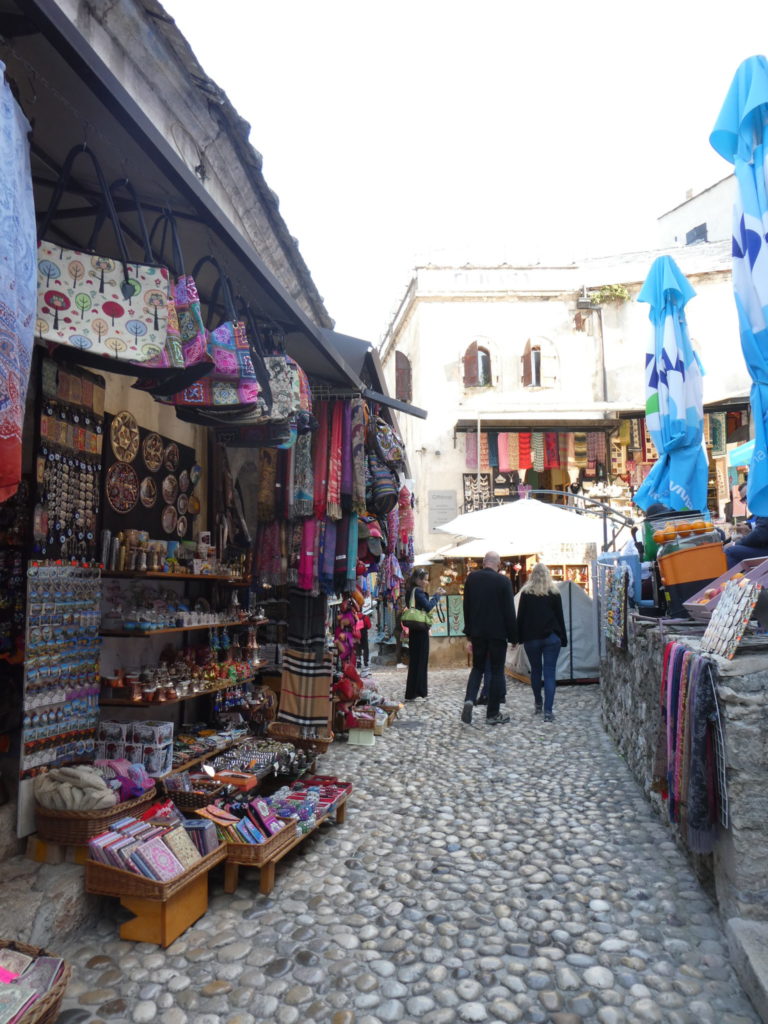 WHERE TO STAY IN MOSTAR
Luxury? Eden Villa is a 4 star hotel which is just minutes away from the Old Bridge. You'll find great facilities, including a swimming pool, spa and restaurant. Book here.
Mid-range? Hotel Pellegrino has been in business for over thirty years, and has seen the tumultuous history of Mostar first-hand. The rooms are spacious, and breakfast is free and tasty. Book here.
Budget? Hostel & Apartments Zdrava Hrana is located in the old part of town. They even have a little terrace with beautiful views over the old town. Book here.
Cheaper and more authentic? Try Airbnb, where you can find some unusual and fantastic homestays in more traditional surroundings. Click our special link to receive £25 off your first stay!
Free? Couchsurfing is a vibrant community of over 14 million world travellers, who host others on their travels.
WHERE TO EAT IN MOSTAR
Top Pick – National Restaurant Cevabdzinica Tima – Irma is easily the best restaurant in Mostar. Be warned, it is extremely popular. Not without good reason, since the quality of the authentic Bosnian food is second to none. Try to get a table outside to soak up the atmosphere of the Old Town. We recommend the sharing plate, which will be too much food for even the biggest appetite.
OTHER TIPS FOR YOUR TRIP TO MOSTAR
How to pronounce Mostar? Mosh-tar.
English is spoken very widely in Mostar. You won't have any trouble communicating. However, it is always worth downloading Google Translate just in case!
Romance is easy in Mostar. Stroll hand in hand on the Crooked Bridge, explore its cobbled streets, and dine al fresco as the world buzzes by. The atmosphere when dining at night is hard to beat.
Mostar is popular with tour groups. To avoid the crowds, especially on Stari Most, visit early in the morning or later in the afternoon.
The city is in the Herzegovina region of the country, and is its most important city.
Mostar is a very walkable city. Most of its attractions are within the old city, which is heavily pedestrianised anyway. Half the fun of Mostar is exploring the cobbled streets.
War hit the people of Mostar particularly hard. You'll see reminders of war everywhere, including houses peppered with bullet holes, and bomb damage on the pavements. The area of Spanski Trg, and the shell of the former Neretva Hotel are the areas that will leave you the most dumbfounded.
Free wi-fi is available all around the Old Bridge area.
Public transport in the area is poor, but will get you to Blagaj, where you can see a karst river emerge from a mountain, and see an old mosque carved into the cliff. You can also visit Medjugorje if you'd like to potentially see an apparition of the Virgin Mary, or Drezanka Gorge.
There is a shopping centre called Mepas Mall, with a supermarket, clothing stores and McDonalds.
The best times to visit are Spring and Autumn. Summer can get unbearably hot, whilst over the winter many business close due to the lack of tourists.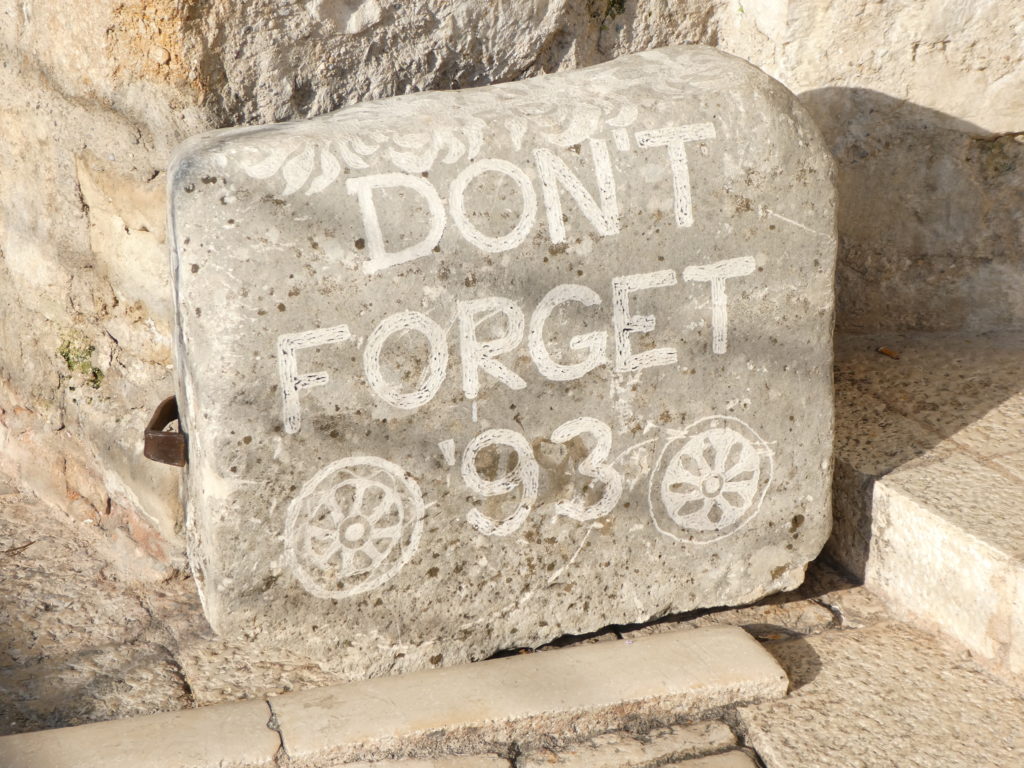 Mostar's highlights can be seen in one day. We'd most definitely recommend spending at least one evening in Mostar, however. The atmosphere at night is an attraction in itself.
Has this travel guide to Mostar helped you to plan your trip? Anything else that you would like to know?
Like it? Pin it!
This post contains affiliate links. By clicking them to purchase your flights, hotels, and car hire, the companies involved pay a small commission to us at no cost to yourself. This helps to keep us on the road, creating guides like this one. Thank you for using them!