This week's secret date was to go to local shops, which was due to it being a lovely day out today. We did this in Hanley, Stoke-on-Trent, which is our local city centre. What this date idea involves is visiting independent shops, which can only be found locally. I made a list in advance after clicking through Google Street View.
As a date idea, this is fantastic. You will enjoy browsing with your partner, and the goods on offer are usually more unique and exciting than the chain stores. It is a great way to discover your local area as well. There are likely independent retailers in your area that you don't know exist. You may learn some of your town's history by speaking to the retailers too, as most likely, it will be the owners of the stores that will be serving behind the counter, unlike your big brands who change staff every five minutes.
We arrived at around 12pm, assuming that we had plenty of time for a short stroll around the city centre checking out the local shops, many of which we had never been in as we didn't think they held any interest for us. Not so! We were there until gone 5pm, when most were shutting, and didn't get chance to visit every one.
Armstrong's Health and Herbal Store
We started with Town Road, where we went into Armstrong's Health and Herbal Store, which has been here since 1906! This family business offers a bit of a time warp despite being so close to the intu Potteries Centre. We were fascinated by the range of goods on sale here, which included vitamin supplements, health foods, and alternative medicines. Amy really had her eye on some popcorn that was available in much larger bags than you can get from Boots. We spoke to the owner for a bit, and he was happy for us to take a photo for the blog.
Hedonism
Also on this row was Hedonism, and Charms and Chains. Hedonism is a mainstay of the town centre. They mainly offer piercings, with a good selection of ear rings, nose rings, and anything else piercing related. It reminded me of when we first met, and Amy would drag me around to look for belly bars. Indeed, she got excited about a belly bar for the first time in many years whilst here. The decor is very industrial, a bit like our iconic local music venue The Sugarmill, and there was a very cool bike on the wall.
Charms and Chains
Charms and Chains is a very friendly little boutique that was very girly. Even so, we both love a lot of the stuff in here too, particularly the greetings cards, which are hilarious! Amy bought a unicorn mug from here not long ago. They have some great travel-themed gifts too, and I even saw my friend Terry's Pottersaurus on sale for the first time. This is a great collection of local words, that is well worth getting for anyone local.
Music Store Pro
Around the corner was Music Store Pro, a shop we know very well, more by its old name, the Academy of Sound. I am like a kid in a sweet shop in here. I was running around playing whatever I could, starting with the keyboards. The quality of keyboards has improved so much since I was a kid, and the keys on many were weighted like a real piano. I also got Amy to play the White Stripes on an electric guitar, after I taught it to her the other week. On the walls of guitars, I found a Gretsch guitar that really caught my eye as well. We ended up spending around 45 minutes in here, and I could have easily spent longer.
Hanley Market
We decided to take in Hanley Market next, as the whole place is full of local shops, or stalls, anyway. The market is a very traditional place for local people. It features things like fruit and veg stalls, clothing, butchers, and quirkier things like a stall that personalises mugs and pretty much anything else for a great gift idea.
The Ruff and Ruby Rooms
The intu Potteries shopping centre is the largest in the region, and therefore is full of huge national names such as Primark, Debenhams, River Island, and Next. It does hold a handful of local shops too, however. The Ruff and Ruby Rooms was unlike any shop I have ever been in, set up by a charity that helps young people. It is a huge and inspiring space in which upcycled second-hand clothes were on sale amongst a salon, cafe, soft play area, craft workshops, and a bike repair area. Extremely impressive, and shocking that we have never been in here before.
Anita Harris Art Pottery
We had the same feeling about Anita Harris Art Pottery, right opposite. We spoke with artist Samantha Johnson about the store, and were told that it has even found its way onto organised pottery coach trips now. It is easy to see why. The quality of the work was exceptional, and all of it was made locally. They even have a small display of Royal Doulton ladies, which included the Amy one that Amy had when she was little.
Bliss, and The Candle Shop
Finally, there is Bliss and The Candle Shop. These two similar stores are located just opposite each other on the lower floor of the centre. Bliss has some candles, but concentrates more on bath products. The Candle Shop is a Yankee Candle specialist. They had a great offer on today, with at least 20% off everything. Both were great places to shop. We suspect are owned by the same company as there seems to be a few similarities. Bliss had a Grumpy Cat soft toy on sale, which Amy wanted until she saw that it was around £30!
Smokers Choice
Outside the centre, we next visited Smokers Choice, a large shop near to the former location of The Place nightclub. We have never ever ventured inside before. To be honest, we nearly didn't today, since its closed door and large signs for smoking accessories didn't look appealing. However, we decided to go in, and were actually very impressed. They do of course, sell lots of smoking related stuff, including shisha pipes of various shapes and sizes, including a spectacular one that looked like a golden peacock. There were a wide variety of gifts on sale here too, though many were rather questionable, being drug or weapon related. They do have a slush machine though!
Anadi Anant
Hope Street was next, which probably contains the most independent shops on any street in the area. Hope Street was the birthplace of world-famous author Arnold Bennett, but now finds itself seen as a less salubrious area of town. Nevertheless, there are some fantastic independent retailers on the street. We started with Anadi Anant, which has a very mystical atmosphere. They sell all kinds of hippy-style stuff like crystals, precious stones, and aromatherapy oils, as well as lots of Buddha-related items. They run yoga classes here too.
Kays Music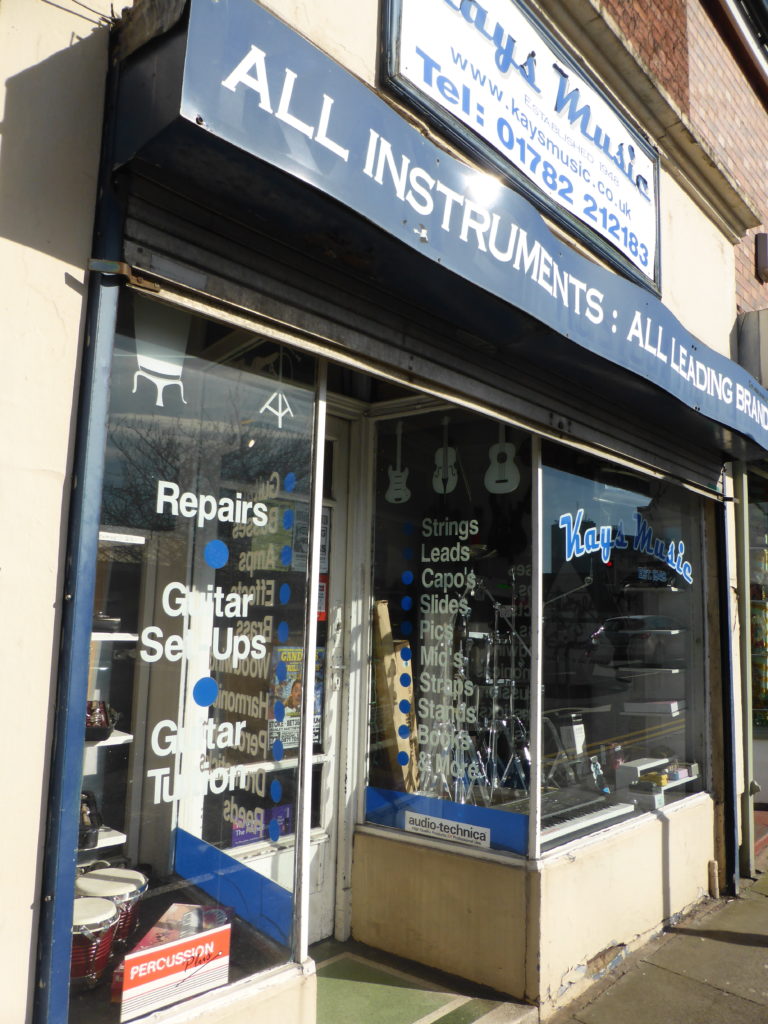 The mystical atmosphere was briefly interrupted by the loud clang of a guitar chord from Kays Music next door. This music shop was the first place I have seen cigar box guitars on sale. I couldn't resist having a play of one.
Goodwins Jewellers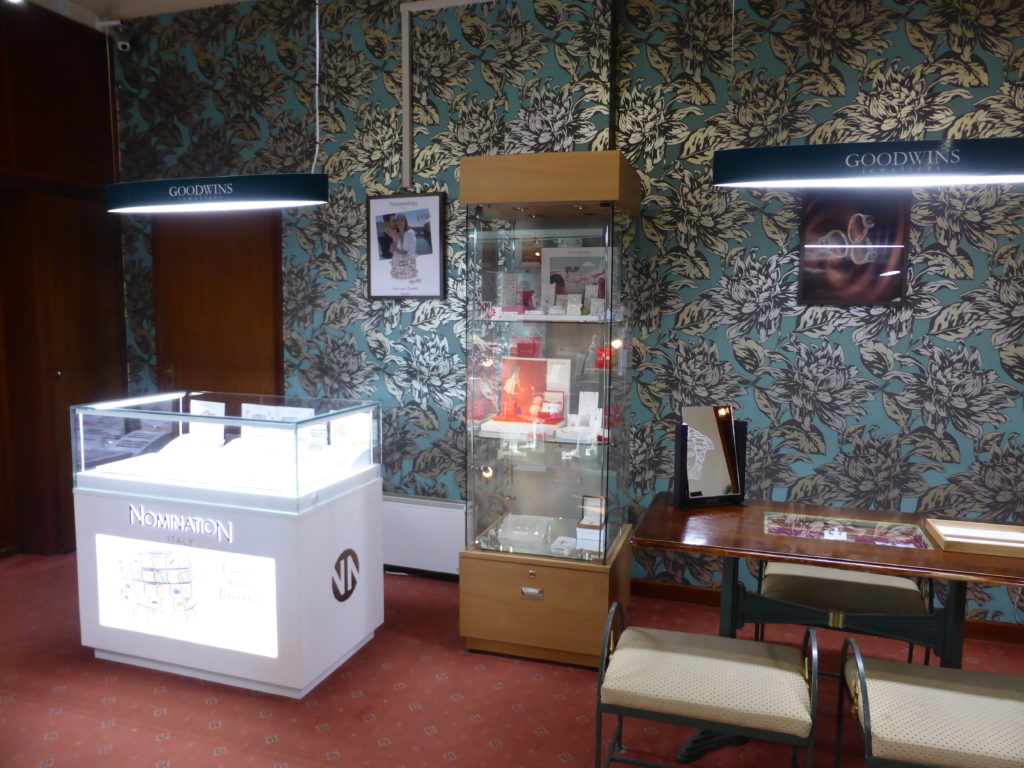 We next went inside Goodwins Jewellers. It was a bit awkward at first as we didn't realise that most of the stock was on display in the huge windows, and that the inside was really for people ready to buy or who needed assistance. We had to be buzzed through by a security guard, much like many of the shops in Birmingham's Jewellery Quarter. Despite us wandering in without any intention of buying, the staff were delightfully friendly. They even introduced us to the owner, Susan Goodwin herself, who told us about the long history of the shop which dates back to 1874! It is clear that they are complete experts in jewellery and offer a very professional service. There were a couple of ladies professionally cleaning items of jewellery too, which they said was very therapeutic.
Alpha BMX
Alpha BMX is the other shop on this side of the street that we visited, owned by a very eccentric bloke with gold teeth. He was very proud of the standard of his BMX bikes, though a bit surprised that we went in I think!
The Rhythm House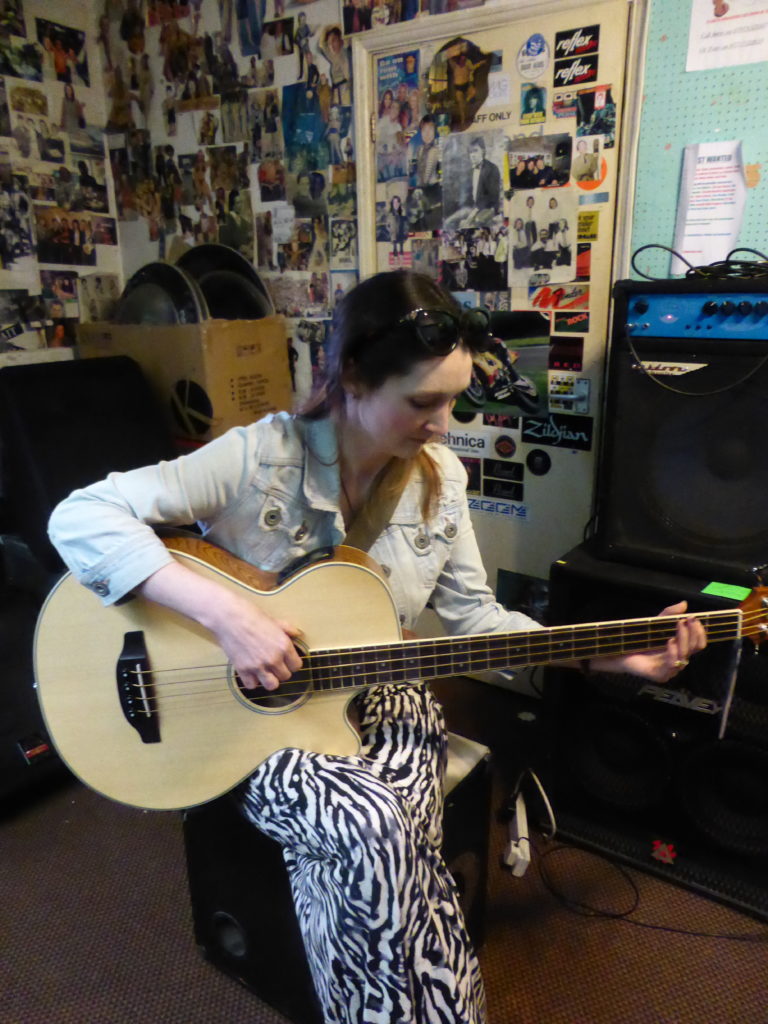 On the other side of the road is another music store, The Rhythm House. It was here that I purchased my current main acoustic guitar. The guys in here are very knowledgeable about their guitars. Amy got to play an acoustic bass guitar. It's the first time I have seen one offered in a guitar shop.
Discretion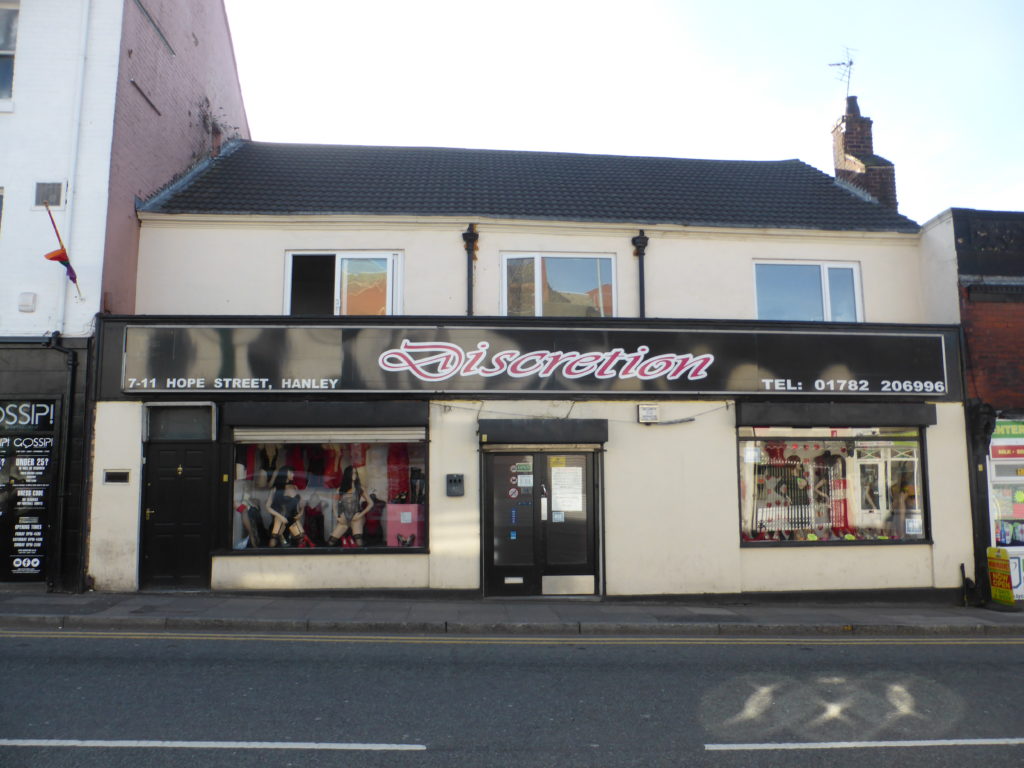 Also on this side was Discretion, a lingerie store/sex shop that is much larger than Ann Summers. We didn't really look around much, but Amy couldn't resist trying on a pair of heels before we left. The owner was offering a 5p discount to a woman trying on an outfit if she came out wearing it. He seemed like a bit of a character. Be warned, if you are easily offended, that there is lots of Fifty Shades of Grey style stuff on offer in here.
Rif Raf
On Stafford Street is Rif Raf, a gift shop that has been around for donkey's years. They sell all sorts of things, many of the kind that you would give to someone for a joke to be honest. They also sell figurines and suchlike, as well as offering a watch and jewellery repair service.
Rowfers
Rowfers is another shop that has been around for seemingly forever. Amy has bought many items from them over the years. It is seen as a bit of a 'goth' shop, but sells clothes and accessories for many subcultures, including hippies, ravers, and punks. I always enjoy their collection of t-shirts with witty and sarcastic slogans. For example, "you thought this was going to be a funny t-shirt. I'm a frayed knot", with a picture of a frayed knot in the middle! Amy loves their skirts, as well as their jewellery.
Music Mania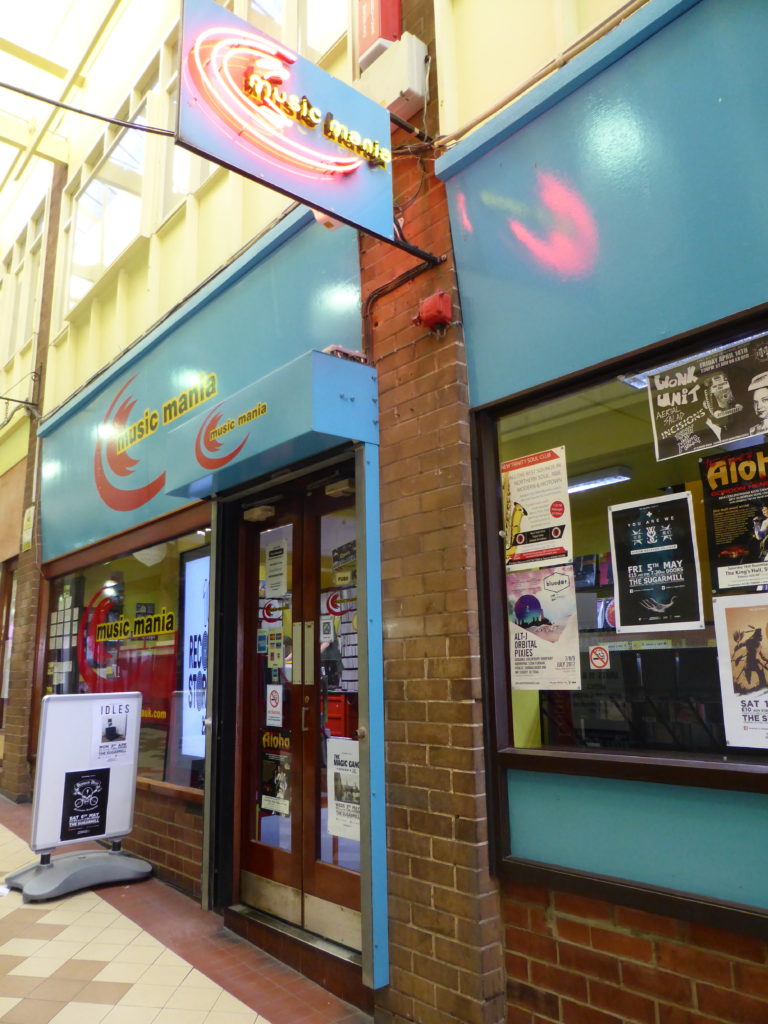 Next up was the Piccadilly Arcade, which has been a haven for independent traders in the city for many years. Our favourite shop inside is Music Mania. Despite the fact we don't buy records anymore, it is always great for a browse. They sell tickets to local shows particularly those at The Sugarmill. We tend to go in for them, as well as being a stockist of the NME magazine.
Trend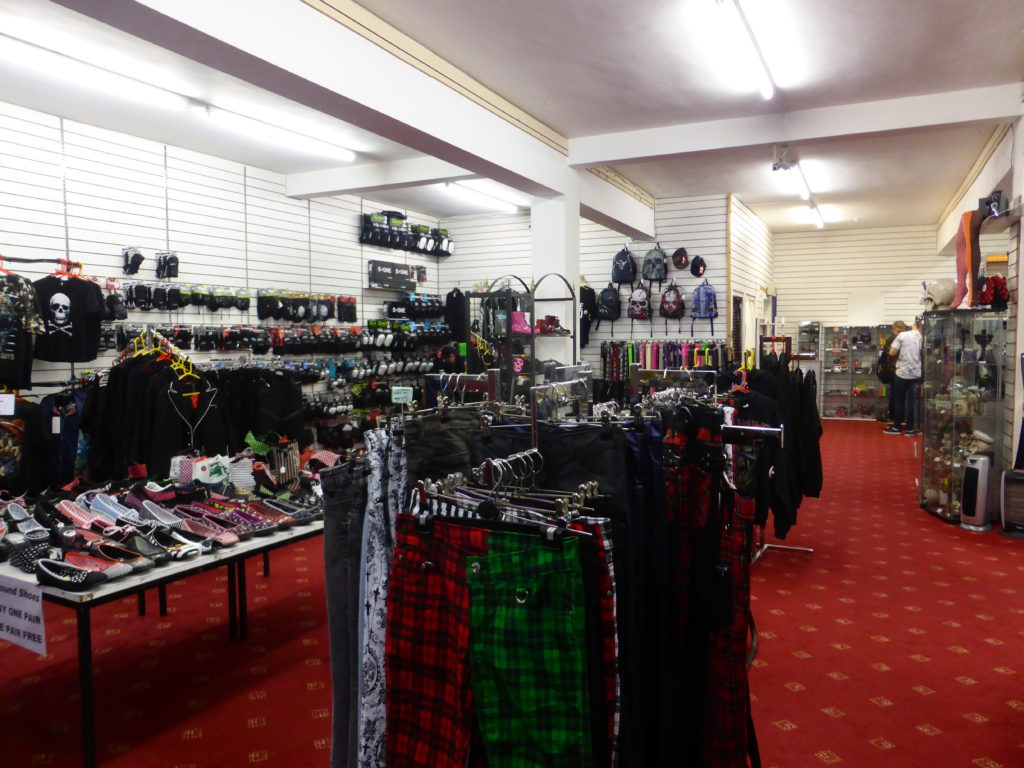 Another shop in Piccadilly Arcade is Trend, on the corner. We have seen some cool skater type dresses in the window whilst walking past recently, though the last one turned out to be an apron. Going inside, it seemed that the shop was devoted to heelies for kids. However, unlike other shops in the arcade, it has an upstairs, which is huge! It sells all kinds of alternative wear, vintage clothes and skateboards. Amy enjoyed having a wander around.
Pentage
Opposite is Pentage, a real bohemian space. Actually scrap that, as there is no space in there! It was a squeeze just to get in the door, and then up the winding staircase to its rather claustrophobic upstairs space. Described by the owner as 'vintage heaven', this place belongs in Glastonbury rather than Hanley, but is a welcome addition to the local area. It must be the hippiest place in the entire world, though Amy felt like she couldn't breathe after squeezing past some people to get around. There was even a bloke outside playing the guitar as we walked past a bit later.
Art Department Stoke
On the other side of the road, Art Department Stoke was set up recently by a former member of staff from iconic bookstore Webberley's, which closed sadly after many, many years. It offers all of the art materials you could ever require, as well as lots of artworks by local artists on sale. On our visit, we saw a great exhibition of photographs of the old Webberley's store, which was really interesting.
Bambu
Piccadilly is the heart of the Cultural Quarter in Hanley, and our first stop was Bambu. This bohemian shop sells wooden art carvings, including an iguana outside. Amy would definitely buy it if we had anywhere to put it. They also sell all kinds of ethnic style crafts and decorations, including Buddhas, dreamcatchers, and the like. Owner Fiona is a very friendly lady.
Resole
Also on Piccadilly is Resole, which sells premium footwear, which basically means fancy trainers. They are the sort that people might buy and not dare to wear for fear of scuffing them, I would have thought!
51-53 Store
Next up is 51-53 Store, formerly known as Entrepeneurs. We have visited the amazing Upstairs Gallery in here many times, but never really explored the shop before. This is mainly as it offers street clothing that is way too cool for us. It has an industrial feel to the place, owned by friendly guys who are passionate about urban culture. They fly the flag for graffiti, screenprinting, and street art in the city.
Rubber Soul Records
On Marsh Street is Rubber Soul Records, which has moved from a much smaller shop in Stoke to a much larger premises here that has still been filled to the brim with vinyl records. Honestly, I could spend all day in this shop. It is an amazing place to browse through the history of rock and roll, and features vintage gig posters on the walls, as well as a retro jukebox. Apart from the gig posters, records cover every spare inch of the walls, and ceiling, as well as heaving racks full of classic records. The dividers are brilliant too, being vinyl records with the band name written on! The only problem is that I would feel bad spending too long here, since I don't even own a record player!
Bottlecraft
Also down here is Bottlecraft, which sells over 200 different varieties of craft beer from around the world. You can sit in and drink your beers if you like. Plenty of people were doing so when we nipped in for a look, providing a great atmosphere.
DNA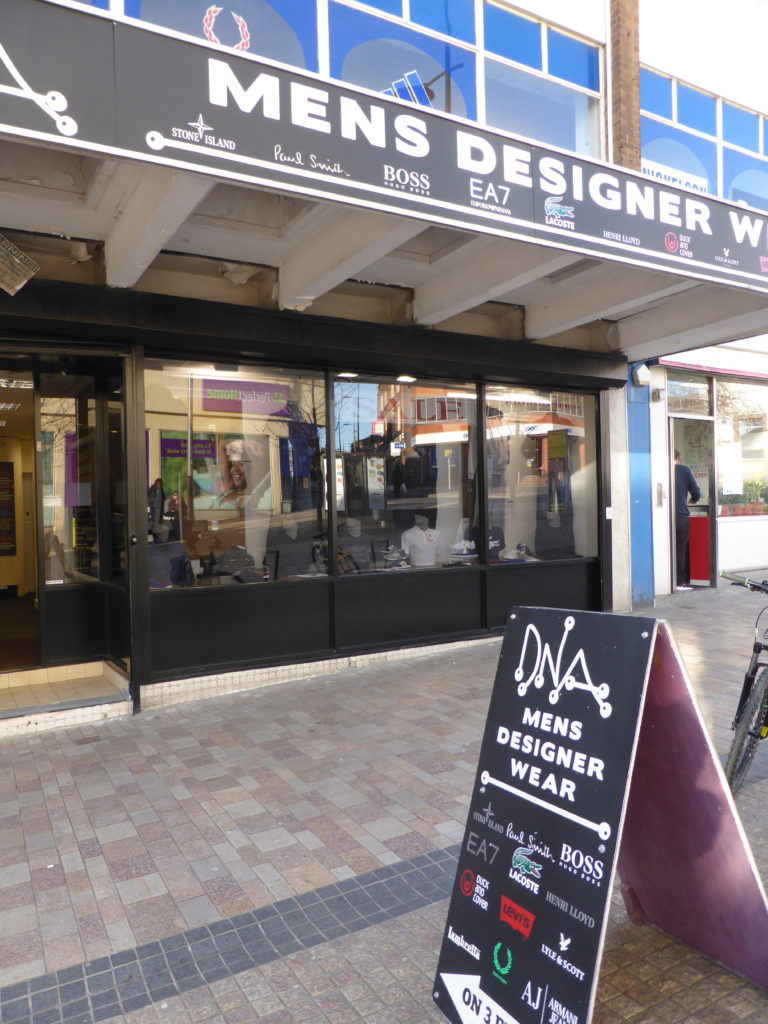 The last couple of shops we visited were back around the Piccadilly area, starting with DNA. I can remember this being a sports shop when I was a kid, but I was flabbergasted that I didn't know this mens designer wear emporium existed. It is huge, over three floors, and full of top quality clothes, from brands such as Lacoste, Armani, and Hugo Boss.
Brassington Bros
The next shop we visited is another family run business, now on the fourth generation. Brassington Bros, is a footwear shop that opened in 1901. It looks a lot more traditional than most places on the high street. Inside, the service was great, with Amy spotting some Skechers yoga foam sandles that she thought were really comfortable. She tried on two types, one of which had a thicker heel, and was very tempted to buy them.
Card Planet
It was around 5pm now, and most shops were closing up, but we spotted that Card Planet was still open. To be honest, it looks like a budget Card Factory, if such a place could exist, but inside the standard was relatively similar. Even so, as a local business, it was nice to finally go inside.
How did it rate as a date idea?
Overall, we had a fantastic afternoon browsing many of the independent retailers that bravely sit amongst the biggest retailers in our city centre. It is clear that these stores offer a more personal, friendly service than those big names. It is great to support them wherever possible. Individuality is a huge draw for many shoppers, who are sick of the identical experiences that most city and town centres offer. It is clear that Hanley, Stoke-on-Trent, has much to offer the discerning shopper, looking for something that they can't find elsewhere.
From a personal point of view, as well, we discovered many new stores that we didn't know existed, or had never even been inside. It is easy to just head for the familiar names, with their large advertising budgets and recognisable brands. However, if you look just beyond the surface, you will find a completely different experience that you will only find in Hanley.
Do you use the local shops in your area, or are you too used to shopping in the larger stores?