Ain't no mountain high enough
So our secret date was to climb a mountain! Yeah, we don't do things by halves. We chose Snowdon – the highest mountain in Wales, and higher than any of England's mountains! It was to be the first mountain I had ever climbed. Amy has climbed Snowdon once before, as a teenager. Her Dad and his friends used to go on walking holidays and took the kids with them. She remembers it having some rather hairy moments.
I was pretty worried about it. Envisaging having an asthma attack, or even a heart attack, I got Amy to take my inhaler and some aspirin with us, just to be on the safe side! I was once diagnosed with asthma, yet have never had any side effects from it, even after heavy exercise. Probably, a misdiagnosis for a chest infection. As I still have the inhaler I was prescribed, though, I thought it safer to take it with us!
We chose to climb the mountain using the Snowdon Ranger path. Parking here costs £5 per day, or £2.50 for four hours. However, I can't imagine why anyone  would pay for the four hours, since on average it takes six hours to ascend and descend the mountain. By the time we finally set off on our expedition, it was nearly 10am. Despite picking one of the 'quieter' routes up, it was still pretty busy. The one major benefit of having so many other people going up the mountain, though, was that we didn't need to use the map or compass we took with us once. We could always see people ahead of us, which showed us the path.
Victorians were taken up by the original Snowdon Ranger
The Snowdon Ranger path was the very first man-made path up the mountain. It was developed by John Morton AKA the Snowdon Ranger, who used to take Victorian visitors up the path and built an inn on the site where the youth hostel is now, right by the car park. This was in the early 1800s, meaning that people have been climbing the mountain this way for around 200 years! This path isn't the easiest route up, as that is the Llanberis Path. However, we have seen that path described as being as interesting as watching paint dry.
We chose the Snowdon Ranger path because it offers great views, and is still suitable for inexperienced climbers. The path is eight miles long. Soon enough we came across a marker pointing the way, and we were off. We had been advised to wear layers. For much of the journey I was roasting hot in my four layers, which included a t-shirt, polo neck top, jacket and big coat. It was certainly affecting my enjoyment a bit, as it was a lovely day down on the ground.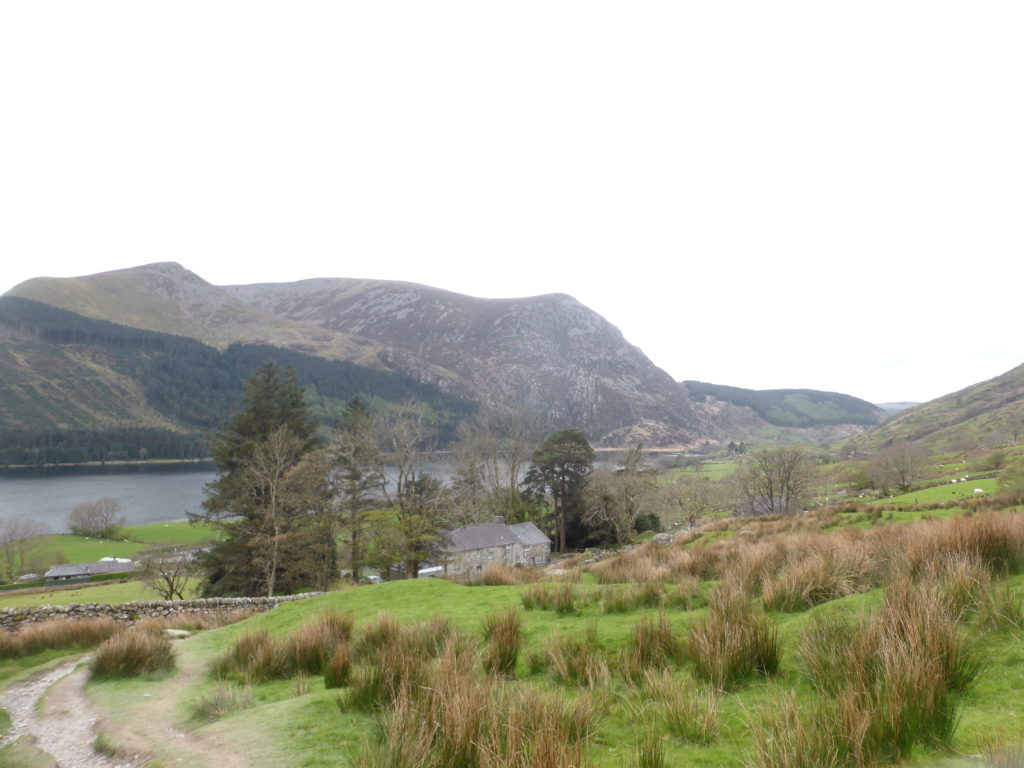 The views will slow you down as much as your legs
After crossing the train tracks near to the tranquil Llyn Cwellyn, we followed a sign painted on to a large rock, which stated 'path', with an arrow towards a fairly rapid climb up some zig zags. This was next to a farmhouse with a waterwheel attached to it. At this stage, it was pretty similar to any other walk I have been on in the past. The views were already distracting though, and the amount of people that overtook us as we stopped to admire them or take photographs was unbelievable. In fact, I don't think we actually did overtake anyone who wasn't having a rest all the way up! I got so warm that I had to take my coat off and carry it.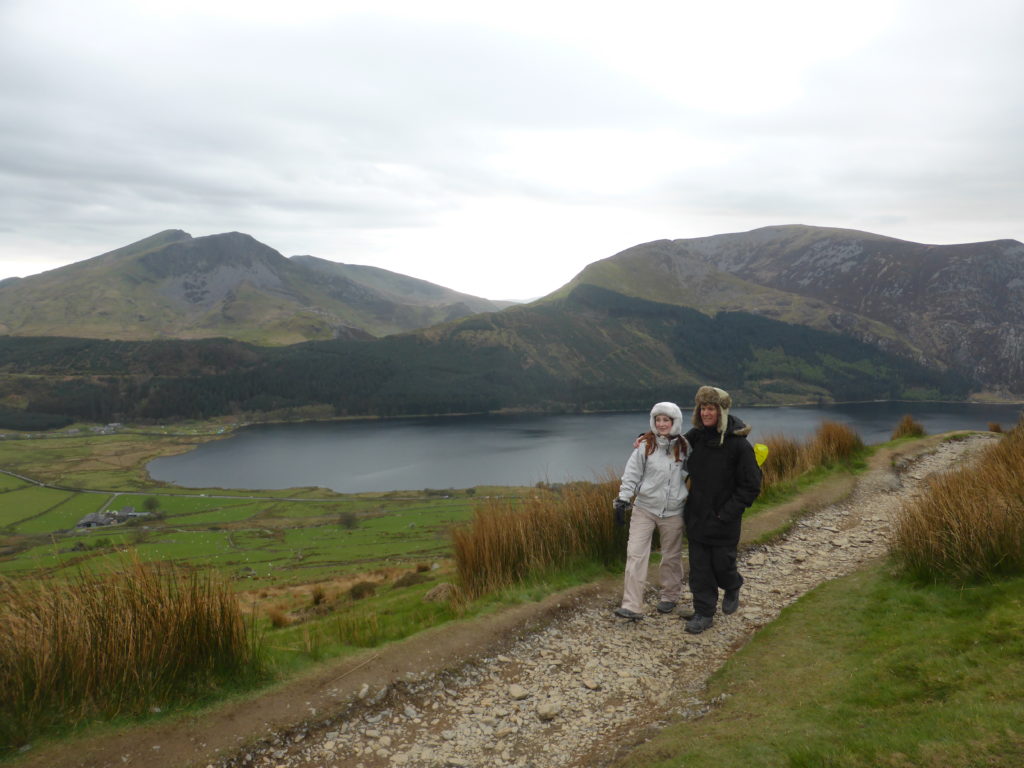 The views of the lake just kept getting better and better the further we went up. Crossing a stream, the path becomes very gravelly, ascending towards the majestic lake, Llyn Ffynnon-y-gwas. The name means 'lake of the servant's spring', named after a shepherd that apparently drowned whilst washing his master's sheep. After initially passing the lake, we began a very steep climb over a rocky path that was rather loose underfoot. You could see the path rising straight up now.
We're like ants on a ant hill up here
As we got a bit higher, the views of the lake became even more spectacular. The mountains behind, the sun shining down on them, the clouds above and the sea in the distance all combined beautifully. The views were so incredible that many groups were taking advantage of any rocks that looked vaguely comfortable to sit on and have an early lunch. As tempting as this was, we decided to hold out until at least 12pm. At around this point, we scrambled up one of the mountain slopes to a rocky area where we could enjoy our lunch and the views without being surrounded by people. Whilst having our sandwiches, we had a bit of a camera mishap that resulted in a broken LCD screen. For the rest of our trip, we had to completely guess what we were taking pictures of. What a nightmare!
The path started to get steeper and steeper, with the rocks loose the whole way. Amy was going much faster than me. My legs started to slow, though I wasn't necessarily struggling. Soon enough, the treacherous path ahead revealed the summit of Snowdon for the first time. It was remarkably hazy, however, and you couldn't see much at all. It appeared that there was a huge line of people waiting to get to the top. The path really opened up towards the top, with many people straying off the path onto the grassy banks. We looked like we were heading into the clouds. The people at the summit literally looked like ants on a ant hill.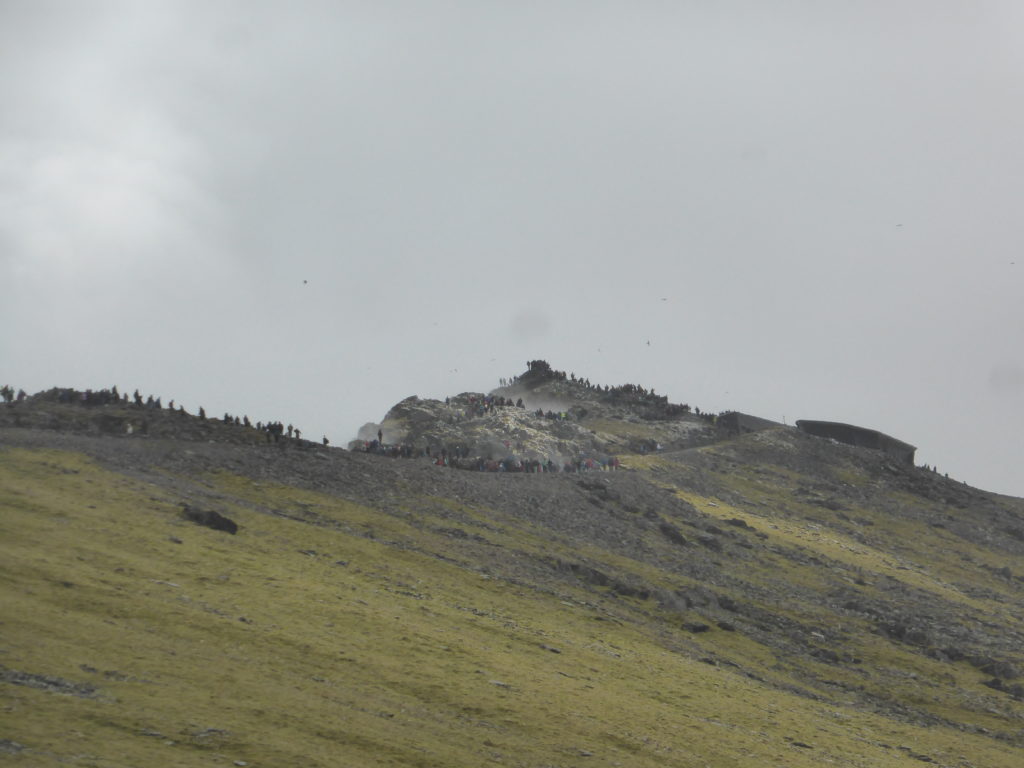 Make sure to take hat and gloves for Snowdon's Summit!
It was a bit of a trudge, but the end was in sight. The views in each direction were extraordinary. Soon enough, we reached the point where the Snowdon Mountain Railway crossed the path, and where our path merged with the main Llanberis Path. The views just kept getting better and better, though it was a lot busier up here. We jumped onto a rather precarious ledge to look out over the opposite side of the mountain for the first time.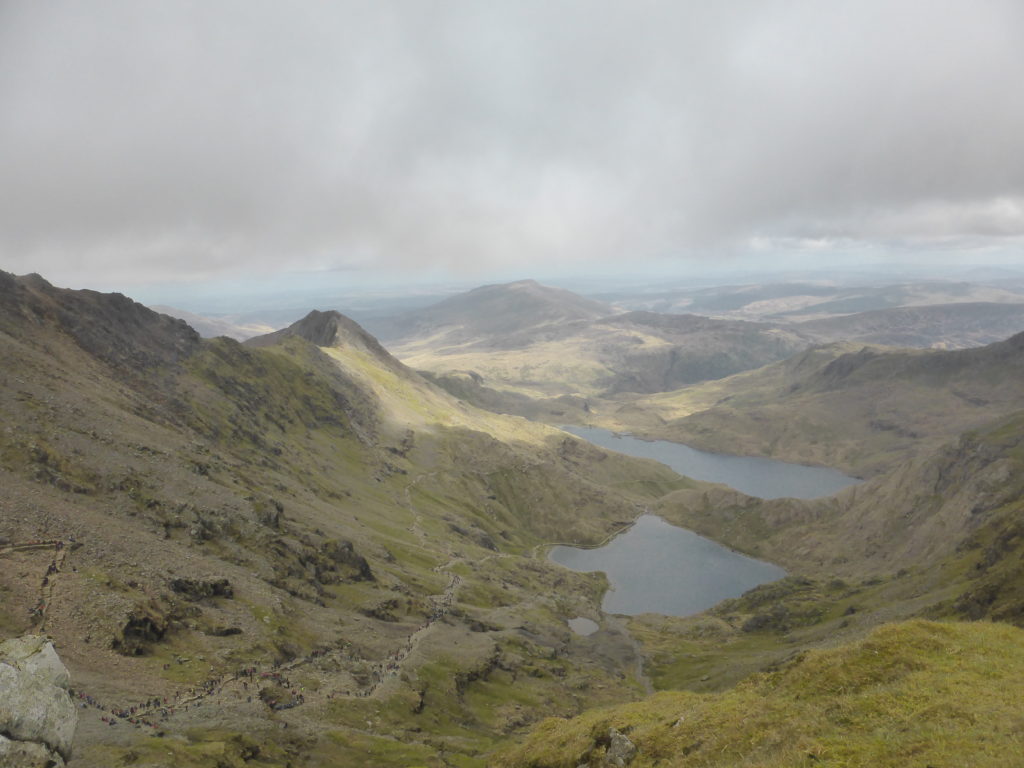 The rest of the way up was very scrambly, and extremely busy. It was hard to stop and take it all in to be honest. We noticed that frost had developed up here as it was so cold. Indeed, we had already put our hats and gloves on by this point. Finally, we were there and just a short climb up the final stairs to the summit was all it took. This was it, I had finally climbed my first mountain and our first one together!
It took us around four hours to ascend to the summit, though we did stop for lunch on the way, as well as taking lots of pictures. The summit was so incredibly busy that there was no way to really admire the views from it, but from the top of the mountain the views were striking. It turned out that we were very lucky with the views we did get, as the summit quickly misted over completely, making it difficult to see more than a few steps ahead. Rather dangerous for being at the top of a steep mountain!
Don't take any chances on Snowdon
We spent around an hour at the summit. There were ice cubes forming between the fence up here, it was so cold. Amy kept wanting to go exploring the other side of the mountain, but I had to talk her out of it since we had no idea if there was a sheer drop or not. Anyway, you couldn't see anything even if not. To our surprise, we had full phone signal up there, so decided to call our parents! Whilst we were heading up to the summit for the second time, we noticed a group of four lads who decided to strip down to a pair of shorts for a funny photograph.
The queue up to the summit now was ridiculously long and slow-moving. Eventually, we were next to the trig point again, and we made sure to ask the person taking our photo to include it in the picture. This was pretty difficult with the screen having broken, mind!
After this, we started our descent. We started off by walking down the train tracks. As we started to descend further still, the views started coming back as the mist cleared away. We were quite surprised just how quiet the Snowdon Ranger path was on the way back down. At some points, we could barely see anybody else. Either we had taken that long, or stayed that long (an hour at the summit), or everyone had descended a different path, but there were far less people on the way down.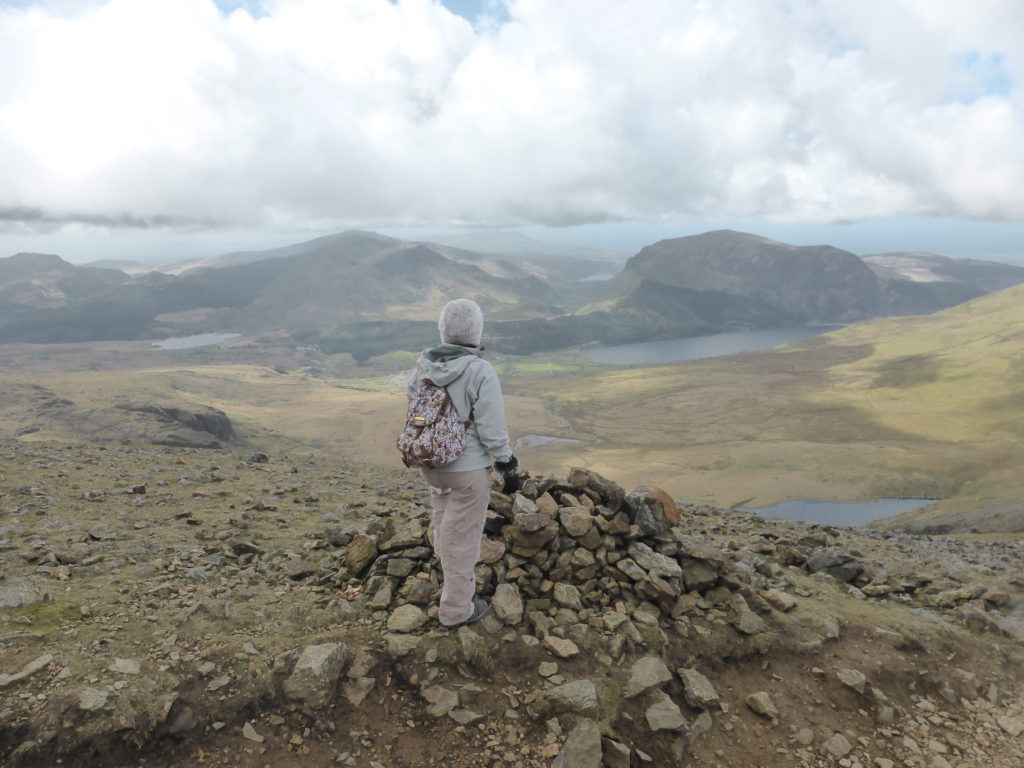 Pick a sensible time – you don't want to be making your way down a mountain at night
We decided to stop at a vantage point similar to where we had taken pictures when we stopped for lunch to try and get the perfect shot. The lack of people using the path made this much easier too. One thing that did surprise us, however, was that some people were only just starting the ascent when we neared the bottom at close to 6pm. By our reckoning, it would be at least midnight when they returned. It didn't seem too sensible, but who are we to argue?
Many of the sheep towards the lower part of the mountains were more active now, too, with less people to disturb them. Little lambs were leaping around joyfully. The adult sheep actually sounded really weird, and were freaking us out and making us laugh in equal measure. It was a long slog back down the mountain, at times as difficult as the ascent. It was giving us peace of mind knowing the route though, and soon enough that little farmhouse with the waterwheel came back into view. Our car was one of the last ones left in the car park!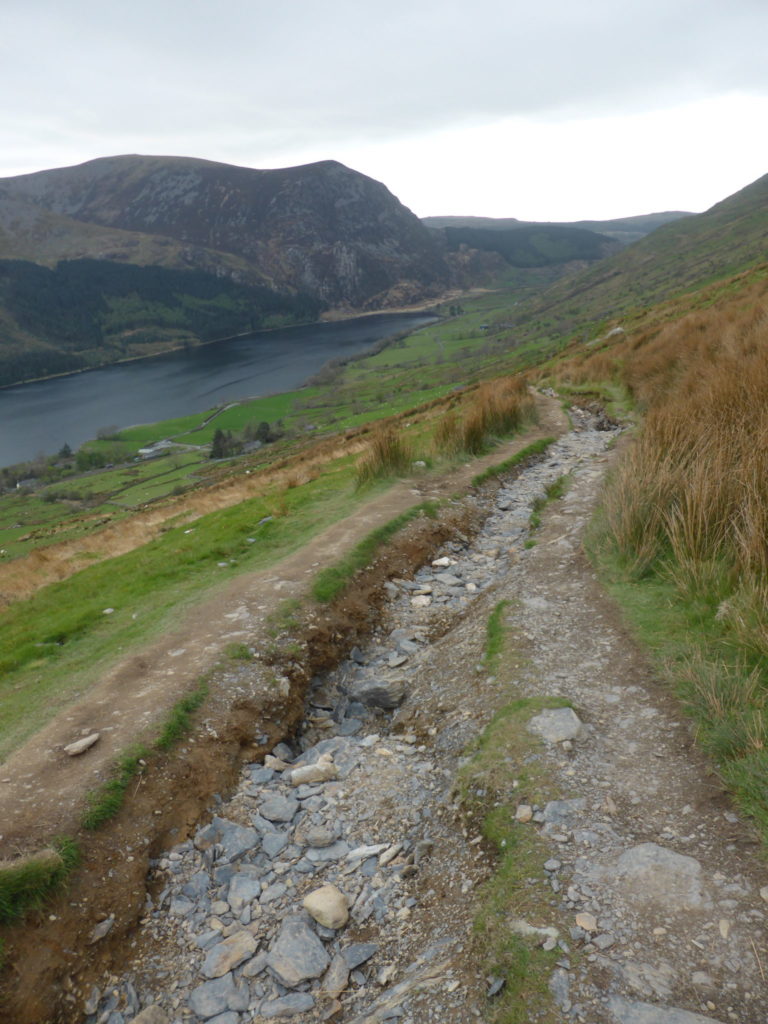 Climbing a mountain with your partner is one of life's treasures
The descent took us around three hours. Strangely, despite the exertion, we both felt surprisingly energetic still. It was a great experience climbing a mountain together, and one that we wholeheartedly recommend you and your partner try together. Make sure to pack everything needed for your mountain of choice. Of course, some are easier than others. Even on a mountain, like on Snowdon, there are different routes up. Pick one that you can both feel comfortable with. Take a map and compass to avoid getting lost. Wrap up in layers, as the temperature at the top will be much colder than on the ground. Also, don't forget to take lots and lots of water and snacks, and stay safe! It will be well worth it, and to achieve something like this together is very special indeed.
Have you and your partner ever climbed a mountain together? What mountain would you like to conquer?