I didn't really go anywhere as a child
My name is Scott Connor, and I am from a creative, industrial city called Stoke-on-Trent, in the centre of England. Travel was never a big part of my life. Before my teenage years, I had been abroad just once – to Walt Disney World in Florida as a seven year old. To be honest, apart from the general knowledge that it was a really great trip, I don't remember too many of the details. I do remember that I used to write a trip report each evening as I got back to the hotel. Recording my adventures has always come naturally to me.
I had no part in the planning of that trip, of course. However, I can remember collecting all of the leaflets for various tourist attractions together, and wondering what it would be like to visit them. Recently, I found a diary from when I was little more than a toddler. Inside, I had written the name of a different country, tourist attraction, or place, into each of the days. Maybe I was destined to explore the world.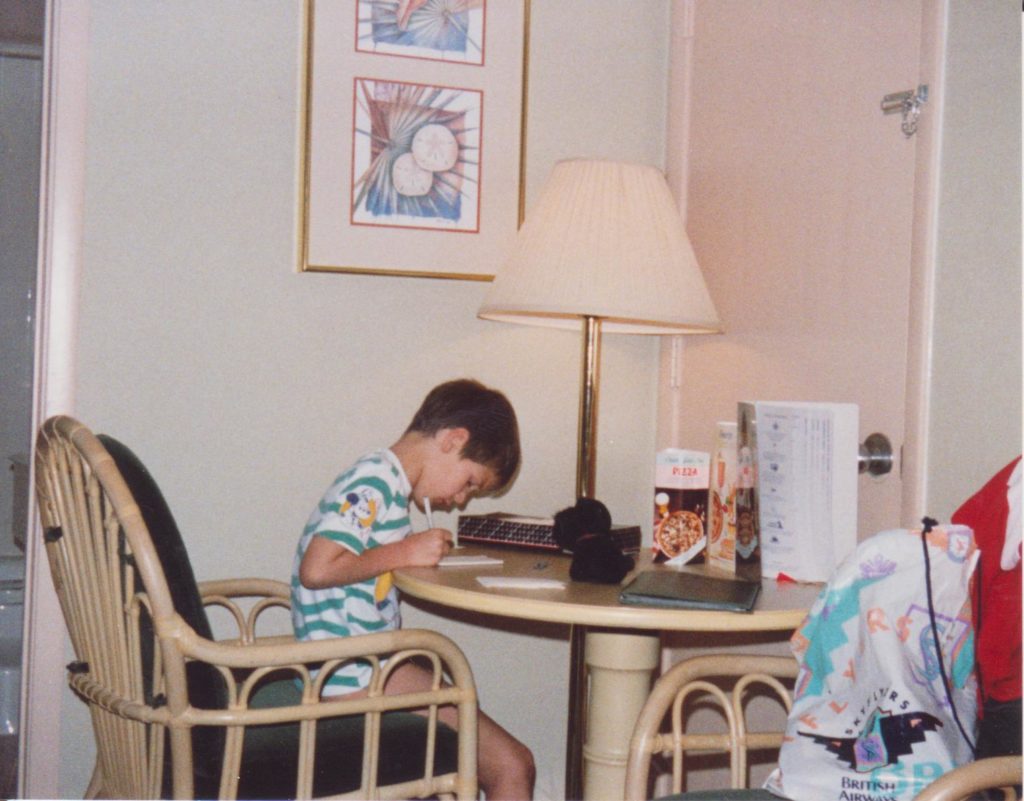 I have no idea what gave me an interest in travel as such a small child. I never went anywhere. My parents kept a corner shop and off licence, which meant it was difficult to go away as a family. The closest thing to regular travel I got was going around the country on coaches with my Dad on a Saturday afternoon to watch Port Vale play football. Mostly, it involved being picked up by a dusty old coach from across the road from my house, and taken directly to the ground. A stop at a pub for an hour or so broke up the longer journeys.
Our family trips to the Isle of Man were memorable
Our support for Port Vale FC also took me to the Isle of Man twice, which was fantastic. When the matches weren't on, I got to march my parents around the island seeing all of the sights. One time, when I asked if we could visit The Tynwald (the Manx Parliament), we nearly missed the very last coach back to civilisation. I learned very early on that travel would come with a bit of unpredictability. I even gained a sense of adventure from it.
However, the opportunities to explore largely never came my way as I grew up. My one school trip aboard, to Disneyland Paris, nearly resulted in disaster. I fell asleep in a lecture during which you were supposed to collect your park passes. Arriving at the gates with none of the teachers in sight, I realised my error. However, rather than panic, I waited until the guard was distracted, and jumped the gate. It was only much later on that I realised that the teachers had realised they had my park pass still, and were frantically searching for me. Bear in mind this was the days before mobile phones were had by anyone other than the rich!
I was 21 years old before I went anywhere abroad that wasn't Disney related. I'd met my wife Amy, who was then of course my girlfriend, a couple of years previously. Her parents decided to take us both with them to Majorca, in the Balearic Islands. Until that point, sitting on a beach sunbathing was an almost alien concept to me. Not that I particularly enjoyed it. I was always looking for something to do, whether it be a submarine ride or a foam party.
The early years of our relationship helped us find our travel style
Over the next couple of years, we travelled alone together, to Venice, Bulgaria, and Barcelona. We also moved in together in Blackpool, a seaside town in the UK. Venice and Barcelona in particular were completely action-packed. We spent every minute of every day seeing everything worth seeing, exploring every nook and cranny of these wonderful new cities.
In 2007, we separated for a few months. After that, it was clear in our minds that our futures only had each other in it, and we became engaged. Saving up for the wedding of our dreams put an end to our travels. However, for us the honeymoon had to be just as special as the wedding. It was a return to Walt Disney World. There, my travels began nearly twenty years earlier, and Amy's most memorable family trips took place too.
We spent three weeks in Orlando, and literally had a perfect time. Unlike most honeymooners I'm sure, we barely slept. We soaked up the magical atmosphere every second of each day. We went on all of the rollercoasters, met all the characters, swam with dolphins, visited the Kennedy Space Center, and had some remarkable meals. As we left Disney World, our idea was that pretty much all of our holidays would be to here. There could be nowhere better.
What about the other wonders of the world?
It was around this time that I started thinking about all of the other places in the world that I'd dreamed of visiting. Egypt, China, Africa. Amy too, felt this way, and so we decided we would put our Disney trips back to every five years. Soon after, we put it back further to every ten years, as we realised just how big the world was! Each shopping trip we made had a compulsory stop in the book store. I was straight to the travel section, where I could browse all day given the opportunity. The years that followed saw us on the slopes of Pamukkale in Turkey, seeing the horrors of Auschwitz in Poland, and seeing the sunset in Ibiza.
You don't have to go abroad to find an adventure
We also delved deeper into our own island too. The UK has some of the greatest history, culture, and scenery, of anywhere on Earth. We drove the entire stretch of the UK. From Lands End in the south of England, to John o'Groats in the north of Scotland, we took a nine day road trip. It took us to many of the great places we had never visited before, despite their close proximity to home. Stonehenge, the Lake District, Loch Ness. One day we woke up in Wales, spent the day in England, and slept in Scotland. It was a rather relentless trip. However, it was one in which every moment of every day was filled with fun, culture, and amazing sights. We dreamed of a life like this, but knew it wasn't possible.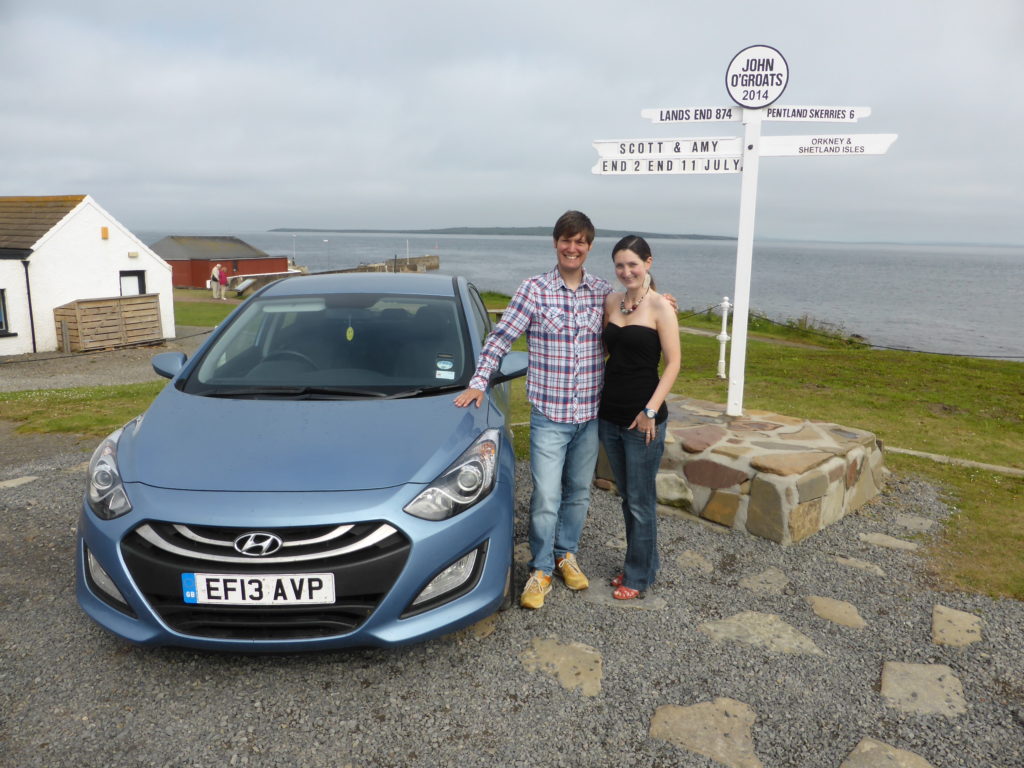 Therefore, back to work we went the next week, our time as adventurers over for now. We decided to press on with our plans to visit Egypt, despite problems arising over there on a regular basis. Despite having started saving, only going on a couple of cheap beach holidays in Greece and Turkey over the next couple of years, the situation never seemed to improve enough to go through with booking it again. We keep on saving into our holiday fund account, a little bit more each month.
Our secret dates give us weekly adventures
We do secret dates together, where we do all kinds of adventures. These range from hot air ballooning to medieval jousting. We also see lots of shows together, and really can't complain about life. I started to think about it, and realised that me and Amy would make the perfect team of travel bloggers. As well as our huge desire to see everything our crazy world has to offer, I have a background in writing, a vivid imagination, and talent for telling stories. I am a songwriter, relatively successfully in terms of following, if not financially, and have always enjoyed just writing. I used to write books even as a child.
Amy has a background in photography. She has exhibited her work at venues including the Oxo Tower in London, and the Chinese Arts Centre in Manchester. The plan started to come together. My writing, alongside Amy's photography, and our appetite for adventure, and a potentially brilliant travel blog is born.
Who knows where the road will lead us? As they say, the world is our oyster.
If you are interested to read Amy's travel memoirs, you can click here.