Picture yourself in the heart of Transylvania, in the town where Dracula himself was born. You may be imagining some hellish place where the sun never shines. However, in Sighisoara, you'll find this image couldn't be further from the truth. The Historic Center of Sighisoara is a UNESCO World Heritage Site. This is because picturesque walled city with colourful streets has history in droves. Let our travel guide to Sighisoara help you plan a perfect trip to this under-appreciated gem within Transylvania.
THINGS TO DO IN SIGHISOARA
Stroll around the Historic Centre – The entire town is a UNESCO World Heritage Site. Just lose yourselves in the colourful, cobbled streets as you wander around soaking up the atmosphere. Don't miss the statue of Sighisoara's most famous son, Vlad the Impaler AKA Dracula. There are plenty of quaint cafes with outdoor seating should you need to stop for a break. It is easy to feel like you are transported back to medieval times, as long as you ignore a couple of continuity errors, such as the odd parked car, for example.
Walk along the inside of the Citadel walls – The Citadel which comprises the upper town, and the main points of interest, is notable for still retaining nine of its fourteen towers. It is well worth following a route around the inside of the walls and checking out each one of the towers. Most are not open to the public, but one is a leather workshop which even has an informative exhibition about the challenges that places like Sighisoara face in balancing their heritage with the needs of modern society.
Clock Tower – Sighisoara's most iconic sight is the dragon-scaled clock tower. It houses a decent historical museum that is well worth wandering around, and you can get up close to the frankly bizarre characters that parade around the clock at noon. The highlight of course is the chance to climb to the top for unparalleled views of the town.
The Covered Stairway – I'm not sure there is a finer entranceway to a church anywhere in the world! This atmospheric staircase was built to shelter churchgoers as they undertook the steep climb up the hill to attend church services, and therefore definitely belongs here in Dracula's hometown!
Church on the Hill – Your reward for climbing the stairway is a visit to this late-Gothic church with preserved frescoes dating back to medieval times. The large Gothic archway that frames the entrance to the nave of the church is particularly striking. Don't miss the chance to climb down into the crypt, where bodies were slid into holes in the wall. If you're in town as much for its Dracula connections as its religious history, still don't miss the graveyard here. The hilltop location and overgrown greenery would be a perfect backdrop for any vampire movie.
Monastery Church – Unless you have a particular interest in visiting churches, you could probably skip this one. However, one interesting point is its collection of medieval Turkish carpets. Traders used to bring them back as gifts, which look rather out of place these days.
Casa Vlad Dracul – For the ultimate experience in kitsch, make sure to drop into the house that they believe Vlad the Impaler himself was born in. Not only is there a Dracula themed restaurant, but you can pay a token fee to enter the rooms. No attempt has been made to make this a historically minded attraction, but definitely offers an entertaining diversion if you are in town.
HOW TO GET TO SIGHISOARA
From overseas? The closest airport to Sighisoara is Targu Mures, but Sibiu is also nearby. You may get even more luck flying into Bucharest, and using public transport from there. To check for flights from your destination, check Skyscanner.
By train? Sighisoara has a train station, which has connections to Bucharest, Brasov and even Budapest. www.cfrcalatori.ro is the best site for train times.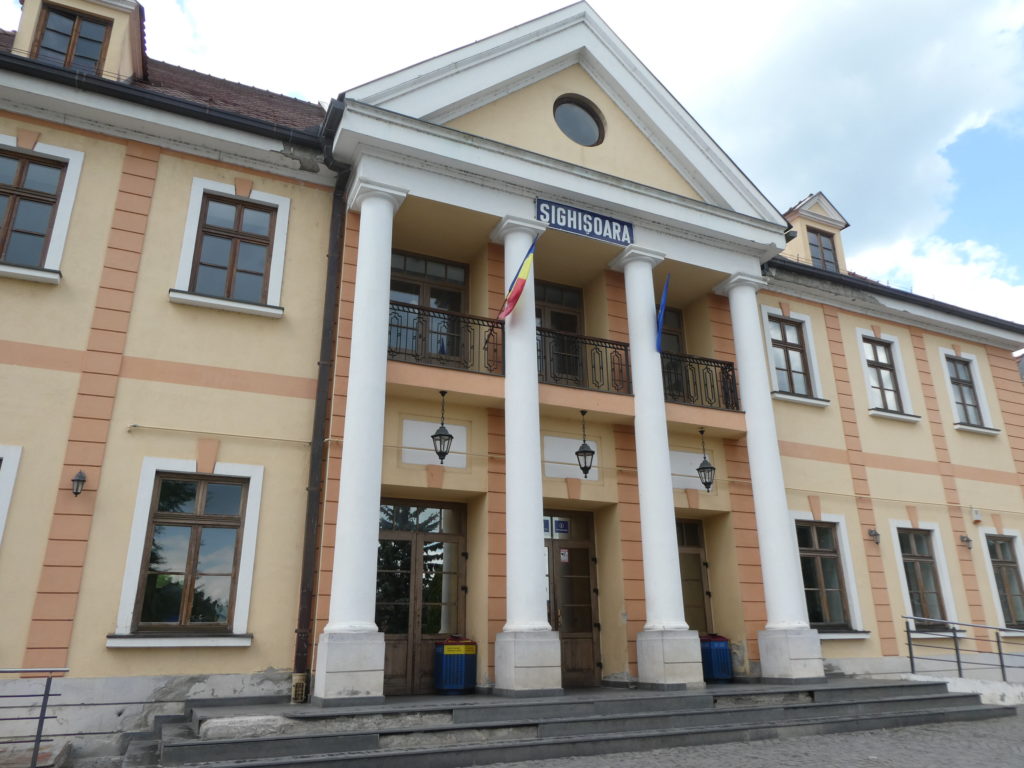 By bus? Sighisoara is well connected to the rest of Romania by bus. Use www.autogari.ro for timetables.
By car? You won't need a car within Sighisoara, but it would be great to have one if you plan to include other parts of Transylvania in your trip. Skyscanner can help you find the cheapest car rental options to give you the ultimate freedom and flexibility.
WHERE TO STAY IN SIGHISOARA
We stayed at Venesis House, and can't recommend the place highly enough. The service was amazing, and they have a bewildering choice of unlimited and high quality hot drinks on offer. They were kind enough to let us change rooms in order to get better Wi-Fi signal, and even gave us a lift to the train station when a quick, but unexpected bit of rain fell as we were about to leave! Book via Booking.com.
WHERE TO EAT IN SIGHISOARA
We ate at Concordia, though personally wouldn't recommend it. Service was unfriendly, and the food was average.
For something special, Joseph T. Restaurant and Wine Bar would fit the bill perfectly. Within the elegant Central Park Hotel, this sumptuous eatery features a stained glass wall and chandeliers. Therefore, it sounds hard to beat.
Mid-range? Casa Georgius Krauss offers high quality food at reasonable prices. The restaurant offers a panoramic view of the city, or a more intimate atmosphere in the cellar.
OTHER TIPS FOR YOUR TRIP TO SIGHISOARA
How to pronounce Sighisoara? Siggy-schwar-ha.
If you want to buy traditional Romanian crafts from your trip to Sighisoara, we highly recommend the traditional crafts shop right next to Casa Vlad Dracul. Many of the authentic items we saw being made around the country by local craftsmen were on sale here, and the prices seemed reasonable.
Although Sighisoara is best seen on foot, if you are struggling on your feet there is a toy train or tuk tuk that will take you around the sights.
Back in the 1100s, Transylvania was a part of the Kingdom of Hungary. The King invited Saxon craftsmen and merchants from Germany to settle here and build a fortress. It is quite a miracle that it has survived so well to this day. Nowadays, less than 2% of the locals are ethnic Germans, with most being Romanians.
Although you will find a fair bit of tacky Dracula inspired tat for sale in Sighisoara, it could have been much worse. In the early 2000s, plans for a Dracula themed amusement park were drawn up, which could have affected the atmosphere of this quaint medieval town dramatically.
Great places to visit in the vicinity of Sighisoara include Sibiu, Alba Iulia, Medias, Biertan, Brasov and Sinaia. We visited all of these places, so keep your eyes peeled for guides to each. We got a bus from Medias to Biertan, then hitch-hiked to Sighisoara. If you don't fancy hitch-hiking, however, you would have to head all the way back to Medias to get a bus, or skip Biertan. From Sighisoara, we took a train to Brasov.
Has this guide to Sighisoara helped you to plan your trip? Anything else that you would like to know?
Like it? Pin it!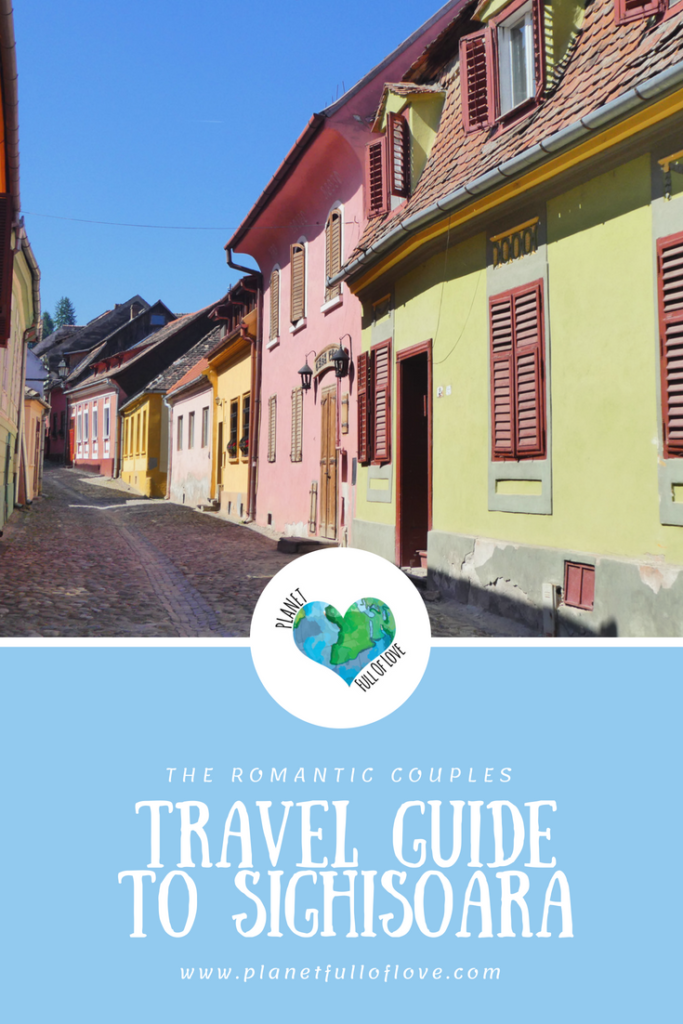 This post contains affiliate links. By clicking them to purchase your flights, hotels, and car hire, the companies involved pay a small commission to us at no cost to yourself. This helps to keep us on the road, creating guides like this one. Thank you for using them!