THE 15 BEST THINGS TO DO IN CORFU
Corfu, the most beautiful of the Ionian Islands on the west coast of Greece, is one of the world's finest holiday destinations. But what should you do when you get there? Based on our sensational stay on the island over Easter, we have come up with some superb ideas to add to your itinerary. With unbeatable scenery, an enviable climate, imposing architecture, and interesting heritage waiting for you, you will adore your visit to Corfu. Here are fifteen of the best things to do in Corfu!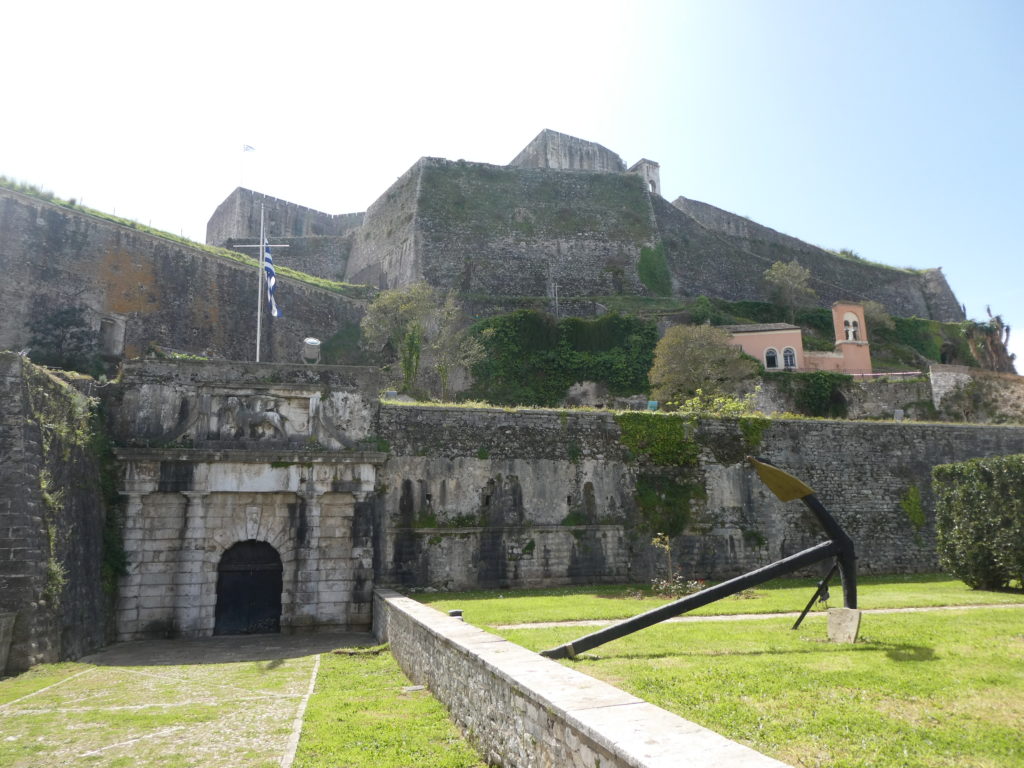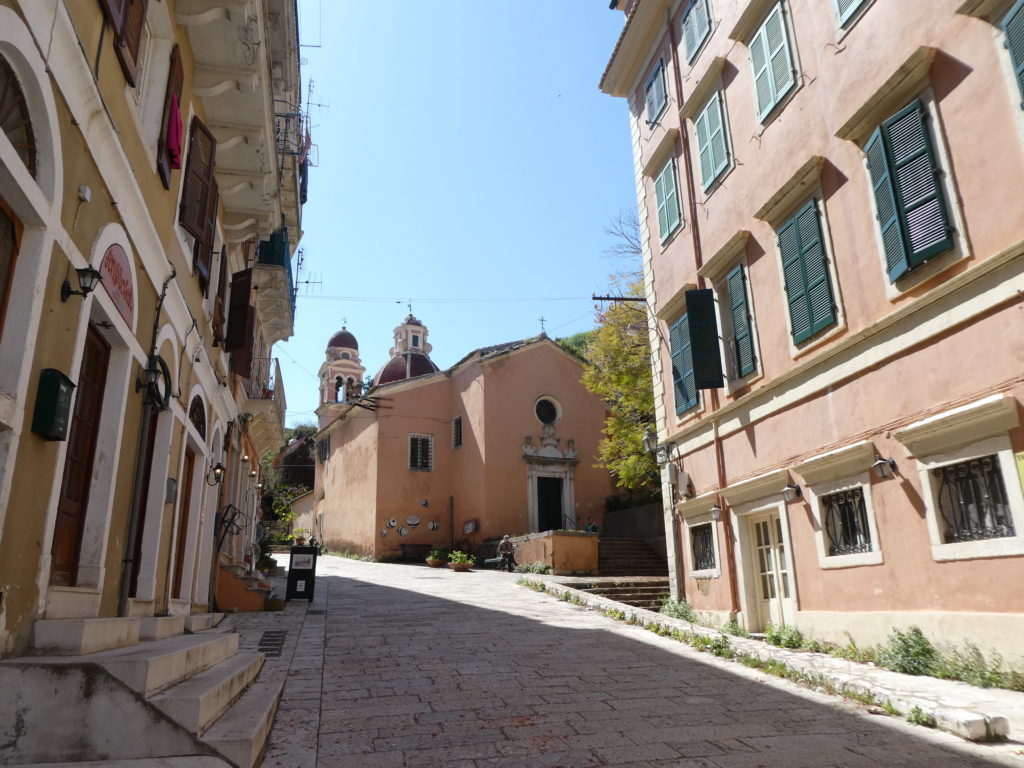 CORFU OLD TOWN – It really has the wow factor, with some sensational architecture. The buildings come from a wide range of influences. They zip from ancient Greek and Byzantine, to Venetian, to French and British imperial. Wander around the narrow alleyways, along the water's edge, and of course the striking French-inspired Lipton. Its many coffee shops and outdoor seating areas are ideal for whiling away a sunny afternoon.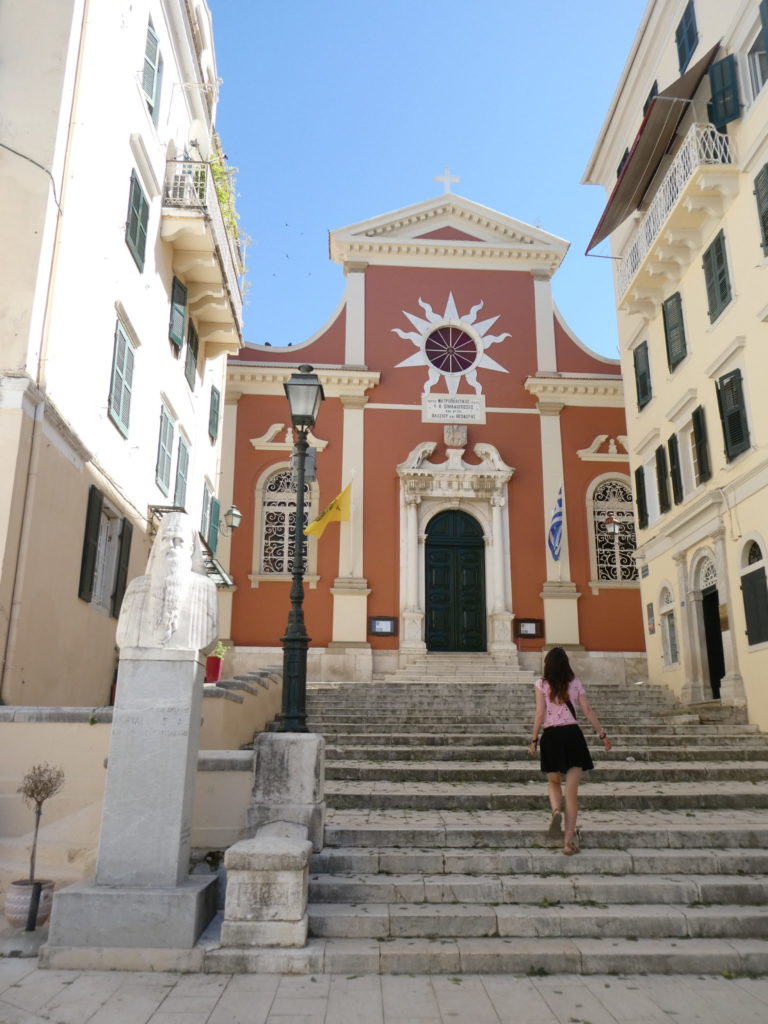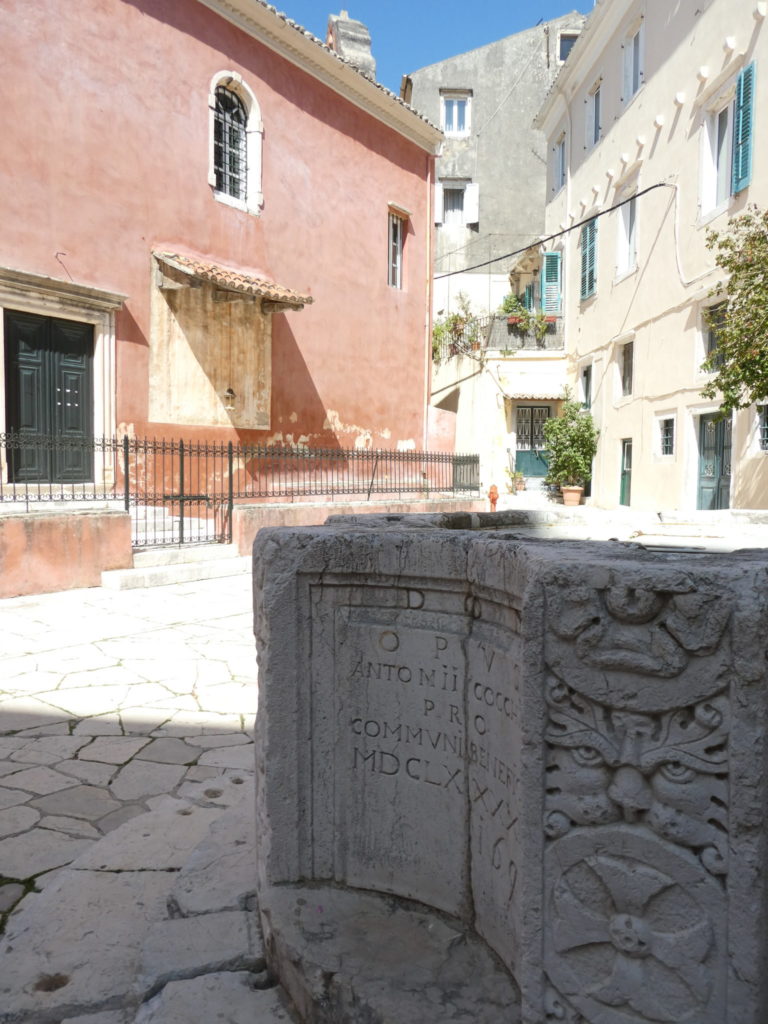 You can feel the British influence in the picturesque gardens dedicated to Gerald Durrell, who wrote My Family and Other Animals on the island, and the Esplanade, with its prominent cricket pitch. Monuments include a commemoration of the union of the Ionian Islands to Greece, a bandstand, and the impressive Maitland Rotunda. Many of the central streets are full of eateries and souvenir shops, which provides a bustling atmosphere.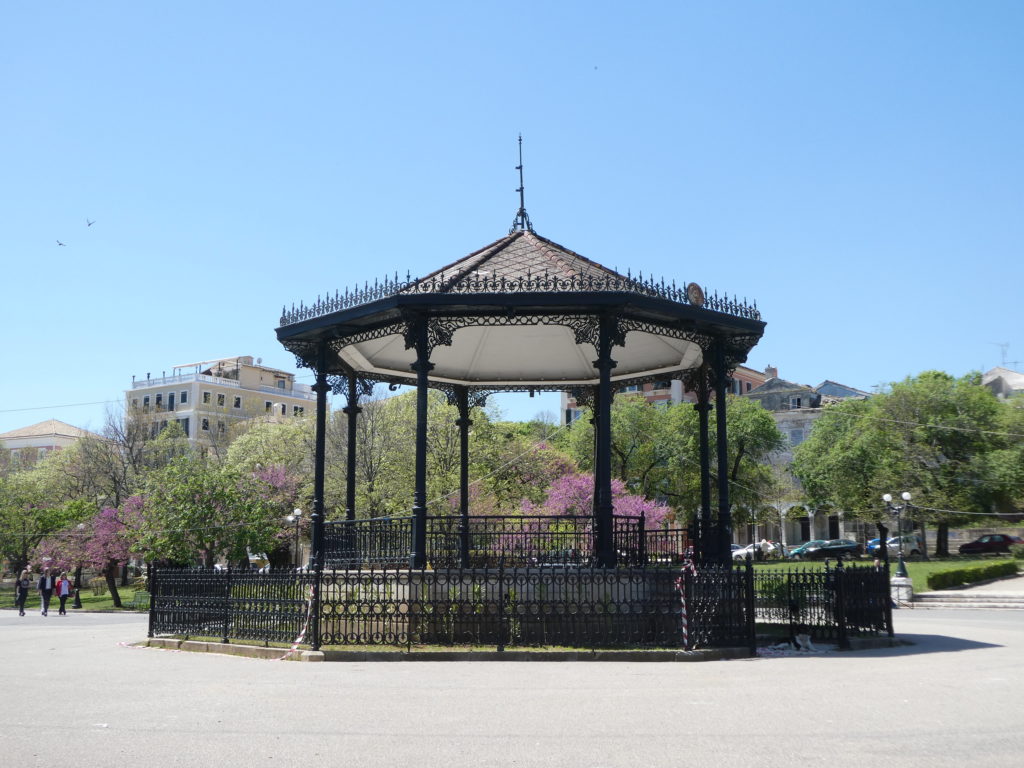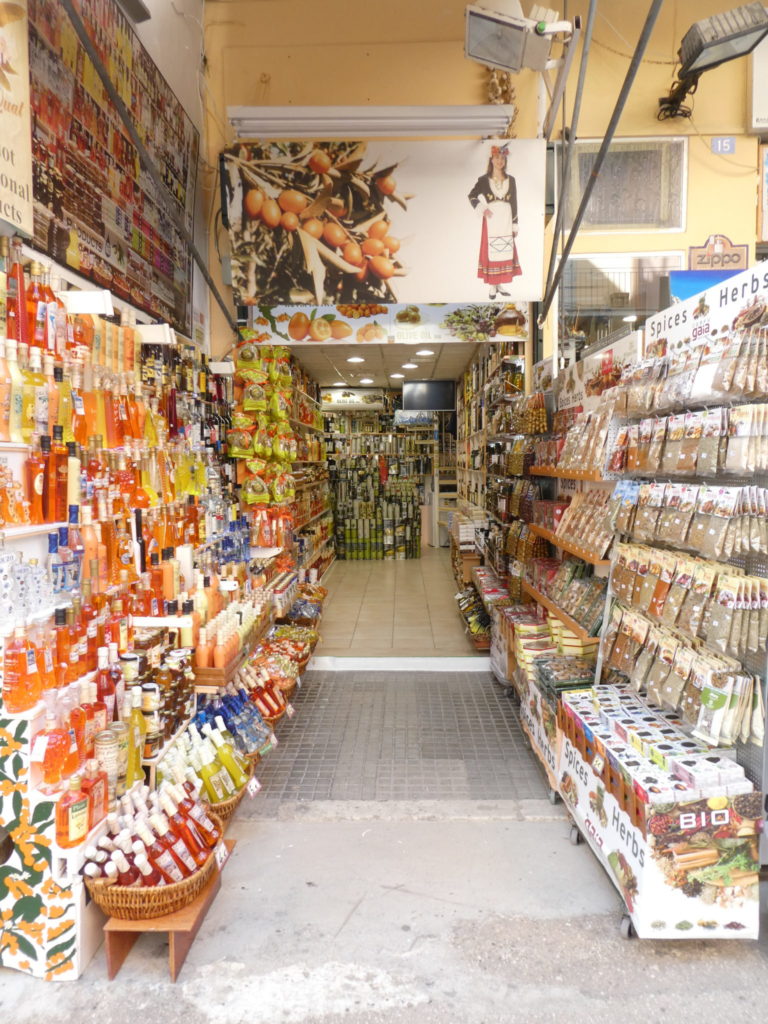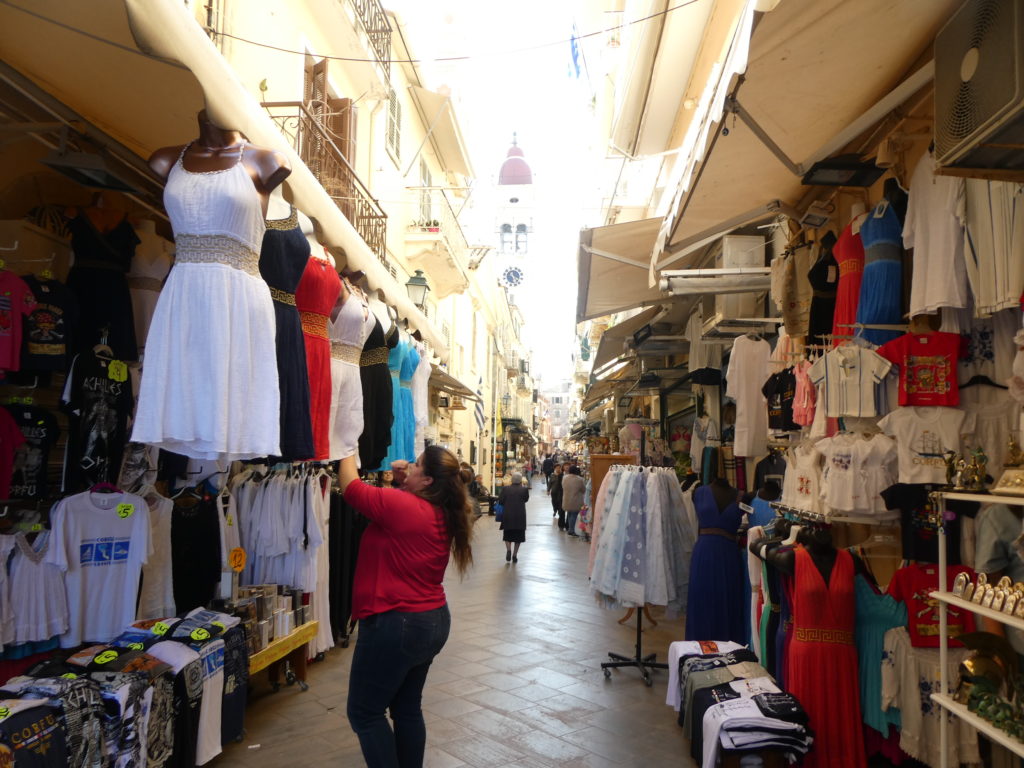 Cultural events often take place around here, including the famous Easter celebrations which we witnessed. Around the sea front area you'll find many museums and historic buildings. They include the home of the man who wrote the Greek national anthem, a Byzantine Museum, and the Reading Society. Don't miss the Town Hall, however, an impressive building with large faces carved in stone around its façade.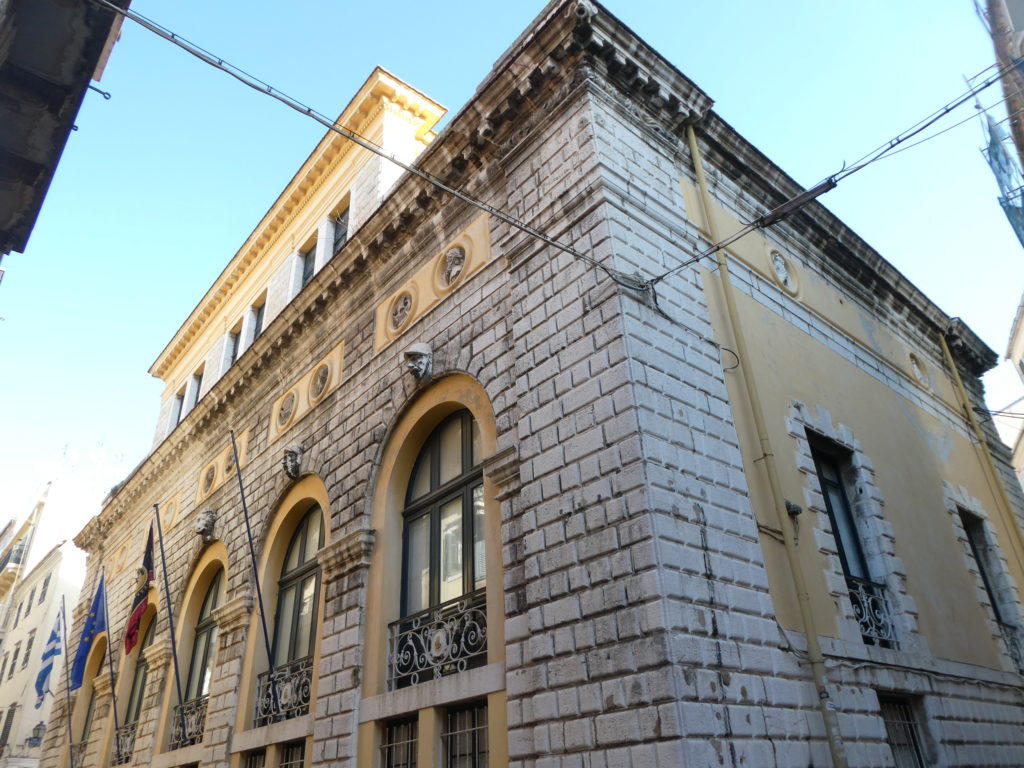 OLD FORTRESS – Perhaps the old town's most famous landmark, it was built initially by the Venetians. However, much of what is still visible today was altered and built upon by the British in the 1800s. The clock tower and fortress built upon the rocks themselves are the most imposing structures. You can walk along the walls admiring the foliage and views out to sea. Then, clamber up a steep and slippy staircase high up to a door topped by a Venetian lion. Back down on lower ground, head to the Church of St George. Originally a Georgian Anglican church, however now an Orthodox church, complete with relics of local saint Spyridon after the Greeks were given control of the island. Don't miss the view from the summit, for a fantastic overhead view of Corfu Town.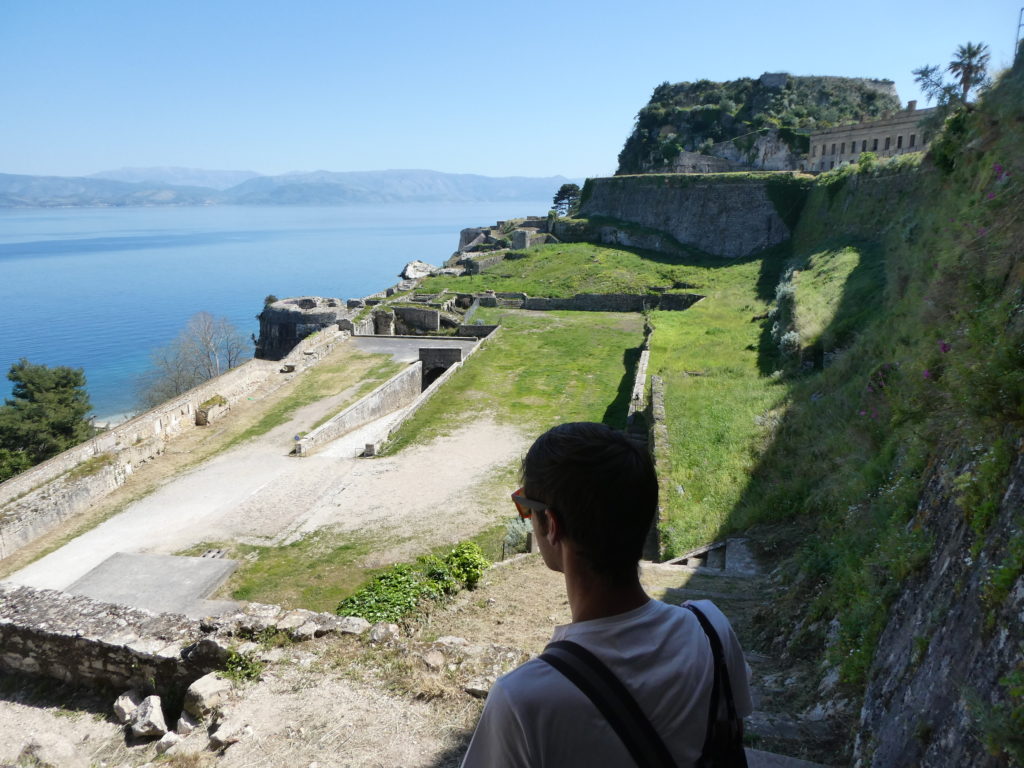 CASA PARLANTE – This unique experience sees you being a guest in an aristocratic home. A cookie and a shot of rose liquor, served on period trays and glasses help to set the scene. The house is all on the one floor upstairs, but is remarkably well preserved and a great example of one of many such houses that would have been here in Corfu in the 1800s. The animatronic figures are quite a surprise. Very well done, but it is a bit of a shock to see the countess standing where she could see her servants in the mirror and sipping a cup of tea! You'll visit each room with a guide in costume. It is a great concept, and an enjoyable experience.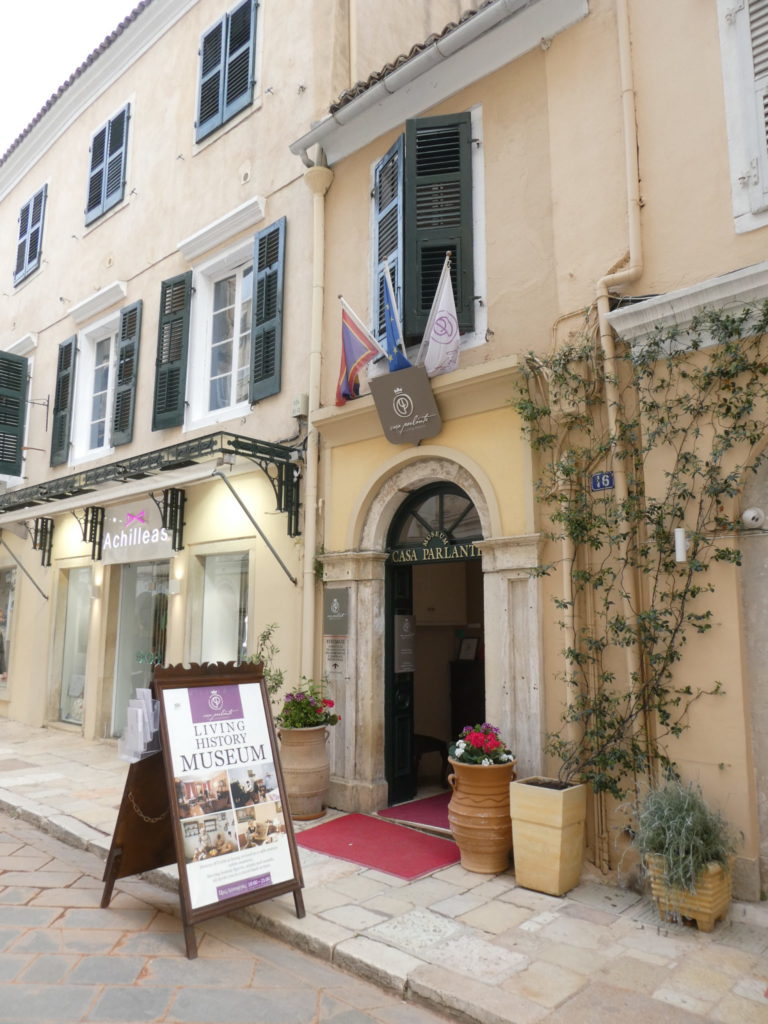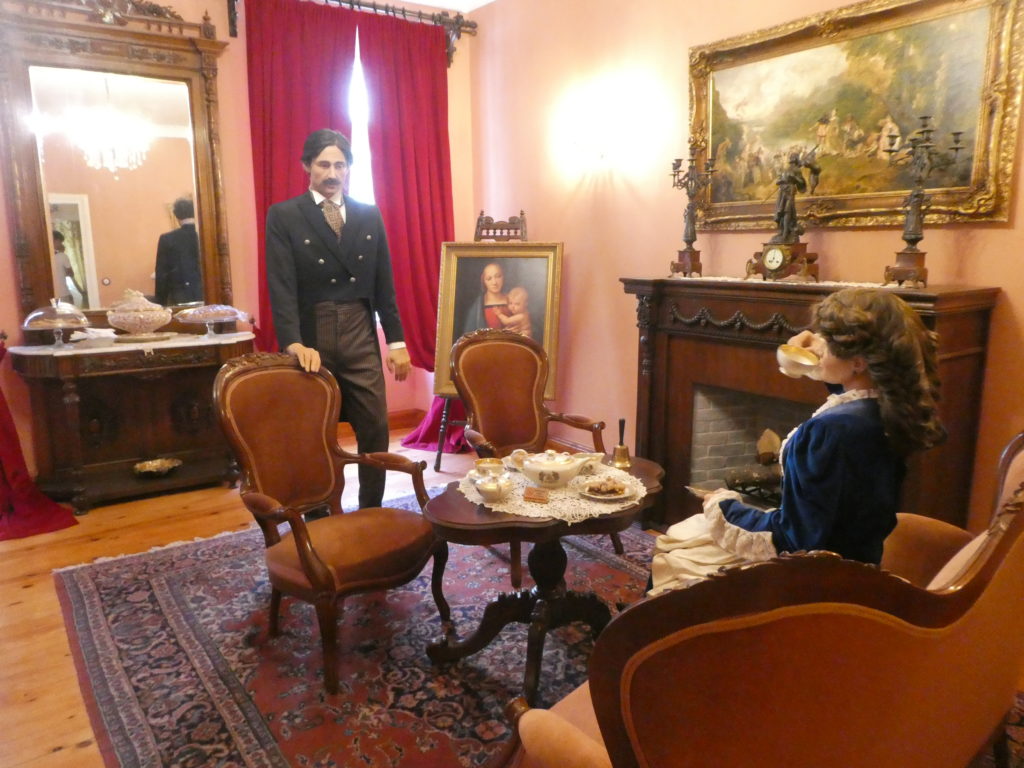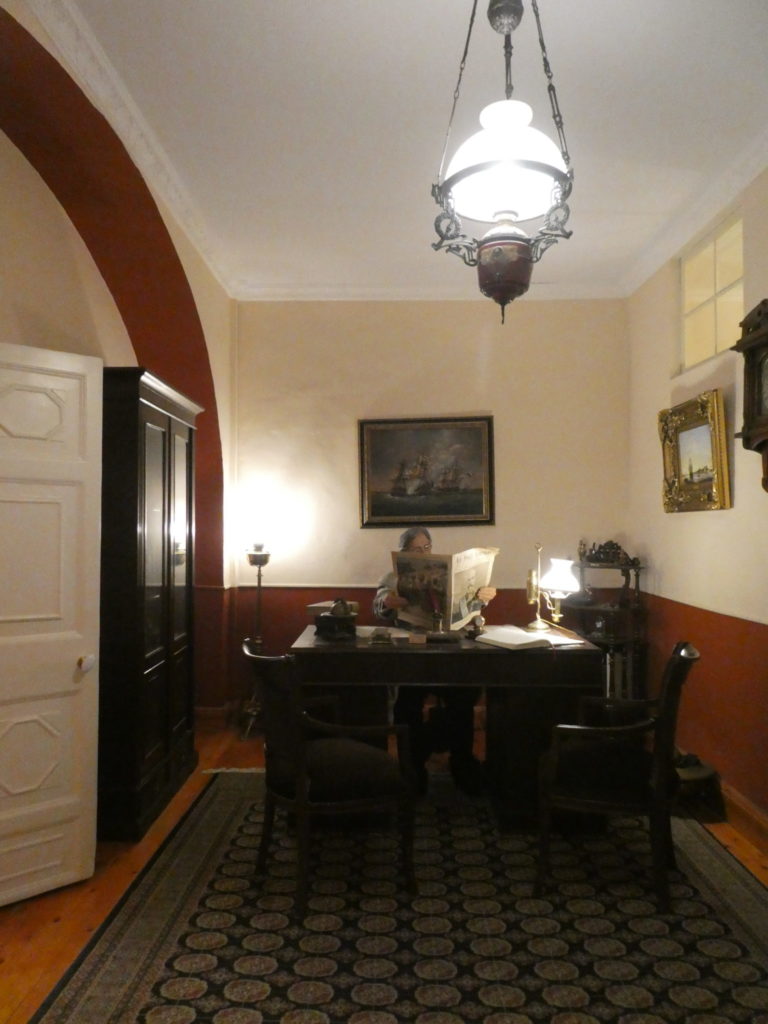 CORFU MUSEUM OF ASIAN ART – This museum is found within the British built Palace of St Michael and St George. The imposing neo-classical building has two impressive archways and a colonnade. The museum is split into sections devoted to different Asian countries. For example, the Japan rooms contain a recreation of a room used for the traditional tea ceremony, items of samurai warrior armour, masks and swords, and a fantastic collection of theatrical masks. The India section is particularly interesting, with statues of their many deities, many in rather unfortunate erotic positions. The palace is mostly behind the scenes, but on occasion you get a glimpse of the splendour of the palace. The largest section is about China. It goes in chronological order from prehistoric times to the globalisation of Chinese art, culture and particularly ceramics.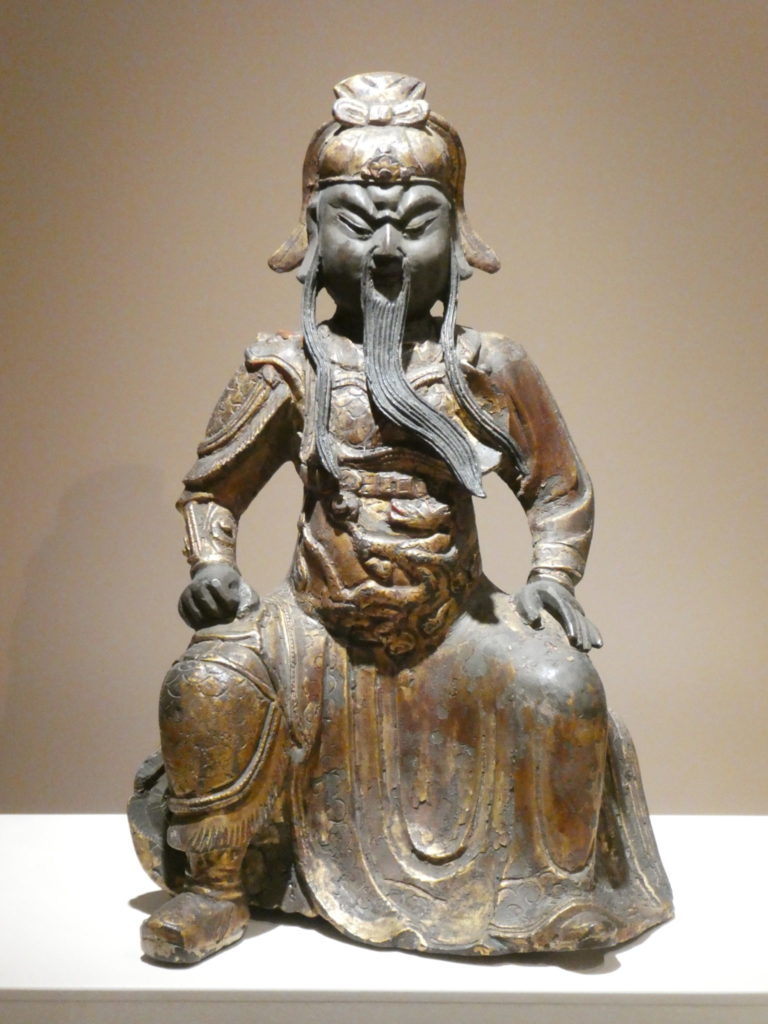 EXPLORING THE MOUNTAIN VALLEYS – You'll need a car for this, though we got amazingly lucky. We tried hitch-hiking to one of the mountain towns, and were picked up by two German girls who offered to let us join them on their drive around the island for the entire day! The scenery is breathtaking, with olive groves and cute little stone villages, some of which are returning back by nature.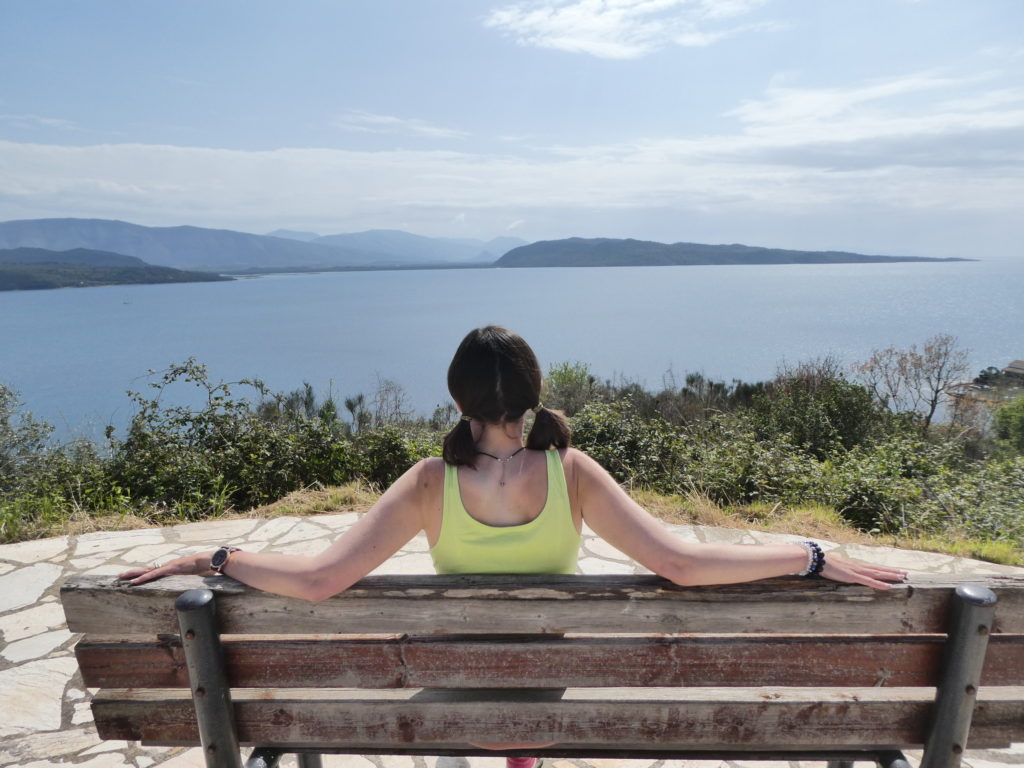 KERASIA –  Rather quiet and pebbly, but has a very picturesque tiny pier with tyres on the side. It is a great place to relax, swim, or go fishing.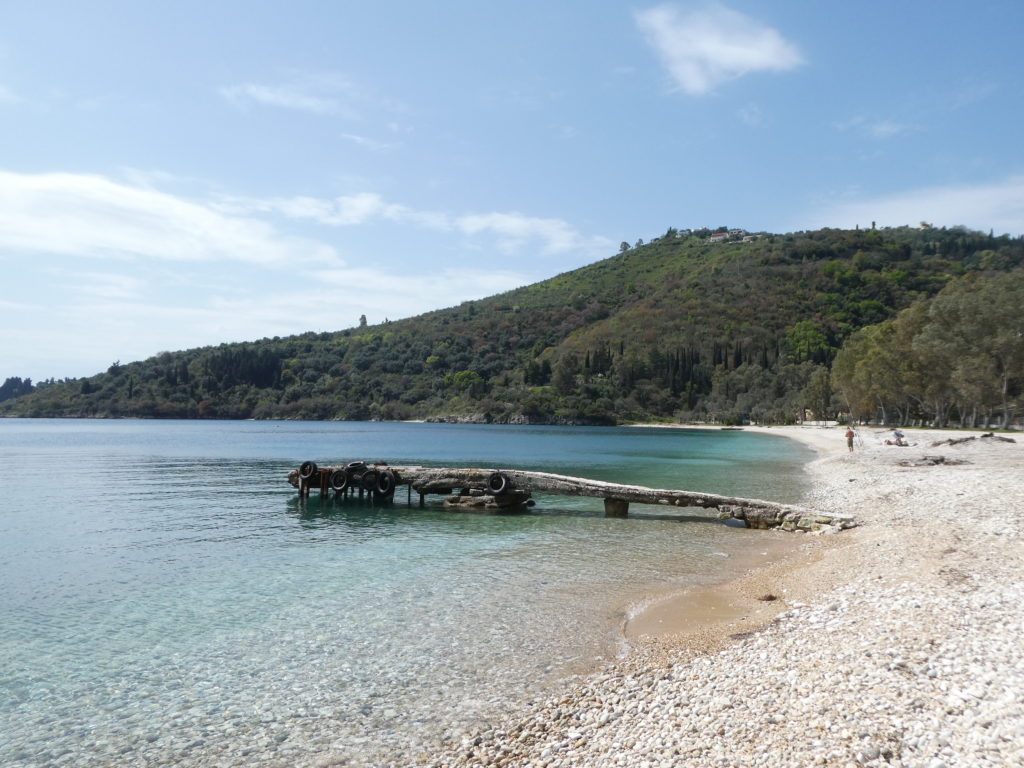 KASSIOPI – A northern Corfu beach resort town. There are two beaches here – Kanoni, and Pipitos. Both contain nice secluded and scenic coves, though they are pebbly rather than sandy. 
OLD PERITHIA – This stony village is all but abandoned. More or less all of the houses here are left in ruins. Just a handful of restaurants and a shop are open, catering to tourists who come here to admire the scenery. The greenery here is sensational. It is so impressive, both colourful and wild, since it is not manicured or anything like that. The mountain valleys provide stunning backdrops. The churches seem to be in one piece, but the houses are mostly without roofs, doors and windows, and even floorboards. You can pass through a quaint Venetian-style gateway that stands on its own, before climbing some stairs to explore an abandoned house. The highlight is the olive groves. The picturesque rows of olive trees weren't in season for us, but were delightful to see. It really is a stunning village, which provides so many photo opportunities.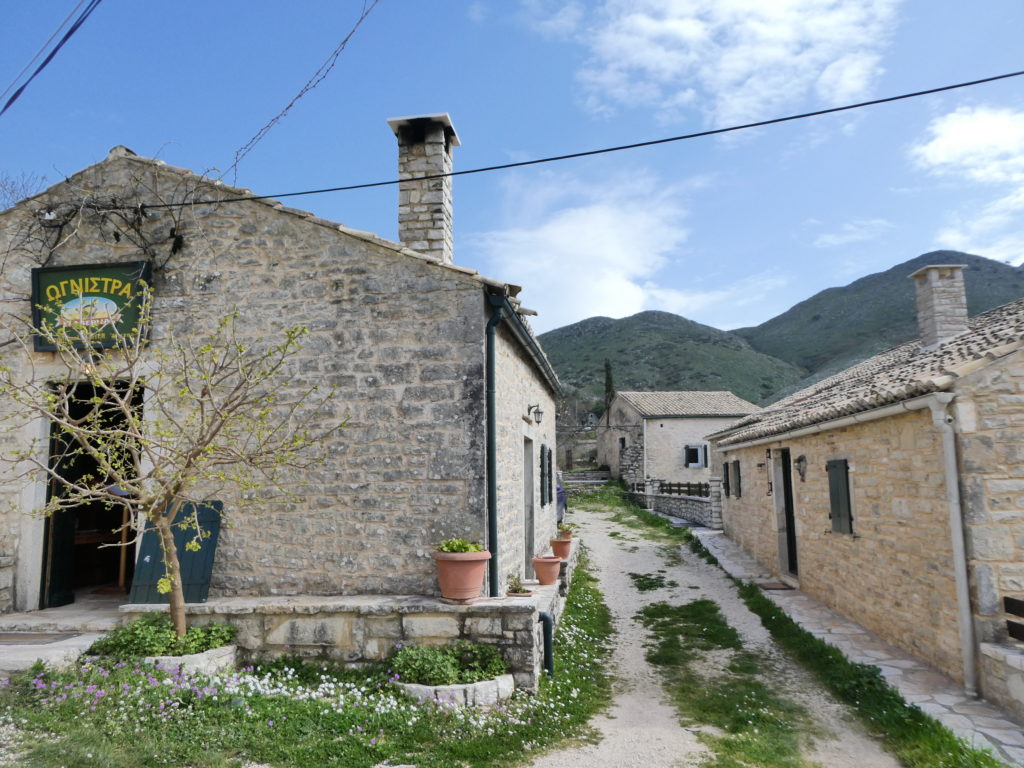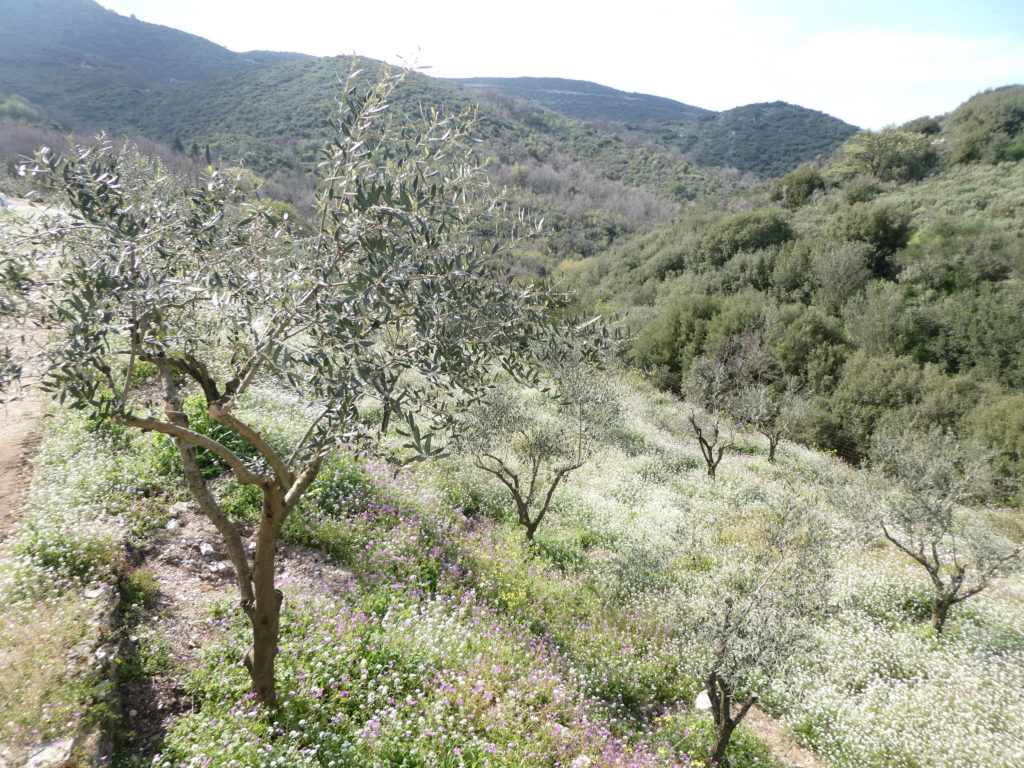 SUNSET AT KAISER'S THRONE – A scenic viewpoint area with great views of the west coast of the island, which is of course where the sun sets. You can also climb a nearby viewpoint reached by some stone steps attached to the rocks. The views are astonishing, but even better is the view of the sunset from the wall of a nearby restaurant. It is a nice scene, with part of a mountain range in the foreground, framing the sun setting into the ocean nicely.
SAMPLE THE LOCAL DELICACIES – In Corfu, almost every shop sells local delicacies, therefore free samples are plentiful. We tried numerous types of kumquats, dry nuts, and something a bit like a Turkish (Greek?) Delight. Other delights on offer include fig pie, coconut cake, and some covered nuts. You can even get free tastings of kumquat liquour, which isn't majorly tasty, and limoncello, which is a very bitter aperitif. Don't miss the chance to try a fresh kumquat, which tastes a bit like orange peel.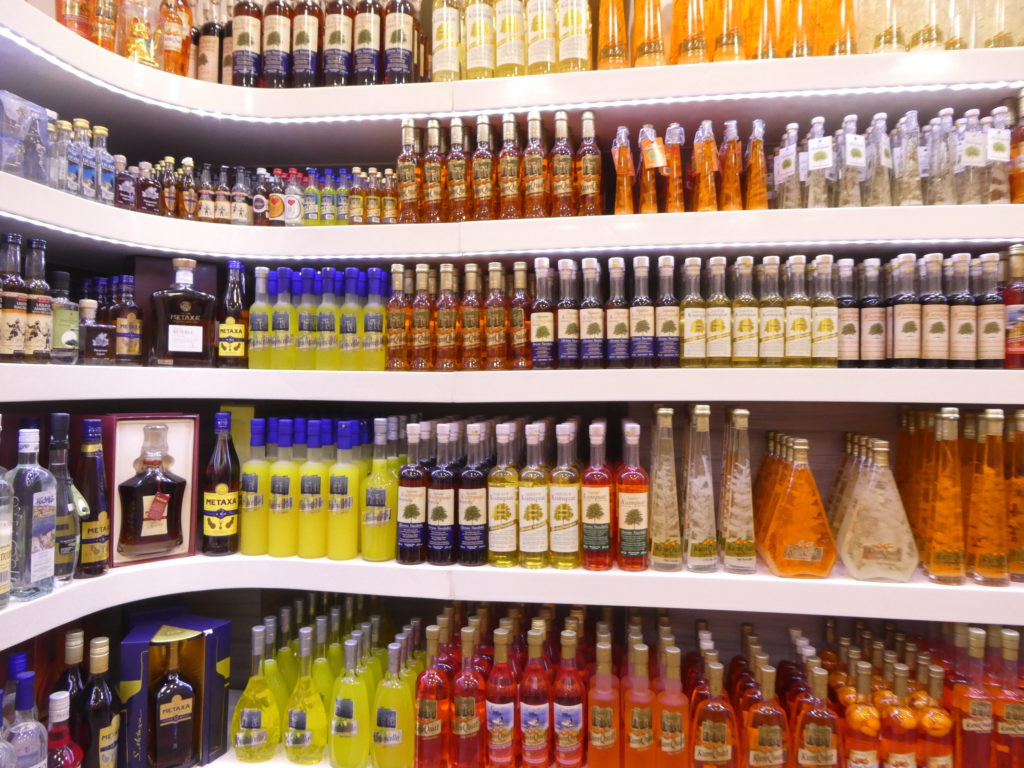 ENJOY THE STREET PERFORMERS – The streets are alive with the sound of music, and you won't have to go far without being entertained in Corfu. We happened upon a musical performance by a gypsy style group, which saw a fiddle and accordion player accompanying four voices. 
VLACHERNA MONASTERY – You can reach the monastery over a thin causeway. This quaint little white monastery was built for women in the 1600s. The airport is right next to it, therefore you can see planes taking off as you sit there. Inside the monastery is just a couple of rooms. One is a tiny room for lighting candles, whereas the other is the small church with an icon on display. The campanile is very picturesque, with its twin bells and plant pots lining the steps.
PONTIKONISI – Also known as Mouse Island. This is one of the most recognisable of Corfu's many attractions. The boat ride only lasts around five minutes, and you are then free to explore the small island for as long as you want. To be honest, however, this doesn't take long as the island really is tiny. We strolled around the perimeter first, before clambering onto some rocks where we were lucky enough to see a plane coming in to land right above our heads. Don't leave without climbing the stairs to the church, only occasionally open. To get those picture postcard views, you'll need to wait until you get back to Kanoni. Then, climb the steep staircase to the restaurant that overlooks the area, where there are a number of amazing viewpoints where you can see both small islands in one shot.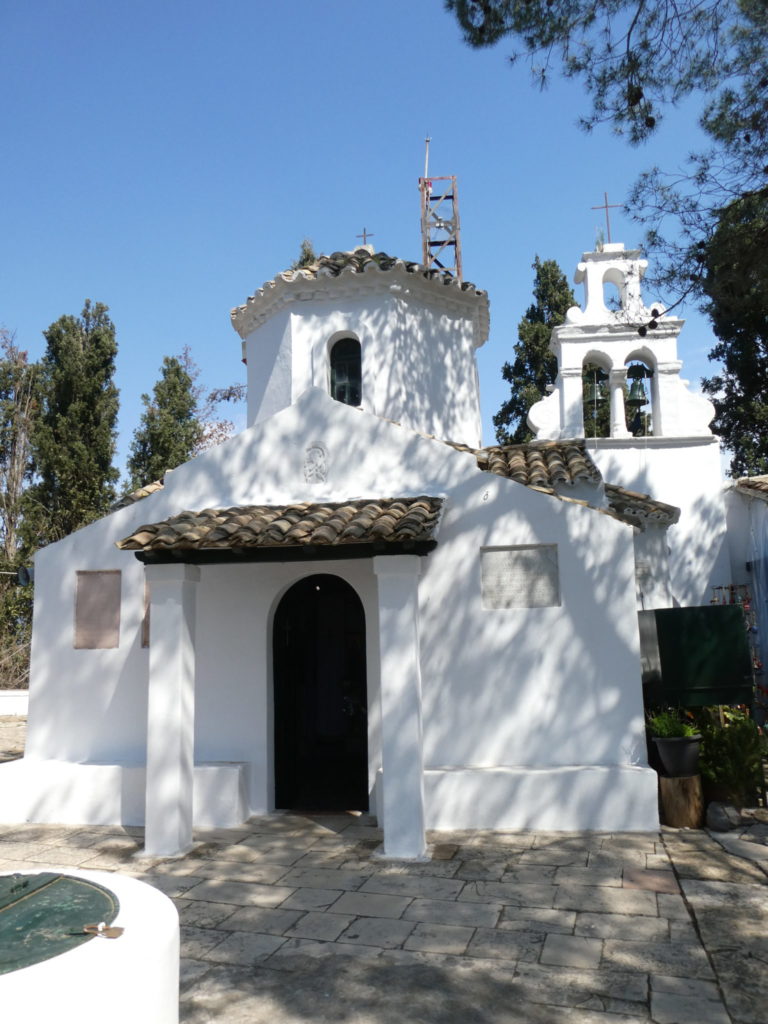 MESSONGI BEACH – This beach is indeed very scenic, with a rickety old pier that is quite daunting to walk on, since it feels like it could break at any point. The sand isn't particularly golden though, and has a dirty look about it. We sat on the pier and gazed into the crystal clear water of the sea, looking at what we figured to be remains of stone columns at the bottom.
THE CHURCH OF ST. SPYRIDON – This very popular church had queues of Orthodox Christians queuing to bow down to his icons, presided over by a very bored looking priest.
To book a trip to Corfu, we recommend visiting Skyscanner for flights, and Booking.com for accommodation. Links will open in a new tab.
Do you have any Corfu favourites that we didn't get chance to visit? Let us know, and we'll be sure to add them to our list for our next visit! 
Like it? Pin It!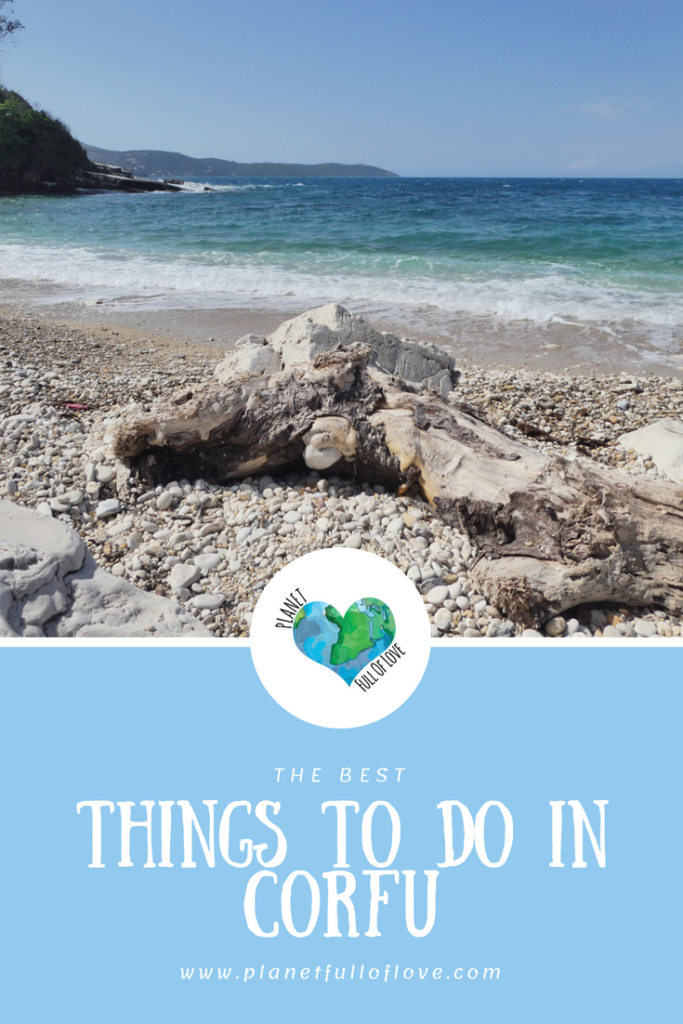 This post contains affiliate links. By clicking them to purchase your flights, hotels, and car hire, the companies involved pay a small commission to us at no cost to yourself. This helps to keep us on the road, creating guides like this one. Thank you for using them!