Sometimes, the best experiences are found off the beaten track – Putalj Winery, Split
Exploring the wondrous lived-in ruins of Split, it was hard to tear ourselves away from the ancient history. However, we are glad we did – to explore another side of history at Putalj Winery. One that goes back a thousand years itself! Our journey started outside the Golden Gate of Diocletian's Palace, where we were being picked up by our friendly driver in a BMW minivan.
We were then whisked away for a guided wine tasting experience at Putalj Winery. The whole thing was almost like a social occasion, with seven other guests. Four were from the USA, with a group of three from New Zealand. The first stop on the Winemakers' Tour is a stunning location on a terrace on an idyllic hillside amongst the winery's vineyards. The views are unbelievable. This really is a premium experience!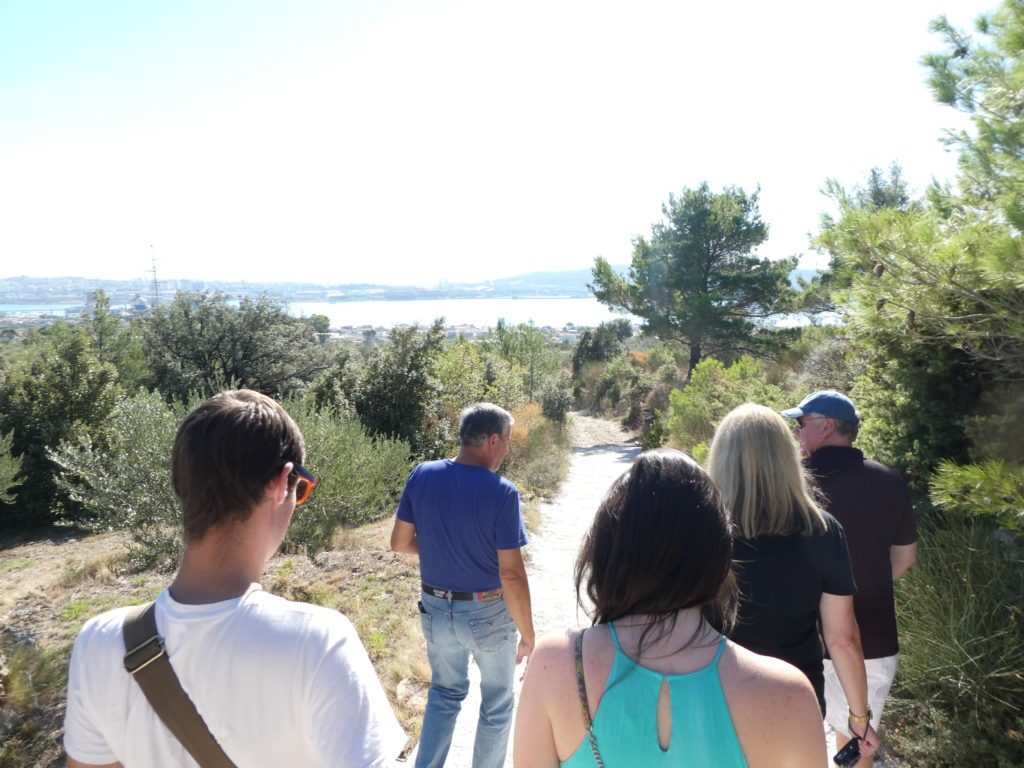 The host is the winemaker himself, Anton Kovac. After welcoming us, we were shown to a table each overlooking both the vineyards and the sea. We were given a glass of rose Plavac Mali wine each, along with enough bread and cheese to stop us getting too carried away so early in the day! In fact, we were given the entire bottle to drink as much as we wanted. Bearing in mind it was only around 1.30pm, and we aren't huge drinkers, this was kind of daunting!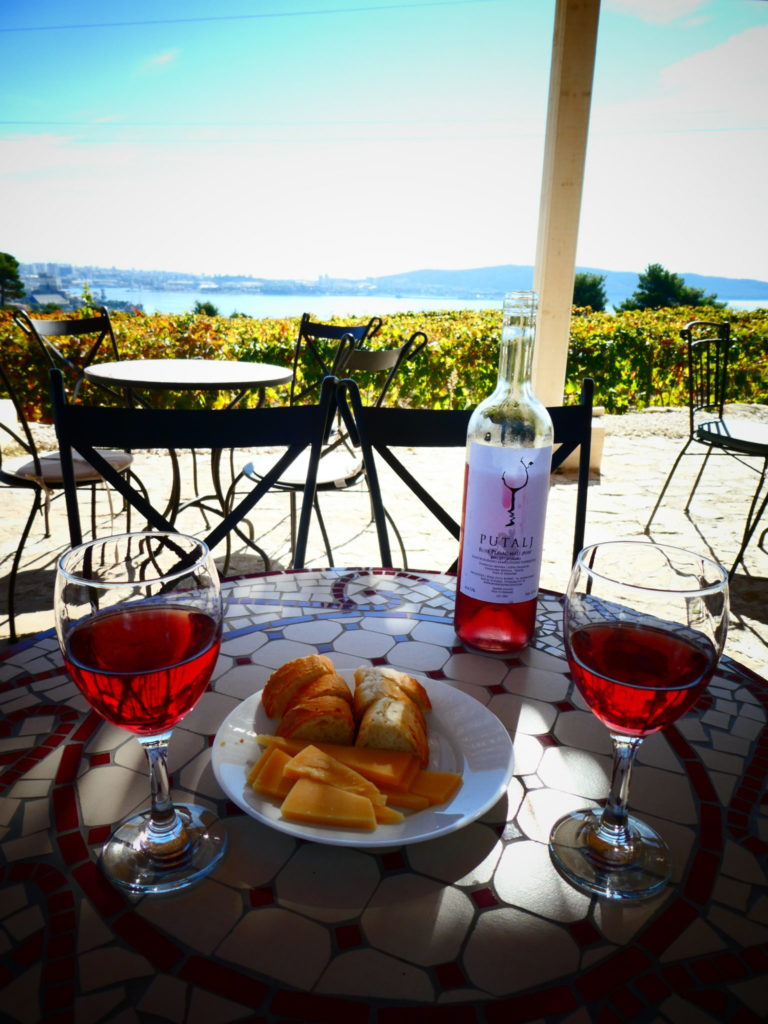 Now this is how to have a history lesson…
We had at least one extra glass, but had to be careful since there was plenty more wine to come! As we sat enjoying the peaceful ambience, Anton discussed the history of the vineyard, a family business that went back generations. In fact, the vineyards probably date back a thousand years! The family's story is a fascinating one, which was nearly ruined by a couple of twists in fate.
Firstly, there was a disease that struck the vineyard in 1910 that lasted for twenty years. The family members emigrated to look for work, left helpless by it. Secondly came the onset of communism in the country. As a result, the family lost two generations of winemaking skills. Luckily, times changed just in the nick of time, and Anton was able to return the family business of making top quality wines to the forefront once again.
Imagine becoming world famous over night…
Putalj Winery received an unexpected boost in 2001, when it was found by grapevine geneticist Carole Meredith that the grapes that make the famous Zinfandel wine in California are genetically identical to the ones found here. Therefore, the area could be claimed to be the true birthplace of Zinfandel wine. There is only a small area of land which has the required conditions to make this, so it really is a marvel of nature. Putalj is the name of the area where the vineyards are located. Over the hill, there is a totally different climate!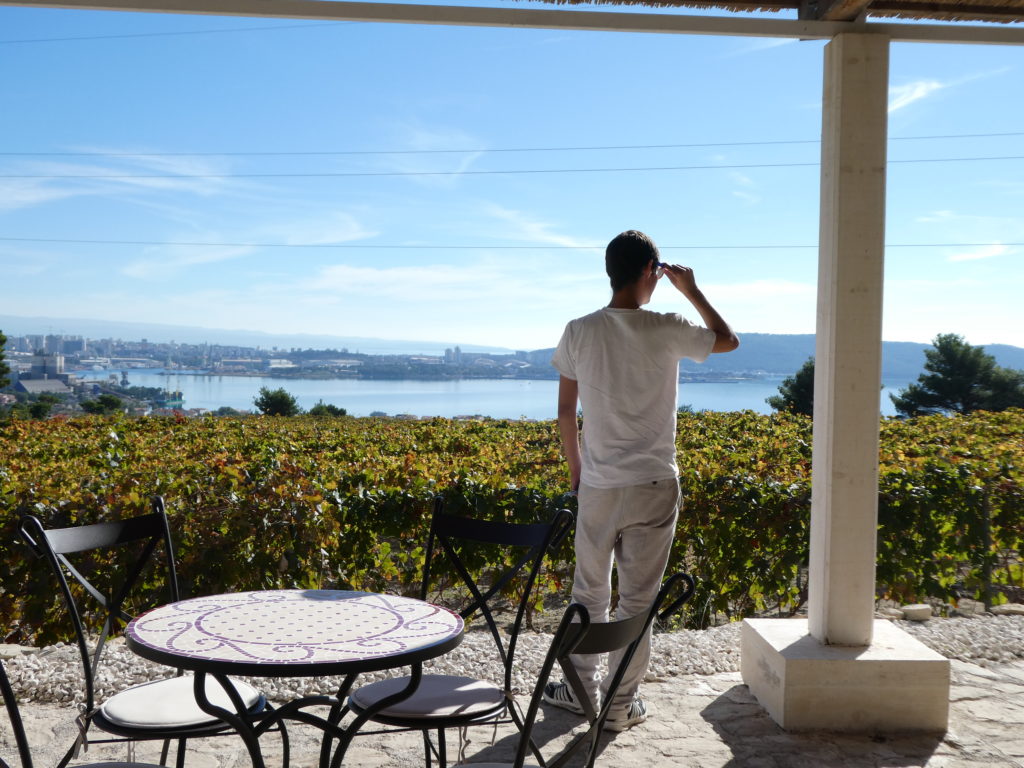 The guests are welcome to ask questions. This resulted in us finding out how the label was designed (it depicts the water source, a corkscrew, and a tree root), and the pitfalls of bad weather. 15-20,000 bottles of wine are produced here, and they are only found locally. Either here at the winery, or in local restaurants. Even olives are grown here, which result in some premium olive oil produced on-site as well. Afterwards, we were able to inspect the vineyards.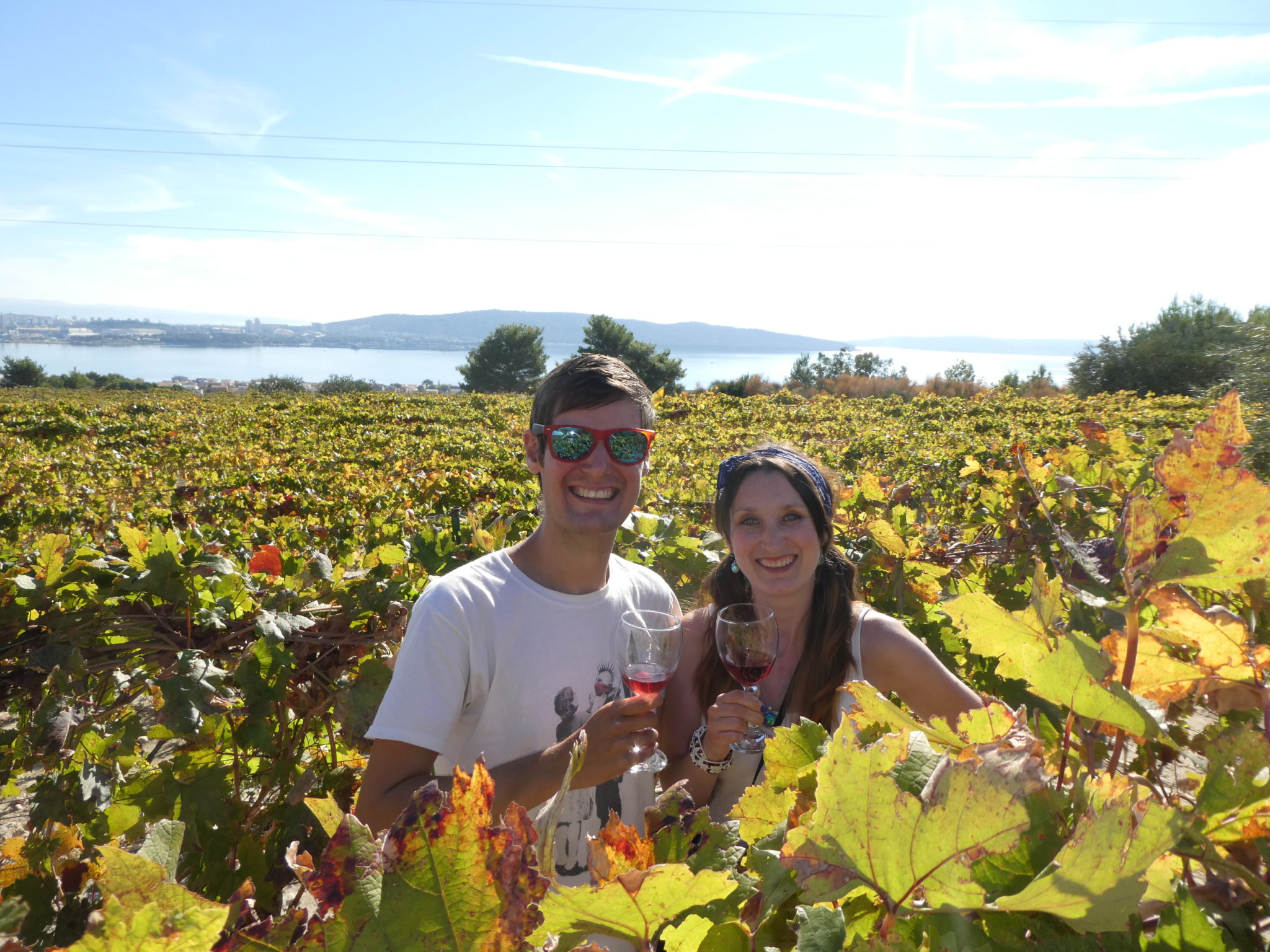 Drinking from the barrel has never been so elegant
Once we were all ready, we were driven to Anton's house for the next part of the tour. The actual winery is based here. Inside, there are many fermentation tanks, containing different types of his wines. After explaining how everything worked, Anton started to hand out the samples. They weren't sample sized, by any means. They were full glasses of wine, served directly from the fermentation tanks!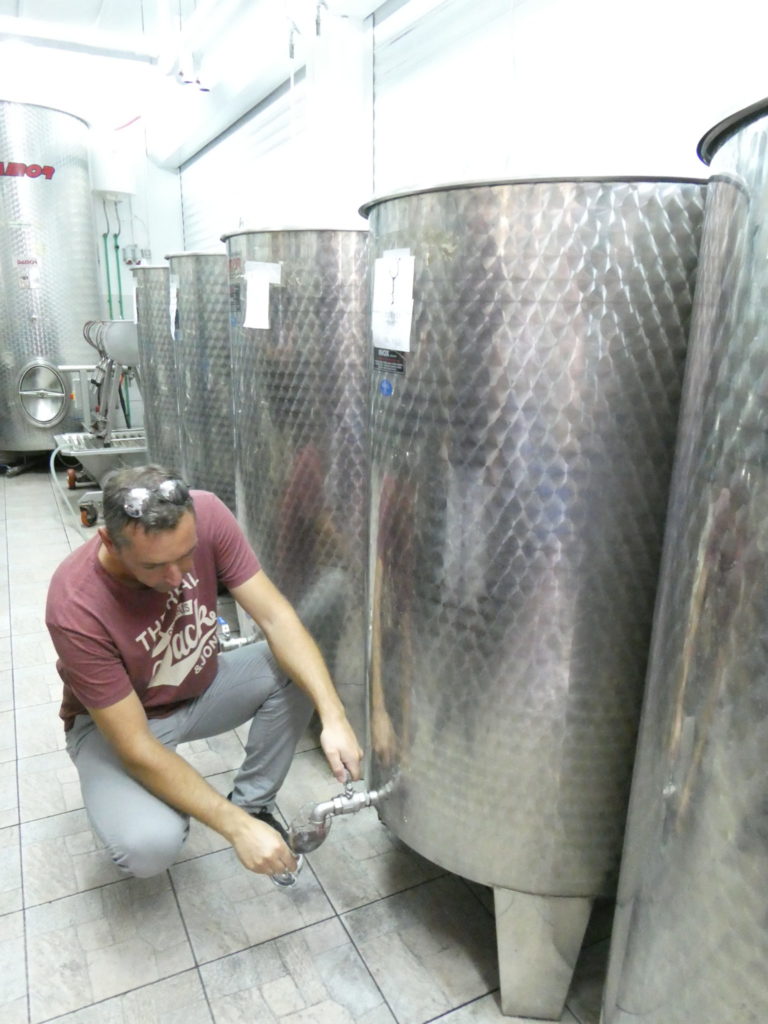 He told us that we didn't have to drink the whole glass, and to pour the remainder down a drain in the room. However, not many of us took him up on this, and made sure we finished every drop, since it was so delicious! One of them was called the 'danger wine' due to its strength! After numerous glasses of wine, we were already pretty tiddled to be fair!
However, the finale was being taken down into a rustic and cosy dining room, with barrels on the wall. We all sat at our own table. Amazingly, despite how much wine we had already been plied with, Anton asked us which our favourite was, and provided us with a bottle each to drink over a tasty plate of food. Amy went for the rose. I went for the 'danger wine'! It was served with different cheeses, and plenty of smoked ham, all beautifully presented.
Fresh olive oils almost as good as the wines
There was also the opportunity to try some of the delicious olive oils they produce here. We unfortunately missed an even fresher batch that was nearly ready, since Anton told us there is nothing like the taste of totally fresh olive oil. It was a really nice convivial atmosphere, with everyone having a good chat. Conversation flowing freely, especially with how much wine had been consumed. It was really quite disappointing when the driver appeared again, to take us all back to Split. It felt rather sudden to be honest, with how the day was flowing.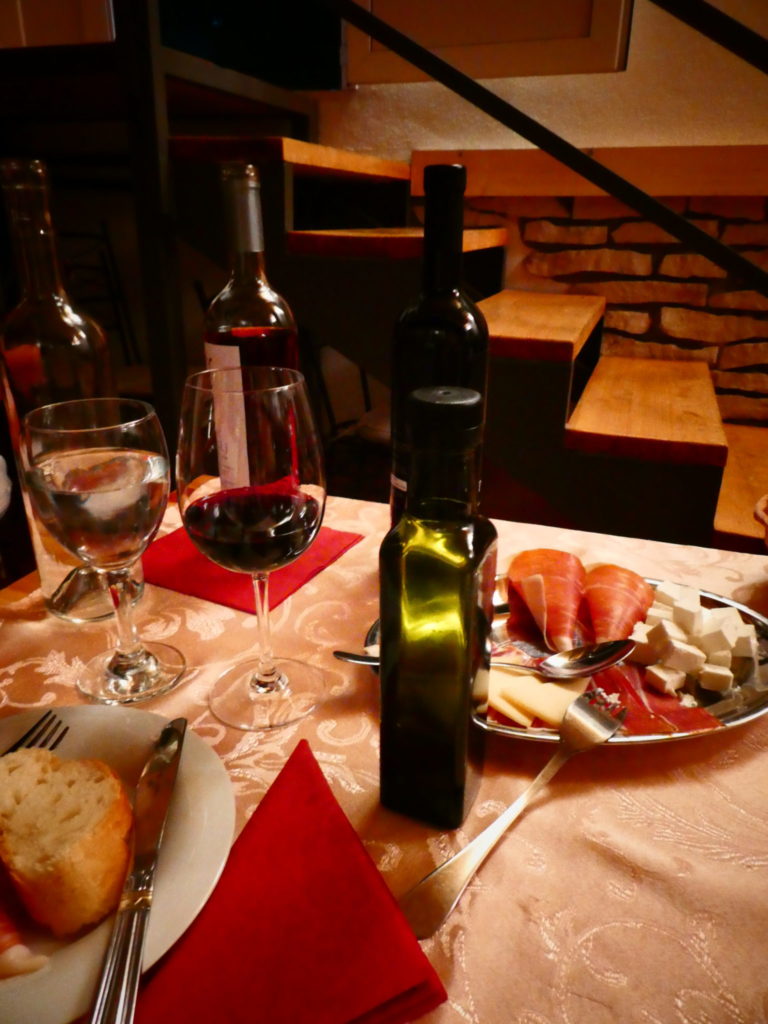 Normally, this experience takes place in the evening. Indeed, it did feel like a night out, and was rather disorientating when we left in the blazing sunshine just before 5pm! Back in Split, we returned to the Peristyle of Diocletian's Palace. It really is an astonishing place, even through now-bleary eyes. However, this is not all that Split has to offer. For one of the best experiences that you can have in Croatia, contact Putalj Winery. It is an evening out that you will never forget!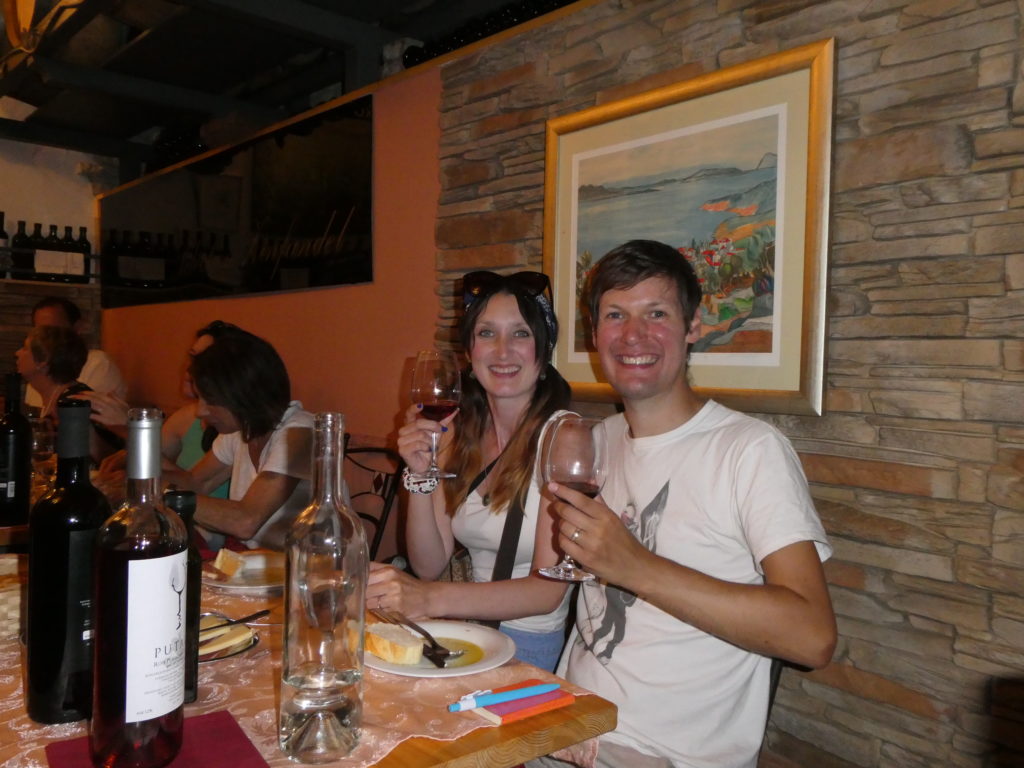 Have you been to any good wineries on your travels? Let us know in the comments…