Karlovy Vary is a world-famous spa town in the Czech Republic, also known as Carlsbad. It became renowned during the 1800s for its hot spring waters, which are believed to have healing powers. Despite intervening years of neglect, the spa town is now just as picture perfect as it ever was, and a fantastic place to visit. Read on for our travel guide to Karlovy Vary, and join a long list of Royals, and other VIPs who have visited, especially in its heyday.
THINGS TO DO IN KARLOVY VARY
Mill Colonnade – Of all the impressive structures in Karlovy Vary, the Mill Colonnade is the most grand of all. Its huge Romanesque columns hide an imposing space where you can find a number of hot springs. Over the summer, be sure to catch a performance by the superb Karlovy Vary Symphony Orchestra. They are top quality, and free of charge. You can climb up on its roof for nice views over the balcony, and a closer look at its sculptures.
Hot Springs – Karlovy Vary is famous thanks to its thirteen springs which offer free and unlimited spa water. They are high in specific minerals, and heat underground at varying temperatures. The temperature of the waters is displayed on a sign next to each one. It is advisable to buy one of the special ceramic drinking cups with a little spout that are on sale absolutely everywhere in Karlovy Vary. We were lucky enough to get a tour of the local factory where they make them. They make a great souvenir too!
Diana Lookout Tower – You'll have to climb many steps to get to the top, but once you do, you'll get the very best views over Karlovy Vary. Karlovy Vary is surrounded by woodland, and trees that have leaves only towards the top and very tall, bare barks. At the bottom of the tower, you'll find a mini zoo that contains miniature pigs, a butterfly exhibit, and a playground. If you are hungry, there is a cafe up here too.
Hot Spring Colonnade – This concrete socialist-era monstrosity of a building is currently being renovated. However, don't worry, as they have re-routed the famous 'sprudel' outside. The sprudel is a hot spring that shoots the water many feet into the air at 72 degrees! It is often enough to cause steam in the air!
Grandhotel Pupp – This exclusive five-star hotel is worth visiting even if you aren't staying there. It was the filming location for the James Bond movie, Casino Royale. Make sure you dress smartly, or you'll stand out like a sore thumb!
Church of St. Peter and St. Paul – Also known as the Russian Church, or the Gold Church. It is totally gorgeous, both outside and inside. Inside, the chandelier is the star attraction. However, the outside looks unbelievable with its golden domes and sky blue roofs, as well as beautiful Orthodox paintings on the lower parts of the wall. There is a statue of Karl Marx nearby.
Stara Louka and Nova Louka – Karlovy Vary's most beautiful streets are filled with pricey shops, and elegant cafes. The stunning buildings are very well maintained, and you'll instantly feel transported back in time. Its riverside location is also rather special.
Church of Mary Magdalene – A rather nice Catholic church. Built in the 1730s in baroque style, it is well worth a quick look inside one of Karlovy Vary's most important buildings.
Jan Becher Museum – Becherovka is a very famous local drink in the Czech Republic, and this museum in its original factory tells you the full story. You'll visit the museum with an audio guide, and sit down to watch a movie about the drink. There is also a great tasting at the end. For more information about the experience, check out the post we wrote about our visit.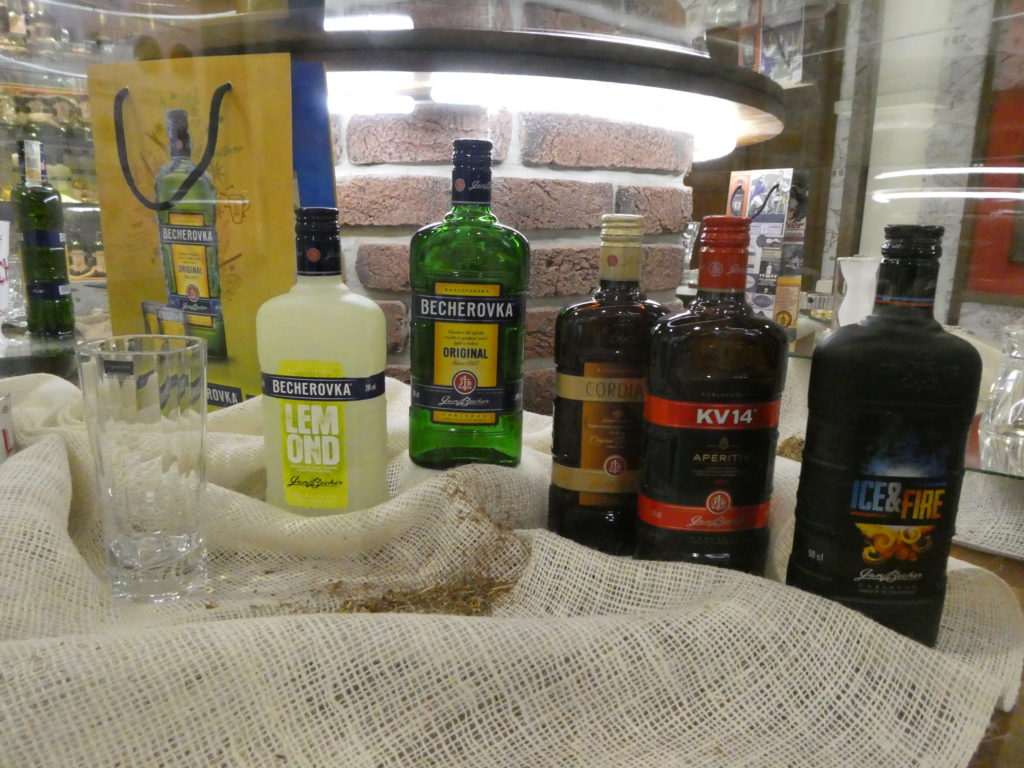 Moser Glass Museum – You can visit the historic glass factory from 1857 for a guided tour, and see its small museum. There are plenty of modern touches about the place though, such as the tall glass aliens outside. The factory is on a sort of assembly line, so you can see the entire glass making process from start to finish. Specialised craftsmen do each job, then women and children collect the pieces and take them to the next step. Surprisingly, you'll see them drinking beer while they work. It is the Czech Republic after all! The museum, whilst feeling a bit like a sales pitch, has some stunning pieces to see the finished articles.
Market Colonnade – The prettiest of the colonnades, and the only one made from wood. It is a bright and tall space with a monument to King Charles IV, Karlovy Vary's namesake, on the far wall.
Diana Funicular Railway – Especially if you have not been on one before, take the funicular railway to the top of the Diana Lookout Tower. It is something a little bit different, and saves your legs! Be sure to sit in the front carriage for the best views. Just buy a one way ticket, and take the pleasant walk back down through the woods.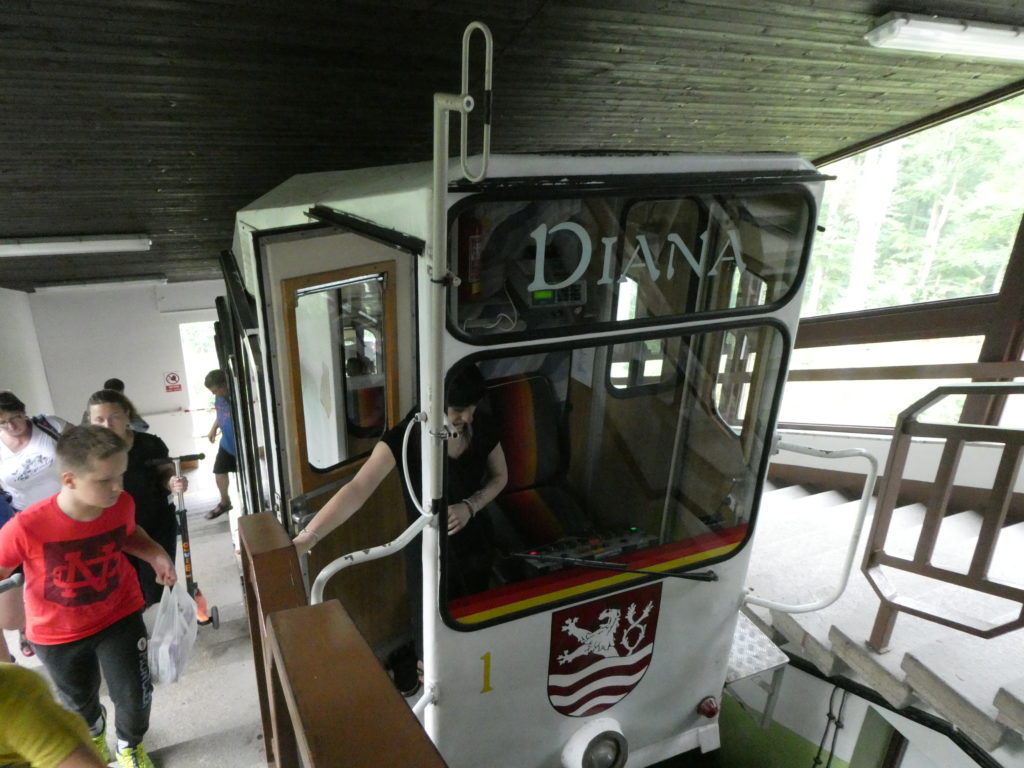 Park Colonnade – One of the smaller colonnades, it is nevertheless rather grand and beautiful, with Romanesque statues and a huge romantic gazebo over it. There are only two taps to try the spa waters from, so be sure to come back later if it looks busy. Some people fill up large bottles from them, so you might be there for a while!
Stroll down T.G. Masaryk Street – The main high street of Karlovy Vary is named after Czechoslovakia's first president, and you can find a striking statue of him here too.
Hotel Thermal – Most famous for being the location of the International Film Festival, the hotel also has a pathway around the back that leads to a viewpoint that gives great views over the valley. You can also see the famous huge outdoor spa water pool that sadly isn't in use anymore. Don't miss the realistic looking owl sculpture that sits on the wall to scare other birds away.
Deer Leap Lookout – If you are fit, take a hike up here for some stunning views. You'll find a small statue of a mountain goat on a rock on the summit. The Czech word for mountain goat is kamzik.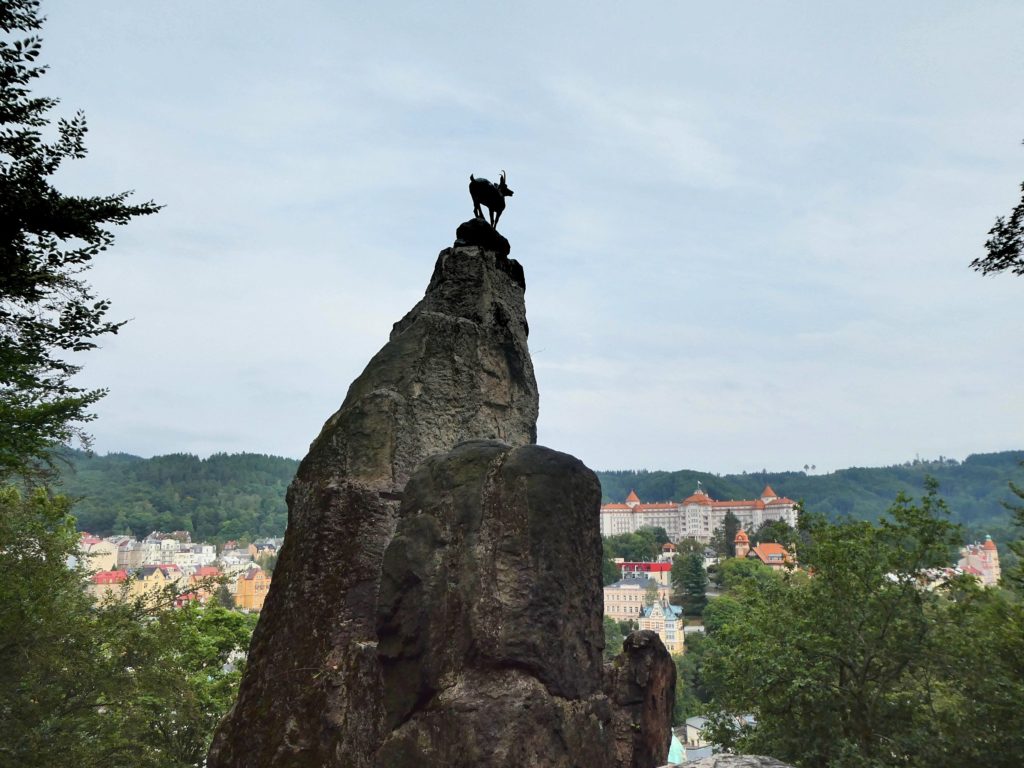 HOW TO GET TO KARLOVY VARY
From overseas? The nearest airports to Karlovy Vary are Prague, Dresden, Leipzig, and Nuremberg. Check Skyscanner for cheap flights from your location.
By train? Regular trains go between Prague and Karlovy Vary, and the journey is a rather scenic one. You can also get the train from Loket, Cheb, and Marianske Lazne. Check IDOS for timetables and prices.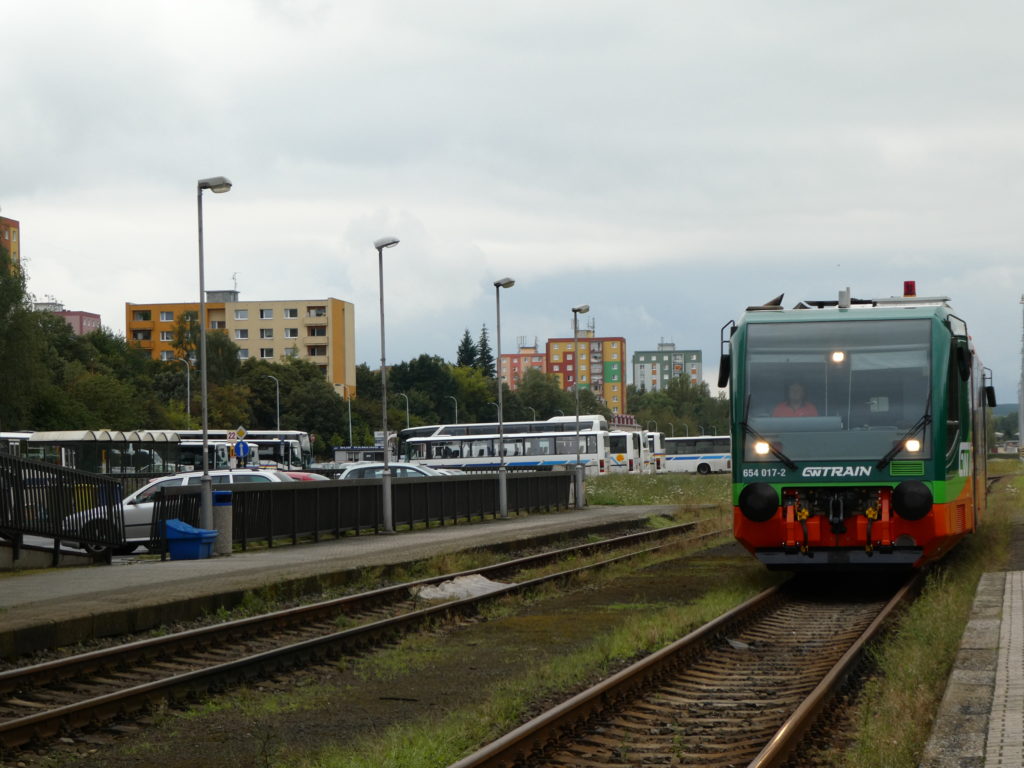 By bus? Student Agency and Flixbus are two of the top bus companies in the Czech Republic. They offer regular coaches from Prague, and Cesky Krumlov, amongst other places. We got the Flixbus coach from Bamberg, in Germany, and the service was impressive.
By car? You can hire a car for your trip to Karlovy Vary. To find a good price, compare using Skyscanner.
WHERE TO STAY IN KARLOVY VARY
Luxury? You're not short of options for a luxury stay in Karlovy Vary, but Quisisana Palace would be our top pick. Its central location in a stunning 19th century residence, with luxury rooms and private spa suite ticks all the boxes. Book now on Booking.com.
Mid-range? Resort Poppy is in the surrounding forests, and is a nice place for a retreat to get away from it all. Book now on Booking.com.
Budget? Hotel Maltezsky Kriz is on the iconic Stara Louka. Indeed, it is inside the oldest half-timbered house on the street! Book now on Booking.com.
Cheaper and more authentic? Try Airbnb, where you can find some unusual and fantastic homestays in more traditional surroundings. Click our special link to receive £25 off your first stay!
Free? Couchsurfing is a vibrant community of over 14 million world travellers, who host others on their travels.
WHERE TO EAT IN KARLOVY VARY
Try the spa wafers! Karlovy Vary's famous local delicacy is its sweet spa wafers that are on sale in many places across the city. The best place to try them is the shops called Original Karlovarske Oplatky. They come in many different flavours, but be sure to try whichever one they are serving warm at the time, warmed in little pans that go around in a spiral pattern. Very tasty!
Something special and local? The Hotel Promenade Restaurant has been named one of the top ten restaurants in the entire Czech Republic. All of the food is made fresh, and they even have some lovely home-made cakes if you have room.
Cheap and cheerful? Ventura Pub has a nice atmosphere, with lots of beer themed memorabilia. The pizzas are particularly tasty.
OTHER TIPS FOR YOUR TRIP TO KARLOVY VARY
How to pronounce Karlovy Vary? Khar-lo-vee Va-ree.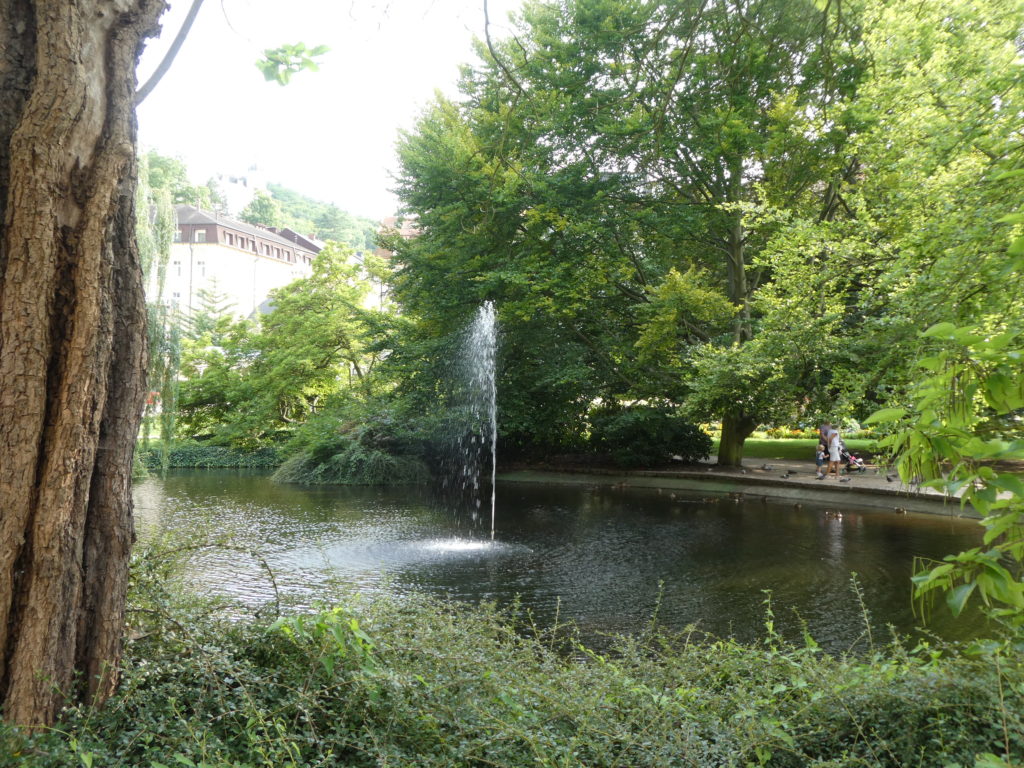 Make sure to buy one of the ceramic spouted mugs to drink the spa waters. Plastic bottles do not cope well with the waters. Be prepared that they aren't the best tasting waters in the world. However, when in Karlovy Vary…
Local doctors actually prescribe courses of specific amounts of spa waters to drink to patients, in order to cure all manner of ailments.
Karlovy Vary is perfect for hiking. Its surrounding forests are littered with hiking trails and observation points where you can see amazing views over the city.
Russian tourists tend to be the most well catered for in Karlovy Vary. However, there has been a slight drop in Russian tourists in recent years. You can get by with English, but it would help to have Czech or German programmed into Google Translate, just in case.
You can get spa treatments in many places in Karlovy Vary. However, it is worth making reservations in advance if you wish to do so.
Karlovy Vary's spa waters were discovered by one of the Czech Republic's most famous rulers, Charles IV. 'Karlovy Vary' literally translates to Charles' Bath.
Famous visitors have included Peter the Great, Tolstoy, Beethoven, and Karl Marx. You can find plaques and statues around the area to some of its most celebrated visitors.
Karlovy Vary is extremely walkable. A car may be useful for some of the surrounding attractions, such as the Moser Glass Factory, but most of its attractions are within walking distance. Indeed, we even walked from the Moser Glass Factory! Buses are also quite regular.
Don't leave without trying the spa wafers, and Becherovka.
Other places worth checking out nearby include Bamberg, Marianske Lazne, Pilsen, the Ore Mountains, and of course, Prague.
You can see the highlights of Karlovy Vary in one day. However, this isn't the ideal place for rushing around. Try to spend at least two days here.
Has this travel guide to Karlovy Vary helped you to plan your trip? Anything else that you would like to know?
Like it? Pin it!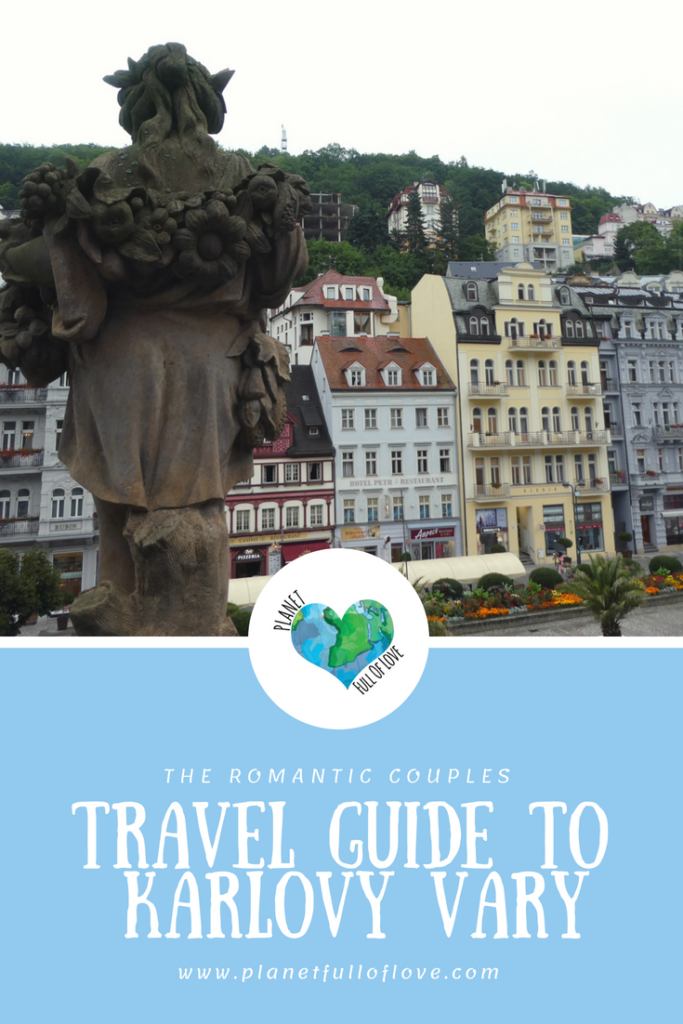 This post contains affiliate links. By clicking them to purchase your flights, hotels, and car hire, the companies involved pay a small commission to us at no cost to yourself. This helps to keep us on the road, creating guides like this one. Thank you for using them!