Jane Austen's House Museum, Chawton
2017 is the 200th anniversary of the death of one of England's finest novelists, Jane Austen. To celebrate the occasion, many events have been scheduled. The Bank of England has even placed the only known portrait of the author on their new £10 note. For fans of Pride and Prejudice, Sense and Sensibility, or Emma, Hampshire is the place to be. In this county, in the south of England, Jane Austen was born, died, and spent the majority of her life. It was here that she wrote all six of her legendary novels.
Hampshire has a number of Jane Austen attractions. We will cover them all on our site in due course. However, the best place to start is Jane Austen's House Museum in Chawton. This cottage, built in the 1600s, was Austen's home for the last eight years of her life. Nowadays, the house is open to the public, and doubles as a museum. The historical importance of this house is legendary. This house is where she wrote three novels (Mansfield Park, Emma, and Persuasion), and revised the other three (Pride and Prejudice, Sense and Sensibility, and Northanger Abbey).
You can easily make a Jane Austen themed day out of it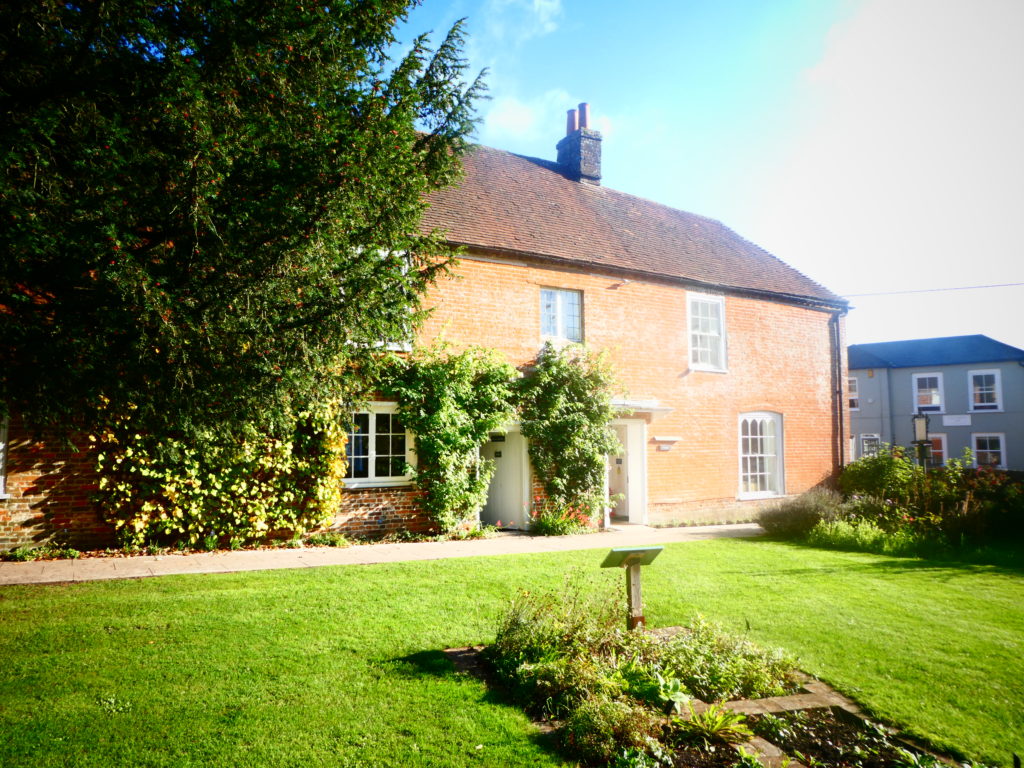 The museum is open year round except for January, and opens at the rather late time of 10.30am (10am in summer). Getting here for opening time is well advisable, since the house is rather small so it can get crowded quickly. At busy periods, they even operate a one-in, one-out system. There is a free village car park opposite, however this again can get busy. Another reason to get there early. A further reason would be to allow time to visit the nearby Chawton House Library, known to Jane as the 'Great House'.
Starting your walk in Jane Austen's footsteps at the museum is ideal. It is also the starting point for the Jane Austen Literary Walk, which heads to the nearby village of Farringdon. The quaint cottage is where Jane Austen lived almost the full last eight years of her life, and where she really made her name as one of the world's greatest novelists. Don't miss the chance to fuss over the resident cat, Marmite.
The yard has some interesting points in itself, including a donkey carriage that Jane would have used to travel between villages. The bakehouse is where bread and pies would have been baked, and clothes would have been washed. The garden is very pleasant, with plants growing that would have been used for dyeing clothes.
Get into character, and feel the history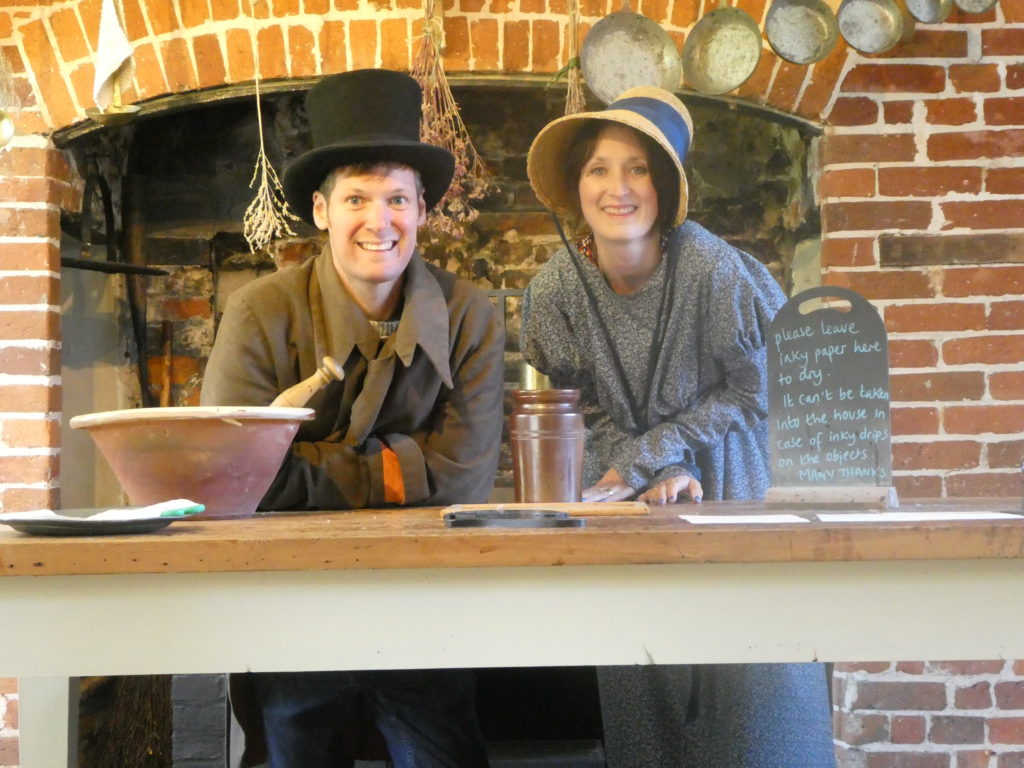 It is a great idea to begin your visit with the introductory video. The introductory video is a brilliant way to get an overview of both Jane Austen's life, and her time at the house, which saw her most prolific period. Don't forget to check out the kitchen, which is right next to the main house. They have some great period displays here, including the chance to dress up in clothes from the time. Imagine yourself as one of Jane Austen's characters.
There is currently a temporary focus on one object each week to celebrate 200 years since her death, with some fancy books that you can carry around with you. The books give detailed information on 41 of the objects in the museum. However, the displays themselves are very informative on their own. The entrance hall contains a Clementi pianoforte that talented visitors are welcome to play.
A table with a story (or six) to tell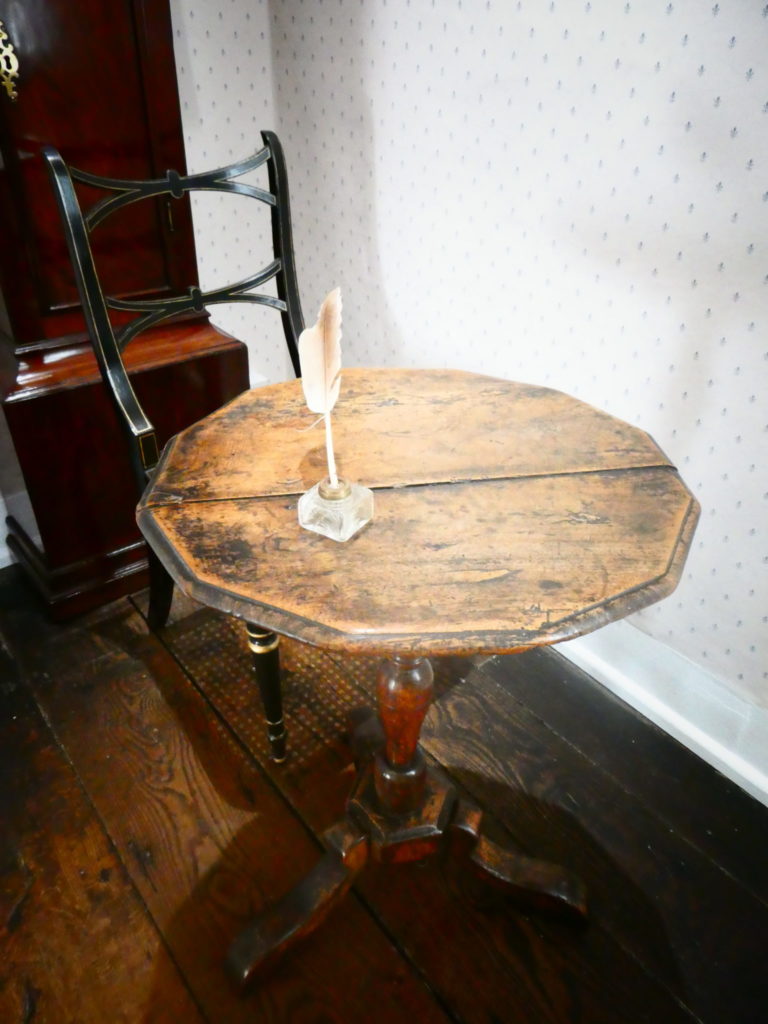 The dining room contains a drawing and letter relating Jane Austen's visit to the Wedgwood showroom, and the table service that she bought there. The undoubted highlight, however, is the small writing table on which she used to sit in this very room to write some of the most famous novels of all time. She wrote Emma here, and also revised Pride and Prejudice and Sense and Sensibility. It is a really special and historic artefact. One of those objects that creates awe in all that see it.
The museum has lots of important editions of Austen's novels, including first editions and the first illustrations to go with the texts. Many handwritten letters and mementos are on display also. They include music books in which she transcribed tunes in her own hand. You can also see games that she played, which show us more about her true personality.
One truly iconic portrait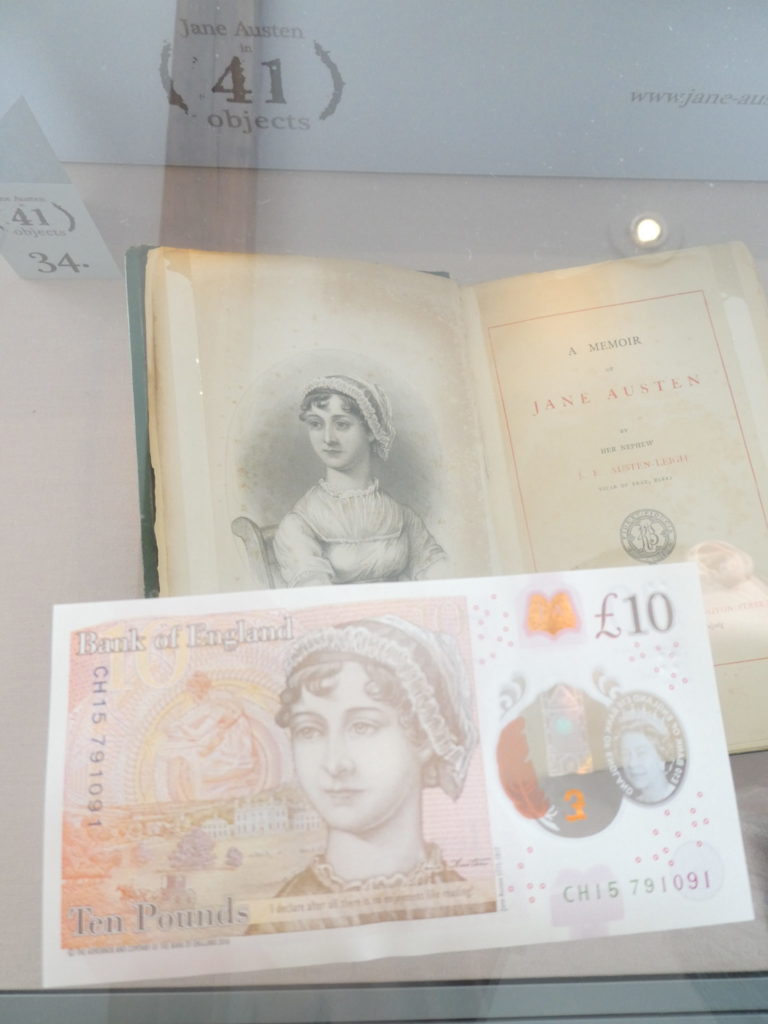 The new £10 note is just the tip of the iceberg for fans of Austen this year. The museum has a campaign to ask people to donate their Jane Austen £10 notes. Jane's Fund has been set up in order to ensure that the house is preserved for future generations of literature lovers. It is unbelievable to think that the portrait by her sister Cassandra, who she lived in this house with along with her mother and a family friend, is the only known portrait of the author. The original is on display at the National Portrait Gallery in London, which is a wondrous place to visit.
Interestingly, the original wallpaper has been uncovered in parts of the house. The museum have faithfully recreated it. In fact, they have it on sale for people to have a bit of Jane Austen's house in their own homes.
Upstairs, you immediately come to the bedroom which Jane shared with her sister Cassandra. The sisters were like two peas in a pod. The guest room has a display about their naval brothers.
Some of the most treasured of the museum's possessions are kept in a small room just off from here. They include a huge quilt that Jane, her sister and mother worked hard for many months to create, with great skill. There are also items of her clothing, and jewellery.
All known pieces of Jane Austen's jewellery are on display here
In fact, these are the only three pieces of jewellery in the world that are known to have belonged to Jane Austen. As well as a turquoise beaded bracelet, and a topaz cross, is a turquoise ring that has letters displayed to show its provenance. The ring was very nearly taken out of the country by American pop superstar Kelly Clarkson. She bought it at auction before the culture secretary stepped in to prevent the loss of this treasured item to the country.
We highly recommend a visit to Jane Austen's House Museum in Chawton to any fans of classic literature. Full price admission costs £8, with discounts available. We'd suggest allowing between 1.5 and 2.5 hours for your visit, depending on your interest level. We recently spent two days following in Jane Austen's footsteps in Hampshire, and will be writing more about this in the coming weeks. Please do check back for more tips for your visit.
Would you like to visit Jane Austen's House Museum?