We found Side, in Turkey, to be the perfect blend of romance, culture, and sunshine. Just what we were after for our recent trip. Side is an ancient Greek city on Turkey's Mediterranean coast. What's more, Turkey is currently a very cheap place to visit, making its offering even more appealing. We spent a blissful, romance-filled week in Side, and wanted to share with you some of our favourite things to do on a trip there.
Temples of Apollo and Athena
If you want romantic imagery to inspire even the most hardened of hearts, look no further than the majestic Temple of Apollo, near to the picturesque harbour. This magnificent structure is one side of an ancient Greek temple and is remarkably well preserved. Nearby are ruins of the temples devoted to Apollo's sister Athena, and Men – the God of the Moon.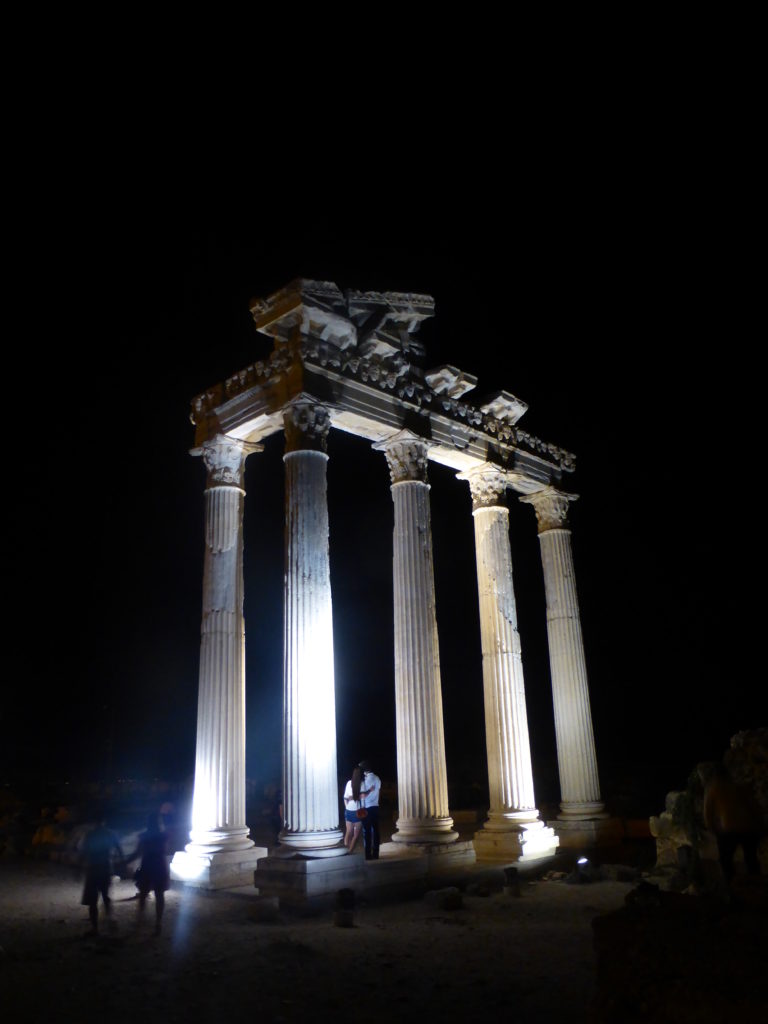 The sunsets here are breathtaking, and in the evenings, a spotlight makes the scene even more dramatic. It is an amazing place to lose yourselves just watching the waves, and the panorama with the adjacent ruins is stunning. The location between the bustling bazaar and the peaceful sea makes it a very special place indeed.
Side Theatre
We made Side Theatre our first stop in the old town. The theatre is an amazing spectacle. There is very little in the way of information about it but it is easy to imagine it as the home of gladiatorial games. Pick up a free guide to the old town from the tourist information which will fill in some of the blanks. Sit at the top of the steep seating area for a while taking in the view then head to the bottom for a closer look at the orchestra area and formerly three level scene structure which still has many interesting reliefs of mythological figures. Some of the stone seats have 'feet'.
Side Museum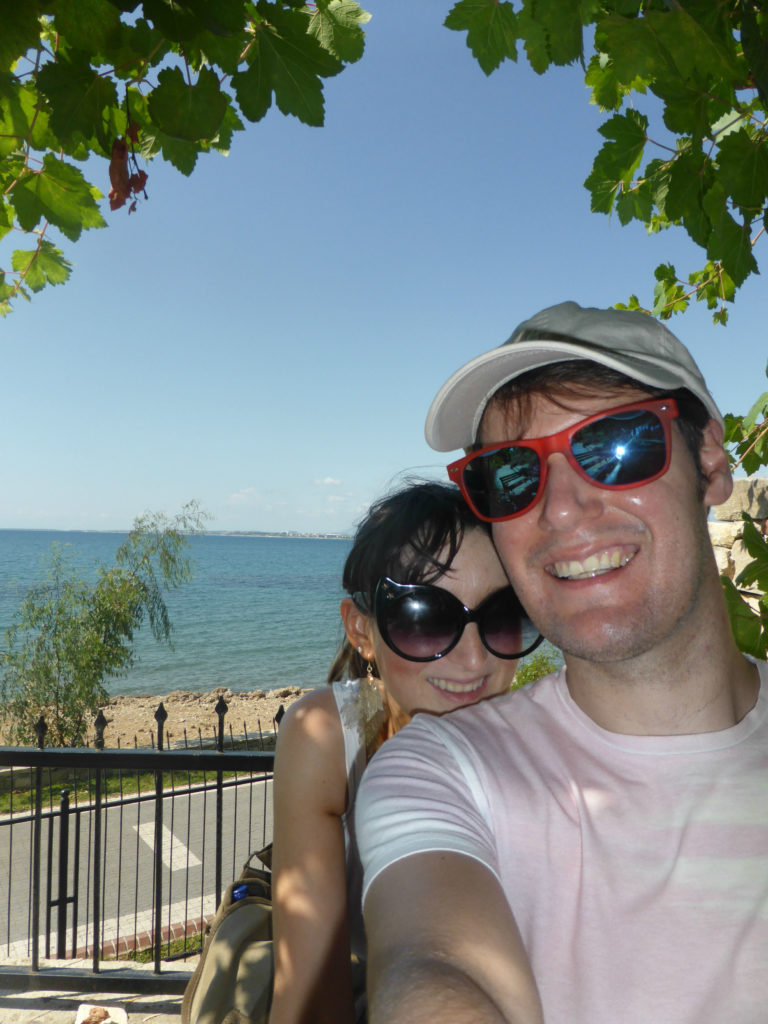 The Roman Bathhouse is now home to the Side Museum. The gardens will first draw your attention. They were once part of the gymnasium. It now contains Seljuk era grave stones, and sculptures from the Roman period including one of Nike. There is a romantic cove with benches overlooking the sea. You could quite easily sit here for an hour with your partner, as it is so blissful.
Inside the Bathhouse, the two rooms include glassware, coins, oil lamps, figurines, sarcophagi and statues. One sarcophagi is richly decorated with reliefs of multiple Eros figurines and the heads of lions and bulls. In the second room, you almost feel like you are walking in the ancient pools. There stood a precious statue of the three graces from the second century. It is a great little museum, though there isn't too much to it.
A walk through the ruins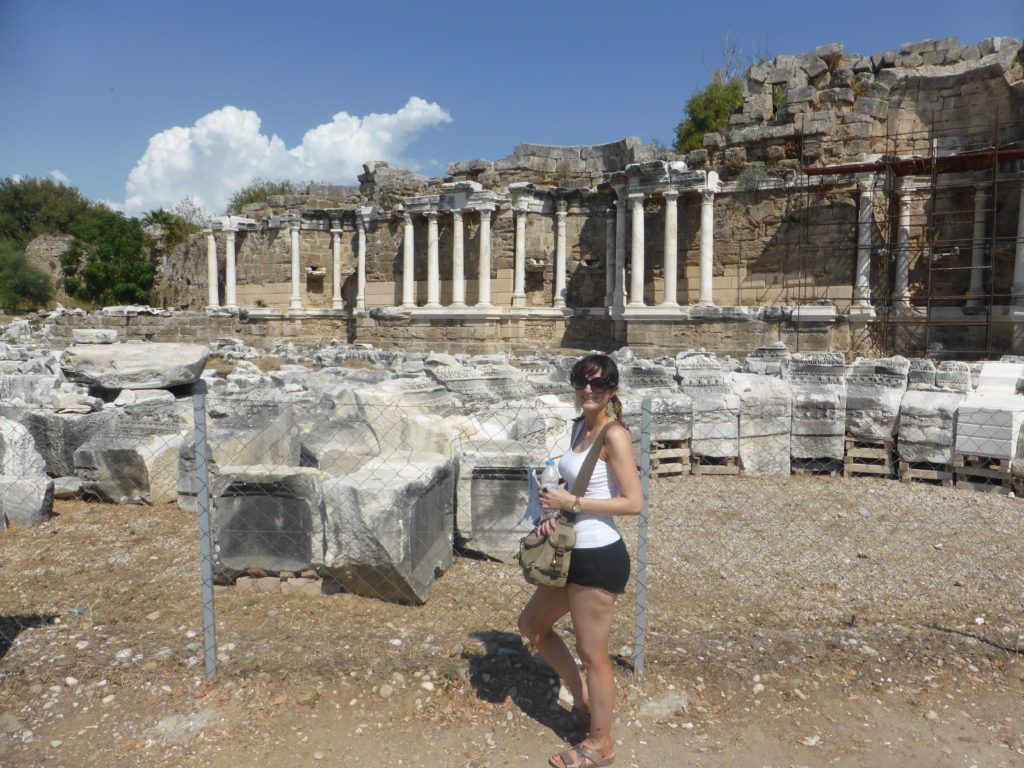 Make sure you check out the monumental fountain (nymphaeum) opposite the main gate, which is awesome. Then stroll down the ancient avenue. It was once lined with shops and houses but is now ruins, and a collonaded street leading to an agora.
Continue into the old city, coming next to another fountain, built to honour the Emperor Vespasian, and a monumental gate. Through the gate is Side Theatre. The Temple of Dionysus, built next to it, is now in ruins. Newlyweds often pose for wedding photos amongst the picturesque and romantic setting of the ruins.
Kiss Bar
This popular place welcomes you with a free bowl of cheese balls and grapes. The cocktails are nice and strong and come with sparklers in them. They also have mannequins in this bar that they sit next to people who are alone or on half empty tables.
Club Lighthouse and Karma
Club Lighthouse is the most well known club in town. It is located in a brilliant position on the corner of the harbour. Here, you can enjoy a dance together, and watch the podium dancers show how it is done. Also, be sure to check out Karma, which can often be much busier. If you like r'n'b music, you will love it here.
Ocakbasi Restaurant
Ask for a table in the beautiful courtyard filled with overhanging vines and romantic lights. The gently lit ancient ruins across the street complete the idyllic scene. This restaurant is extremely high quality, which is reflected in the drinks menu. The food is fantastic. The staff seemed genuinely insulted when we said it was time to get the bill, and gave Amy two eye charms on the way out. One of the few restaurants in Side to get by on reputation alone, you won't find any pushy staff outside trying to get you to eat there. The restaurant also presses its own olive oil, and they grow their own chillies and tomatoes, which is very impressive.
Bardo Gelato
Bardo Gelato is an awesome ice cream parlour that offers perhaps the best ice cream you will ever have. All of the ice cream is made on the premises. The fruit flavours are all made using real fruit, with no artificial flavourings. Maybe you could pick a bunch of flavours between the two of you, so you can try a few, as there are so many tantalising options.
Cafe Easy Rider
This rock themed bar on the seafront advertises live music starting at 10pm each night. The drinks are nice, and it is romantic sitting on a bench with the sea right behind you, whilst you enjoy the live music. Nights like these will show you that you were born to be wild together.
Amelda Restaurant
This wonderful restaurant has lots of Turkish charm. Be sure to get a table in the garden, which is extremely romantic with soft music playing. We were lucky enough to have a dramatic backdrop of lightning filled skies, luckily far away from us, which added even more romance. Dining under the stars is always a special experience, and Amelda do it brilliantly.
Doruk Pastanesi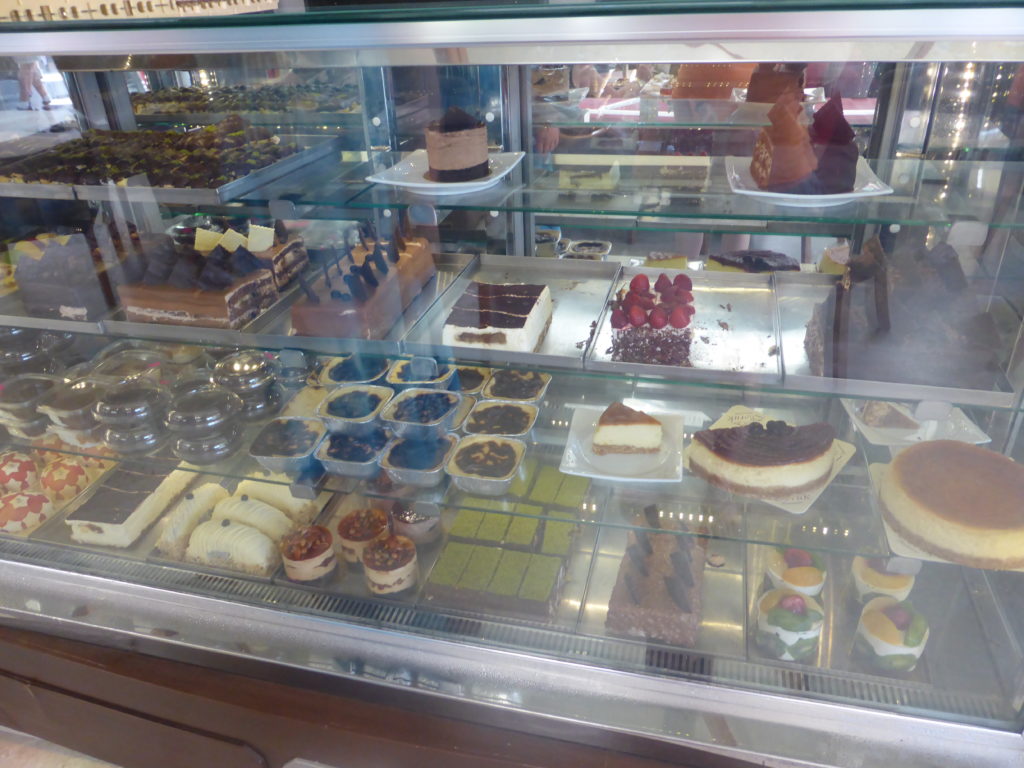 This smart cafe only has a limited lunch menu. However, it is the desserts you want to go here for. Despite being slightly off the beaten track, it is well worth seeking out for their decadent cakes. We absolutely loved their frozen fruit drinks too, and had to keep going back again and again.
Apollon Restaurant
The service in this restaurant next to the Temple of Apollo was very friendly. We went in for drinks at lunchtime and found it to be reasonably priced with a lovely view. Ask to be seated at the corner table, overlooking the sea, where you can watch the fishermen bring in their catch. This would also be a great place to watch the sunset. Beware, however, that many reviews on TripAdvisor state that they have felt conned by the evening meals, especially the fish, which are outrageously overpriced.
Bazaar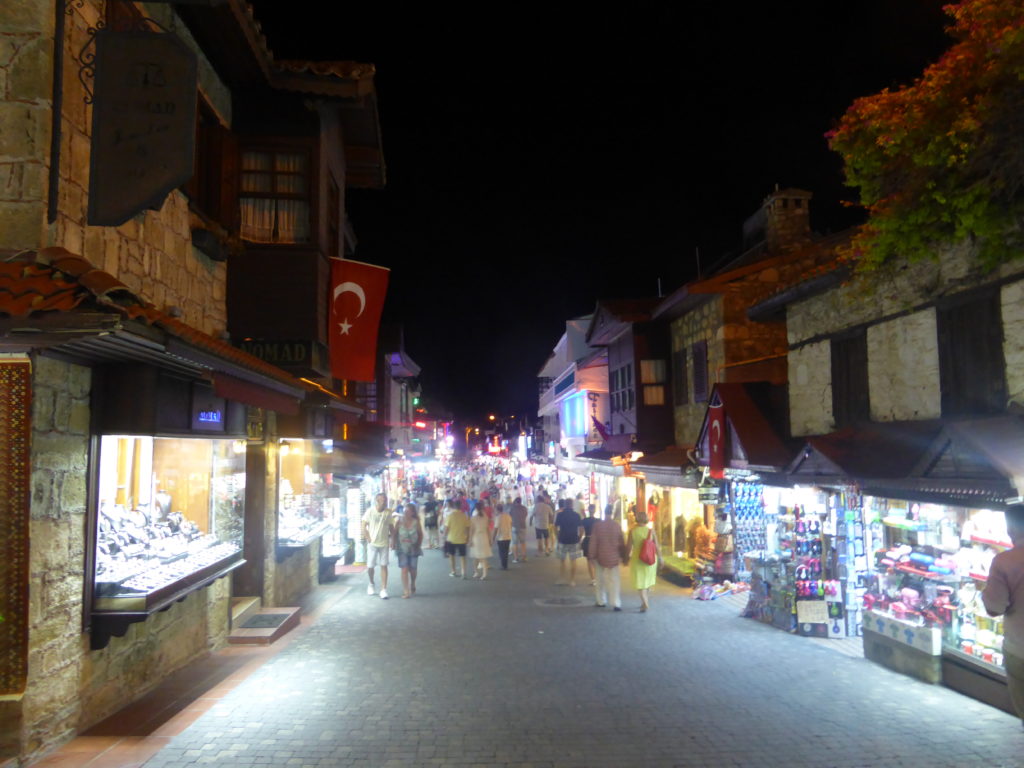 The gauntlet of the Bazaar, with its many traders all fishing for business doesn't scream romance. However, the area takes on a whole new atmosphere at night with all of the dazzling lights. It is simply charming. The shops mainly sell Turkish delight, lights, and jewellery. Randomly, tight shirts are popular here too.
Turkish Night
Most larger hotels in Side offer a Turkish night. They tend to feature an all-you-can-eat Turkish buffet, followed by traditional entertainment. The one we attended featured a belly dancer dancing by the pool. They often get all of the visitors up doing traditional dances, so are a source of great fun. You and your partner will love the taste of another culture.
Meshur 49 Pide Kebap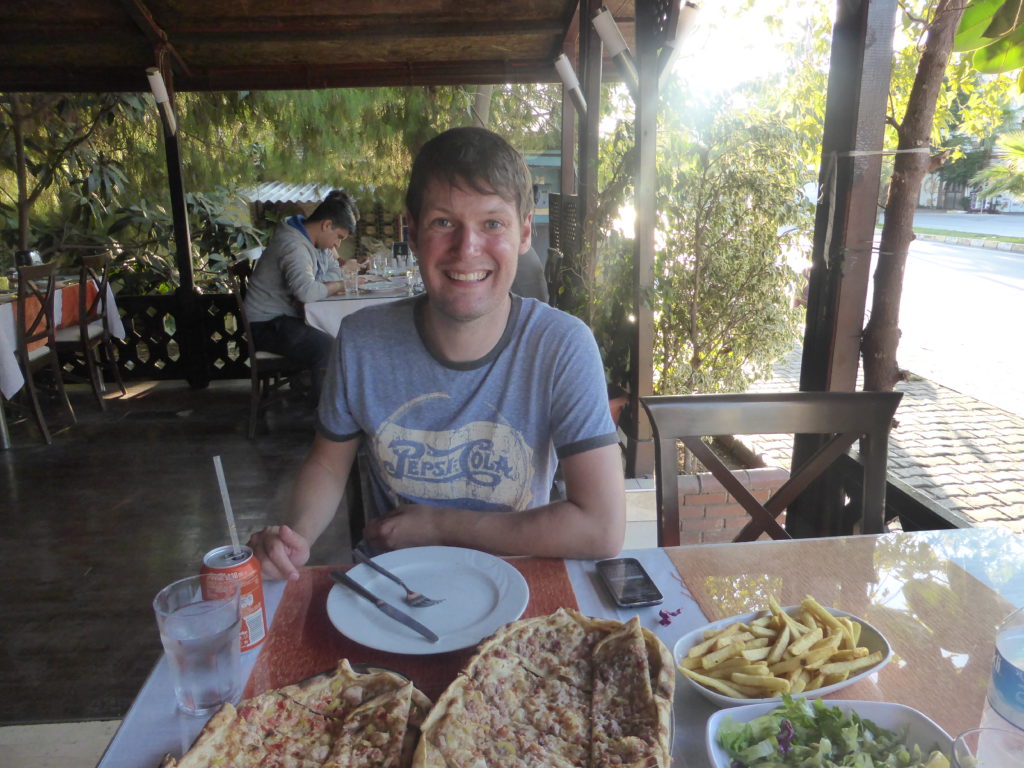 If you want a more authentic Turkish dining experience, try this place. It is mostly frequented by locals rather than tourists and has a lot of character. The prices are super cheap as well. Make sure to try the local dish pide, which is mentioned in the name of this and several other restaurants in the area. Pide is like a very thin pizza cut into long slices.
Aspendos Theatre
One of the most romantic things to do on your trip to Side is see opera and ballet in Aspendos Theatre. This is one of the most intact open air theatres of antiquity, and they still do high-quality shows here to this day. It is around half an hour away from the town, so you may wish to join an excursion for convenience. The arena is awe-inspiring and a great place to watch a show like this. It is really cool to think that people have been watching 'shows' here for around 2000 years. The acoustics are fantastic, so the singers don't need microphones.
Surf Cafe Bar
This place is aimed squarely at tourists, mainly German and British. Despite this, there is a lot of charm about the place, from its surfboard entrance sign, to the hats masquerading as lights! There is also live music, though it is typical holiday music rather than romance. Why not request a dedication to your love?
Have you ever been to Side? Any other romantic tips to share with us?