As we spent our anniversary weekend in Cardiff, we couldn't resist heading down to Cardiff Bay, despite the rather miserable weather. We went in the evening, after our trip to Cardiff Castle. It is a relatively recent development, replacing the derelict docks that were just a remnant of the area's once booming coal industry.
A horse named Meredith in Cardiff Bay?
We entered through Mermaid Quay, which is filled with upmarket chain restaurants, and headed over to Pierhead. Here, we saw the world's only Welsh-themed Carousel, complete with horses with Welsh names and a dragon chariot!
We also stopped to admire Roald Dahl Plass, named after one of our favourite children's authors. Plass is a Norwegian word for space, as a nod to Dahl's Norwegian roots. The oval shaped space is surrounded by illuminated pillars that create an arresting sight.
Next, we headed past the iconic Norwegian Church, where Roald Dahl was christened. This historic wooden church was rebuilt in 1992. It was once a place of worship for Scandanavian sailors using the docks.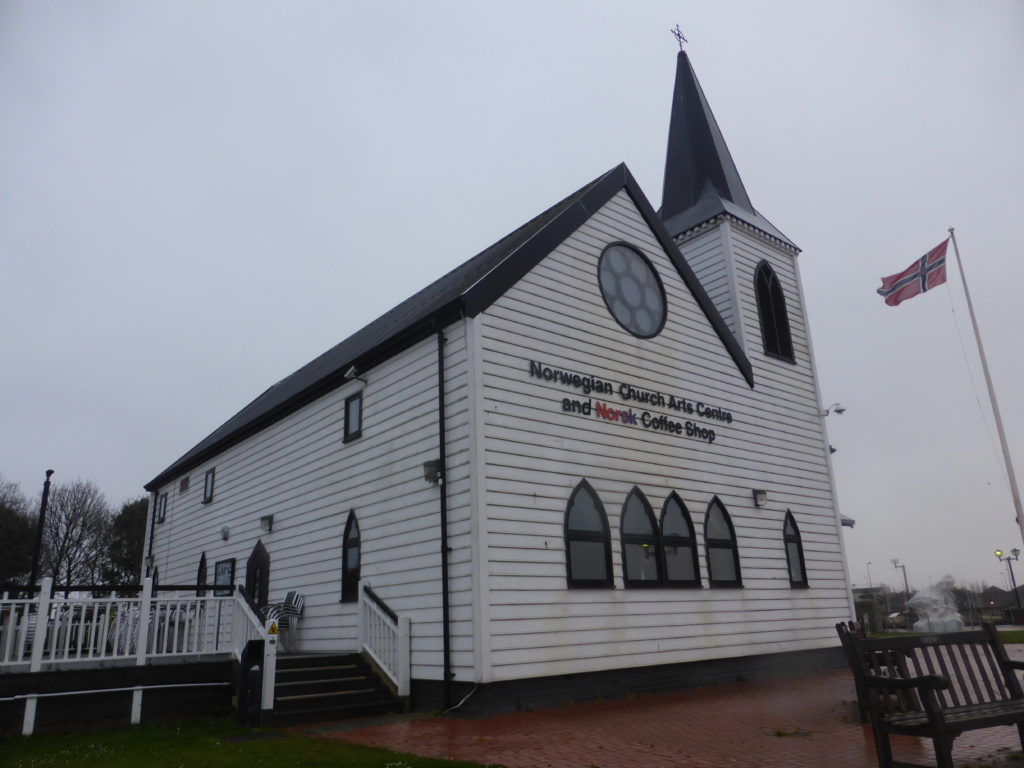 Further down is the Doctor Who Experience, which has a Tardis dangling over the water's edge. This is the world's most extensive Doctor Who collection, which must be very impressive as we have been to two smaller collections in Blackpool and Cornwall and enjoyed them.
Near to a statue of Ivor Novello is the National Assembly for Wales, or the Senned. Much Welsh legislation is passed inside this building. We tried to peek through the glass but couldn't see much.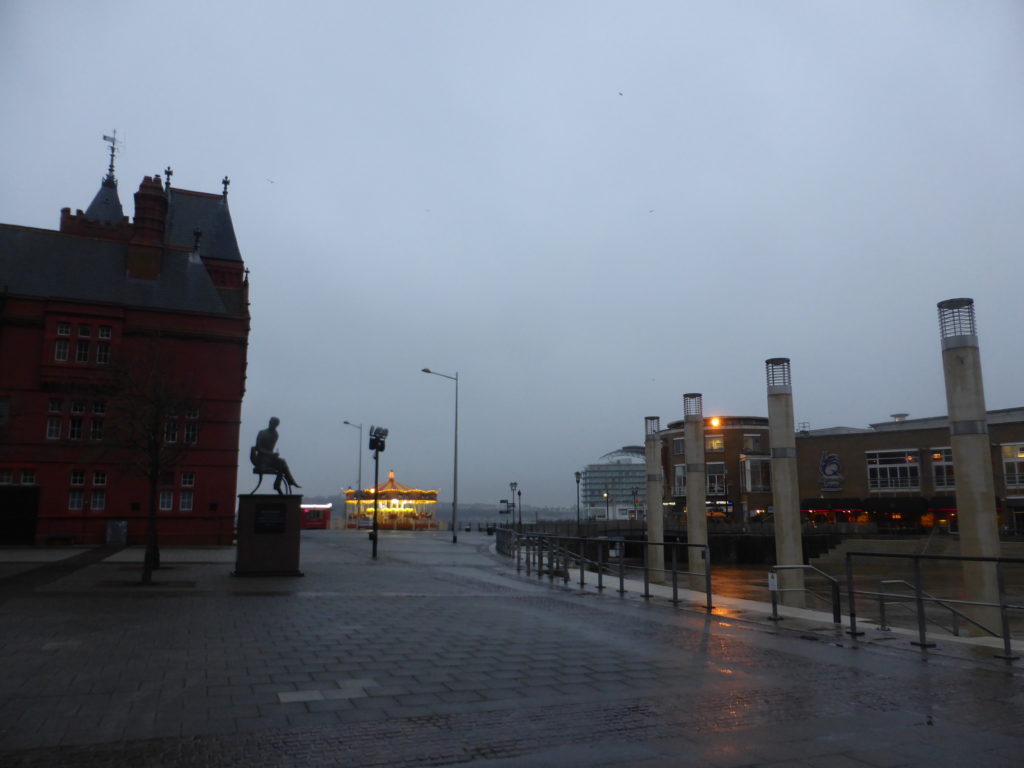 The most striking feature of Cardiff Bay is the Wales Millennium Centre. Inside this beautiful and huge building is all manner of arts venues. We noticed that Marti Pellow of Wet Wet Wet was performing here tonight. The calligraphy on the frontage of the building in both Welsh and English is extremely beautiful. We even headed back there after dark to admire it all lit up.
Ah, the people of Cardiff really loved Iantos
Heading back down through Roald Dahl Plass to the bay, we spotted a shrine to someone called Iantos. We couldn't believe it when we discovered that Iantos was a fictional character from the Doctor Who spinoff Torchwood!
Our tour of Cardiff Bay wasn't at all helped by the weather, so we decided to get some dinner in one of the many restaurants around Mermaid Quay before heading home. We would definitely love to return on a more pleasant day, that is for sure. Maybe we could take one of the many boat trips that are offered, or visit one of the attractions, since they were all shut due to our evening visit. We'll leave you with this picture of Amy and a cannon. Why? It is a bit of a running joke between us that everytime we see a cannon, Amy has to have a picture taken with it. We must have hundreds!
What are your Cardiff Bay experiences? Have you been to the Doctor Who Experience, or seen a show at the Wales Millennium Centre?