We love spending time in London together. The city has so, so much to offer, and we have been continually exploring it for many years. Much of North West London isn't on the typical tourist trail. However, the amount of culture, heritage, and excitement on offer will be enough to keep any couple happy. Here are a few of our favourite North West London date ideas.
WEMBLEY STADIUM
The national stadium, home of the England football team is an iconic sight. Wembley Arch is an imposing landmark and you will certainly be swept up by the atmosphere at an event there. We particularly recommend getting tickets to an England football match at Wembley. Other famous events take place there, such as the FA Cup Final (good luck getting tickets!), and large events in rugby, American football, and boxing. Over the summer, the stadium hosts big name concerts. Over the years, we've seen Coldplay, Bruce Springsteen, and Billy Joel perform there. Tours are also available.
ZSL LONDON ZOO
The world's first modern-day zoo, it opened in 1828. It is a zoo of firsts, in fact, as it also contains the first reptile house, aquarium, insect house, and children's zoo. If you're a Harry Potter fan, be sure to check out the Reptile House, where a scene from the Philosopher's Stone was filmed. The lions and tigers enclosures are well worth seeing, as well as the gorillas. History abounds in the zoo. You can even still see the former Art Deco penguin enclosure, kept as a reminder of the zoo's heritage, despite the penguins moving to a more modern home.
THE PETRIE MUSEUM OF EGYPTIAN ARCHAEOLOGY
Part of University College London, this free museum is one of the world's greatest collections of Ancient Egyptian archaeological finds. William Matthew Flinders Petrie was a very famous excavator, who made many important discoveries. There is a very special atmosphere of adventure in the museum. Some parts are not lit, and you go in armed with a torch, to protect the artefacts! Important objects include the oldest linen found, two lions from the first monumental sculpture, part of the first calendar, the oldest dress, and a dancer's bead dress that has to be seen to be believed.
MARINE ICES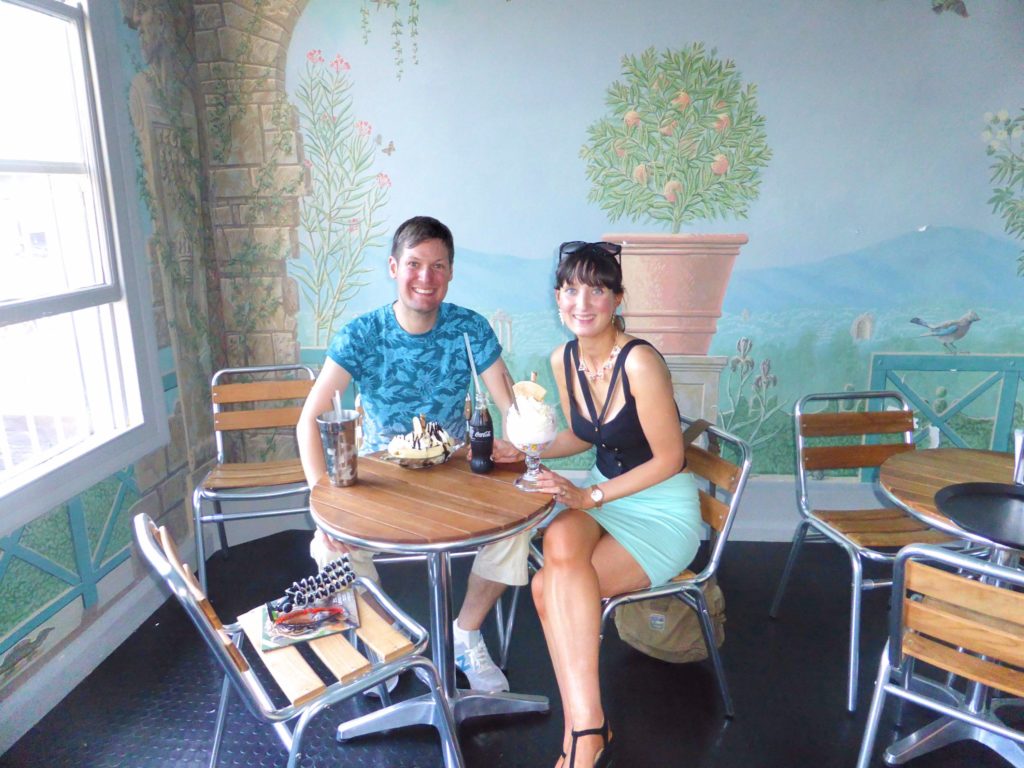 This iconic ice cream parlour has been a London fixture since 1931! The ice cream is still made to the same authentic Italian recipes. It has moved from its original location to Chalk Farm Road, in Camden. For added romance, head upstairs to the Roman Temple themed seating area. Treat yourselves to a gorgeous sundae, banana split, or ice cream milkshake!
WEMBLEY ARENA
The SSE Arena was built for the 1934 British Empire Games (now the Commonwealth Games), and renovated in 2006. Nowadays it hosts large concerts, comedy shows, family entertainment, and sporting events. It is London's second biggest arena, after the O2. We saw Madonna perform here. She now has a bronze plaque with her handprints in the Square of Fame in front of the arena. A real who's who of musical legends have performed here, from The Beatles to Abba.
LOUIS PATISSERIE
Getting lunch in Louis Patisserie in Hampstead is like stepping back in time. The cosy Hungarian cafe, with its wood panels and delicious cakes, appears to have not changed at all in over fifty years or more. Despite this, it doesn't appear in any way decrepit, but retains a special kind of charm that is perfect for a romantic lunch date.
WELLCOME COLLECTION
This fascinating free museum is near to Euston Station. It houses a collection of medical artifacts, and works exploring the connections between medicine, life, and art. If you are 'incurably curious', it is the perfect place to spend some time. As well as the excellent permanent collection, they also host free exhibitions that are amongst the very best in London.
ROYAL AIR FORCE MUSEUM
This great museum is located on the site of the former Hendon Aerodrome, where many notable events in aviation history happened. Here, the world's first airmail, parachute descent, night flight, and aerial defence took place. Nowadays, the excellent museum fills five huge hangars with planes from early World War I planes like the Sopwith Camel, to Avro Bombers, and huge modern-day RAF fighter jets.
BATTING CAGE @ PLAYGOLF
Ever fancied trying to hit a home run? PlayGolf, in Wembley, is home to the UK's first American-style baseball batting cages. You can pick the speed of the pitching from the automatic machine, and take turns with your partner to hit that perfect strike!
GRANT MUSEUM OF ZOOLOGY
This natural history museum is, like Petrie, part of University College London. It contains many rare zoological specimens, including the bones of a dodo, and a skeleton of the extinct Quagga. You will have loads of fun in here. It is like a trip back to the exciting Victorian times, when research in science and technology was moving at such a quick pace.
What are your favourite North West London date ideas? Let us know in the comments!