Seems like you guys can't get enough of our Central London tips. We can't stop thinking of more and more, so if you want them to keep on coming, be sure to let us know! Here is part four to our Romantic Couples Guide to Central London, with seven more tips.
PICCADILLY CIRCUS/LEICESTER SQUARE
OK, so this is super touristy. However, there is something very romantic about a night-time walk around Piccadilly Circus and Leicester Square. The bright lights of the neon signs and video screens, the hustle and bustle of this popular meeting place, and the Shaftesbury Fountain combine to create a special atmosphere. By the way, the statue isn't of Eros, but his brother – the god of requited love.
INTERNATIONAL PILLOW FIGHT DAY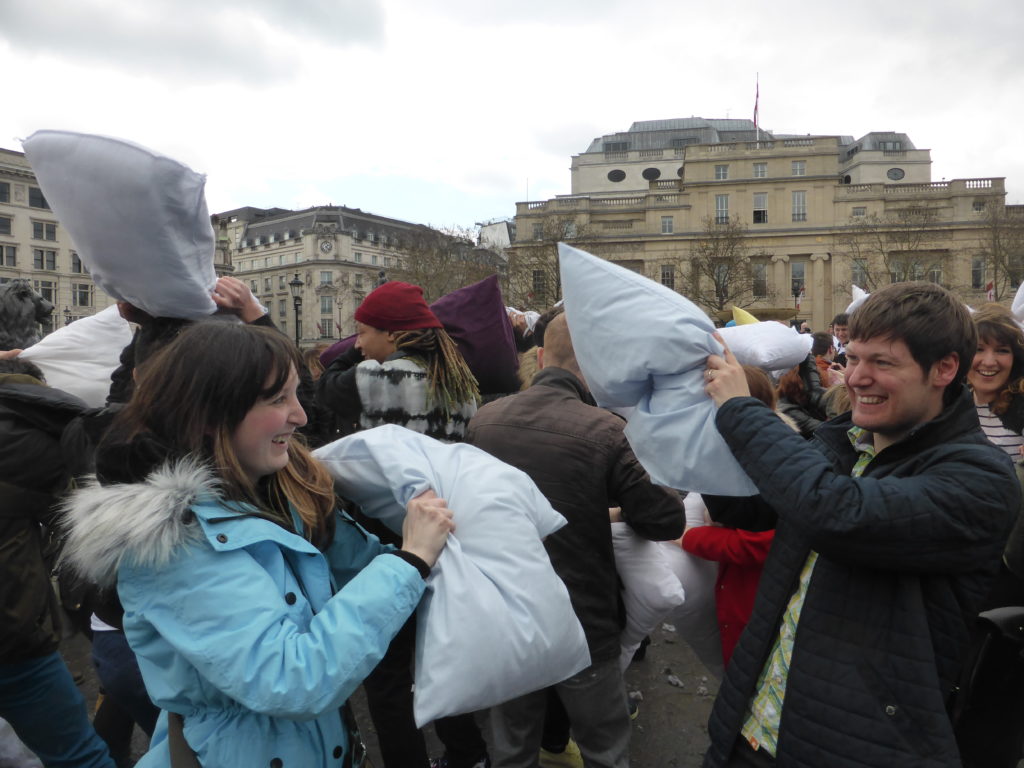 Around Trafalgar Square some point near Easter each year, you will find a whole bunch of people milling around with pillows as if it is the most normal thing ever. You see, they are in the know that there will soon be a huge pillow fight featuring hundreds of people from all over the world. It is all kept rather hush-hush, which provides great excitement and the chance to battle it out with your partner, with feathers flying everywhere!
LONDON SEA LIFE AQUARIUM
One of Europe's largest collections of global sea life awaits you at County Hall, near to the London Eye. Around a million people visit each year, and includes a great underwater tunnel and even a shark walk! Don't miss the speedy gentoo penguins. If you wonder how romantic it can be, then consider that it is one of the city's most popular places to propose!
DOGGETT'S COAT AND BADGE
This historic pub is situated in a great location overlooking the Thames. You can get some great classic British pub dishes here, or just a drink. The pub is named after the famous boat race, that dates back to 1715. It is the ideal place to have a well-earned rest with your partner and just watch the world go by.
BIG BEN AND THE ELIZABETH TOWER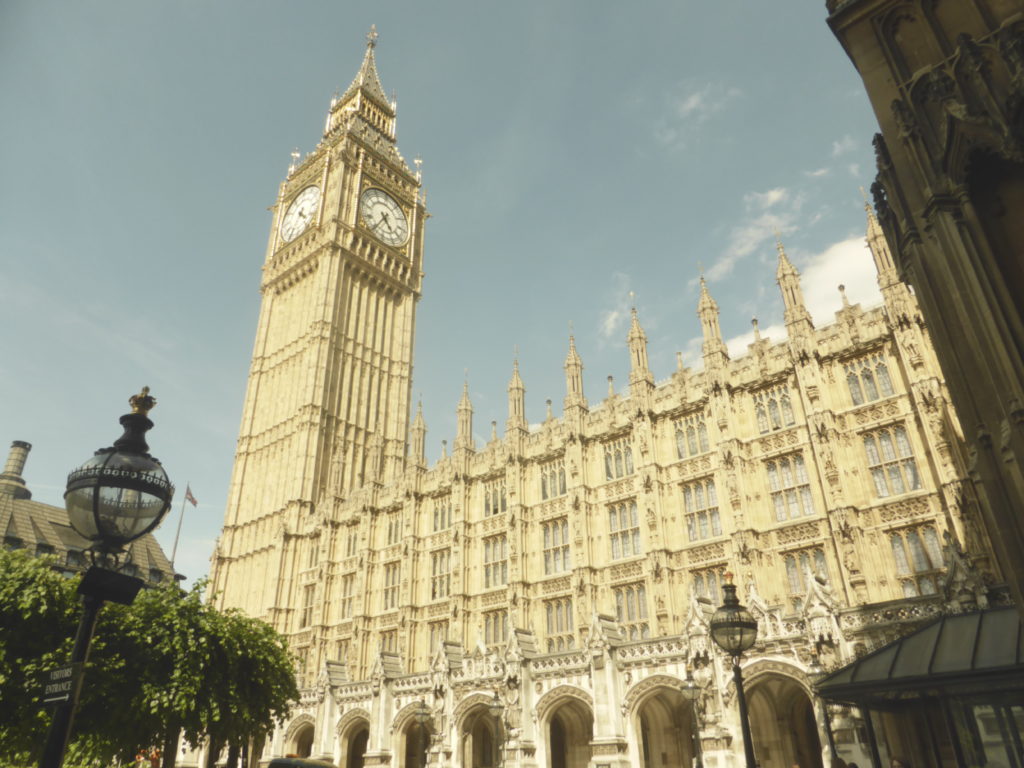 OK, so Big Ben is the name of the bell in the clock tower. The clock tower itself was given the name Elizabeth Tower in 2012, to celebrate the Queen's Diamond Jubilee. It is one of the most famous icons in London, and indeed the world. If you are a UK citizen, it is possible to take a tour inside the tower, where you can see the bell strike if you are lucky. We were there for 12 o'clock, and trust us when we say it is LOUD!
CARNABY STREET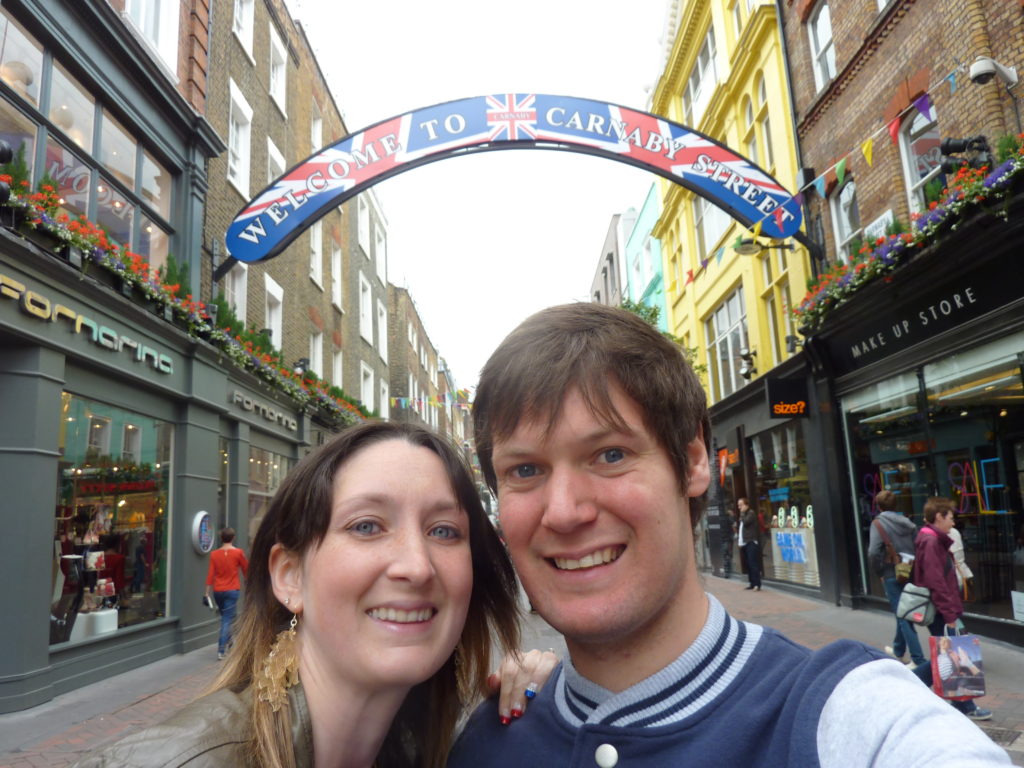 This marvellous shopping street was where it was at in the Swinging Sixties. Designers such as Mary Quant, and bands such as the Rolling Stones and The Who were all associated with the street. It has been immortalised in songs by bands such as The Kinks and The Jam, and we even saw a musical called Carnaby Street the Musical! Nowadays, it is still a haven for quirky fashions, such as Amy's favourite shoe store, Irregular Choice.
PLANET HOLLYWOOD
Another tourist trap, but a dining experience that goes above and beyond just eating a meal. Don't know about you, but we just love seeing all of the movie memorabilia whilst we dine. It looks slightly different nowadays though, than when this picture was taken on one of our earliest London trips!
Have you been to any of these places in Central London?