Love Supreme @ Glynde Place 02/07/2017
Our fourth festival trip of the summer was to Glynde Place for the Love Supreme Festival. We visited on the Sunday to see acts such as George Benson and Gregory Porter. It was an absolutely scorching hot day. Love Supreme has the usual setup for festivals to be honest, with little out of the ordinary. Stalls, a few funfair bits, bars, and food vans, as well as a music stage, two tents, and a bandstand. It was the music, however, that provided a day out to remember.
La Mambanegra were the opening act on the Main Stage, with their infectious latin rhythms. They were all the way from Colombia. Most people were sitting on the grass initially. The band were really good, and got everyone dancing, however. Many people headed to the front to practice their salsa moves.
Blue Lab Beats were humbled by how well they were received
Over in the Arena, a decent sized crowd were watching Blue Lab Beats. These are a couple of humble young lads. One of them plays the guitar, whilst the other, with blue Marge Simpson hair, is a DJ. It was a rather chilled out set that the appreciative crowd really enjoyed. Back on the Main Stage, the Hot 8 Brass Band were on. This band are from New Orleans, and have been nominated for a Grammy award. It might have been the sweltering heat, but we didn't get into them at all. We ended up leaving before the end.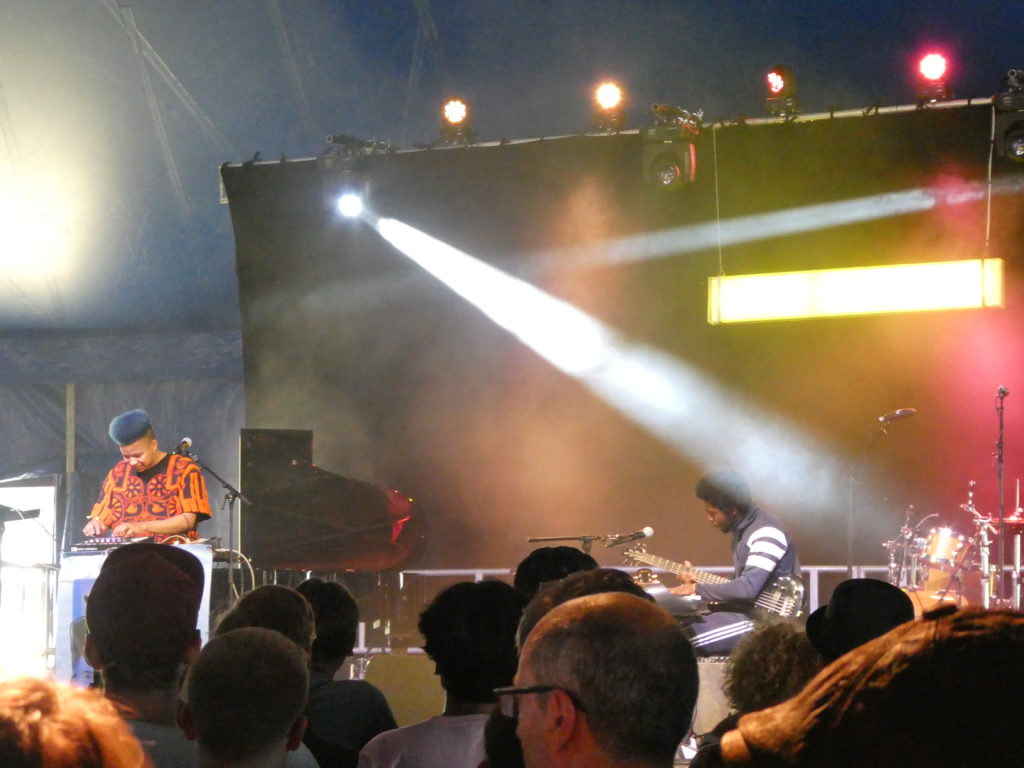 Inside the Big Top, the largest of the tents, we caught a jazz singer with a very classic jazz sound called Charenee Wade. Back on the main stage, we saw St. Paul and the Broken Bones. They are a very polished soul band from Birmingham, Alabama. We felt they would have been very enjoyable were it not for the heat.
An unexpected highlight of the day was Miles Mosley and the West Coast Get Down in the Arena. An amazingly accomplished upright bassist, his band are incredibly tight, and perform a great mix of jazz and funk. Kamasi Washington was a long-time band member, and he joined them on stage for a couple of songs. Their closing track, Abraham, really sounds like a hit in the making.
Kamasi Washington – a jazz aficionado's dream
After his short guest slot in the Arena, Kamasi Washington performed on the main stage. Kamasi Washington is very orchestral, and musically gifted. However, it probably wasn't the most engaging of sets to a non jazz aficionado. His dad was a special guest.
With a stroke of luck, the people on the barrier right in front of us left at the end of Washington's set. Therefore, we were able to get in on the barrier for George Benson, which was amazing as he was the main reason we were here. Now 74, he had apparently been unwell today. You really couldn't tell as he came out and gave a spellbinding performance that really showed he deserves his legendary status.
He opened up with a jazz guitar piece that really showed off his unique guitar style that has won so many plaudits. We had a couple more instrumentals throughout the set, including the classic Breezin'. However, the rest of the set was hit after hit. He seemed to be doing a bit of a Bruce Springsteen, with four pages to his setlist. We caught him choosing the songs at random, much to the confusion of his band at times. However, Benson can read a crowd like no other. His choices were just perfection.
George Benson – a legendary performer
Give Me The Night was one of the highlights, with its iconic two note guitar riff, and scat backing vocals that the guitar follows along to. Despite not being the last act (though he was billed as headliner), Benson went off and did an encore performance of On Broadway. Vocally, he started off rather quiet. However, he built up steadily to unbelievable heights, coping with three key changes on Lady Love Me. It was amazing, especially for his age. It was a truly delightful performance.
The final act on the Main Stage was Gregory Porter. Despite his recent success, Porter isn't someone we have ever really got into before. However, he was quite simply sensational. As well as being an incredibly charismatic performer, with his balaclava and jockey hat combo, his voice is one of the most emotionally charged of his generation. Many of his songs could almost bring you to tears if you listen hard enough. In particular, the first half of his set was stunning, with great song after great song.
Gregory Porter – a show of two halves
The second half was also entertaining. However, and this might not have been an issue for the jazz aficionados in the crowd (it was a jazz festival after all), the latter part of the set was much more self indulgent, and muso-friendly. Solo after solo, long drum breaks, and band introductions took their toll on our attention span. This was a shame, as up to that point we had been captivated. It almost felt like the set was the wrong way around. Rather than the start being a warm up, it was more so that the end was a cool down.
Love Supreme didn't just close up afterwards, with music continuing into the early hours. We decided to check out Incognito's DJ set in the Arena before setting off for home. Incognito are a dance act that have had a long and successful career, particularly in the early 1990's. The set was very enjoyable. People were dancing away, but you could tell they were on their last legs by now. It was the end of a long sunny Love Supreme weekend for many.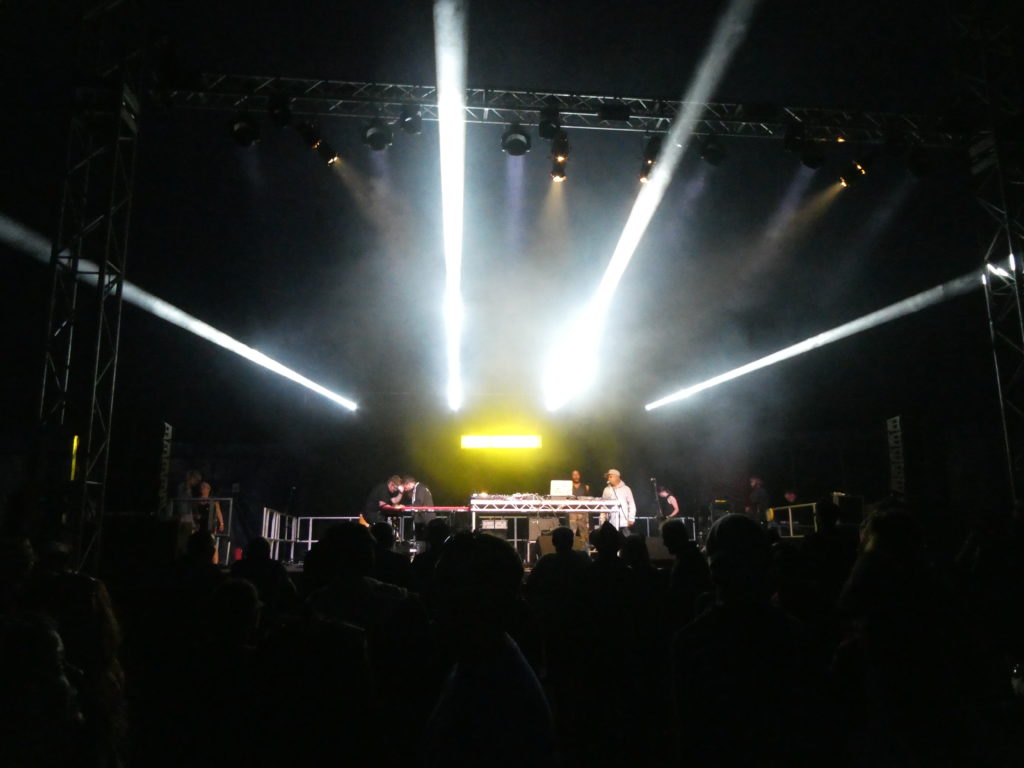 Did you go to Love Supreme? Who were your highlights?