The Prague Loreto: A place to reflect in the Czech Republic's capital
The Prague Loreto is a famous Marian pilgrimage destination in the Hradcany district of Prague, with a stunning Baroque facade. It was built between 1626 and 1631 by an Italian architect, and paid for by a member of the Lobkowicz family. The facade was added less than a hundred years later.
To take photos, you have to buy a photo pass. This is always quite annoying! Even more so here, since there was no one inside checking this, so everyone was taking photos, pass or not!
The Loreto Complex has a famous clock tower with a carillon that produces a famous chime. It has rang here since 1695! You can go upstairs to see a video screen which shows the inner workings of the carillon. However, we watched from down in the cloister. It was a special experience! It has a really unique sound with a rather high pitch playing a Czech Marian hymn. You can hear it every hour between 9-6.
Read about the miracles and decide for yourself whether they are true
The storied cloisters are filled with 'miraculous' religious icons, many with information boards sharing the miracles that they are associated with. One of them is a painting of Christ that some Swedish soldiers had stabbed during an argument, only for it to start to bleed. The ceilings of the cloisters are also beautifully painted. We spent quite a while looking at the various altars around the cloisters.
Our favourite find was a Jesus sculpture that looked like Michael Jackson in a dress, complete with real hair! There tends to be very few other visitors, so it is nice to have some peace and quiet for a while. Especially in a city like Prague! Unbelievably, this world class tourist attraction is less than ten minutes walk away from Prague Castle, which has over 7.5 million visitors annually.
In the centre of the cloisters is the Loreto Chapel itself, a freestanding stone building that houses an unusual black Mary and Jesus statue. It is a copy of the Santa Casa in Loreto, Italy. This is supposedly the house that the Holy Family lived in. Apparently, it was flown over to Italy by angels to protect it from the Turks! The linden wood statue of Our Lady of Loreto is now even more precious, since the original was lost in fire around a hundred years ago.
Possibly one of the creepiest discoveries in recent years
You can also visit the Church of the Nativity of Our Lord. It is an amazing Rococo style church, very ornate with lots of gold and marble. There is a marble slab, underneath which was recently found an impressive crypt though visitors aren't allowed in. Upstairs, however, there is a life-sized recreation of the inside of the crypt. The crypt's walls are covered in ridiculously creepy macabre paintings of things like walking skeletons shooting bows and arrows and the like.
There are some benches in the courtyard, which make for an ideal place to stop for a drink and a snack. There is nowhere to buy food and drink in the complex, however, so you'll need to take your own. We enjoyed some gorgeous Czech pastries and soaked up the atmosphere.
Upstairs is home to some of the treasures of the complex, and lots of interesting exhibitions. As well as the live video of the carillon, and the recreation of the crypt, there is a wealth of beautiful religious treasures. The most impressive room is full of monstrances. This is quite a modern room with nice glass cases and a ceiling made from dangling glasses! The 'Sun of Prague' is a star-shaped monstrance studded with over 6,000 diamonds!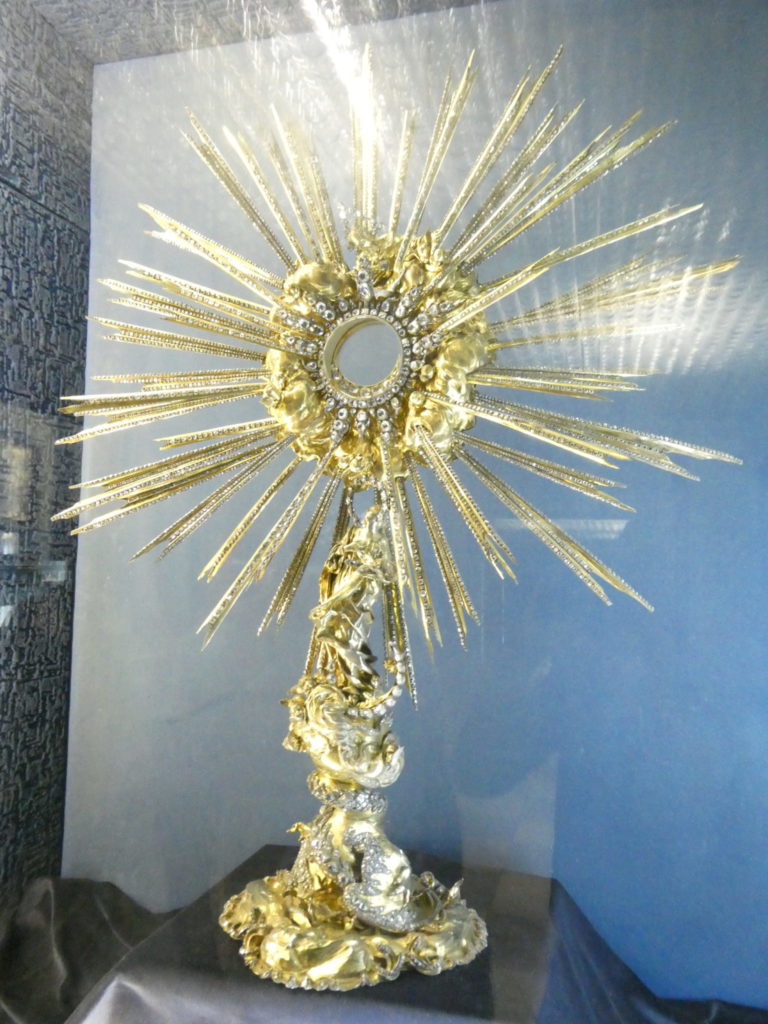 The Prague Loreto is a hidden treasure
Unfortunately, the treasury room was closed during our visit. Overall, the Prague Loreto is hidden in plain sight amongst Prague's plethora of tourist attractions. Charles Bridge, the Old Town Square, and Prague Castle may get visitors galore. However, Prague is a city that you should give an extra couple of days. Spend one morning at the Prague Loreto. You can combine it with a visit to Strahov Monastery and Petrin Hill.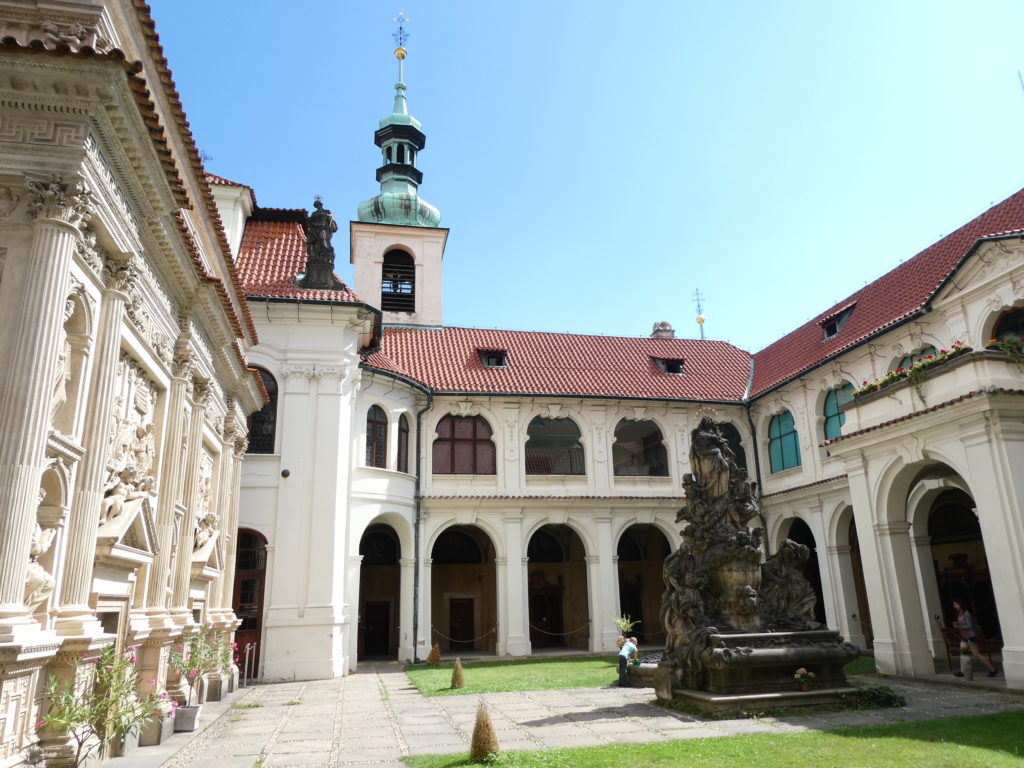 Have you got any favourite 'hidden treasures' in Prague?