The Lanes: a confusing but fun shopping experience
If you find yourself in Brighton, make sure to explore 'The Lanes'. This collection of rather narrow and atmospheric lanes are famous for their quirky independent stores. It is one of the oldest parts of Brighton, dating back to the late 1700's. They are very confusingly laid out, but getting lost here is part of the fun. The shops are all of the kind you won't find elsewhere.
We first headed into a gift shop where we saw the perfect thank you card for our friends that were putting us up in London. It featured a cat that looked just like theirs. We got it to the counter and realised it said 'happy birthday' inside! Next, we found Gustamps, down on Trip Advisor as one of the UK's top attractions. It is a rather small, but overloaded, stamp shop. The window display piqued our interest, with stamps featuring Harry Potter and The Beatles.
Gustamps is a revelation
The main attraction of the shop, we believe, is the owner, who is surely the friendliest shop owner we have come across. He welcomed us in, and asked us if we were stamp collectors. Despite us saying no, he asked us what we were interested in, and I said that Amy likes Disney, since there was a box of Disney stamps on the counter. The owner told her to pick which one she liked best (a Little Mermaid one), and told her that it was his gift to her. We thought it was nice, but perhaps a sales ploy to get us to buy more.
Indeed, we noticed that Amy's stamp was from Ghana, and decided to buy another Ghana stamp featuring Bambi for 20p for Scott's nephew's girlfriend who is from Ghana, but the owner again said he didn't want anything for it. On top of this, he went off and came back with four more historic Ghana stamps, which he gave us for free as a gift for her! One celebrated Africa Freedom Day, whilst another had Prince Phillip on it. We were flabbergasted.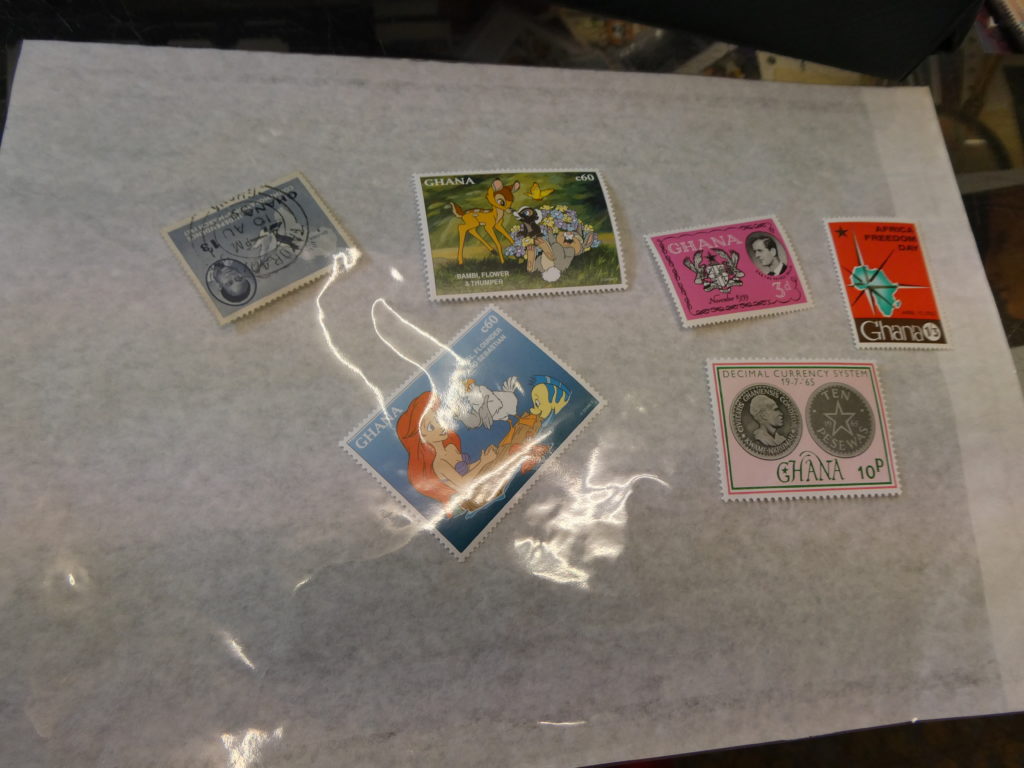 Gustamps has our stamp of approval
He didn't even stop there, but asked what I liked. I told him that I was a music fan, and that my favourite group was The Beatles. He came back with three full sets of Beatles stamps, which I assumed he wanted to sell to me. He told me to pick one, and gave it to me for free! Not to finish there, he came back and gave me a 1st class UK stamp with Paul McCartney on it! We were flabbergasted again. All he asked in return was for us to give him a five star rating on Trip Advisor!
Some of the alleyways are really picturesque with hanging baskets and quaint shop signs. Another favourite shop was The Lanes Armoury, more of a museum than a shop. It is jam-packed with real historical artefacts for sale, some at eye-watering prices. We easily spent ten minutes in the shop in awe of the samurai swords, medieval chainmail, German WW2 bomb shells, and the like, that are offered up to collectors.
One of the most intriguing options was a real Victorian vampire killing kit, featuring a pistol, holy water bottle, garlic, wooden stake, crucifix, and silver bullet, on sale for £6,375.
Are they cakes or works of art? Both!
Nearby is Choccywoccydoodah, where chocolate is used to create amazing works of art. Seriously, the cakes that they made look little like cakes, but are most definitely edible, we were assured. Amy liked the unicorn and cat ones.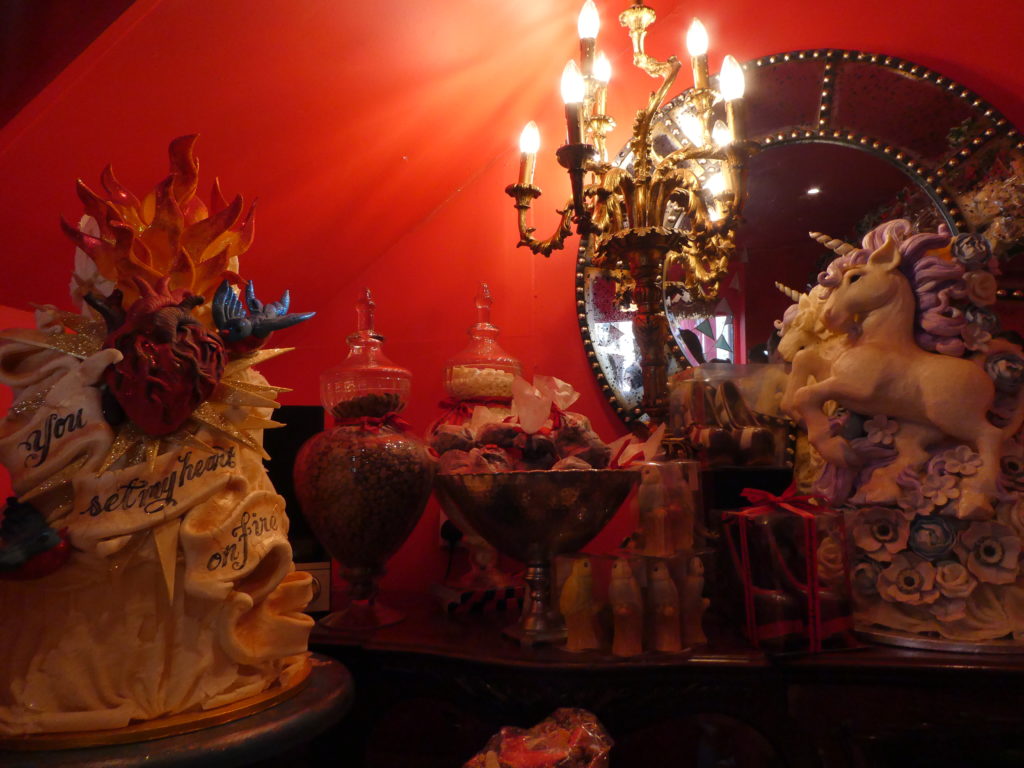 We lost our way a few times, but always ended up in a new and exciting area. There is a large courtyard in the middle somewhere, with a fountain, where people sit and dine al fresco in the sunshine. Much of the rest of the stores are jewellers. Amy loves jewellers, but Scott's interest waned after a few in a row! Never mind, we had finished our trip around The Lanes by now anyway. An amazing place to do some window shopping!
Have you ever been to The Lanes? What are your favourite shopping areas?