A guitar lesson is a recurring date idea for us
One date idea that we have done on three occasions since starting our 'secret dates' is for me to teach Amy how to play the guitar. Even in our early days, I would teach her to play a song. To this day she can play the riff from Ben E King's Stand By Me, which I taught her in the first years of our relationship. I am a singer-songwriter, and have achieved a fair bit with it over the years. One of my biggest skills is playing the guitar, which I have done since the age of thirteen. Since playing the guitar is a very cool skill to have, and one that has many amazing benefits, why not teach Amy to play too?
A lot of guitar lessons start with the different parts of the guitar, and the names of the strings. However, this time, I figured that it would be best to teach Amy four chords. This would mean that she could play many different songs – G, Em, C, and D. As expected for any total beginner, she struggled a bit. It was hard trying to get the position right, and putting the right amount of pressure on the strings. The G chord came more naturally than most for her.
After I had taught her the shapes and given her time to practice, we had a break from the chords for a bit. I taught her the riffs to Seven Nation Army (White Stripes), and Satisfaction (Rolling Stones). She did a pretty good job of both of these.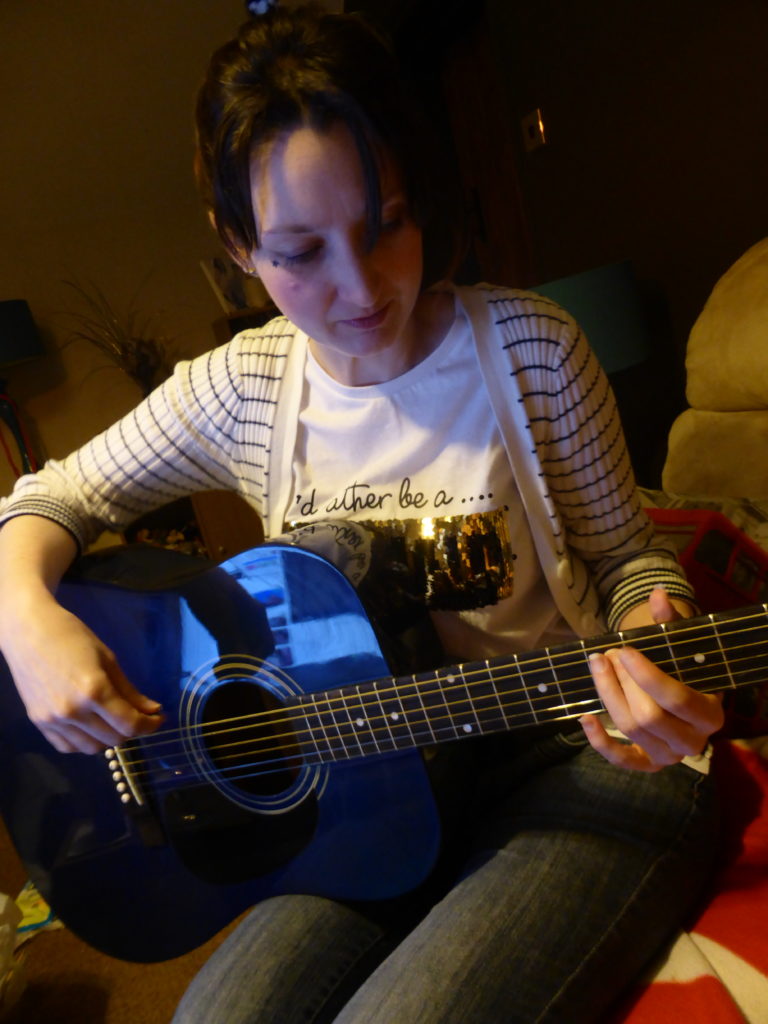 Amy even learned our blog anthem!
I then went back to the chords to try and teach her a few songs. These included His Latest Flame by Elvis, Hallelujah by Leonard Cohen, and our very own blog anthem, Planet Full Of Love. Yes, you read that right, we have written an anthem for our blog! We both love it too, so maybe with a bit of encouragement we will record and share it.
The main problem was the strumming. She really struggled to get a clean strum, especially when going up then down. I think this was partly due to her arms not being quite long enough for the guitars. Her hand was pointing down rather than remaining straight. This resulted in an uneven strum. I left her to practice for a bit on her own. However, her hands were hurting a bit and she had given up practicing by the time I came back.
Later on, I got Amy to play what she had learned including a pretty decent attempt at Planet Full Of Love. However, she didn't want to learn any more as her fingers were still a bit sore. I definitely think that it was more fun for her to actually be able to play something real, rather than learn a load of theory. However, t was quite an intensive lesson to get her to that stage. Not easy on the fingers.
You don't have to teach your partner to play the guitar
However, what if one of you doesn't know how to play the guitar? Then think about what things you do know how to do. Perhaps you can paint, or make a website, or speak another language, or cook, and your partner can't. There are literally hundreds of things that you can teach your partner. Others include a sport, photography, or DIY skills. Have a think about what you are good at, compared to your partner, and share your skills with them. It will help bring you closer together, and bond over a shared experience.
Another option, if you would actually both like to learn to play the guitar, is to book a lesson with a local teacher. Most areas will have a good selection of tutors with all the required qualifications. If you have a guitar at home, but don't know how to play it, you could search YouTube for beginners' lessons.
Have you ever taught your partner to do something as a date idea? How did it go?