The cheesiest date idea ever?
This secret date involved having a cheese party! You could do this date in many different ways. Maybe you could have a themed cheese party involving dressing up as a block of cheese. Perhaps you could play cheese themed games and watch movies with a cheese theme in them. Another option is to invite some friends over to try a selection of different cheeses and wines. We decided to have a private cheese party, where we would try different types of cheeses with various accompaniments. These were things like jams and chutney, crackers and toasted baguette slices. We also decided to watch a TV show and a short on cheese, play a board game that was cheese themed and finish off with a cheese themed movie.
Of course, we needed lots of cheese, so headed off to Sainsbury's for supplies. We headed over to the cheese counter, and after quite some deliberation, picked out five types of cheese for us to try. Our aim was to pick five different types – blue, mild, semifirm, superaged, and pungent, though we couldn't find any pungent. Therefore, we bought a dessert cheese instead. We also bought some camembert, a packet of crackers, a couple of small baguettes, some grapes, salami slices, cheesecake and a pack of honey-roasted nuts. We then nipped over to Argos, to buy the board game Mouse Trap.
Presentation is key at a cheese party
When we got home we prepared for the cheese party straight away. We found a red and white check tablecloth to put on the table. We still like to make an effort in presentation even though it is just the two of us. The cheeses were put on to one large plate, and labelled with their names, with a separate knife for each one. Everything else had its own serving bowl or plate.
We had baked camembert as a starter. It was the first time Amy has tried to make it. We've had it in restaurants, and Amy's mum has made it a few times. However, Amy was pleasantly surprised how easy it was to make. We shared one portion, dipping in slices of baguette and adding cranberry sauce. Delicious! We had two bottles of Rekorderlig Cider that we already had stored in the fridge. Cider is a common substitute for wine as a cheese pairing. After our starter, we watched a short film called 'Cheese'. It is about a woman sent to buy cheese for a party, despite knowing nothing about cheese. She then ends up in a bit of a stand-off with the cheese shop owner, and ends up walking out with a ridiculously expensive amount of cheese.
Find out what to pair your cheeses with in advance
We then began the main part of our date, the cheese tastings. We found what accompaniments should go with each cheese online in advance, and had a few pairings for us to try. Firstly, we tried our blue cheese, which was Dolcelatte. We had this with a cracker and honey. The cheese was extremely soft, which meant that we could spread it across the cracker. It was also far, far sweeter than we expected it to be. We were very impressed indeed. Dolcelatte is a blue-veined Italian soft cheese, which is made in a similar way to Gorgonzola. In fact, it was made for the British market as a better smelling and less strong tasting version.
Next up, we had a mild cheese called Chevre Blanc. This is goat's cheese. We had it on its own with a cracker. Again, it was pretty nice. The third one we tried was a semifirm cheese called Welsh Slate Cavern Aged Cheddar. This cheddar cheese is kept underground in a Welsh slate cavern for a number of months to give it a unique taste. We had it with a slice of baguette and some chutney. Our initial thought was that it was extremely hot, but it was probably the chutney. We went for a super-aged cheese next, which has been left for even longer. This was called Cru Reserve Gruyere, and had been aged for fourteen months. It is a hard yellow Swiss cheese that broke into pieces easily. We ate it on a cracker with some grapes.
Cheese, cheesy music, and TV shows about cheese!
Our final cheese was the dessert cheese, White Stilton and Apricot. This one was very tasty too, with a crumbly and creamy texture. Whilst we ate the cheeses, we listened to cheesy music, such as Agadoo and Cotton Eye Joe. After we had tried each cheese once, we watched a documentary called 'Modern Marvels: Cheese'. This American TV show focused on the history of cheese production, and featured many cheese experts and cheese makers. The end of the programme focused on frankly vile looking American processed cheeses. While we watched this, we continued with the cheese tasting.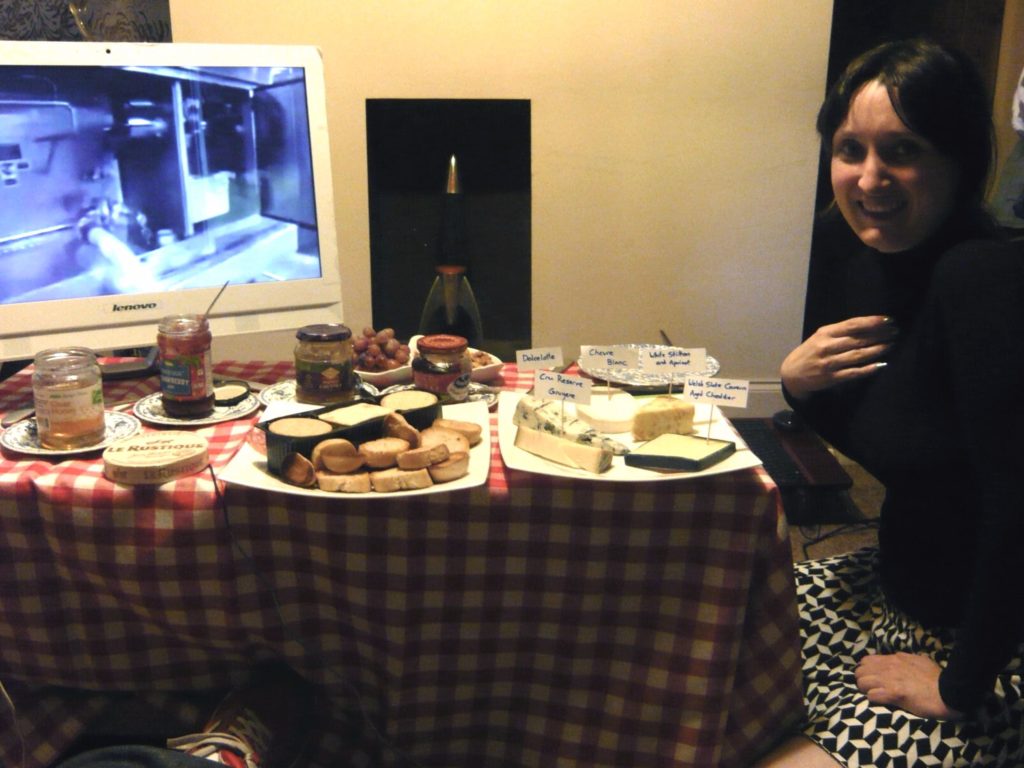 We ate each cheese a second time. For some of them, we even tried different combinations. We tried the Welsh Slate Cavern Aged Cheddar with a cracker and grapes, and the Cru Reserve Gruyere with a cracker and salami. Our next activity was to play the childhood board game Mouse Trap, which Amy had as a kid. It took ages to set up the board. There are loads of traps and things, and the rules were a bit hard to follow at the beginning. We ended up playing it on the floor as the board was so big! We started the game by both standing on one of the traps that had a sweeping motion. Whoever got swept the furthest went first!
Mouse Hunt is a great cheese party game
The aim of the game is to go around the board gaining two slices of cheese at a time by landing on mouse traps. Then, you set off one of the three mouse traps by putting a metal ball into the toilet at the top of the board and flushing it. If the trap you are on goes off, you lose one of your slices of cheese. You win the game when you got eight slices of cheese, which was enough to make a whole wheel of cheese. The first was quite a lengthy game, since we were trying to work out the rules as we went along. Our second game was far faster now we knew the rules. We won one game each, calling it a draw.
The next part of our cheese party was to watch a cheese themed movie. This was Mouse Hunt, which Amy had really fancied watching. While we watched it, we ate our dessert of cheesecake! It was topped with mandarin slices. Mouse Hunt is a pretty good movie, about a pair of very different brothers (one of whom is played by Lee Evans) who are left a string factory and an old house by their father. The house is controlled by a small mouse, who causes all sorts of havoc for them, which is hilarious. In the end, the mouse gives them a great new business idea for strings of cheese, wrapped in balls like string. The last thing we did was an online cheese quiz, and did surprisingly well. It had been a very long evening however we had a very enjoyable cheese party date.
Are you a fan of cheese? Does this date idea sound like your idea of fun?